As we enter 2021, at least in the short term, not much will feel different from the past nine months. And if there is anything we've learned since mid-March 2020, it's the essential and irreplaceable role of flowers and plants for our survival. And that's why my outlook is deeply connected to humankind's pursuit of nature — and how floral entrepreneurs like you can and should tap into and enhance that pursuit through your efforts.
I learned about the term "Biophilia" in October 2019 when I interviewed Tom Precht and Sarah Daken of Grateful Gardeners. Tom is a big advocate of Biophilia and he opened my eyes to its relevance as we make personal and business decisions that impact our planet's survival. He discussed the definition when I interviewed him, but here it is again, according to Merriam Webster:
Biophilia: "a hypothetical human tendency to interact or be closely associated with other forms of life in nature."
All you have to do is read the headlines of 2020 to see a collective shift toward nature, plants, the environment – and yes, flowers.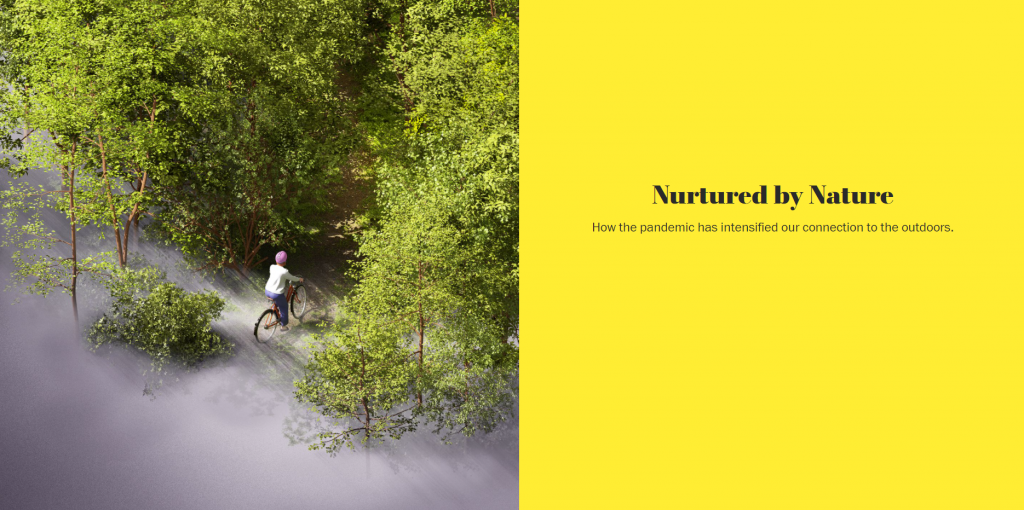 A recent article in the Washington Post caught my attention. The headline reads: "The isolation of the pandemic caused her to form a new and intense relationship to nature. She was hardly alone. The benefits of being outdoors for your physical and mental well-being are well documented, but in this coronavirus era, they may be immeasurable."
The University of Washington shared this research: "Dose of nature at home could help mental health, well-being during COVID-19" The report stated:
"Studies have proven that even the smallest bit of nature — a single tree, a small patch of flowers, a house plant — can generate health benefits," said Kathleen Wolf, a UW research social scientist in the School of Environmental and Forest Sciences. "Look closely in your neighborhood, and the bit of nature you may have taken for granted up until now may become the focus of your attention and help you feel better."
What are we watching for in 2021? The Slow Flowers Community's experiences of 2020 definitely inform what is top of mind for 2021. Over the past several years, as we've devoted considerable time and resources to educate consumers and professionals alike; and thankfully, we are coming off a year when the attention of many turned to the Slow Flowers Movement.
Locally-grown, seasonal and sustainable flowers answer questions about a safe and reliable supply of flowers. Awareness our Movement continues to increased as floral consumers and florists alike shifted their focus to what's closer to home. Panic over the international floral supply chains has quickly turned to a subtle but significant and newfound understanding that if we don't nurture and support our local flower supply, there may come a day when farmland has been converted to real estate developments; where commitment to a safer, more sustainable earth has been displaced by convenience.
The anecdotal feedback I'm hearing is heartening. I received an email recently from a leader in, shall I say, "mainstream" floristry, who wrote:
"After two decades of thinking traditional wholesaler connections were the only way to run a floral studio or shop, I'm slowly starting to learn about local flower-farmers and am constantly in awe of their entrepreneurial spirit, and can't imagine how much hard work goes into what they do. For that, I want to give them as much business as I can! I know that you had a big hand in getting this trend in motion and I thank you for that!"
As we seek new and diverse voices in the Slow Flowers Movement, I believe we will continue to witness a positive shift to a more progressive, inclusive, conscious marketplace for the flowers you grow and design with. And we will continue to document the shift with stories, interviews and resources to encourage you.
---
The yearning for a connection to nature is truly unprecedented in our society, something many of you witnessed first-hand when Mother's Day 2020 shattered prior years' records for floral sales. Demand added up to three words: People. Need. Flowers.
In past Forecasts, I've touched on similar themes, including the popularity of Aromatherapy Bars (2018) and the Year of the Houseplant (2019). Floral Wellness is more sweeping in its meaning. More than ever, consumers and their senses are drawn to your blooms. They are drawn for fragrance and scent, for medicinal qualities, for skin and body care benefits, for nutritional meals, palette-satisfying beverages, and for — above all — their mental health.
I define Floral Wellness asAn embrace of the therapeutic importance of flowers, both in our own environments and as a meaningful way to share with others. Floral Wellness nurtures a positive and habitual desire to have flowers in our lives and as an expression of our desire for others to also experience flowers' emotional, physical, mental and psychic value.
This idea can be manifested in ways both simple and accessible to your clients, as well as more ambitious endeavors. From the rise of flower workshops (in person at a safe distance or in many virtual forms) to the explosion of CSA subscriptions as more consumers desired more flowers, Floral Wellness took root in 2020 and is yours to nurture and enhance with new offerings to your community in 2021.
---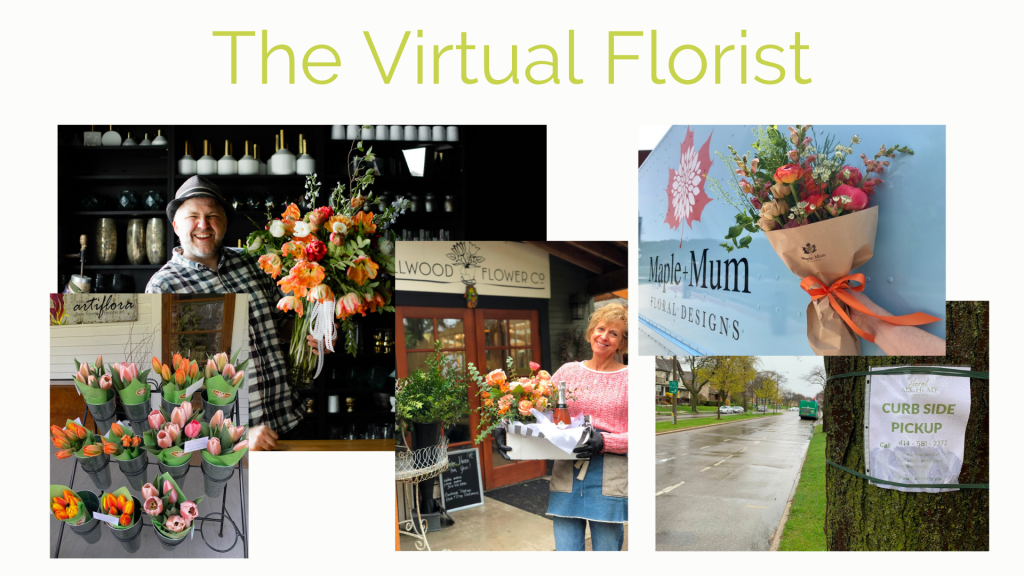 What do I mean by the Virtual Florist? We're living in a world of "virtual" everything, so the term is truly relevant and timely. In the Slow Flowers Community, we spent 2020 covering the ascent of virtual floristry, through our podcast interviews, in Slow Flowers Journal stories, and during our weekly and monthly Slow Flowers member virtual meet-ups. For the Virtual Florist, innovation and creativity meet a marketplaces of Covid-imposed limitations and constraints.
The Virtual Florist
is adaptable, flexible and inventive in finding ways to successfully deliver flowers to his or her community. The Virtual Florist utilizes technology and serves customers' needs where they are. The Virtual Florist disrupts "definitions" of what type of florist you may have been in the past.
This means you might own a retail flower store, but you've added an online shop; or, you're studio-based, but you now offer everyday flowers through contact-free curbside delivery; or, you've never grown flowers before, but this year you've planted thousands of tulip bulbs to sell from your front porch using only your neighborhood's Facebook page to get out the word (that's a real story about one of our members!)
The Virtual Florist consults, teaches and inspires in new ways, too. Virtual floristry is more egalitarian and transparent. Anyone can turn on a camera and film a demonstration or tutorial for IGTV, Facebook Live, YouTube and on other platforms — the field is more level than before. It's not just the "big names" who are attracting audiences, especially because the return to expensive, in-person workshops will be slow and gradual.
This insight's key takeaway for you: Dial up your imagination. What may have began as a coping mechanism to stay busy or stimulate creativity is now a new business opportunity. Develop and invest time and resources into at least one virtual component of your floral enterprise. Be ready to connect with your community whose shopping habits have dramatically changed, perhaps forever.
---
Shipping flowers is nothing new, but until this moment, only a few successful companies were getting it right.
In our 2018 forecast, I identified the early adopters behind this shift with the insight "Flower Farmers Launch Direct-Ship Wholesale Programs," so what's new about "Flowers in a Box?"
Now, based on necessity, we are witnessing more models, most consumer-direct, designed to move local and seasonal flowers from point A to point B, with more Slow Flowers members experimenting in the world of boxed and shipped blooms.
Slow Flowers members who had never before shipped flowers began to do so in 2020. The first report we shared about this shift can be heard in early April when I interviewed Mandy O'Shea of 3 Porch Farm about the decision to ship early spring flowers when local farmers' markets and on-farm sales were impossible. It was a survival strategy that foreshadowed a strategic business shift. You can find a link to that conversation in Episode 448.
Flowers in a Box covers a diversity of methods and formats, from overnight shipping of bulk flowers, arrangements, floral packages for weddings and more.
Members are also experimenting with the shipping of dried flowers and live plants. And others are mixing design tutorials into the mix (a nod to Insight #2 and The Virtual Florist).
This past fall, we published a six-part Slow Flowers Journal series, called New Floral Marketing Models and Platforms. I'll share the link for you to go back and read the series in case you missed it. One of the series' most interesting themes – to me – explores how designers and flower farmers are partnering to create boxed floral collections for home-based floral enthusiasts. Check out my stories about Petals by the Shore, Postal Petals and Flora Fun Box as examples.
We will be tracking more of this "Flowers in a Box" phenomenon moving into 2021, relying on our membership in CalFlowers, the only national trade group that offers flower farmers and floral designers access to deep discounts on overnight shipping rates. CalFlowers has joined the upcoming Slow Flowers Summit 2021 as a Supporting Sponsor, and we will be sharing more about this organization in future programs.
This insight's key takeaway for you: Ask yourself: What can you put in a box — perishable or non-perishable — and offer to customers who are not in your physical market, but who want to share and experience your brand?
---
2020 was a year in which I stepped back to evaluate whether my beliefs and values were in alignment with our brand. And I know this was the case for many of you, as well.
We highlighted "Cause-Related Flowers" in our 2018 Forecast, citing the news that more flower farmers and florists were investing their talents to help nonprofits and others in their communities through floral philanthropy efforts.
The contributions of so many of our members – growers and designers alike – continue to impact our communities. It began with the simple question: Did you donate your flowers to any causes or charities this past year? So many of you can answer in the affirmative.
But something is different now. We've all been touched by the awareness that the social and environmental landscape is dramatically changing. And if we do not step up to walk the talk in our own floral enterprises, I believe we are only deceiving ourselves.
I define Botanical Activism as one expression of social enterprise.
For Slow Flowers members, this takes shape in many ways:

Writing a statement of purpose for your brand
Committing resources to racial equity, inclusion and representation in your business practice
Using your flowers to speak volumes about the issues you care about, from climate change to human rights.
And yes, you may occasionally feel the sting of criticism. I've seen it in social media posts, along the lines of this comment: "I just want to see beautiful flowers and I come here for a respite away from the conflict and disagreements I watch or hear on the news. Why do you have to be so political here on a floral feed?"
I believe we can no longer stay comfortable in our safe flower worlds when others are suffering discrimination or injustice. I'm not saying we need to become full-time activists. We have businesses to run, bills to pay, households to support, of course. But even in small and subtle ways, we can be Botanical Activists to signal our values and beliefs.
Your answers in the 2021 Slow Flowers Member Survey revealed your beliefs and passion for causes important to your brands:
61% of our Members say they are taking steps to create Inclusion, Representation and Equity policies for their businesses
53% of our Members are aligning their brands with human rights and social justice messaging/activities
46% of our Members' businesses have participated in cause-related activities to support Black Lives Matter and antiracism campaigns
In 2020, I witnessed the manifestation of these values across the Slow Flowers membership, inspired by so many of you, your efforts to take a stand for social justice, and to show positive support through your flowers.
Moving forward, this isn't optional. It's essential. For Slow Flowers, we are adding a sixth statement to the Slow Flowers Manifesto, originally written in 2017 and published on Slow Flowers Journal. Every one of the five original statements in our Manifesto could be considered by some to be radical and norm-busting in the conventional sense. They include:
Slow Flowers commits to the following practices:
To recognize and respect the seasons by celebrating and designing with flowers when they naturally bloom
To reduce the transportation footprint of the flowers and foliage consumed in the marketplace by sourcing as locally as possible
To support flower farmers small and large by crediting them when possible through proper labeling at the wholesale and consumer level
To encourage sustainable and organic farming practices that respect people and the environment
To eliminate waste and the use of chemical products in the floral industry
Today I am adding a sixth statement, long in coming and inspired by the actions of many of our members and colleagues in the green profession:
To proactively pursue equity, inclusion and representation in the floral marketplace, intentionally valuing
Black floral professionals
(farmers, floral designers and vendors) in our business practice with as much support as we give to environmental sustainability.
I recently came across a wonderful affirmation from SF-based diversity and inclusion expert Arthur Chan of Arthur Chan Consulting and it resonates with this new addition to our Manifesto.
This insight's key takeaway for you: Belonging implies community and my pledge to each of you is to model this value in all of Slow Flowers' actions, programs, content and investments, not just for 2021 but beyond. As I said last week in our year-in-review, until the Slow Flowers Society looks more like the communities we live and work in, more needs to be done. So, in the coming year, we will be highlighting your Botanical Activism — what causes are your flowers supporting? How are you enhancing your community and sharing your values? Please keep me posted as I seek stories of equity and inclusion, and continue the conversation.
---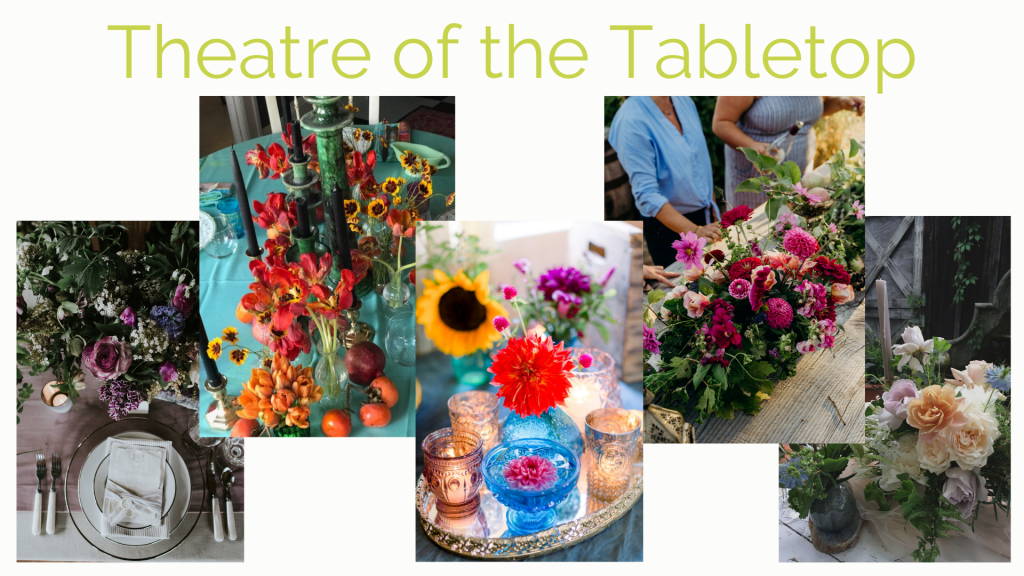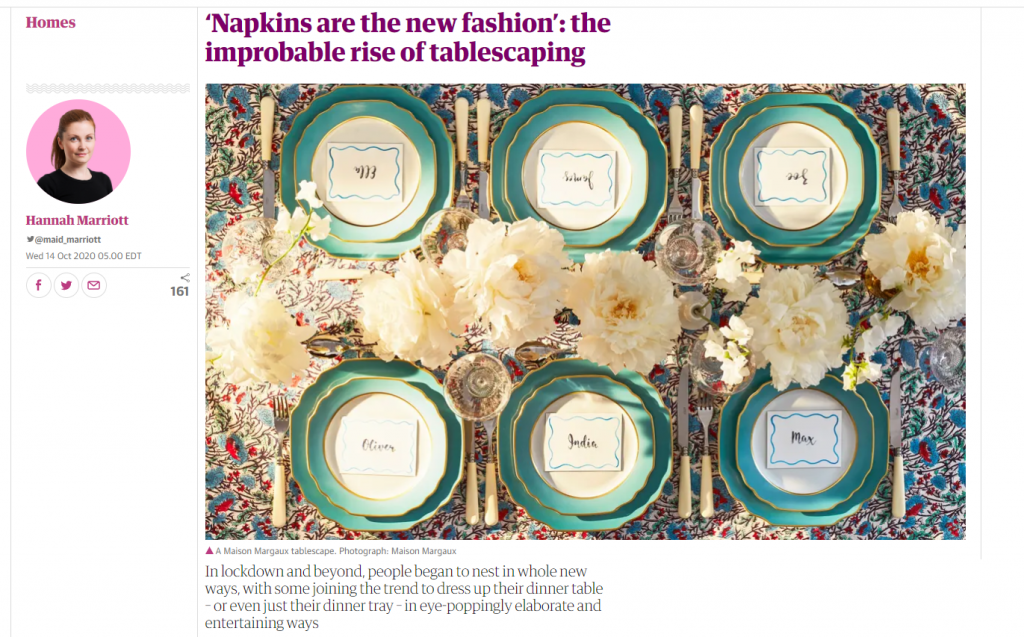 The inspiration for this insight arrived in my in-box in October, when a college friend of mine sent a link from The Guardian, a UK daily newspaper. The headline read: "'Napkins are the new fashion': the improbable rise of tablescaping"
Written by lifestyle reporter Hannah Marriott, the article captured my imagination, as she likens tabletops to our own personal stage for artistic expression.
She wrote: " . . . it was in lockdown, perhaps inevitably, that tablescaping became a phenomenon. With so many of us working from home, our social lives disappearing and desperate for some comfort, our focus on our homes was never sharper."
The article continues: "Tablescaping, a small joy that can take a few minutes or a few hours, and makes dinnertime instantly prettier, is part of this national self soothing."
The person who shared this article with me, my friend Scott Wittman, is a creative director who has spent his own COVID year exiled in the Kent countryside away from his London office. He has invested all of his free time photographing the blooms in his garden to document the passing of time, season by season. It helps that his pre-Georgian cottage is surrounded by an acre of a traditional English garden planted about 40 years ago — that's priceless inspiration!
Scott's garden and his photography project led him to produce an entire product line for the table, including dishes and linen tablecloths and napkins adorned with his graphic and polychromatic botanical photography. He plans on debuting the "Gate Cottage Garden" collection at the 2021 Chelsea Flower Show and I've been urging Scott to figure out distribution in the U.S. For now, check out images of his garden-inspired table accessories in our show notes and follow him on IG at @scottwittmanartsculpture
As I pulled together insights for 2021, I couldn't forget this old-new idea of tablescaping and it came up again in several conversations, including, most recently with Susan Chambers, Slow Flowers florist based in San Francisco. She described to me how her business BloominCouture has changed in 2020, with more residential floristry accounts than ever.
"It goes beyond flowers," Susan says. "So much of what I'm hearing my clients say (is) that they want to understand, not just the floristry, but creating that moment at the table. They want me to create the vision, the pomegranates down the table, the privet berries dripping out of the arrangement. They're wanting that me to come in and create that moment for them before the dinner party."
Tablescaping can be the ultimate Slow Flowers expression, as your florals enhance human interactions, mark occasions both special and ordinary, and celebrate the art of dining. Many of you design tablescapes for styled shoots — some of the most adventurous and theatrical meals imaginable. Let's celebrate the objects we cherish, and create palettes that honor both how food is grown and the origin of the floral decor. I view the theatre of the tabletop as a way to honor the gift of time.
This insight's key takeaway for you: How can you combine your flowers and floral designs into a full package? Hannah Marriott's article in The Guardian triggers so many ideas that you'll want to explore in 2021. She writes: "Thanks to social distancing and unbridled screen time, the 'tablescapes' hashtag now has 455,000 Instagram posts and counting, and it is lifting sales during the crisis. In lockdown, with the hospitality industry on pause, tablescaping took a different direction. For one thing, it provided an income stream – or at least a trickle – to companies whose businesses might have capsized in the crisis."
---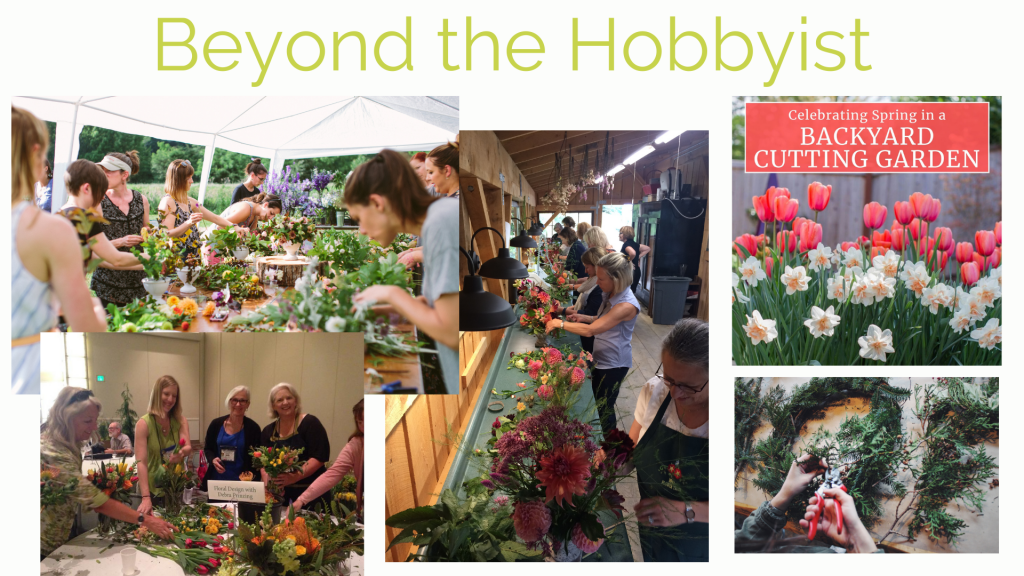 The DIY trend has been with us for a decade, and according to my friend and publishing partner Robin Avni, after that length of time a trend that was once new, such as do-it-yourself, folds into the broader culture and becomes mainstream. Originally, I wanted to call this insight "Beyond DIY: Figure it Out" and I turned to Robin to help me flesh it out. My idea was that since more consumers than ever are seeking new knowledge, floral enterprises need to be attuned to this reality in order to offer them what they're seeking.
But a conversation with Robin gave me a new term: Beyond the Hobbyist. Robin is my go-to expert when I want to understand what's happening in the consumer marketplace; she spent many years working in consumer research managing a portfolio of Fortune 500 clients as a Senior Director and Lead Consumer Strategist at Iconoculture, and as a Senior Ethnographer at The Hartman Group, where she engaged in primary consumer qualitative research. And those of you who have a copy of my new book Slow Flowers Journal-volume one will know of Robin's influence as a visual designer — she is the creative director for that publication and my partner in the BLOOM Imprint, the new book-publishing arm of Slow Flowers.
According to Robin, DIY is everywhere, and thus, no longer new. "People feel they can access information on YouTube and figure things out themselves, from painting their walls to building a deck to designing an outdoor space," she explains.
As an insight, though, Beyond the Hobbyist embodies so much more than DIY, more than saving money or exploring a hobby, Robin explains. "It's about embracing a skill that gives you a sense of pride and feeds your soul. It's about having a deeper, long-lasting connection to a skill, such as flower gardening and floral design."
She continues: "People want to learn new skills, but then, they want to fold it into their lifestyle. They want to go beyond something superficial. They want to know that when they gather flowers from the farm-stand they can replicate at home what they learned in your design class; thanks to your class, they understand why it's important to support the stems and change the water regularly."
---
Last year, in the 2020 Floral Insights & Industry Forecast, I featured Climate Change for the first time with an insight titled "Responding to Climate Change." The urgency felt by the Slow Flowers Community is heightened as we move into 2021. Your responses to Climate Change questions in the Slow Flowers Survey reveal that urgency. It can seem overwhelming, but our individual actions and the policies we collectively support are powerful tools to employ as a community.
Last year, Forty-four percent of our survey respondents said they were adjusting growing practices to adapt to climate change. In this year's Survey, 54% of Members say they are aligning their brands with climate change messaging/activities.
We also asked you to share about How Has Climate Change Affected You and Your Business? Here is a recap:
Nearly 60% of you cite weather irregularities (too much or too little rain)
30% say abnormally warm OR abnormally cold spring seasons
25% cite early frost arrival
Nearly 20% blame disaster-related damage (wildfire, flooding, hurricane, hailstorms, tornados and other weather tragedies)
Another reason cited includes extended hot periods with no precipitation.
One respondent put it this way: "Weather seems more extreme and unpredictable."
Another wrote: "It's not at disaster level yet, but the damaging winds and rains devastated my cosmos and the smoke from the fires sullied my white roses and strawflowers."
What can we do? What active steps are you taking to address Climate Change in your farm, shop or studio? We know about and have covered the importance of No-Till Farming Methods, Cover Crops, Crop Rotation, Raised Beds, Water efficient irrigation. We know florists are more actively than ever rejecting single-use plastics and other chemical-based products in their designs.

What else? In the coming year, Slow Flowers commits to more reporting on your efforts to reverse climate change, efforts that will inspire others and will empower our members to take positive action in small and large ways.
For now, this insight's Key takeaway for you: Educate yourself. Join me in seeking meaningful change as we strive to protect our climate, environment, communities and planet.
---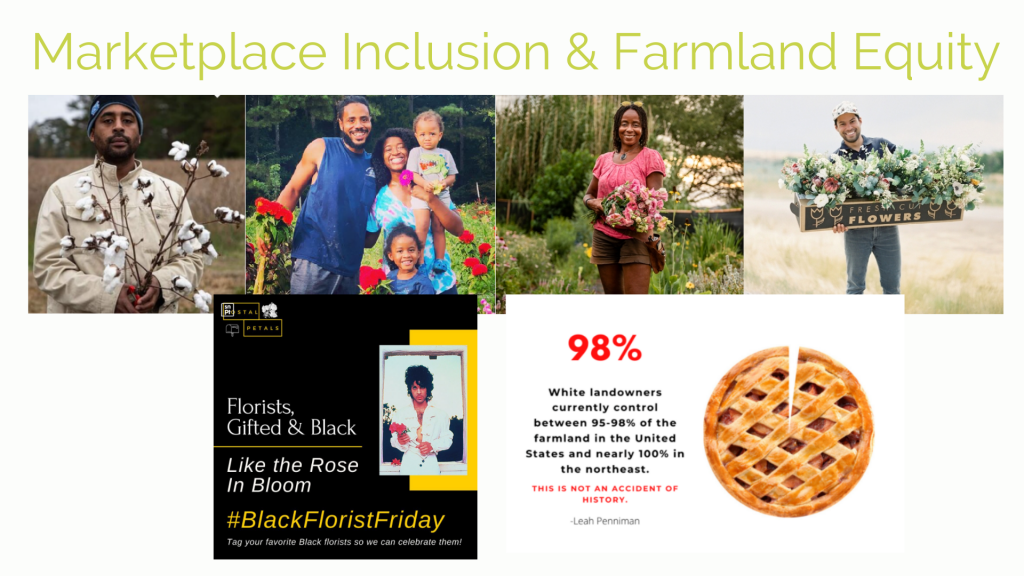 I have learned much from garden designer and Slow Flowers advocate Leslie Bennett, who earlier this year joined me as a return podcast guest. Leslie owns Pine House Edible Gardens, an Oakland-based design-build landscaping studio. She is the creator of Black Sanctuary Gardens, which believes that gardens are places that provide respite and restoration; healing and inspiration. The Black Sanctuary Gardens project creates and documents garden sites where Black women's creativity, spirituality, and human experience can be cultivated and nurtured.
Slow Flowers donated to the Black Sanctuary Gardens project in 2020 and we feel grateful to learn from the example Leslie is modeling — using her talents and resources to design and build gardens where transformative change can take place, and where we can work to grow the world we want for ourselves and for our communities.
Leslie and the team behind the Black Sanctuary Gardens project are curating their time and talent to create safe and beautiful garden spaces that celebrate Black women's humanity and the communities they hold dear within the Oakland, California area. Financial contributions allow them to provide their gifts at low to no-cost to these valued community members. This is a model I'd love to see replicated across the community in other regions.
---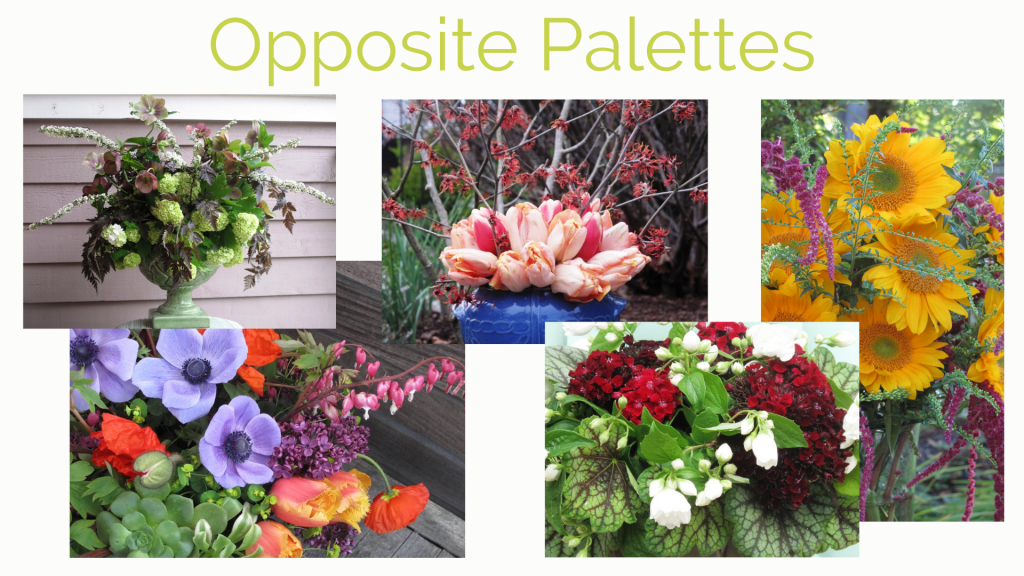 Last year, 24% of our Slow Flowers Survey respondents cited YELLOW as their top color prediction for 2020. Yellow edged out all other colors by single-digit percentages, but there was still no clear standout, leading me to predict a Polychromatic Palette for 2020.
Here we are in January 2021, and Pantone already has declared "Illuminating," a glowing shade of yellow, as one of two colors for 2021.

For the 2021 survey, both Yellow and Orange topped your list. Specific percentages break out as follows:
Shades of Yellow (23%) "Yellow for optimism." Mustards and mauves." "From rich masala yellow in curries to lavish buttercream yellow on cupcakes, the comfort of food will translate to floral expressions."
Shades of Orange (19.5%) "I think we are seeing hints of orange, and yellow with pinks and blush." "Everything across the range of citrus tones to fruity apricot."
Shades of Green (14%) "The clean feeling of green, with foliage in an array of green tones and various shapes."
Shades of Purple & Violet (13%) "I think we will see a trend towards subdued jewel tones that play off of each other." "I find the possibilities with purple are both complimentary and contrasting and love finding those matches. People also seem to really gravitate to the purple tones, or at least, that's what I think, maybe because I like purple flowers so much!"
Shades of Red (4.5%) "Reds, burgundy, pinks monochromatic."
Shades of Blue (3%) "Mellow, soft blues — the world needs calming tones in these crazy times."
So what notable color palette do we predict will influence flower farming and floral design in the coming year?
I flipped to the color section of my book Slow Flowers to see what I wrote back in 2013. I quoted Harold Piercy, former principal of the Constance Spry Flower School in England, who wrote this in 1983: " . . . in flower arranging, I have always found it advisable to discard any prconceptions about colours." He went on to write: "Keep an open mind and do not be ruled by the colour wheel. You may hit upon unexpected satisfactory results during your experiments."
I dove deep into the comments that you shared in response to the survey's Question#23 — Describe in more Detail Your Floral Palette Prediction.
I have to give a huge congratulations to the many Slow Flowers Survey responses that were spot on about YELLOW. In 2017, Slow Flowers' Floral Forecast predicted soft yellows in an insight titled: "Beyond Blush." It has taken four years since then for Pantone to agree! Let me include a few of your comments here so you can congratulate yourself on nailing Pantone's color declaration for 2021 — an important emerging floral palette we forecasted here years ago!

"I'm only wishing. I have lemon chiffon peonies that I would love to see a bump in desire for."
"Into yellow lately."
"Cream-mustard; pale yellow. Happy shades."
"More sunny, happy color."
"Bright, positive, with an endless summer-like feeling."
"Pale yellows to golden tones."
"Yellow is inherently cheery and I think people will want more good cheer. Also, floral designers have been trying to sell clients on yellow and mustard forever — maybe this is our year that clients will finally go for it!"
"Orange or yellow. We need some brightness in 2021!"
"Soft, buttery yellows."
"Yellow is building momentum! And there are so many shades that blend well with the popular muddy/neutral palettes."
"Soft, light, buttery yellow."
"Seeing more demand for yellow flowers."
"2020 has been a dark year and I think we could all use a little sunshine in our future."
"Warm yellows — amber, mustard, butter – seen alone or with accents in deeper shades."
"After the Pandemic, we want LIFE! We will want color and variety. Yellow was a very big color in fashion just before the Pandemic and I think it will be picked up again after."
"I think the soft yellows and warm golden colors are what we need for 2021! We need a soft glowing hug after 2020!"
Clearly, we all love yellow. But of course, we do not want to follow Pantone. Let's move beyond a single hue and explore what's coming next:
I predict the most exciting floral palettes will feature Complementary or Contrasting Colors. With color pairs that reside opposite each other on the color wheel — combinations and variations of of course Yellow + Purple, but also interpretations of Red + Green; Orange + Blue.
What do you think of "Opposite Palettes"? A few survey comments jumped out to me in agreement:
"Oranges reaching out in different directions — yellow, reds, or complementary purple."
"Purples combined with pale yellows, oranges and whites."
"I find the possibilities with purple are both complimentary and contrasting and love finding those matches."
"Pink, peach, coral, orange, yellow and then contrasting with blue."
What is the key insight here?
Simply, that we live in a colorful floral world and we need to experiment more! And find ways to excite customers and clients with new, shall we say, contrasts and complements, on the horizon!
At the core of it, this insight reinforces the importance of selling color as a much-desired product. Remember, you and your flowers are ready to meet consumers' hunger for more color in their lives.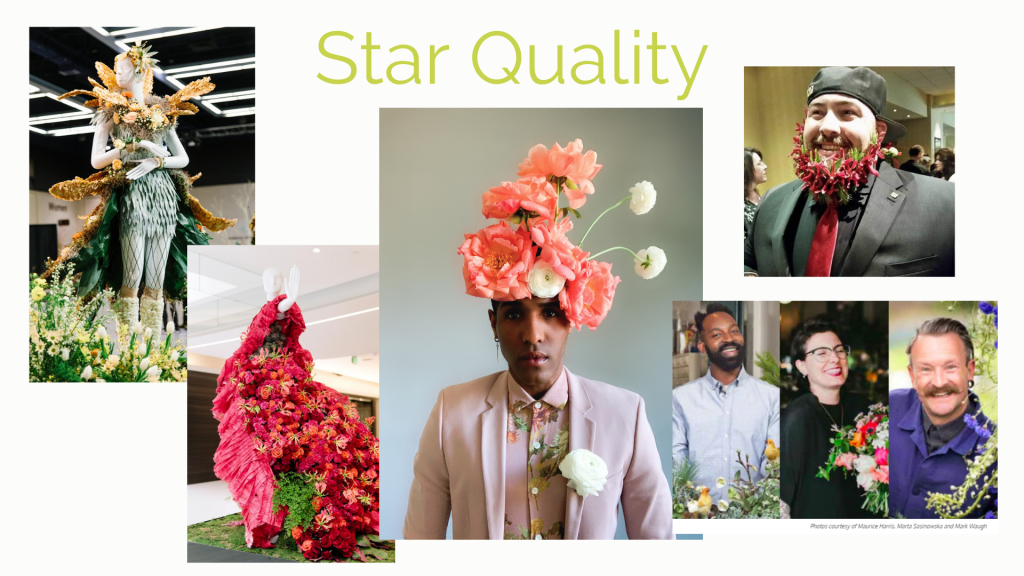 All of a sudden, miraculously in 2020, celebrity florists are taking center stage alongside chefs and fashion designers!
Whatever you think about floral competition television, seeing flowers and plants in the hands of professional designers on programs like Netflix's "Big Flower Fight" and HBO's "Full Bloom" definitely felt validating. We are witnessing flowers – elevated — in mainstream TV programming! That's news worth celebrating!
I lived vicariously through both programs and was honored to host Big Flower Fight's head judge Kristen Griffith-VanderYacht as a guest on the Slow Flowers Podcast and profile him for a Florists' Review cover story earlier this year.
I also enthusiatically rooted for Ace Berry, AIFD, PFCI, another past guest of this podcast, who competed in HBO's "Full Bloom." I won't spoil it for you if you haven't watched to the finale, but you can learn much more about Ace in Episode 421, originally aired in October 2019.
I felt quite the same sense of pride earlier this year when the popular Fleurs de Villes exhibition came to Seattle's Northwest Flower & Garden Festival. With flowers transformed into wearable fashions displayed on a parade of mannequins — it clearly was the most popular feature of the flower and garden festival. The success of Fleurs de Villes is similar to the buzz created by the two floral competition shows I just mentioned.
I was delighted to interview Karen Marshall and Tina Barkley, the creatives behind Fleurs de Villes – which I called a Bespoke Floral Phenomenon, on the Slow Flowers Podcast this past February.  Much like the response people have when they see the photo shoots of real models wearing botanical couture for our American Flowers Week campaigns that Slow Flowers began commissioning in 2016, the botanical couture on Fleurs de Villes' three-dimensional mannequins takes floral fashion to a new level. 
What is the magic? I believe that seeing flowers used as an artistic expression ignites the imagination of those who view them. Beyond the sheer scale and beauty of floral installations, massive topiary and botanically-dressed mannequins, flowers are the starting point that connect many consumers with the natural world. And who can argue with that?
For Fleurs de Villes, show-goers were invited to vote for their favorite design. For Big Flower Fight and Full Bloom, viewers rooted for their favorite contestants. There's buy-in when the audience has a stake in the outcome, and ultimately, more people know more about flowers, which takes us full circle to our Insight #1 — Floral Wellness.
I hope to see all of these floral celebrity projects return to our lives in 2021, but I will offer a vocal plea for one change: Please, No FLORAL FOAM. As we've urged the mainstream floral profession for years: please wean yourself from a dependence on foam. Be truly creative and find alternative mechanics to express your art!
It can be done; believe me, we've consistently documented no-foam mechanic strategies on this podcast and in our other Slow Flowers channels. For goodness sake's, even the famed Chelsea Flower Show has declared future exhibitions to be foam-free.