Earlier this month, at the annual Garden Writers Association Symposium & Expo, I joined Hillary Alger and Marcella Sweet of Johnny's Selected Seeds, a Slow Flowers major sponsor, at the two-day trade show where garden and plant vendors exhibit their new products and wares.
I'm so grateful to them for bringing Johnny's resources and cutting garden design ideas to the garden media – editors, writers, bloggers and broadcasters. Hundreds of them media members stopped by the Johnny's booth to pick up plans, seeds and images for use in their columns and blog posts.
DESIGN YOUR OWN CUT FLOWER GARDEN
Hillary Alger is Johnny's Flower Product Manager and she spends 365 days a year immersed in cut flowers and herb evaluations, as well as planning for the coming season and interacting with an ever-expanding community of Slow Flowers members, flower farmers, farmer-florists, DIY flower growers like me and gardening enthusiasts.
Here, you'll learn more about her suggested 11 easy-to-grow annual varieties for the residential cutting garden. This "set" will produce attractive blooms on long stems throughout your growing season.
Featuring a range of textures and a varied palette, Hillary's Top Eleven list also hits the key design requirements of a beautiful floral arrangement, including focal flowers, smaller accent flowers, spike stems and textural fillers. All the varieties have been rigorously trialed at Johnny's research farm and selected for their high-quality stems and blooms: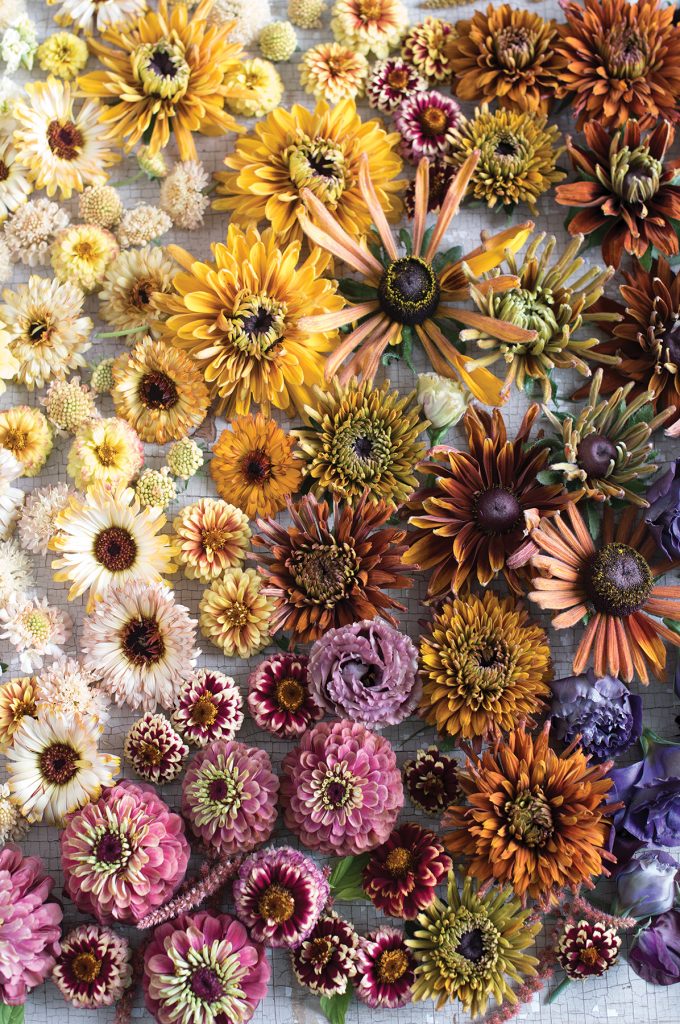 FOCAL FLOWERS
Sunflower: 'Strawberry Blonde,' a branching variety with pollenless color, ruby red to pink and lemony-yellow flowers that hold their petals well.
Zinnia: Vigorous all-season producers that hold up well in summer rain and heat all over the country. Johnny's recommends 'Benary's Giant Mix,' with densely petaled blooms up to 6 inches across in a range of vibrant hues; and 'Queen Red Lime,' featuring an unusual palette of antique rose to pink outer petals which gradually lighten through chartreuse to creamy-lime, transitioning to bright, hot pink disks in the center.
Rudbeckia: One of the easiest and most productive cut flowers, rudbeckia is a heat- and drought-tolerant, low-maintenance plant. The 'Cherokee Sunset Mix' produces large, double flowers in a warm palette of oranges, golden yellows, bronzes, chocolate and various bicolors.
SMALLER ACCENTS
Calendula: Johnny's 'Flashback Mix' produces blooms with a spectacular medley of bicolor petals. Calendula is frost-tolerant and its petals are edible — they make a lovely garnish on soups and salads.
Cosmos: The large, double blooms of 'Double Click Mix' feature deeply-fringed petals in a lively range of colors, including carmine, pink and white with sunny yellow centers. These dance atop tall, well-branched stalks of fernlike foliage that also makes a fine green texture for bouquets.
Scabiosa: 'Pincushion Formula Mix' features elegant, sturdy flowers on wiry stems in a diverse palette of black, blue, creamy yellow, pink, bright red, deep blue, salmon rose and pure white. Intricate, button-like flowers add whimsy to arrangements.
SPIKES
Amaranthus: Ideal color and form for late-summer and fall arrangements, 'Red Spike' is a variety that produces feathery, velvet blooms of a vibrant, deep maroon.
TEXTURAL ELEMENTS (FILLERS)
Dill: 'Bouquet' is a cultivar with delicate, fragrant and edible foliage that makes a lovely filler for cut-flower arrangements. Airy chartreuse flowers appear as highlights and combine well with almost any color theme.
Ammi: With its long-lasting blooms, ammi makes an outstanding cut flower for texture. 'Dara' is a highly productive cultivar with 5-7 strong, sturdy, upright stems per plant, topped by attractive, lacy umbels in shades of dark purple, pink and white.
Ageratum: 'Timeless Mix' features a blend of taller cultivars with a long flowering period, making it a perfect choice for the cutting garden. Upright, sturdy stems produce tight clusters of flowers in purple pink blue and white. A great gap-filler in bouquets.
Free Download: Cut-Flower Garden Planner for Home Gardeners (includes Sowing and Growing Basic Guide and Harvesting Tips for all flowers featured here)
EASY CUT-FLOWER GARDEN MAP
This plan is designed to accommodate approximately 130 square feet of growing space (10 x 13 foot rectangular plot). if you wish to plant the entire set of Hillary's Top Eleven Flowers. If you choose to design your own garden layout, take note of the height of each variety and avoid planting taller varieties where they may shade out shorter ones. Ordering plant heights from tallest to shortest, along a north-to-south axis, is recommended.
Johnny's suggests placing taller plants like amaranthus and sunflowers at the back of the garden, on the north or northwest side, depending on the orientation of your plot. Place shorter plants such as calendula and ageratum at the front of the garden, on the south or southwest side.
All the varieties in this plan are "cut-and-come-again" flowers and should provide a season of blooms, if well maintained. As a general rule of thumb, focal flowers and textural elements (fillers) make up 80 percent of most bouquets, while spikes and accent flowers make up 10-20 percent, depending on your design.
I plan on allocating two of my four raised beds for annuals next season, which means I only have 64 square feet (total), approximately one half of Hillary's plan. So I will adjust everything by one-half and still have an incredible abundance of cut flowers!
Free Download: Cut-Flower Garden Map & planting plan
BUILD YOUR BOUQUET
Before Cutting: Consider which colors are most appealing and complementary. Choose one type of flower that is either abundant or inspiring. Then choose other blooms with colors that complement the special (focal) flower. This starts the process of constructing your arrangement as you harvest the blooms.
WATCH Hillary Alger in Action (video)
More Recipes & Resources
For even more resources, including articles, videos, and technical growing guides for many crops, visit Johnny's Seeds' Grower's Library. Of particular interest:
To order a Johnny's catalog, call 1-877-564-6697 or visit Johnnyseeds.com/catalog-request/