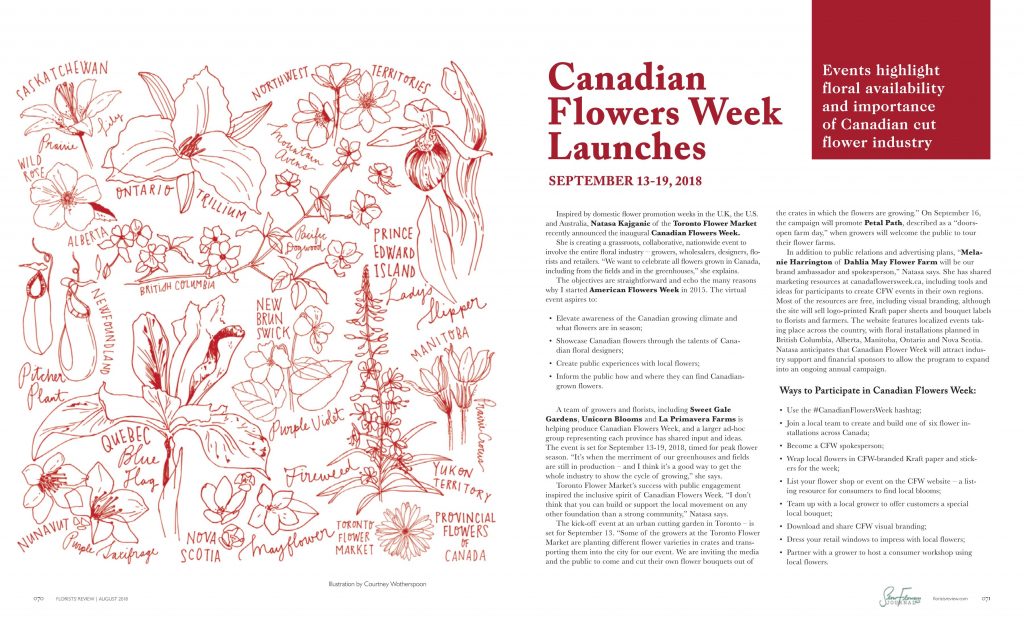 Canadian Flowers Week Launches
September 13-19, 2018
canadaflowersweek.ca, @canadianflowersweek
#canadianflowersweek
Inspired by domestic flower promotion weeks in the U.K., the U.S., and Australia, Natasa Kajganic of the Toronto Flower Market recently announced the inaugural Canadian Flowers Week.
She is creating a grassroots, collaborative, nationwide event to involve the entire floral industry — growers, wholesalers, designers, florists and retailers. "We want to celebrate all flowers grown in Canada, including from the fields and in the greenhouses," she explains.
The objectives are straightforward and echo the many reasons why I started American Flowers Week in 2015. The virtual event aspires to:
Elevate public awareness of the Canadian growing climate and what flowers are in season
Showcase Canadian flowers through the talent of Canadian floral designers
Create public experiences with local product
Inform the public how and where they can find Canadian-grown flowers
A team of growers and florists, including Sweet Gale Gardens, Unicorn Blooms and La Primavera Farms, is helping produce Canadian Flowers Week, and a larger ad-hoc group representing each province has shared input and ideas. The event is set for September 13-19, 2018, timed for peak flower season.
September is when the merriment of our greenhouses and fields are still in production — and I think it's a good way to get the whole industry to show the cycle of growing — Natasa Kajganic, founder of Canadian Flowers Week
Toronto Flower Market's success with public engagement inspired the inclusive spirit of Canadian Flowers Week. "I don't think that you can build or support the local movement on any other foundation than a strong community," she says.
The kick-off event, an urban cutting garden in Toronto, is set for September 13. "Some of the growers at the Toronto Flower Market are planting different flower varieties in crates and transporting them into the city for our event. And we are inviting the media and the public to come and cut their own flower bouquets out of the crates in which the flowers are growing." On September 16, the campaign will promote Petal Path, described as a "doors-open farm day," when growers will welcome the public to tour their flower farms.
In addition to public relations and advertising plans, "Melanie Harrington of Dahlia May Flower Farm will be our brand ambassador and spokesperson," Natasa says. She has shared marketing resources at canadianflowersweek.ca, including tools and ideas for participants to create CFW events in their own regions. Most of the resources are free, including visual branding, although the site will sell logo-printed Kraft paper sheets and bouquet labels to florists and farmers. The web site's event listing features localized events taking place across the country, with floral installations planned in British Columbia, Alberta, Manitoba, Ontario and Nova Scotia.
Natasa anticipates that Canadian Flower Week will attract industry support and financial sponsors to allow the program to expand into an ongoing annual campaign.
Ways to Participate in Canadian Flowers Week
Use the #CanadianFlowersWeek hashtag
Join a local team to create and build one of six flower installations across Canada
Become a CFW spokesperson
Wrap local flowers in CFW-branded Kraft paper and stickers for the week
List your flower shop or event on the CFW web site — a listing resource for consumers to find local blooms
Team up with a local grower to offer customers a special local bouquet
Download and share CFW visual branding
Dress your retail windows to impress with local flowers
Partner with a grower to host a consumer workshop using local flowers