In Issue No. 13 of the Slow Flowers Journal for the August 2018 issue of Florists' Review, we feature an update on Canada's locally-grown, Slow Flowers scene.
The section begins with a report about Toronto Flower Market, a fantastic model of a community-centered hub for flowers and plants in one of Canada's largest urban centers.
Read an excerpt here:

THE FLOWERING OF TORONTO: The Toronto Flower Market Thrives as a Hub of Local Flowers, Agriculture and Inspired Design
Natasa Kajganic isn't a florist or a flower farmer. But she does love flowers. So after being charmed by European street markets where blooms and bouquets seemed abundantly available, she returned home to Toronto and wondered: "Where is the flower market here?"
A freelance creative producer, Natasa's desire for a flower market was fueled by the memories of London's Columbia Road, where stalls spilled over with lush, colorful, just-picked varieties and shoppers walked the streets with armloads of flowers. Professionally, she knew how to leverage volunteers, logistics and marketing ideas and make something happen. And so, as a fully self-funded and grassroots creative project, she launched Toronto Flower Market in May 2013.
"At the time, the city of Toronto had construction cranes everywhere. Development was going insane and all I could see was concrete," she recalls. "I wanted to bring the city to life with lush, green, colorful abundance. I wanted to create a cultural shift and promote the idea of flowers as a beautiful emblem of life."
As Toronto's first outdoor flower market, the pop-up event is now in its sixth season, from May through October, with special floral installations and collaborations sprouting up through the year. Truly a passion project for Natasa, TFM thrives because of a core team, including volunteers who take on project management, public relations and graphic design duties. "This is my creative outlet," she acknowledges.
A FLORAL CONVERGENCE: Centralized location allows sales to bloom for flower farmers and florists
The Toronto Flower Market is a flower lover's event that connects consumers with flower farmers and florists several times during the season.
And that gave two Toronto area florists the impetus to act on a dream that they and their fellow floral designers had wished for — a farmer-to-florist hub in the city for sourcing botanical ingredients from Ontario's flower farms.
Jaimie Reeves of Leaf & Bloom and Carrier Fisher of Roadside Florist, two wedding and event designers, were already sharing studio space when they lost their lease to redevelopment. "It sounds a little strange, two florists in the same business working together in the same space, but it actually was to both of our advantages," Jaimie explains.
So, when the two women found a 2,000-square-foot studio in the city, a much larger and costlier space than their original studio, they asked "how can we make this work for us?" The idea of a centralized drop-off/pick-up spot where flower farmers located as far as two hours outside Toronto could bring their harvest each week – and where local florists could reliably purchase buckets of just-picked stems – took hold with just a few phone calls and brainstorming meetings over the winter.
On May 9, just before Mother's Day, The Local Flower Collective opened for business, with a membership of 11 flower farms and 32 florists. Flower farmers who once devoted a day of personally delivering flowers to dozens of florists in Toronto now simply drop off buckets of blooms at the studio. Florists can pick up their pre-orders and peruse extra offerings to find unexpected seasonal blooms that catch their eyes.
Download the PDF of The Flowering of Toronto and "A Floral Convergence" here.
MELANIE HARRINGTON of Dahlia May Flower Farm
Local, seasonal, Ontario-grown flowers in an Internet age
Who: Melanie Harringon, owner/designer
What: Dahlia May Flower Farm
Where: Trenton, Ontario, Canada
Social Media: dahliamayflowerfarm.com @dahliamayflowerfarm
About: Opening a permanent retail shop on the flower farm she runs with her husband, Ontario-based Melanie Harrington is a young entrepreneur who has dramatically changed how she provides cut flowers to her customers and how shoppers engage with the source of their bouquets and blooms. A native of the Quinte area and a lover of nature, Melanie brings to her work a background in art and horticulture, as well as a passion for growing beautiful flowers. She completed her studies in horticulture and floral design at Loyalist College and she has taken a course in flower farming and design at Floret.
Square Footage: Wedding and event design work is based in a studio at Dahlia May's century-old farmstead, but it is not open to the retail public In 2016, Melanie added a charming, barn-red, 9-by-12-foot flower stand called Dahlia May Flower Market. It stand operates Friday through Sunday, February through December.
Download PDF of Q&A with Melanie Harrington here.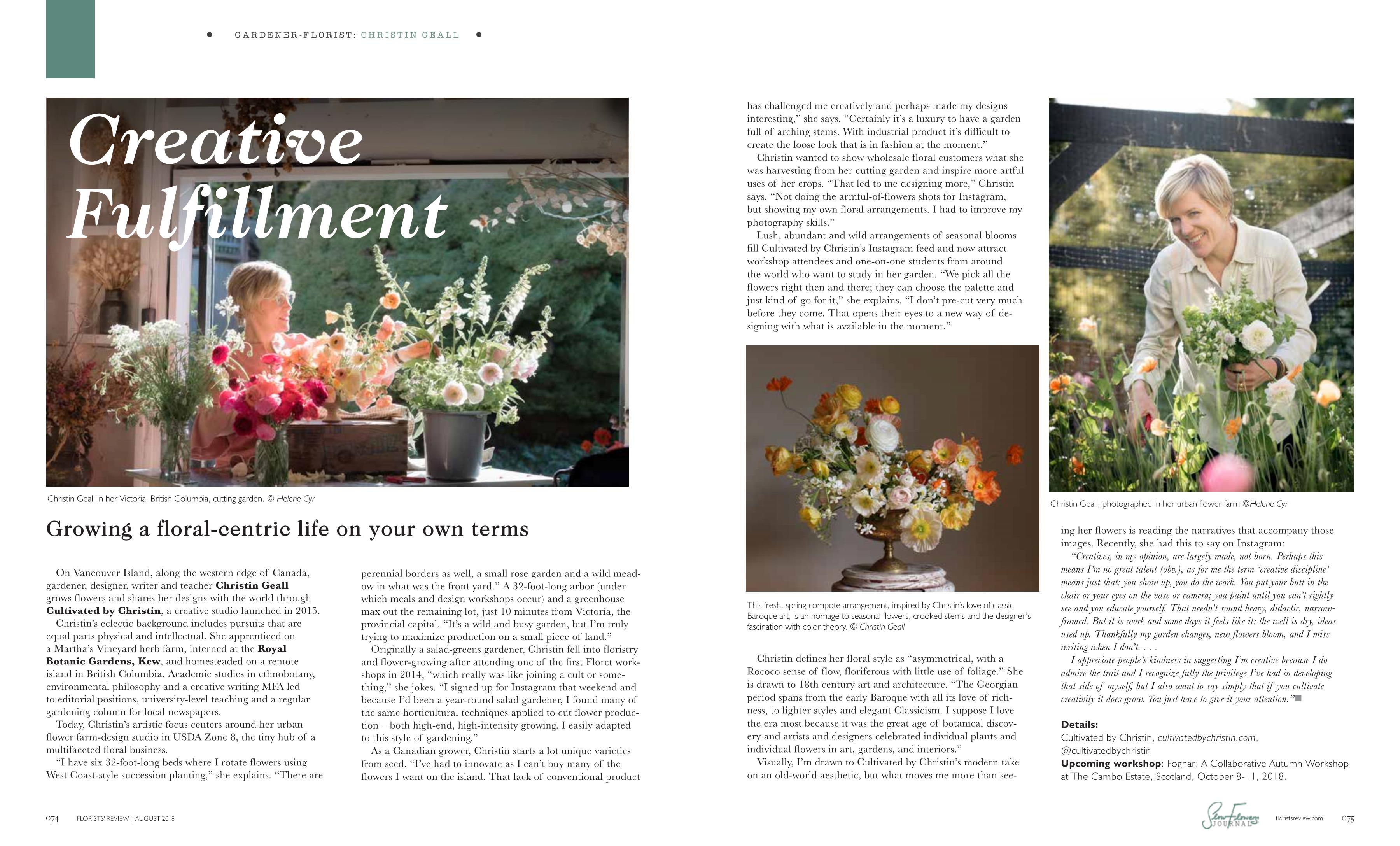 GARDENER-FLORIST: Christin Geall of Cultivated by Christin
Creative Fulfillment
Growing a floral-centric life on your own terms
On Vancouver Island, along the western edge of Canada, gardener, designer, writer and teacher Christin Geall grows flowers and shares her designs with the world through Cultivated by Christin, a creative studio launched in 2015.
Christin's eclectic background includes pursuits that are equal parts physical and intellectual. She apprenticed on a Martha's Vineyard herb farm, interned at the Royal Botanic Gardens, Kew, and homesteaded on a remote island in British Columbia. Academic studies in ethnobotany, environmental science and a creative writing MFA led to editorships, university-level teaching and a regular gardening column for local newspapers.
Today, Christin's artistic focus centers around her urban flower farm-design studio in USDA Zone 8, the tiny hub of a multifaceted floral business.
"I have six 32-foot-long beds where I rotate flowers using West coast-style succession planting," she explains. "There are perennial borders, as well, and a wild meadow in the front, so pretty much all of the grass is gone." A 32-foot-long arbor (under which meals and design workshops occur) and a greenhouse max out the remaining lot, just 10 minutes from Victoria, the provincial capital. "It leads to a wild style, but I'm truly trying to maximize production on a small piece of land."
Download PDF of Creative Fulfillment here.
LOVE THIS?! Want to see more?
Subscribe to Florists' Review and read our bonus Slow Flowers Journal content. Click here to request a free sample issue.