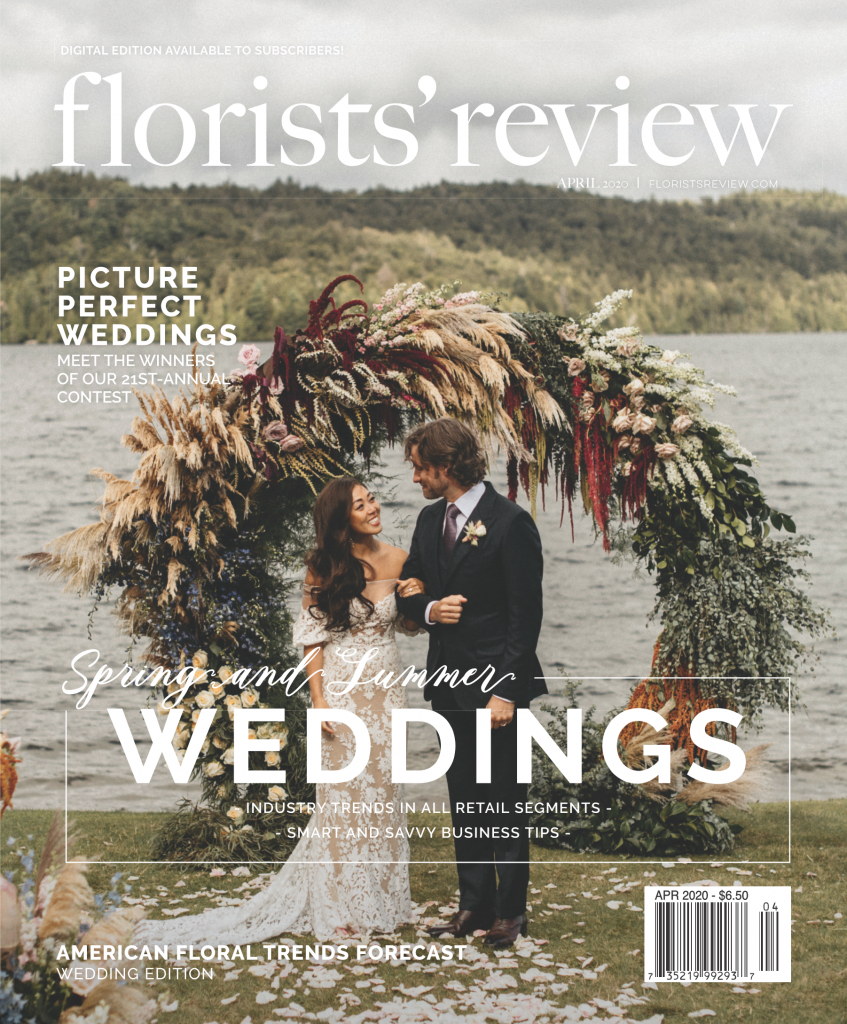 The April 2020 issue of Slow Flowers Journal is our 33rd consecutive special section for Florists' Review, our print magazine partner.
We love featuring the Slow Flowers' message and our members' stories each month, with original, informative and visually compelling content to inspire you.
Showcasing the positive business models and strategies to promote local, seasonal and sustainable flowers is one beautiful way to support the community and our members.
Inside April's pages, find two feature articles about our members. We love sharing these feature stories about our Slow Flowers community and other emerging and important topics.
Heather Henson designed an all-pink bouquet and hairpiece with botanicals she grew and dried. The flowers perfectly complement a vintage winter coat. (c) Brighter with Megan Photography
DRIED FLOWERS REDUX
A modern tale of everlasting blooms
I declared that "dried flowers are having a renaissance" as part of "Slow Flowers' Floral Insights" for 2016. I noted that if you are from my generation, you remember how important dried flowers were for home décor in the 1970s and '80s. Like me, you've probably noticed the recent renewed interest in dried flowers. This awareness has been stimulated by sustainable sourcing practices and the desire on the part of North American flower growers to "extend the season" beyond the last frost.
For Heather Henson, of Boreal Blooms in Cold Lake, Alberta, Canada, growing flowers that can be dried and incorporated into late fall and winter floral arrangements has been a game-changer. During her growing season, this farmer-florist relies on a vivid palette of annuals, perennials and ornamental grasses to supply her studio – which provides a weekly floral CSA (Community-Supported Agriculture) program for more than 50 customers and designs florals for local weddings.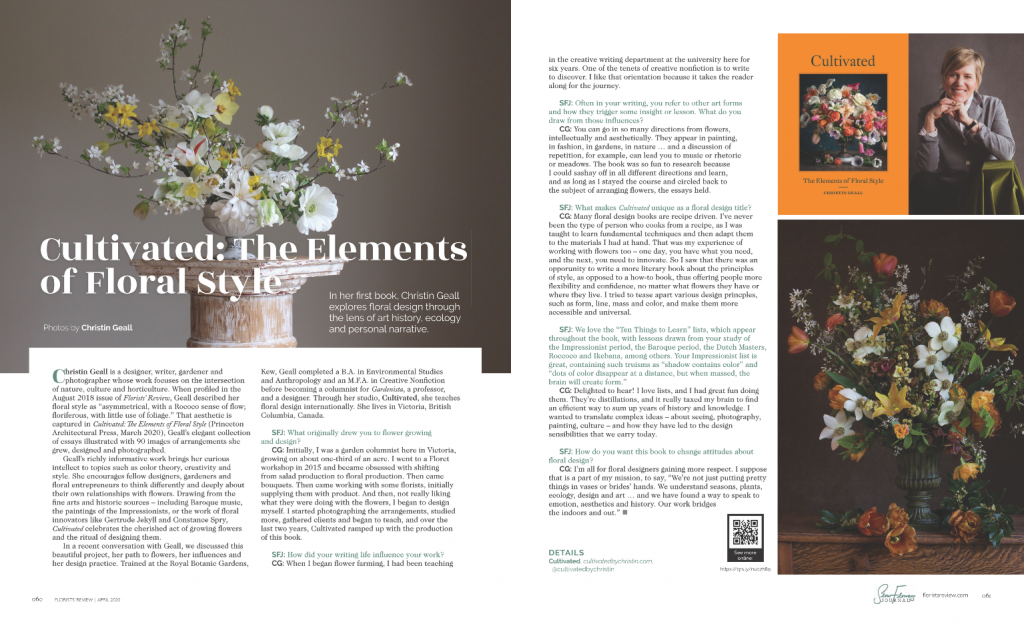 CULTIVATED: The Elements of Floral Style
In her first book, Christin Geall explores floral design through the lens of art history, ecology and personal narrative
(c) Christin Geall Photography
Christin Geall is a designer, writer, gardener, and photographer whose work focuses on the intersection of nature, culture and horticulture. When profiled in the August 2018 issue of Florists' Review, Geall described her floral style as "asymmetrical, with a Rococo sense of flow, floriferous with little use of foliage." That aesthetic is captured in Cultivated: The Elements of Floral Style (Princeton Architectural Press, March 2020), Geall's elegant collection of essays illustrated with 90 images of arrangements she grew, designed and photographed.
In a recent conversation with Geall, we discussed this beautiful project, her path to flowers, her influences and her design practice. Through her studio Cultivated she teaches floral design internationally. She lives in Victoria, British Columbia, Canada.

About Slow Flowers Journal:
We believe what distinguishes each of us is a personal story, the unique alchemy of who we are, where we've come from, what moves and inspires us, our past-present-and-future dreams and how we express our character through creativity.
A storyteller for many decades, editor Debra Prinzing has a natural curiosity and affection for her subjects, read in her narratives that sing with intent and honesty. Here, in the SLOW FLOWERS JOURNAL, she has gathered beautiful and compelling stories to share with you. The topics and subjects we feature are your portal to the world of flower farming, floral design and the Slow Flowers Movement. We strive to connect flower lovers (couples, hosts and hostesses, gardeners and anyone seeking beauty in their lives) with the producers and artists who supply those blooms. We value local, seasonal and sustainable flowers above all else and we work tirelessly as an advocate for American grown flowers (and, for our fellow floristas in Canada, for their consumers to support Canadian-grown botanicals).
As an online magazine, the SLOW FLOWERS JOURNAL delivers news, features, profiles, Q&As, opinion pieces and lots of gorgeous photography tailored to you. By producing dense, substantial, well-reported and well-written editorial pieces, we believe this content will change your attitudes and further engage you in the world of domestic and local flowers.