Week 2, 2023, as we revisit the 10-year anniversary of the book, Slow Flowers
The takeaway from this arrangement is that flowers are not always necessary for a beautiful composition, especially during the dormant season where not much is in bloom, at least here in the Pacific Northwest.

If you read the original story in Slow Flowers, you'll recall that I was scheduled as the lunchtime speaker for a local garden club's January meeting. The topic? The local flowers movement (we hadn't even really started calling it "slow" yet – back in 2011). The "ask": Please demonstrate a local and seasonal winter arrangement during the meeting. Eek! What a scramble when snow was still on the ground.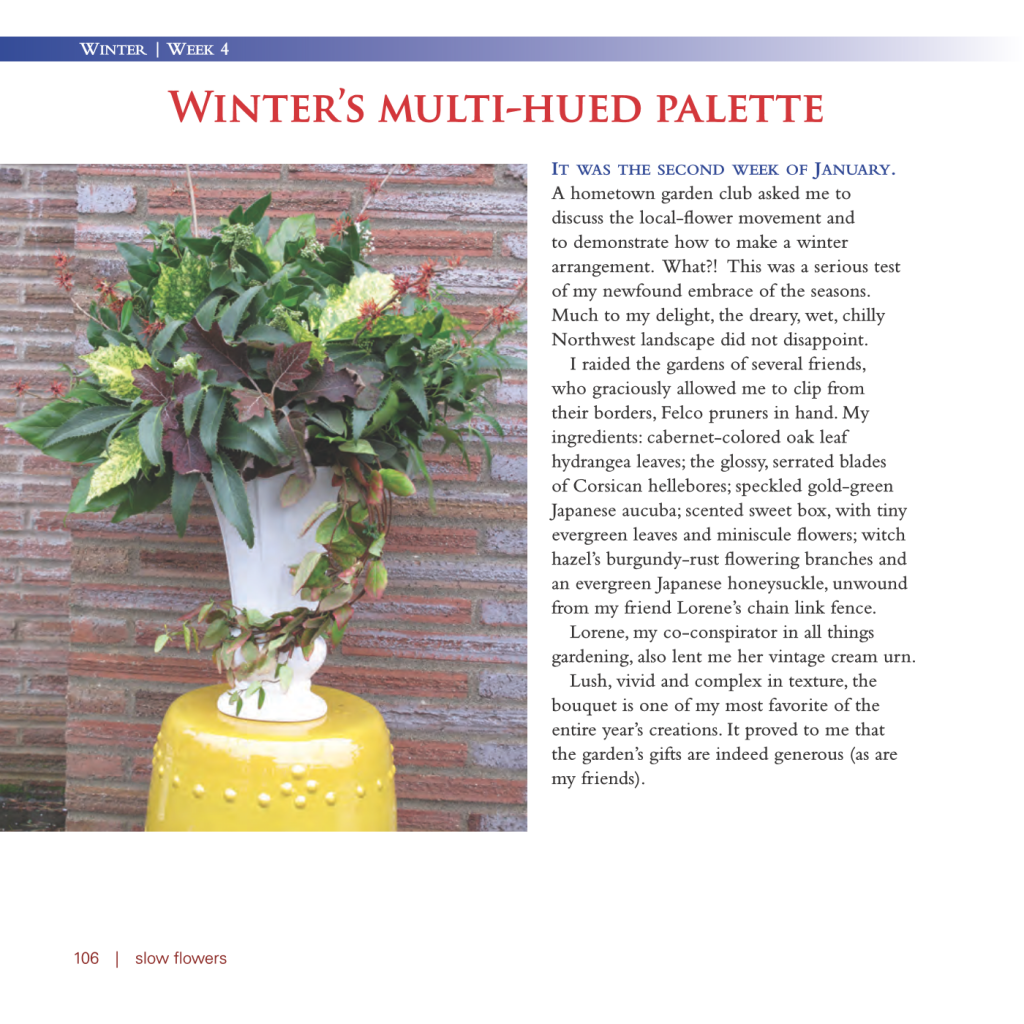 We had just moved back to Seattle from Southern California a few months prior; we were living in a rental house with only a generic yard and a few foundation plants. So I turned to two good gardening friends for permission to harvest from their gorgeous, botanical showpiece properties. From my dear friend, Jean Zaputil, a successful residential landscape designer, I harvested Corsican hellebores, Japanese aucuba and sweet box — all with pretty foliage colors and textures; from my dear friend, artist and writer Lorene Edwards Forkner, I harvested oak leaf hydrangea foliage, witch hazel and Japanese honeysuckle vine. Lorene also lent me the tall vintage cream ware urn.
One decade later, this time around, Jean's garden is no longer available to me, as she has moved back to her home state of Iowa. I now have a cream ware vase of my own, similar to Lorene's; plus, witch hazel 'Jelena' and a few oak leaf hydrangeas, so I really just needed to clip Japanese honeysuckle from her fence. But, alas, that plant has disappeared as our favorite garden plants are occasionally wont to do.
I'm kind of glad that I needed to start from scratch and replicate this arrangement with new or similar ingredients, thinking about the design with a new eye. And here's what I came up with from my garden (plus cuttings from one new vine plant purchased from my local specialty garden center).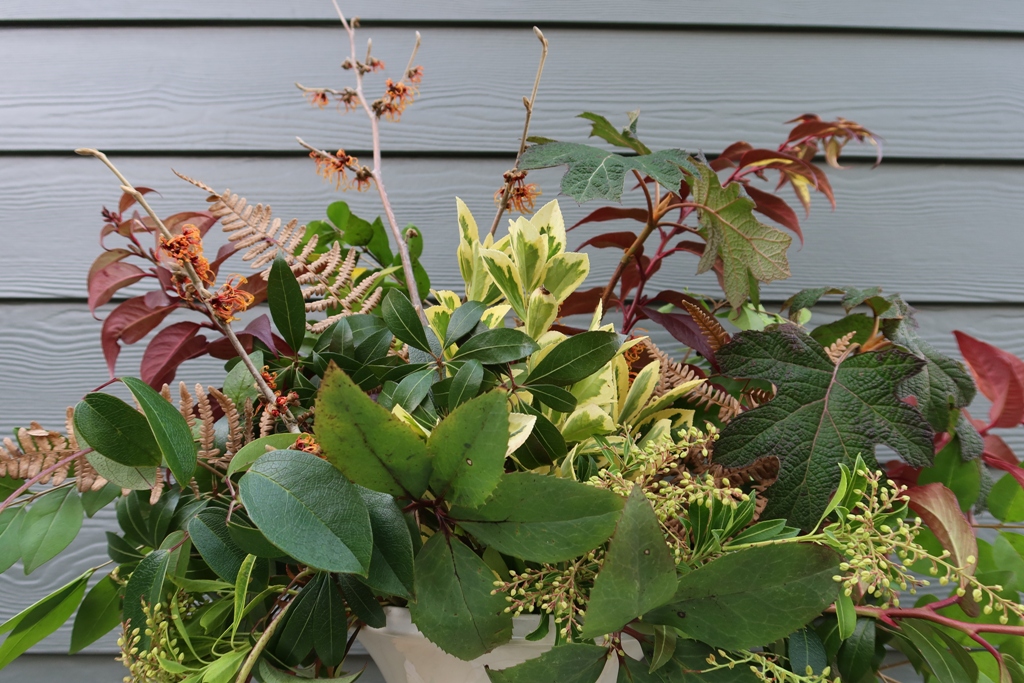 3 branches of golden privet (Ligustrum 'Golden Ticket')
3 branches of gold variegated Euonymus fortunei Emerald 'n' Gold
3-5 leaves from perennial hellebores
3-5 sprigs from Pieris japonica
Glossy green foliage from Pieris japonica 'Katsura'
3 long stems of maroon Leucothoe foliage
2 stems of witch hazel (Hamamelis x intermedia 'Jelena')
2 stems of oak leaf hydrangea foliage (Hydrangea quercifolia)
4 stems pressed, dried Autumn ferns (Dryopteris erythrosora 'Brilliance')
1 length of evergreen cathedral gem sausage vine (Holboellia coriacea 'Cathedral Gem')
Vase: 12-inch vintage cream ware urn