Week 3, 2023, as we revisit the 10-year anniversary of the book, Slow Flowers
Onward through the Slow Flowers Year! It's Week Three, and my original inspiration from 2013 has received an update: Local Tulips and Witch Hazel Branches from my garden.
The first issue: Finding the cobalt-blue container that provided a perfect color-contrast to peachy-orange tulips. After looking through my shelves and hutches for the past week, I was about to give up. We've moved homes and downsized a bit since then, and I decided I must have sold the vintage pot in my big yard sale in 2015. But then, yesterday, in the very back of a top kitchen cupboard filled with other vases, I caught a glimpse of it!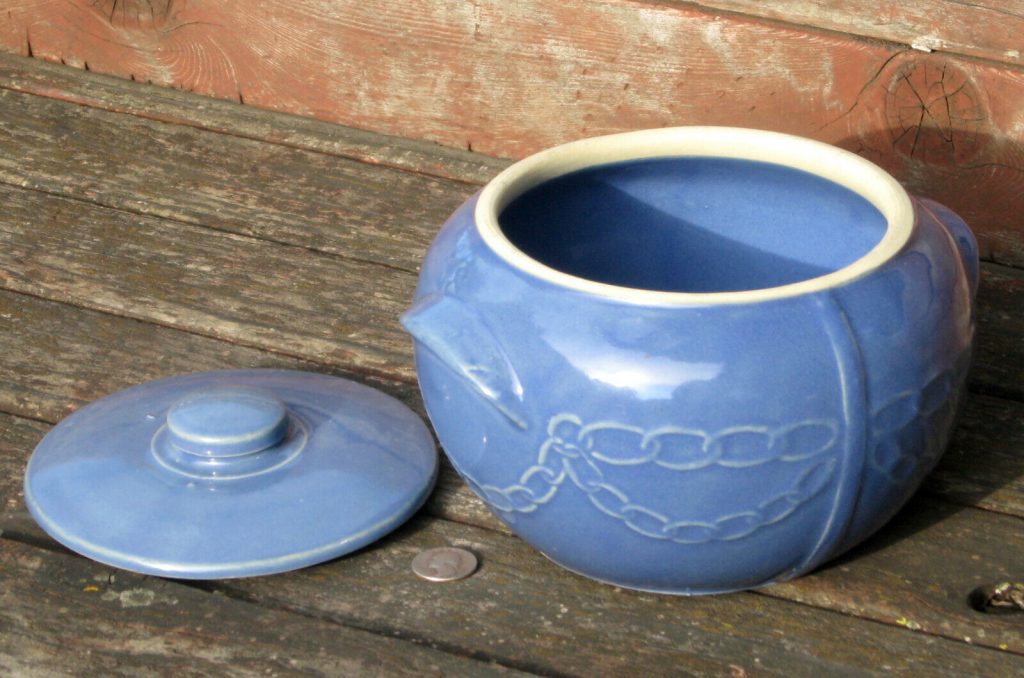 And then, I started to research the vessel's unique shape and the embossed chain pattern on its surface. Turns out, you can still find a few of these 1940s bowls on Ebay. As far as I can tell, it's a bean pot with a missing lid — from American pottery company Monmouth Western Stoneware. If you look around, this pattern and glaze is also found in a pitcher and mixing bowl. Mine has a large opening; at 6-1/2 inches, it was at little too large for the rather small standard tulips I was working with.
My original ingredient list for "A Blue Bowl of Blooms" included 2 dozen mixed spring tulips, grown by Alm Hill Gardens and 7 branches of 'Jelena' witch hazel.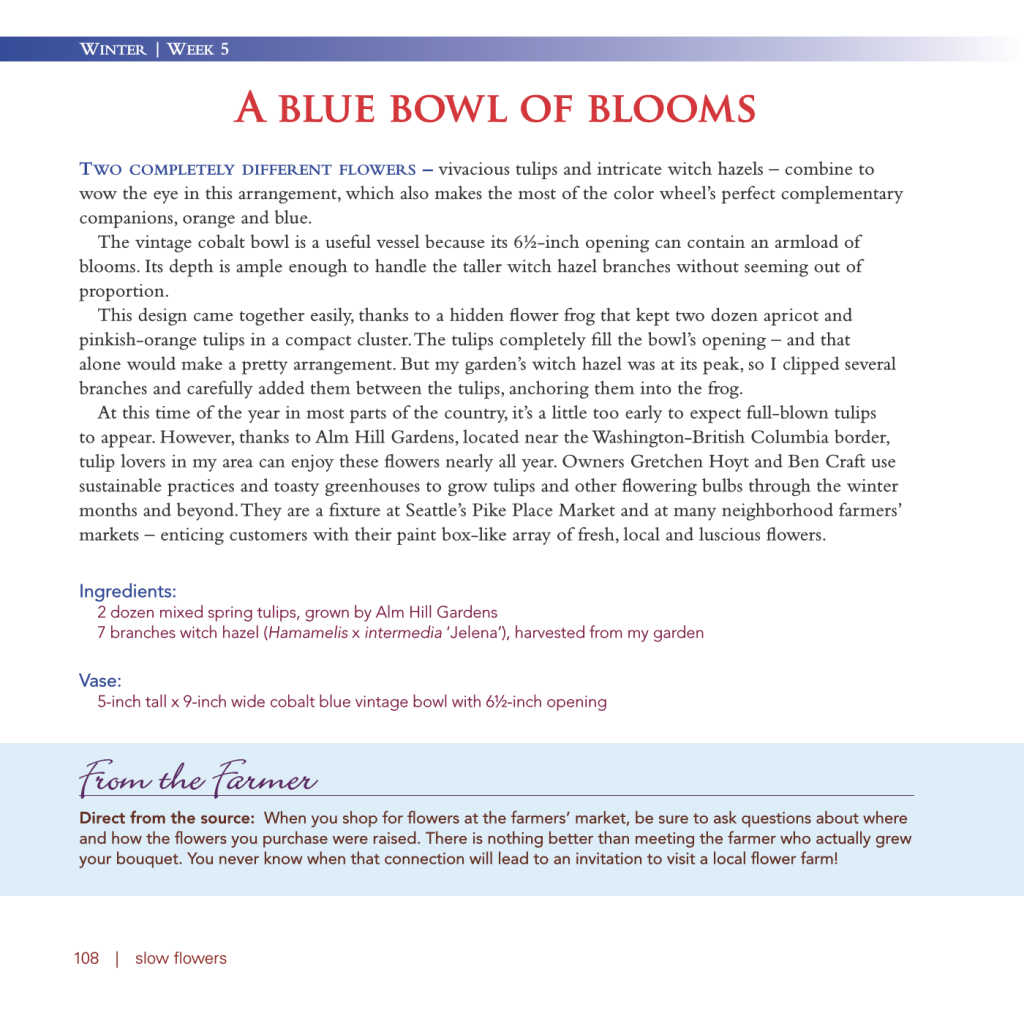 First off, to my dismay, 2021 was the last year that Gretchen Hoyt of Alm Hill Gardens brought her juicy, colorful tulips to the Pike Place Market. Located near the Washington-British Columbia border, Alm Hill Gardens was such a fantastic grower. But during Covid, and for other reasons, Gretchen let me know that she is no longer growing. This is a huge loss for the local fans of her tulips. In 2017, my friend Lorene Edwards Forkner and I visited Alm Hill and you can read more about that visit (and hear audio of our walking tour) here on the Slow Flowers Podcast.
---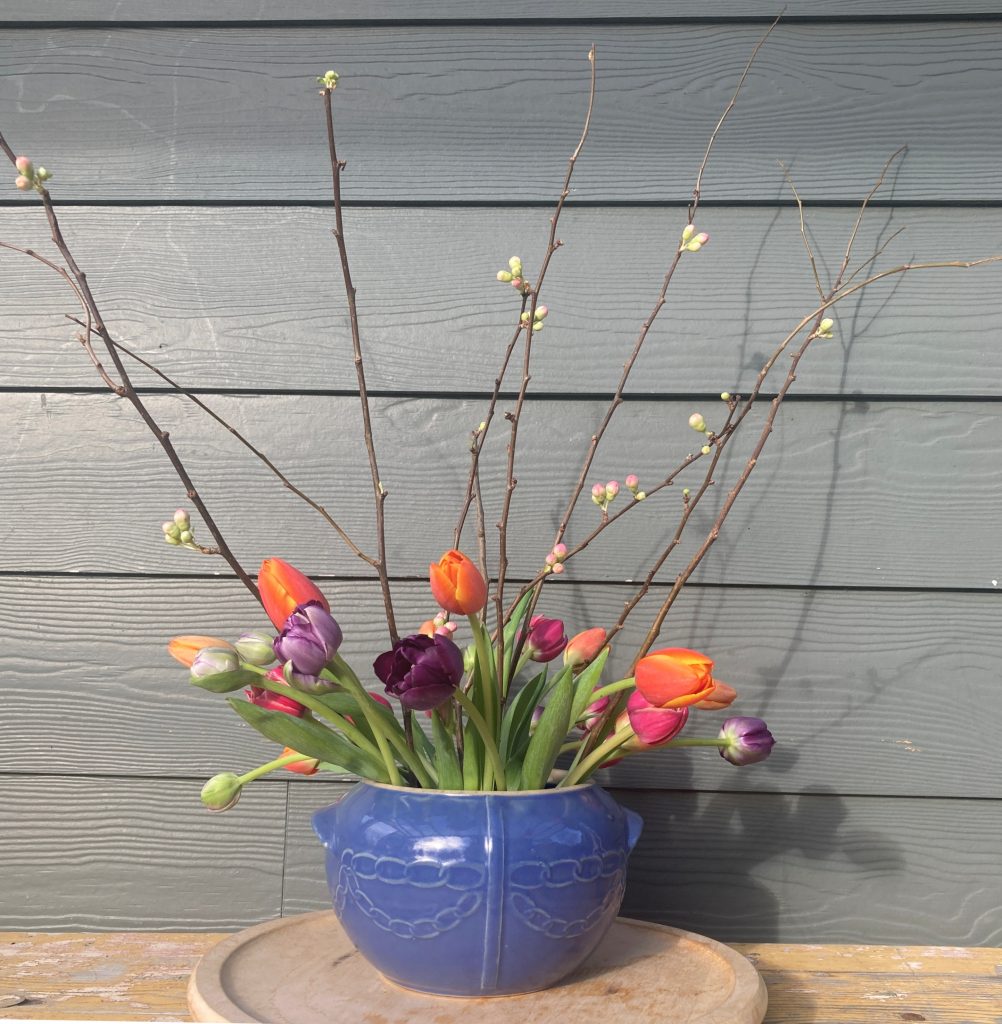 Earlier this week, I picked up much smaller tulips at the Seattle Wholesale Growers Market — about 2 dozen in a mix of deep pink and light purple from Sun Valley Growers in Arcata, California, (small, but doubles) and some orange standards, brought in from B.C. greenhouses.
And, no witch hazel at the Growers Market; I already had clipped one stem from my own young shrub for last week's bouquet, so I couldn't sacrifice that plant this time. However, our good friends Diane Szukovathy and Dennis Westphall of Jello Mold Farm just started cutting their quince branches — and I was delighted to use seven of those, still in bud but with the promise of pretty pastel-coral blooms once the interior warmth of our living room coaxes them open.
Version Two with a smaller vase in celadon glaze
As you can see above, the tulips fit much better in a modern-day celadon-green vessel, which Lorene (the same companion on my outing to Alm Hill Gardens in 2017!) gave to me on one past holiday, filled with paperwhite bulbs. The opening holds the tulips more compactly so the stems don't flop and YES I love the glaze!
By the way, both new arrangements rely on a pin frog in the base, which is mostly for the quince branches.