Week 4, as we we revisit the 10-year anniversary of the book, Slow Flowers
Twigs and blooms for January 2023
---
Twigs and blooms for February 2013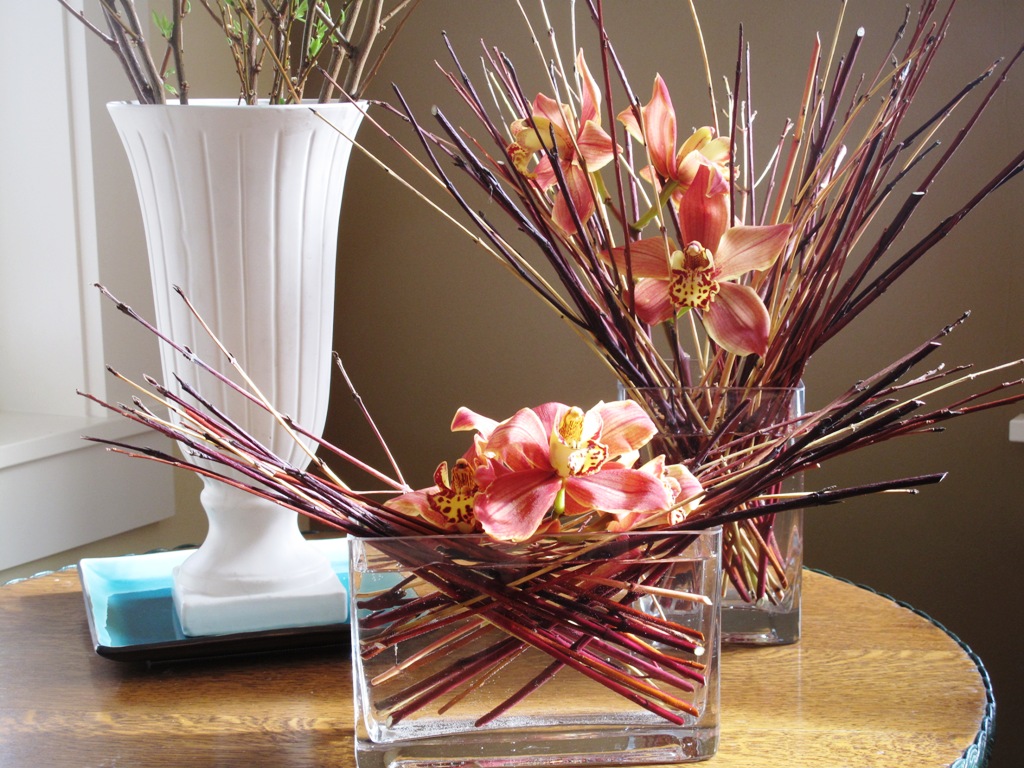 Even though we've made so many strides in local and domestic floral sourcing since I created this red twig-and-cymbidium orchid arrangement in 2012 for the book Slow Flowers, the winter selection this past week was limited.
I had the idea of changing my color palette from Oregon-grown red twig dogwood branches to the yellow-gold variety — and that was doable. Seattle Wholesale Growers Market's source is Continental Floral Greens.
But orchids, especially non-Holland orchids, were not to be found. The beautiful Cymbidium Sleeping Dream 'Castle' that I highlighted in the original arrangement is no longer a cut flower option from Peterkort Roses. Third-generation cut flower growers, our good friends Sandra Peterkort Laubenthal and Norman Peterkort, phased out their rare cut orchid collection several years ago. I'm not entirely sure why, but there have been many changes in greenhouse growing since 2012 (not to mention since the 1940s when their grandparents started the company).
So using the gold twigs as my inspiration, I looked around to see what "flower" might be paired with the woven twig matrix I wanted to recreate. My eyes landed on a bucket of similarly-colored leucadendron.
---
Lesson learned?
It might have been best to find a potted cymbidium to achieve my Slow Flowers Redux arrangement. I honestly love the original arrangement published in 2013 and my attempt to recreate it (more accurately) will have to wait for another day!