Week 5, as we we revisit the 10-year anniversary of the book, Slow Flowers
In February 2012, while I was deep into my weekly "Slow Flowers" weekly bouquet project, I found that my winter floral palette was truly guided by seasonal options. And during the 5th week of the year, I was delighted to find large, old-fashioned white calla lilies from an Oregon grower at the Seattle Wholesale Growers Market.
At the time, the Growers Market hadn't even hit its first birthday and the February options were mostly "twigs and conifers," much like what was in my Seattle garden. As soon as the first callas of the year began to show up, I was charmed by their classic elegance. I paired them with flowering cherry branches, their buds just beginning to swell.
This time around, that grower no longer brings his flowers to the Seattle marketplace, and I wondered where I would find Calla lilies. Fortunately, the Growers Market is able to bring in mini callas from California (grower unknown). The white-flowering plum branches just arrived from Jello Mold Farm, and they are perfect for this composition as I think it's still a few weeks too early for cherry branches. And then, and then . . . I couldn't resist these stunning Asiatic lilies, grown by Peterkort Roses in Oregon.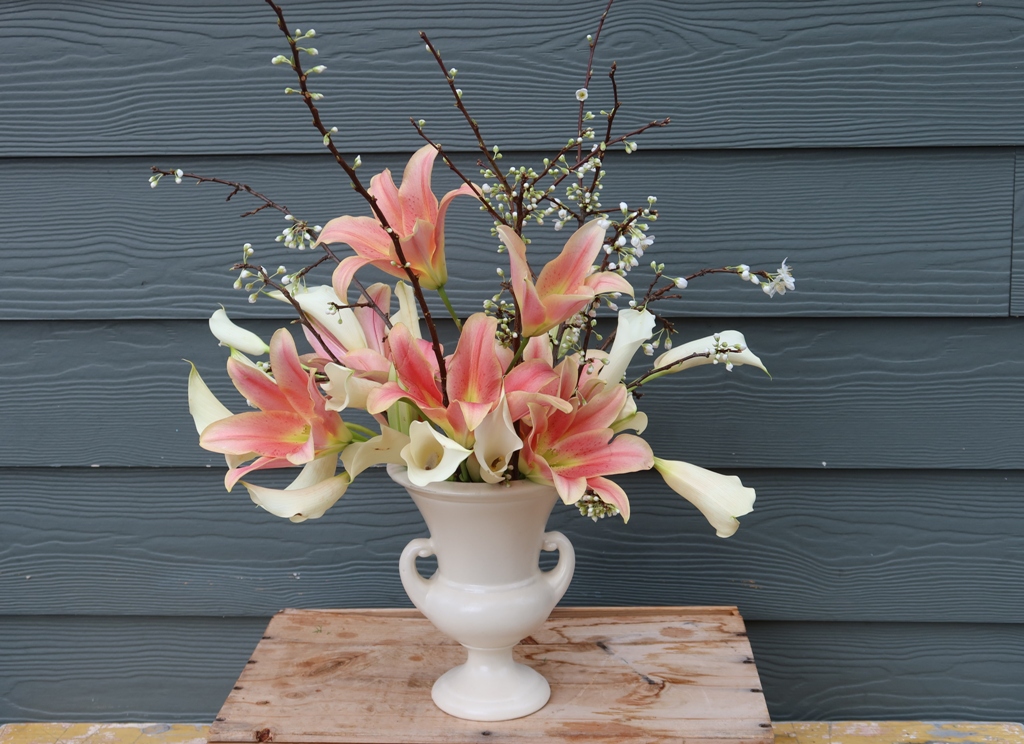 How do I describe the color? I'm sure there is a cultivar and I will look for it. But today, we held the "office hours" for my 2023 Slow Flowers Creative (Writing) Workshop and I shared the image of these lilies as a writing prompt for the students who joined me. Their descriptions were fabulous, inspired, inventive, playful, and creative. Here's what I wrote:
So, not an exact bouquet replica, but I consider the "Callas and Cherry Branches" design a good starting point.