Part Four of our Six-Part Series on New Floral Marketing Models and Platforms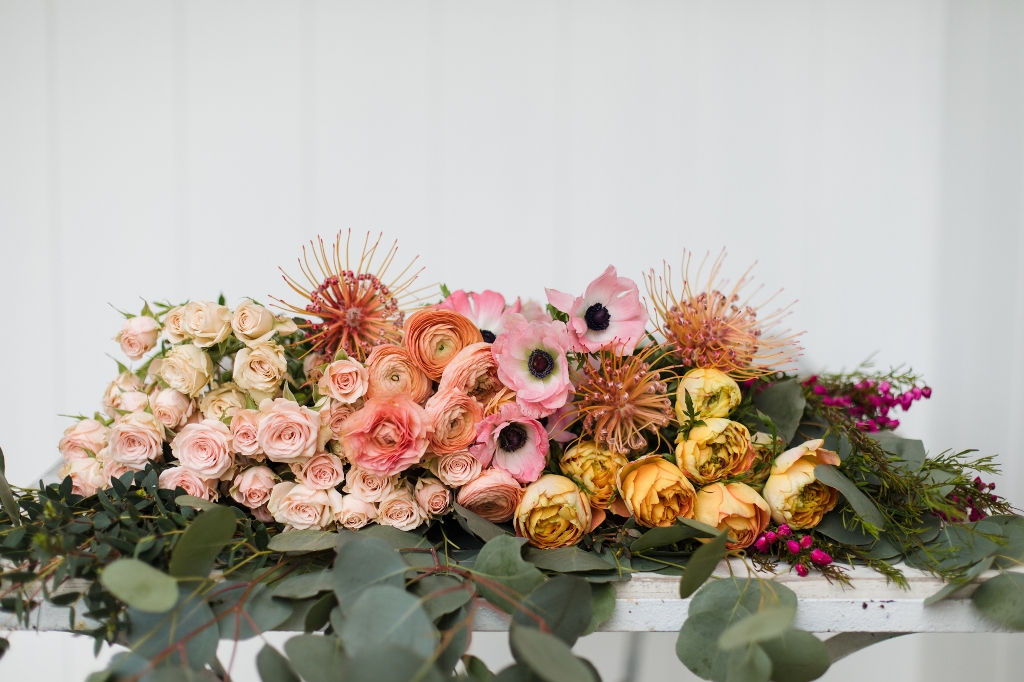 Wedding and event florist Kelly Shore, owner of Petals by the Shore in Damascus, Maryland, has spent the past five years educating herself about domestic flower sourcing. She began in her own backyard, motivated by a desire to support flower growers in her area, many of whom she originally purchased from through local farmers' markets.
As her involvement in about the Slow Flowers movement grew, Kelly's commitment and awareness expanded. She committed to only sourcing 100-percent American-grown ingredients for her designs. She reached out to flower farms around the country, introducing herself and asking how she could support them. For some, that meant directly selling their flowers to Petals by the Shore. For many, though, that meant telling Kelly to encourage the wholesale florists in her area to order more domestic product for their coolers.
After inviting a small group of florists to travel to Alaska's peony farms with her in 2018, Kelly created The Floral Source in 2019. An educational arm of her business, The Floral Source was originally designed to host retreats and farm tours for professional florists, with the goal of exciting her peers about domestic sourcing and demystifying the ordering process.
The platform gave Kelly a way to highlight dozens of flower farms, their flowers and a seasonal approach to floral design. "I have often felt like my design community was intimidated about connecting directly with growers," she explains. "And I know that it's hard to break habits, because it's easy to go to one place, buy the cheapest, and get the floral product you know and have relied on. But to break out of that mold and transition to sourcing domestically, you have to be willing to reach out to multiple growers."
The landscape changed when the COVID-19 pandemic hit. Kelly was forced to postpone The Floral Source's first ambitious retreat in March, which included several California flower farms and had sold out. Like many of her peers, Kelly's weddings and other bookings were also put on hold, cancelled or postponed.
She began to hear from florists around the U.S. who knew of her advocacy. Many were panicking because the U.S. borders had closed and international air shipments were suspended, meaning that the supply of imported flowers was on hold. Those florists begged her to help them source domestic flowers for the orders they still needed to fill.
"I reached out to every U.S. farm contact I had, people I'd developed working relationships with," she explains. "I wanted to know who was still shipping, who was willing to change their policies and begin to ship direct to florists, and who even still had flowers."
Through her social media posts, Kelly let followers know about specific farms and the availability of their flowers. She discovered that many florists who had never or rarely purchased farm-direct before, not to mention focus on American-grown floral product, were hesitant to commit to her methods.
Yet Kelly believed that once those florists experienced the variety, freshness and quality of flowers and foliage from domestic growers things could change.
She approached one of her favorite rose sources, California Pajarosa Floral, run by Paul Furman. "They are my go-to rose grower and I can also get a variety of greens and other flowers from them," she explains. Kelly convinced Pajarosa Floral to allow her to curate a "sample box" of their best flowers to market to other florists. She subsequently added several other established California growers, including CamFlor, KB Farms and Eufloria Roses, rolling out the sample box schedule introducing a new farm (and its flowers) every two weeks.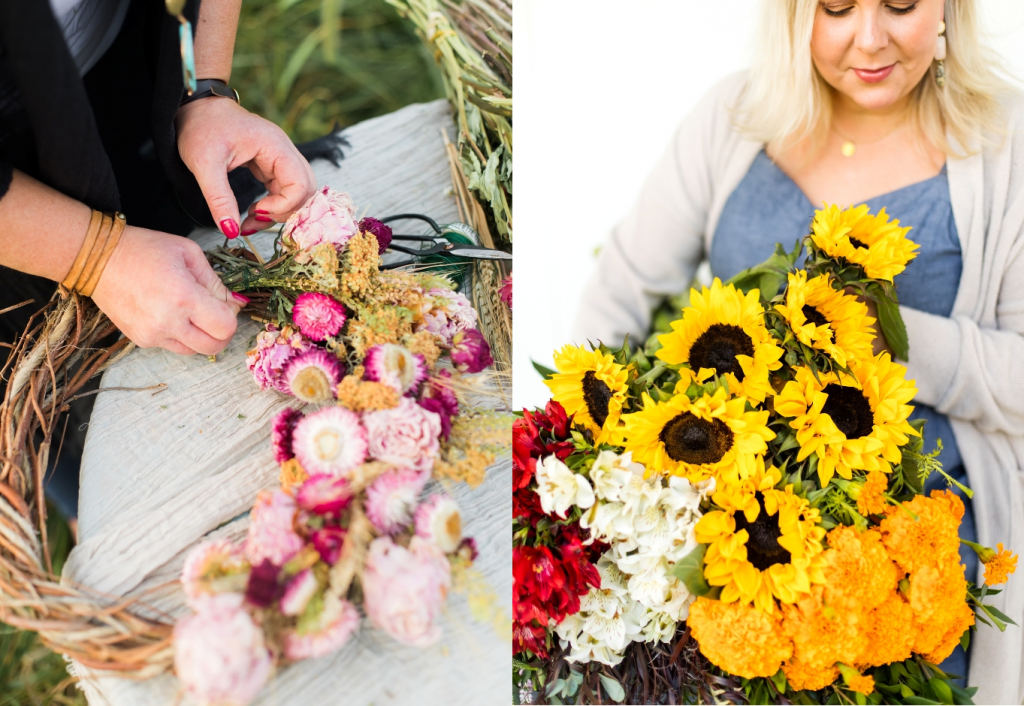 The boxes are priced between $175 and $280, depending on the variety. Each contains a minimum of 100 stems of flowers and foliage and up to 150, depending on the collection.
Kelly began to add "American Grown at Home" branding and invested in photography and graphic design. And while she describes the campaign as more of a "cash flow" project than a way to replace lost wedding income, Kelly is grateful that it gave her a purpose and focus during the uncertainty of COVID.
"The whole purpose of creating the curated boxes was not to generate money for myself, but to empower the design community with the knowledge about what these farms grow. I told my florist friends: 'If you're not confident or you don't know where to get flowers domestically, here's how you can sample these farms without taking a huge risk.'"
Kelly added a "virtual workshop" component to support the flower orders, noting that many of those who ordered flowers were beginning florists and farmer-florists, as well as a few flower enthusiasts.
"I needed to know that I was part of a bigger picture, that I was helping others succeed and that I could be there for my community," she says. "This started as a way to keep flowers moving and then it became a critical way for designers to learn how to get domestic flowers. Florists are becoming very aware of farm-direct options and are shifting their practices accordingly. They have begun to see the value of ordering farm-fresh flowers that are cut a day or two before shipped to them. They see the difference in vase life of these flowers which are not days to a week old like they usually experienced. When designers were not able to source their traditional way, these boxes became a way for them to find confidence in farm direct freshness."
Originally a passion project for Kelly, she feels like original educational goal of The Floral Source is now being realized — and the American Grown at Home boxes are a tangible example. "I'm seeing a change among many designers, who now want to have purpose in how they are designing and sourcing. They are realizing that it does matter where their flowers come from."
As more florists participate in American Grown at Home, they're learning all of Kelly's pro tips and procurement methods. "In my posts I try to break down the math, and help others figure out how to make the most of their orders. I want to be the gateway for other designers, a conduit to gently ease them into sourcing direct from a farm with confidence. And once they have received all this beautiful floral product and experienced it — they're hooked."
Kelly's Brand Messaging:
SUPPORT AMERICAN GROWN FLOWER FARMS
Each curated, fresh-from-U.S.-flower-farm boxes provides you with an opportunity to sample seasonal and diverse products. Some of the products will be field grown, some will be greenhouse grown and there may be varieties you've never experienced! The many farms featured here all grow very different flora. This is your opportunity to expand your sourcing knowledge, support farms that are new to you and create with fresher product. Make your designs have purpose beyond the blooms.
This direct from the farm-door-to-your-door box program is a way for me to help create more awareness of what our farms grow seasonally and regionally, help the farms move their abundance of product, instill a sense of national pride in where our flowers come from and provide you a sense of hope and inspiration in the home or studio with beautiful botanicals.
THIS FARM BOX PROGRAM IS FOR YOU IF:
You want to connect with a flower farm by name
You value source of origin
You want to establish relationships with farms for future sourcing
You want to educate yourself on regional and seasonal availability from farms across the U.S.
You value supporting flower farming families and the jobs they provide for their communities
You value supporting local economies
You value hand-picked, hand-graded and cared for flowers and foliage
You value the future success of our domestic flower and greens farms
You value product that is shipped within days of harvest direct from the farm
You value products that are mindfully grown with concern for the environment
WHAT WILL YOU RECEIVE:
Each direct from the farm box will contain:
a curated collection of botanicals by Kelly Shore of Petals by the Shore with featured ship date
an emailed PDF with directions on how to condition the specific flowers from that farm.
Details:
The Floral Source: thefloralsource.com, @thefloralsource