Part Five of our Six-Part Series on New Floral Marketing Models and Platforms
With 15 years in the floral industry, seven of which as the owner of Milwaukee Flower Co., a full-service luxury wedding design studio and micro flower farm in Milwaukee, Wisconsin, Sally Vander Wyst saw an opportunity to launch a second business. And as a "socially-distanced" online floral model, ZAP Bloom has turned out to be the perfect COVID antidote for wedding and event customers wanting no-contact services.
ZAP Bloom recently debuted as a sister company to Milwaukee Flower Co., introducing a new flower ordering model for customers who love good design, but who don't want to spend time or money working with a full-service florist. The brand allows Sally to capture a new market while not distracting from her core brand.
"We're putting all our florist knowledge and power in the hands of the client," Sally explains. The ideal ZAP Bloom customer is DIY-minded and wants a low-key event. He or she appreciates choosing from an a la carte menu that includes a variety of options, sizes and fashion-forward palettes. By ordering from the ZAP Bloom website, clients save on service and consulting fees and there are no surprises because they set the exact budget.
In the past, customers may have resorted to grocery store flowers to keep things simple. But they aren't necessarily budget couples, Sally points out. While working with a consumer research consultant, she learned that potential customers were put off by ZAP Bloom's original tagline: Budget-Savvy Event Florals. "Everybody hated it," she laughs. "Most told us: 'we don't care about being budget-savvy.'"
What people did care about was having a hassle-free experience and transparency. "Typically, wedding flowers are a mystery. You have to go to a specialist to find out how to get what you want," Sally observes. "And I think our ZAP Bloom model will open up the process to be more transparent."
That research inspired ZAP Bloom's current tagline: On a mission to offer you an innovative way to order event flowers with a custom look, without a custom price tag or process.
Appealing to clients who want to purchase wedding flowers differently is one thing. But Sally also anticipates her full-service wedding clients will shop on ZAP Bloom's online platform. "A lot of Milwaukee Flower Co.'s past clients would reach out to us for their baby showers or other parties because they love our style. What's great is that they can now order Milwaukee Flower Co.-styled arrangements, but through ZAP Bloom."
Sally confides that she's the ideal ZAP Bloom client demographic. "I wanted to build something that I would use and my friends would use." She also wanted to respect fellow florists and not take a bite out of their business. "I don't think we're necessarily taking business from midsized florists in Milwaukee," she explains. "I don't want to step on the toes of any of my florist friends. We've identified a completely underserved market, or perhaps one that's not served at all."
ZAP Bloom is built on Shopify, which integrates with QuickBooks, making Sally's accountant happy. The store menu offers variously-sized centerpieces, personal flowers, decor, plus packages, all in a range of color palettes updated annually. "I think some of 2020's colors will stay, like the classic white and green, but all are based on wedding and event trends," she says. Current choices include themes such as "sorbet," "yarrow," "villa," "sedona" or "timeless."
Menu Prices Include:
Grand: $200
Full Centerpiece: $125
Petite: $65
Bud Vase: $15
Full Bouquet: $150
Petite Bouquet: $75
Boutonniere: $15
Hair Flower: $50
Wrist Corsage: $30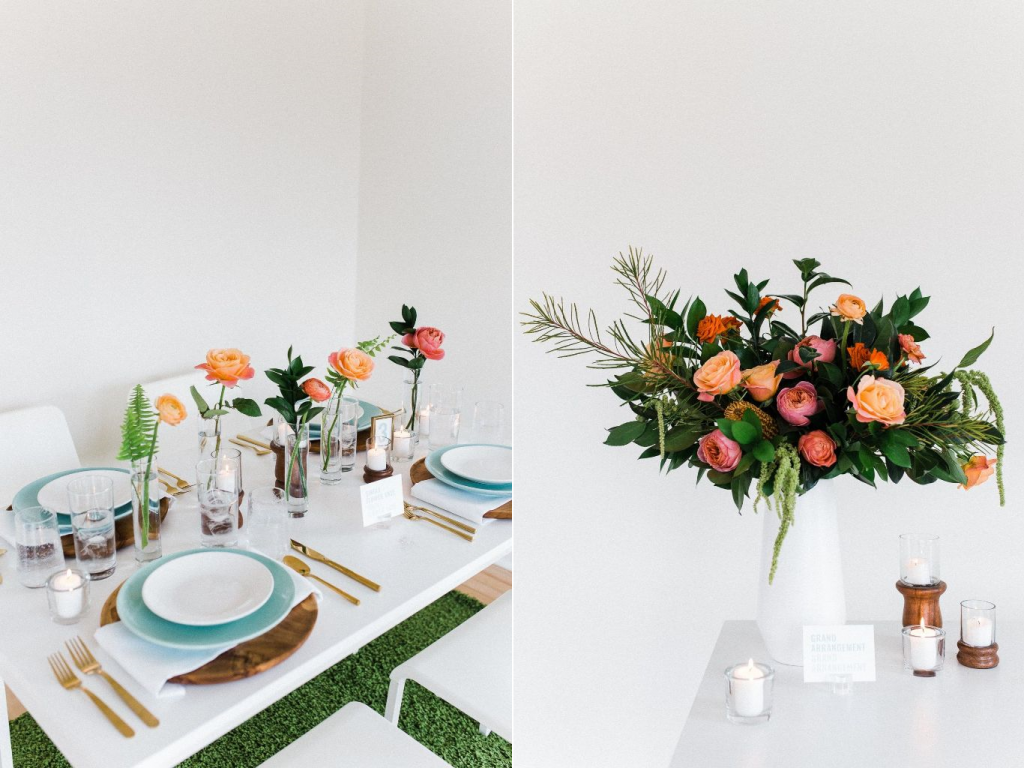 Customers are asked to order within 14 days of their event, although Sally expects most will place orders one to three months before their ceremony date. "You can play around on the website, put things in your cart, and see what's going to work for you," she says. And after years of fielding questions from DIY customers who wish to purchase bulk flowers, ZAP Bloom is now Sally's way to say "yes," offering buckets of greenery and flowers, ranging from $55 to $350.
Like Milwaukee Flower Co.'s commitment to local and seasonal flowers, ZAP Bloom's sustainability policy reads: "We source American-grown flowers as much as humanly possible, support local flower farms, as well as sourcing from our own cutting garden for your orders. All flower waste is landfill diverted by Compost Crusader. 100% foam free designs – yay less trash!"
Milwaukee Flower Co. is fully booked for 2021, so Sally can direct new wedding inquiries to ZAP Bloom. With the floral landscape changing because of 2020's COVID-19 pandemic, "it has became really apparent that people were going to have smaller celebrations," Sally points out. "Who knows how long that will continue, but it's obvious that people are seeking out something like this, especially during hard times."
CHANGING IT UP
During COVID, Sally kept herself and her two full-time employees busy through a CSA subscription service and everyday deliveries. "We sold flowers nonstop," she admits. Now that it's fall, micro weddings have resurfaced, and Milwaukee Flower Co. recently booked flowers for a 220-guest ceremony. The difference now is that Sally won't provide set-up, flips or break-down services if guests are present. Employees and freelancers work on separate shifts; they drive separate vehicles to wedding sites and stand six- or more feet apart while installing floral decor.
Sally is testing a Thanksgiving centerpiece option ($125-$175), with a giving component to support Milwaukee's Hunger Task Force. Since Milwaukee Flower Co. offered local delivery and subscription florals during COVID, she sees this as a way to move those orders to Zap Bloom. "We love the ways to give back through ZAP Bloom."
Details:
Zap Bloom: zapbloom.com, @zapbloommke