Slow Flowers Members use botanical art, large-scale floral installations to communicate their values
In December 2018, I profiled Los Angeles floral artist and designer Whit McClure, of the studio Whit Hazen, for a feature in Florists' Review magazine's Slow Flowers Journal. We talked about her influences and path to become a florist, her vibrant aesthetic, and the powerful way she uses flowers to reflect her values and beliefs.
Whit told me:
"Expanding my studio practice into making art that addresses political issues is probably the biggest thing that makes my work stand out."

Whit McClure, Whit Hazen
Whit's commitment to social justice, to speaking out about her beliefs, and encouraging others to use their voices and platforms to advocate for change really inspired me. It prompted me to invite Whit to be our Capstone Speaker at the 2019 Slow Flowers Summit on "Floral Activism."
You must watch the video of Whit's presentation. In a powerful and prescient way, she foretold the narrative we are witnessing right now, as so many white people of privilege, myself included, are finally seeing the world through the eyes of black people. And we are finally beginning to take action. It is not enough and it is almost too late. But not quite.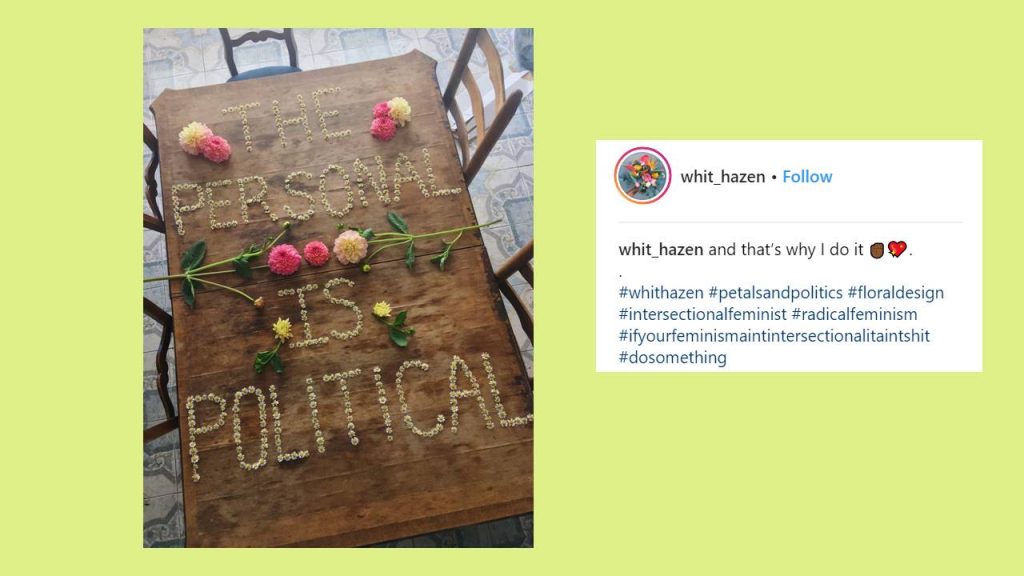 When Whit's presentation came to a close, it prompted a spontaneous standing ovation that brought tears to my eyes. As she says, "The Personal is Political." And now, a growing number of Slow Flowers members are putting their own talents into action; action that adds signicance to the applause.
FLORAL TRIBUTES
Recently, Jill Brooke, editorial director of Flower Power Daily, post a story called: "The Significance of Flowers as a Tribute to the Deceased."
Here is an excerpt:
"At our rawest moments, those times when words cannot express the depth of emotions, flowers can.
"A clarion call triggers human hands to find them—the reliable carnation, the fierce rose, the fragrant lily—because flowers are imbued with special powers.
"They comfort and offer hope.
"So here we are again, facing the aftermath of racial inequality. People find strength and community, in Minnesota and cities nationwide, by laying fields of flowers on streets.
"This symbolic act is actually an ancient ritual, this need to pluck flowers from the earth and hold them close.
"Flowers silently assure us that beauty and solace exist despite loss or injustice. They are the weapons of choice to disarm violence. They add a peaceful voice to anguish; their beauty is a symbol of hope.
We see it as George Floyd's brother lays down flowers as a peace offering and plea for change. . . ."
Jill posted a video (shown above) which features many of the floral installations honoring George Floyd, including the incredible tribute called #rosefromconcrete that Whit McClure created in Los Angeles at the Hall of Justice (second slide in video).
Whit wrote this on her IG post:
"Let this be a testament that while the conditions we find ourselves in present so many challenges, we can allow our imaginations to run wild in creating a new world and the strategies we'll use to get there. If you're still wondering what your role is in its creation, let your talents be your guide and offer them freely to black folks and black liberation. . . . FLOWERS FOR THE REVOLUTION is an actual dream come true for me and I have a feeling we're just getting started."

Whit McClure, Whit Hazen
DOING SOMETHING
In recent days and weeks, the Slow Flowers community has stepped up to add their talents and imagination (to use Whit's words) to the social justice advocacy in their communities. We want to share a few of them to underscore exactly what Jill Brooke wrote about:
"It could be because the life-affirming loveliness and bright diverse colors of flowers are a contrast to the somber occasions and locations of loss. Yet we can't ignore a truth. Built into a flower's biological structure seems to be the ability to express feelings of grief and gladness, sympathy and joy, hope and courage."

Jill Brooke, Flower Power Daily
DETROIT: Big Flower Friend by Lisa Waud Botanical Artist
Beginning in late May, Lisa Waud launched Big Flower Friend, a six-week floral installation series in Detroit, originally intended as a way for her studio to support local, Michigan flower farmers and growers impacted by COVID-19.
The first installation coincided with the week when George Floyd was brutally murdered by Minneapolis police. The outrage that Lisa and fellow Detroit residents felt upon witnessing so many recent deaths of black humans at the hands of law enforcement suddenly changed the tone and intent of the Big Flower Friend series.
Lisa had been working with the authors of Belle Isle to Eight Mile: an Insider's Guide to Detroit, to select locations for her public installations.
They identified sites honoring lives lost during generations of black Detroit's struggle for justice. For Week Two's installation at the Burwood Wall, constructed in 1941 to deliniate two sides of Detroit because the federal government would not approve mortgages for whites in neighborhoods where black people were living, Lisa wrote: "This installation isn't about the installation; it's about getting you to visit and learn about this artifact which still stands today—a physical, visible embodiment of racism."
MOUNT VERNON, WASHINGTON: Black Lives Matter with Sarah Wagstaff, SUOT Farm and Flowers
Sarah Wagstaff of SUOT Farm and Flowers, along with fellow growers, gardeners and customers installed a floral billboard to communicate Black Lives Matter along a major thoroughfare in Mount Vernon, Washington.
Donors and volunteers:
@kchaplin43
@hedgerow_edison
@floravorenw
@leah_m_brooks
@mvblooms
@brookita3
@madimelinda
@drydockgoods
@andrea.pitz
@skyroomofmyown
@jane.the.ripper
@jane.aguero
@beejpatrice
@sh.ayleigh
@dawn.chaplin.61
@auzha
@timefortea3
MILWAUKEE: Black is Beautiful Floral Installation for Juneteenth with Sally Vander Wyst of Milwaukee Flower Co., Liz Egan of Floral Alchemy and Raveen Lemon
America's Black Holocaust Museum is the location of a stunning rainbow of flowers surrounding the message: Black is Beautiful, created today by Milwaukee Flower Co., Floral Alchemy, and Raveen Lemon, along with a team of volunteer artists and designers.
Led by Sally Vander Wyst, Liz Egan and Raveen Lemon, the installation was designed to bring attention to America's Black Holocaust Museum and raise necessary programming funds for a new center for history, arts and culture.
The display will be open to the public through June 20th on North Street in Milwaukee. See the full gallery of photographer Lindsay Stayton's images here.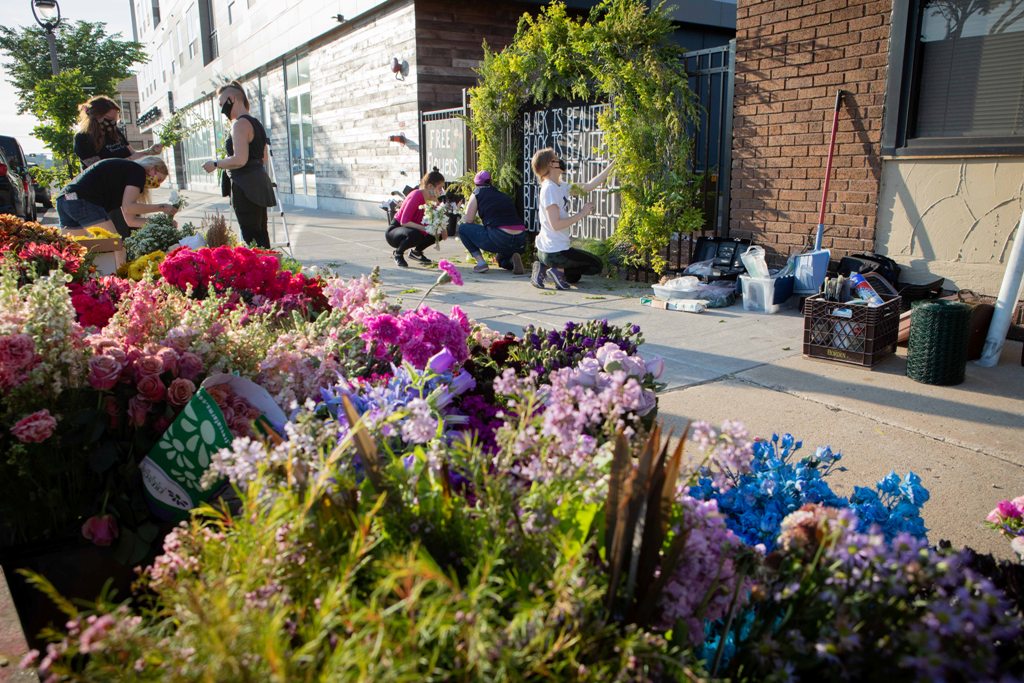 List of artists collaborating on design/install:

Raveen – @raveenlemon
Sally – @milwaukeeflowerco
Liz – @floral_alchemy
Megan – @meganduerlinger
Courtney – @court.stenberg
Chelsea – @chelsea.dorgan
Rachel – @paloma_wilder
Flower donors this week:

Carolyn Kolb/Folk Art Flowers – @folkartflowers
Camflor – @camflorinc
Ocean Breeze – @oceanbreezefarmsca
Flowers without Borders – @flowerswithoutborders
Sunborn – @sunborngardens
WoodViolet – @woodvioletmke
Mabel's Acre – @mabelsacre
Kennicott Milwaukee – @kennicott_mke
Rojahn Malaney – @rojahn_malaney
Share your creations
Please get in touch if you have photos to share of how you've used local flowers in your installations! We'd love to support you! Contact: debra@slowflowers.com.