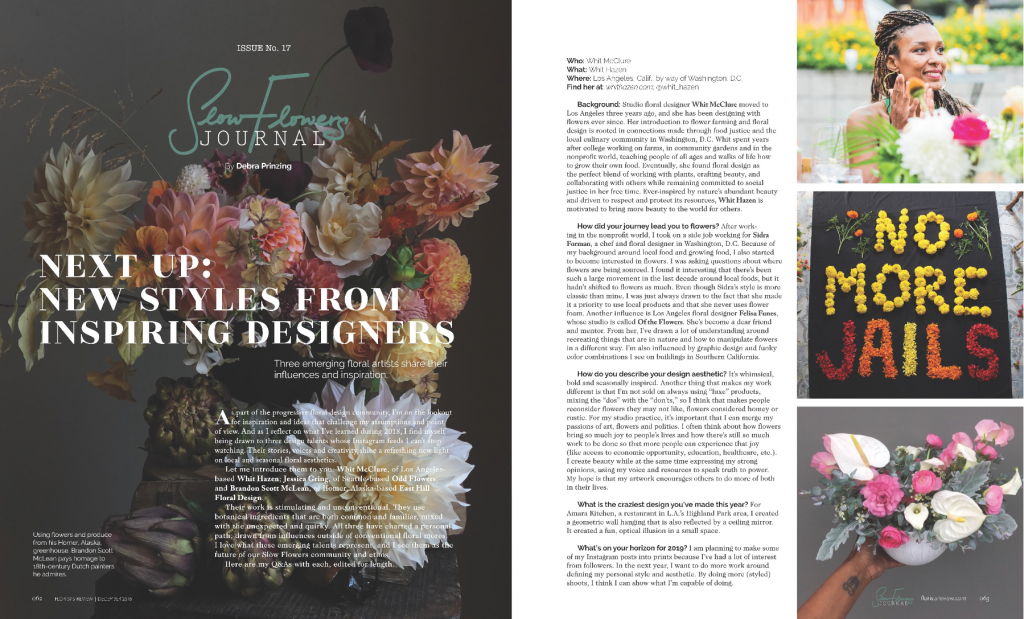 Three emerging floral artists share their influences and inspiration
As part of the progressive floral design community, I'm on the lookout for inspiration and ideas that challenge my assumptions and point of view.
And as I reflect on what I've learned during 2018, I find myself being drawn to three design talents whose Instagram feeds I can't stop watching.
Their stories, voices and creativity shine a refreshing new light on local and seasonal floral aesthetics.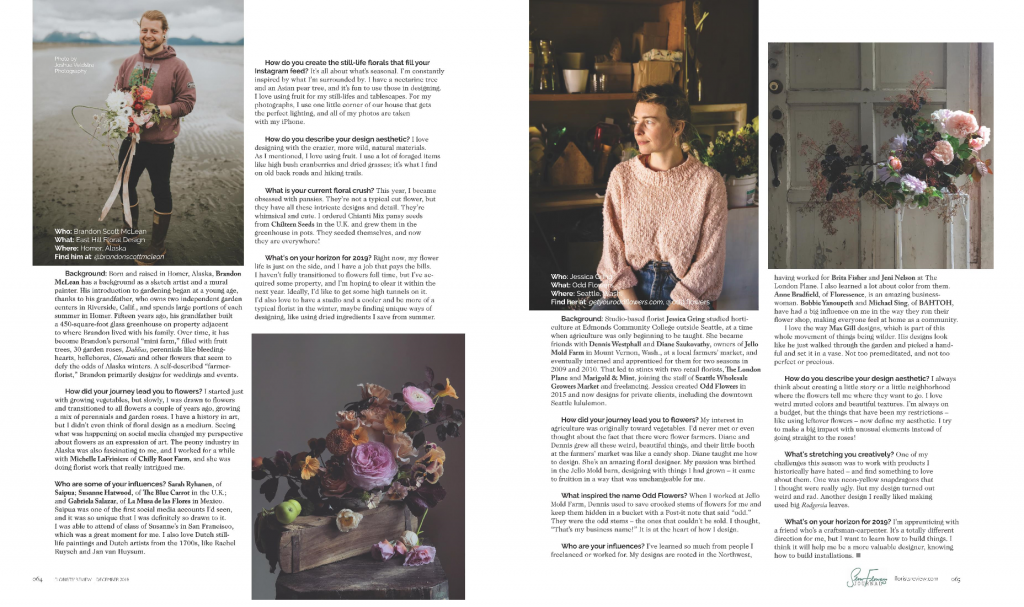 Let me introduce them to you here: Whit McClure of Los Angeles-based Whit Hazen; Jessica Gring of Seattle-based Odd Flowers; and Brandon Scott McLean of Homer, Alaska-based East Hill Floral Design.
Their work is stimulating and unconventional. They use botanical ingredients that are both common and familiar, mixed with the unexpected and quirky. All three have charted a personal path, drawn from influences outside of conventional floral mores. I love what these emerging talents represent and I see them as the future of our Slow Flowers community and ethos.
Download full article here SlowFlowersJournal_NewTalent (PDF)
MADE IN THE USA: Vit Ceramics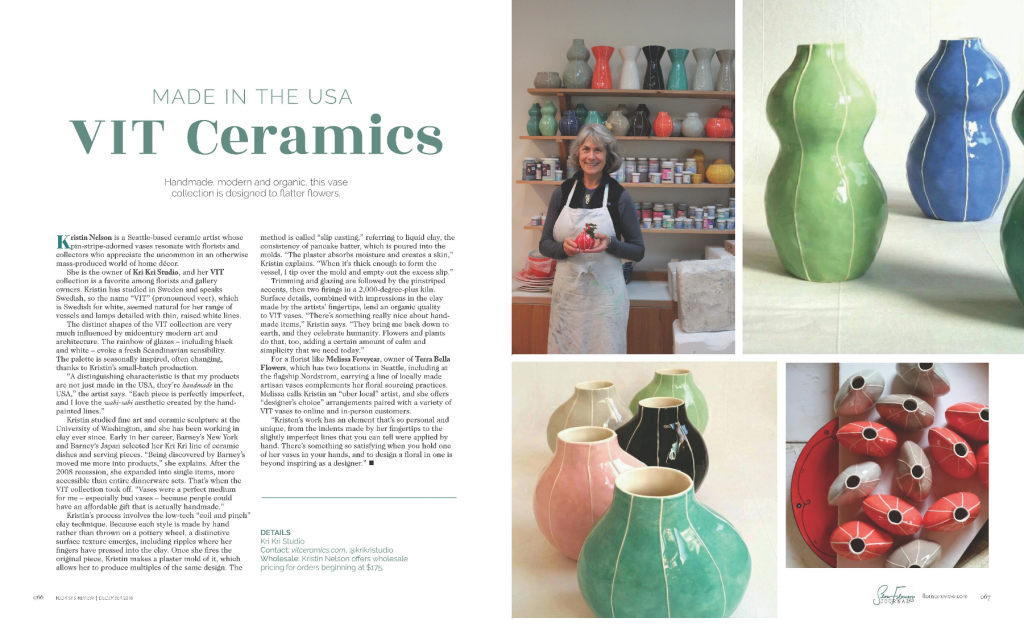 As part of our ongoing Made in the USA series, this month's focus is on Vit Ceramics. Kristin Nelson is a Seattle-based ceramic artist whose pin-stripe-adorned vases resonate with florists and collectors who appreciate the uncommon in an otherwise mass-produced world of home decor.
Her VIT collection is a favorite among florists and gallery owners. Kristin has studied in Sweden and speaks Swedish, so the name VIT (pronounced "veet"), which is Swedish for "white," seemed natural for her range of vessels and lamps detailed with thin, raised white lines.
The distinct shapes of the VIT collection are very much influenced by mid-century modern art and architecture. The rainbow of glazes, including black and white, evoke a fresh, Scandinavian sensibility. The palette is seasonally inspired, often changing, thanks to Kristin's small-batch production.
"A distinguishing characteristic is that my products are not just made in the U.S.A., they're handmade in the U.S.A. Each piece is perfectly imperfect
and I love the wabi-sabi aesthetic created by the hand-painted lines."
Download article Made in the USA here (PDF)
THE MODEST FLORIST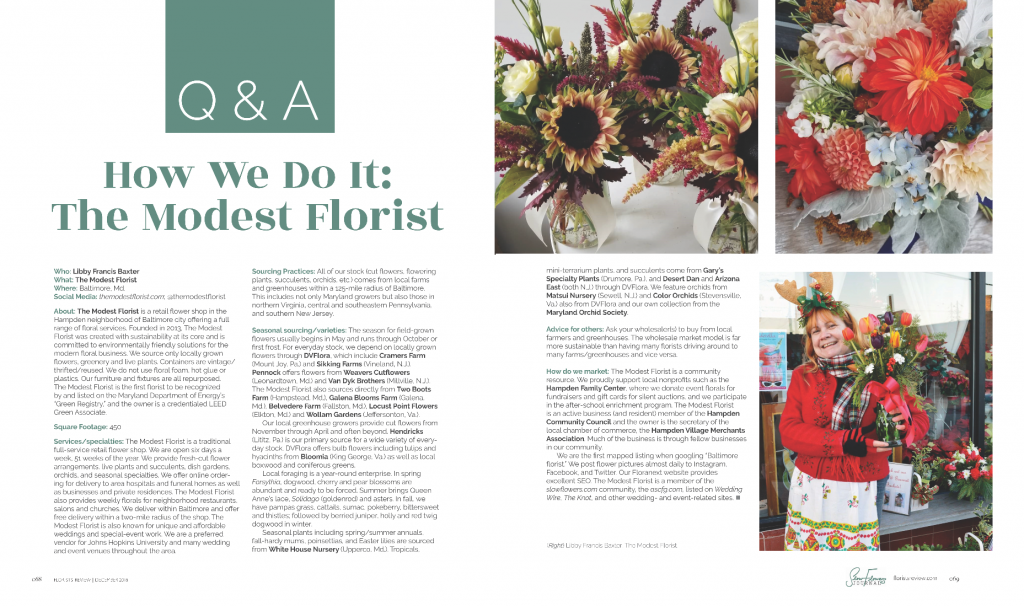 Download the full article here: The Modest Florist (PDF)
I'm delighted to serve as Contributing Editor for Slow Flowers Journal, found in the pages of Florists' Review. It's the leading trade magazine in the floral industry and the only independent periodical for the retail, wholesale and supplier market. Take advantage of the special subscription offer for members of the Slow Flowers Community. Click here for details.