With uncertain times come many ways to adapt and adjust to the COVID-19 pandemic. Here are seven stories of how florists are doing just that
By Debra Prinzing, PFCI
This article appears in the July 2020 issue of Florists' Review and the Slow Flowers Journal. It is our 36th consecutive special section for Florists' Review, our magazine partner.
For three years, we've created content through editorial features, profiles, Q&As and the annual Slow Flowers Floral Forecast — all with a focus on sustainability and seasonality in floral design.
We love featuring the Slow Flowers message and our members' stories each month, with original, informative and visually compelling content to inspire you. Showcasing the positive business models and strategies to promote local, seasonal and sustainable flowers is one beautiful way to support the community and our members.
For July, one theme article spans eight editorial pages as we surveyed a wide variety of members representing different types of floral enterprises and different geographic areas. The message was this:
The COVID Factor
As the COVID-19 pandemic hit studio, wedding and event florists, how have people adapted and responded?. Anecdotally, everyone I interviewed experienced almost immediate requests to postpone and reschedule ceremonies. The pinch of disappearing revenue has inspired a number of creative solutions. While perhaps not a long-term shift in how wedding and event florists may do business in 2021, those interviewed shared creative income-generating ideas you'll want to consider:
Valentine's Day was a huge success for Sellwood Flower Co., a retail flower shop located in one of Portland, Oregon's busy, pedestrian-friendly neighborhoods. It felt like a fitting reward for owner LauraLee Symes to hop an airplane for Australia on March 12, where she was to cheer on her husband Bill Symes as he competed in an international sailing race. Eight hours after landing in Melbourne, they learned that the championship race was cancelled and LauraLee and Bill scrambled to find a flight home.
Back in Portland, Mary Turner-Luecht, Sellwood Flower Co.'s manager, worried about the safety of their employees. It's impossible to maintain six-foot social distancing in the small shop, and staff felt uncomfortable when customers entered. Turner-Luecht and Symes decided to only take telephone orders and close the front gate to walk-in customers.
Six days later, when Symes made it back to Portland, she thought the most responsible thing to do was close Sellwood Flower Co. and lay off staff, including her manager. "Well, that lasted about three hours," she says. "The phone and the emails were bonkers. I was on the phone the first day I was home for 12 hours straight with customers calling and wanting flowers. They were calling for first responders, for their nurse friends, for family members. People wanted flowers more than I had ever seen them want flowers before – and in such meaningful ways."
Details: Sellwood Flower Co., sellwoodflowerco.com, @sellwoodflowercompany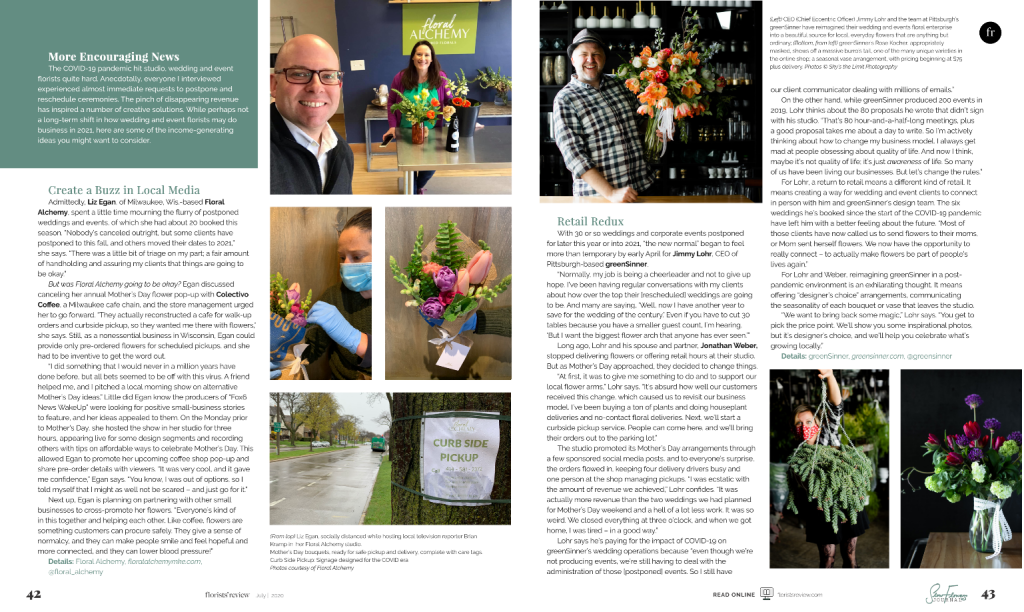 Create a buzz in local media
Admittedly, Liz Egan of Milwaukee, Wisconsin-based Floral Alchemy spent a little time mourning the flurry of postponed weddings and events, of which she had about 20 booked this season. "Nobody's cancelled outright, but some clients have postponed to this fall and others moved their dates to 2021," she says. "There was a little bit of triage on my part; a fair amount of handholding and assuring my clients that things are going to be okay."
But was Floral Alchemy going to be okay? Egan discussed cancelling her annual Mother's Day flower pop-up with Colectivo Coffee, a Milwaukee cafe chain, and the store management urged her to go forward. "They actually reconstructed a cafe for walkup orders and curbside pickup, so they wanted me there with flowers," she says. Still, as a non-essential business in Wisconsin, Egan could only provide pre-ordered flowers for scheduled pickups, and she had to be inventive to get the word out.
Details: Floral Alchemy, floralalchemymke.com, @floral_alchemy
Retail redux
With 30 or so weddings and corporate events postponed for later this year or into 2021, "the new normal" began to feel more than temporary by early April for Jimmy Lohr, CEO of Pittsburgh-based greenSinner.
"Normally, my job is being a cheerleader and not to give up hope. I've been having regular conversations with my clients about how over-the-top their (rescheduled) wedding is going to be. And many are saying, 'well, now I have another year to save up for the wedding of the century.' Even if you have to cut out 30 tables because you have a smaller guest count, I'm hearing, 'but I want the biggest flower arch that anyone has ever seen.'"
Long ago, Lohr and his spouse and partner Jonathan Weber stopped delivering flowers or offering retail hours at their studio. But as Mother's Day approached, they decided to change things up. "At first, it was to give me something to do and to support our local flower arms," Lohr says. "It's absurd how well our customers received this change, which caused us to revisit our business model. I've been buying a ton of plants and doing houseplant deliveries and no-contact floral deliveries. Next, we'll start a curbside pickup service. People can come here and we'll bring their order out to the parking lot."
Details: greenSinner, greensinner.com, @greensinner
From flower farm to wedding venue
Farmer-florist Jessica Broyles of Starry Fields Farm in Bowling Green, Kentucky, markets a seasonal bouquet subscription service and sells hand-tied bouquets and arrangements for pickup or delivery through her online shop. In past years, Starry Fields' customers could pick up their flowers at the local farmers' market, but with the COVID-19 pandemic, Broyles decided to convert all of her customers to delivery orders. "It's roughly the same amount of time for me to deliver twice a week, since otherwise, I'm at the farmers' market for six hours on a Saturday," she points out. "Plus, when you cut flowers and go sit at the farmers' market, you're just hoping your flowers will sell. This way, what I deliver I've already sold, so I'm not wasting my time or losing product. I sold out every single week of April, typically two weeks ahead of time. It's blowing my mind." Broyles believes that her pricing reflects what her community and customers will bear: from $20 market bouquet to centerpieces ranging from $35 to $100."
Starry Fields' on-farm design workshops are popular and typically take place inside the 750-square-foot custom greenhouse that Ryan Broyles built from vintage and recycled windows. In the past, they have also rented the charming structure as a backdrop for portraits or engagement sessions. This spring, the greenhouse has been converted to a micro-wedding venue. It started when the Broyles let one couple from their church say their vows before an officiant with only parents in attendance. "The photographer who came told me, 'you have to do more of this,'" Broyles says. But the greenhouse didn't have a permanent floor, "so Ryan started right way to build a wide-plank floor that we're staining gray like barn wood," she says. "It's going to be gorgeous."
Details: Starry Fields Farm, starryfieldsflowers.com, @jessica_starryfieldsfarm
Front porch pop-up
Like a personal chef, Evelyn Frolking of Studio Artiflora in Granville, Ohio, primarily serves the everyday floral needs of local clients in a college town of 4,000 people, located east of Columbus. Her studio is focused on small, personal affairs and special occasions.
She has a special love for tulips, inspired by her time teaching English and later studying for a certificate in Dutch floral design at the Boerma Institute of Dutch Floral Design in the Netherlands. Last fall, Frolking planted 400 tulips in her cutting garden. "My plan was that these tulips were going to bloom successively over six weeks or so, and that I would use them in my studio and for Mother's Day. As it turns out, my business really did drop off when the state closed down. Here it was, end of March-early April and my tulips started coming on by the hundreds."
Frolking first made petite bouquets to donate to health care workers. "I made about 30 of them, but I still had a lot of tulips. So I set up a pop-up shop on my front porch. The days were really cool, perfect for my flower stand. I posted to Facebook that I was having a tulip pop-up and on the first day, within 20 minutes, I sold more than 140 tulips."
Details: Studio Artiflora, artifloragranville.com, @artifloragranville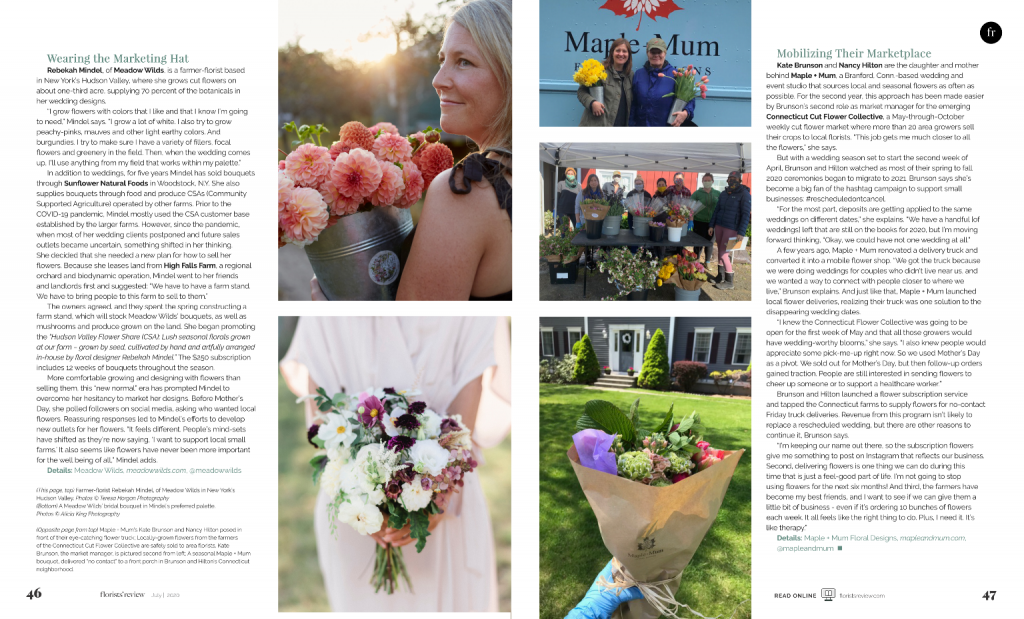 Wearing the marketing hat
Rebekah Mindel of Meadow Wilds is a farmer-florist based in New York's Hudson Valley, where she grows cut flowers on about one-third acre, supplying 70 percent of the botanicals in her wedding designs.
"I grow flowers with colors that I like and that I know I'm going to need," Mindel says. "I grow a lot of white. I also try to grow peachy-pinks, mauves and other light, earthy colors. And burgundies. I try to make sure I have a variety of fillers, focal flowers and greenery in the field. Then, when the wedding comes up, I'll use anything from my field that works within my palette." In addition to weddings, for five years Mindel has sold bouquets through Sunflower Natural Foods in Woodstock, New York. She also supplies bouquets through food and produce CSAs (Community Supported Agriculture) operated by other farms. Prior to the COVID-19 pandemic, Mindel mostly used the CSA customer base established by the larger farms. However, since the pandemic, when most of her wedding clients postponed and future sales outlets became uncertain, something shifted in her thinking. She decided that she needed a new plan for how to sell her flowers. Since she leases land from High Falls Farm, a regional orchard and biodynamic operation, Mindel went to her friends and landlords first and suggested: "We have to have a farm stand. We have to bring people to this farm to sell to them."
Details: Meadow Wilds, meadowwilds.com, @meadowwilds
Mobilizing their Marketplace
Kate Brunson and Nancy Hilton are the daughter and mother behind Maple + Mum, a Branford, Connecticut-based wedding and event studio that sources local and seasonal flowers as often as possible. For the second year, this approach has been made easier by Brunson's second role as market manager for the emerging Connecticut Cut Flower Collective, a May-through-October weekly cut flower market where more than 20 area growers sell their crops to local florists. "This job gets me much closer to all the flowers," she says.
But with a wedding season set to start the second week of April, Brunson and Hilton watched as most of their spring to fall 2020 ceremonies began to migrate to 2021. Brunson says she's become a big fan of the hash tag campaign to support small businesses: #rescheduledontcancel. "For the most part, the deposit money is getting applied to the same exact wedding on a different date," she explains. "We have a handful (of weddings) left that are still on the books for 2020, but I'm moving forward thinking, okay, we could not have one wedding at all."
A few years ago, Maple + Mum renovated a delivery truck and converted it into a mobile flower shop. "We got the truck because we were doing weddings for couples who didn't live near us and we wanted a way to connect with people closer to where we live," Brunson explains. And just like that, Maple + Mum launched local flower deliveries, realizing their truck was one solution to the disappearing wedding dates.
Details: Maple + Mum Floral Designs, mapleandmum.com, @mapleandmum
READ FULL ARTICLE Here: