A flower farmer muses on the relevance of flowers during the COVID-19 pandemic
There have been many moments in my flower farming career when I feel like I'm turning into a plant. I spend so much time with seedlings, blooms and weeds that ladybugs crawl along my elbows, my knees are earth-stained and with every new perennial added to the garden my roots are growing deep. So, when I step out of my soil-filled life into "the real world" and mention to people what I do, I'm sometimes surprised when the response is… why flowers?
Why flowers? It's been asked of me a lot as I've been growing my business over the past three years. People with a more utilitarian mindset may believe that flowers are "nice," but food . . . food is farming. Or, maybe those are the people who just haven't experienced the meditation and fascination of an intricate bouquet. I was even advised to be sure to specify flower farm in my business name, or I'd get angry reviews when people showed up to my farm stand expecting vegetables.
And when the pandemic hit, I got worried (just like everyone else). Designers were talking about not being able to provide wedding flowers all season. Flower farmers were talking about switching to growing food. I looked out at my prepped field and my flower seeds that I'd painstakingly researched, sourced and splurged on over winter. For a moment I wondered myself, why flowers?
Buds were forming out in the field as my inbox filled with couples announcing their wedding cancellations, their budgets cut into a sixteenth of the original plan, or requests for their non-refundable deposits to become a little more refundable. It was hard for us all.
So when rethinking my business plan for the year ahead, which was still a new business to begin with, I dwelled on the idea of why flowers.
I quickly noticed that during these trying times of fear and shelter-in-place, life was still happening. People ordered buckets of flowers for elopements, for drive-by graduation parties, video chat wedding celebrations and gifts to high-risk friends confined in their homes. Precious moments of humanity were still happening and we were using flowers to pronounce our celebrations, sympathy and compassion. I've heard it said: "a party without cake is just a meeting," but I now see that many feel the same about flowers!
This noticeable desire for flowers, magnified by this tricky year, has led me to open my farm space to more neighbors and visitors. A small You-Pick flower field at the front of our property just opened this season for picnickers and nature lovers looking to get outside and get hands-on with their bouquet making. And I'm not the only one – I've watched fellow farmers share digital tours of their spaces and many other farms have opened up time slots for hikes and guided tours.
Babies were born during the pandemic, and friends and family couldn't come cradle their new loved ones in their arms. A new mother and I coordinated a baby photo shoot, using local fresh flowers from the farm. The seasonal, local flowers added a story of time and place to this captured moment, and growing sustainably meant the blooms were safe enough to snuggle up to a soft baby's cheek. The photo session built a memory and gave something to share with faraway family.
I am fortunate enough to be a vendor at the Queen Anne Farmers Market this season, one of only a few Seattle markets able to open as scheduled thanks to a fast-working team. This season, I've noticed I have more regular customers, many of which have specifically told me that their new habit of weekly flowers is a direct result of working from home and staying in more. It's reassuring that people are recognizing the place for flowers.
One of my favorite aspects of starting this business has been the community. I've gained an even closer connection with my nearby floral designers and flower industry folks during this unprecedented time. The reality of long-distance supply chains hit hard this spring. Designers reached out since wholesalers were closed, and many asked for in-person tours of the flower field. Being so local, we can walk the rows together (at 6-feet distance, with masks, of course) so they can plan future floral designs from what's growing. Covid-19 has made us all boost efforts to source local. This is a sentiment I very much hope will last, even after the pandemic fades.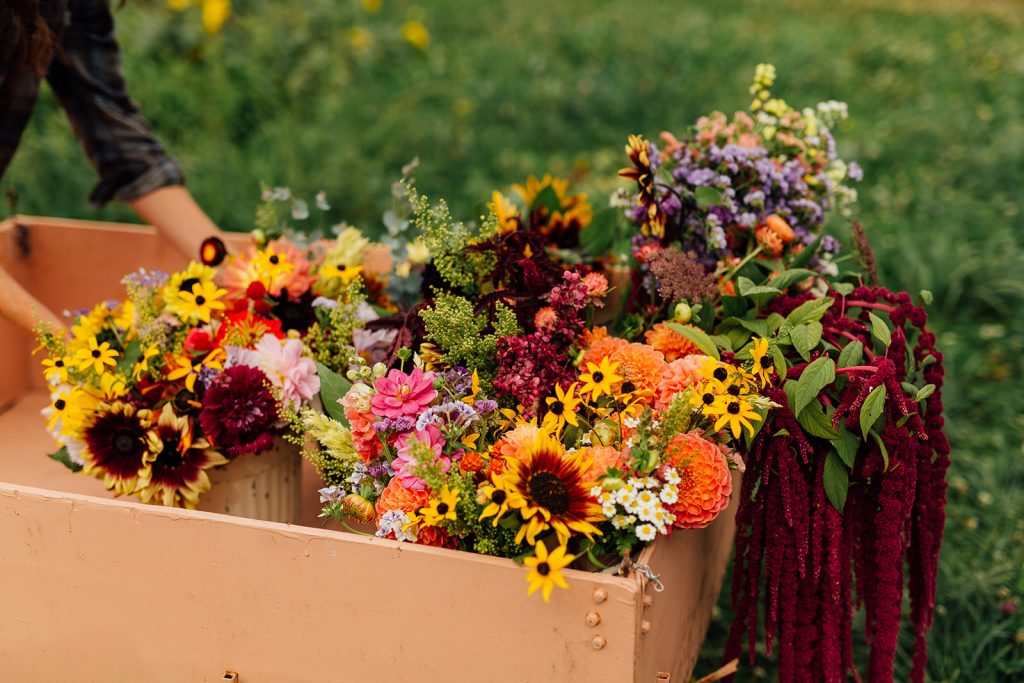 For me, this pandemic forced me to look closely at my business, not just the "how to make money" aspect of it, but the value of what I am growing, who is benefitting from it and how to better reach and serve those people.
I've learned that flowers celebrate a piece of what it is to be human. Flowers are about sharing access to nature (a thing we farmers can take for granted) and a window into the soft, kind soul that connects us in our uniquely human way. Flowers can be about making a calm space of your own, about pausing to heal, calling attention to a cause and about sharing sentiments of love. Combined with nourishing local food, I believe this is a real force to cherish.
As both a farmer and designer, my heart goes out to all of us who've taken some hard hits financially or emotionally this year. I'm right there with you. But I'm glad to know this community of flower people, who really understand why our work is important and are sticking through the hard times now to make a more beautiful tomorrow.
Details: Sweet Alyssum Farm, @sweet.alyssum.farm