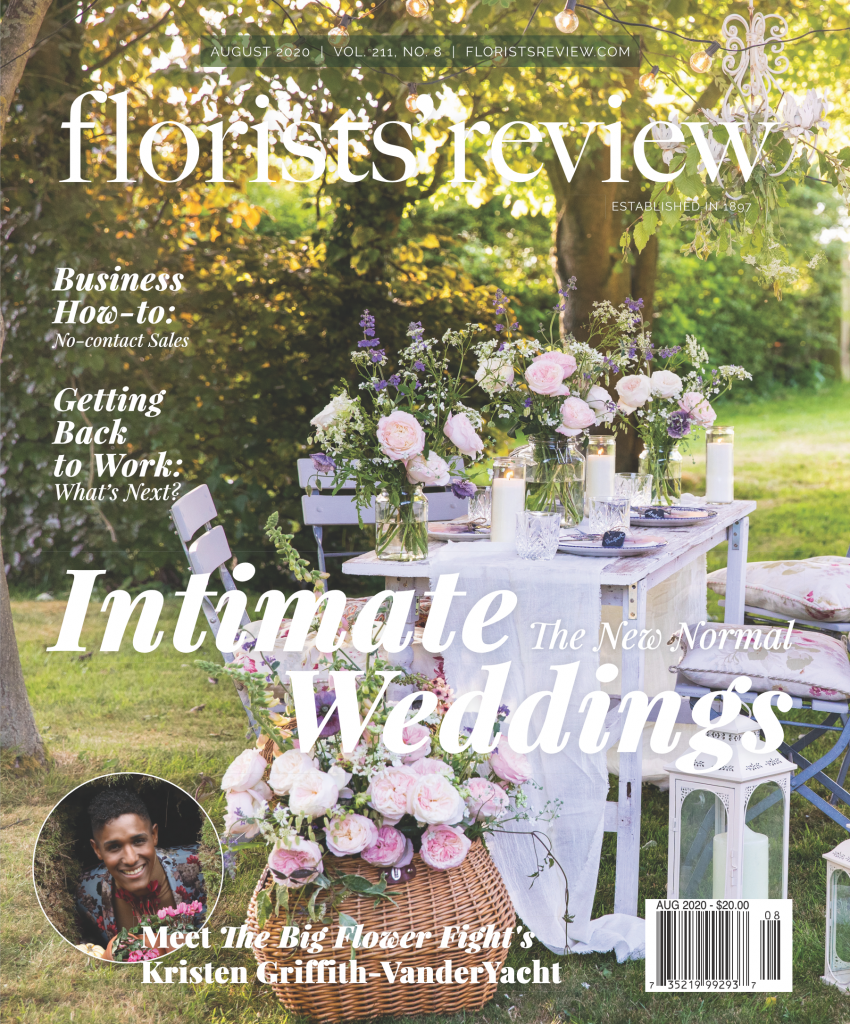 The August 2020 issue of Slow Flowers Journal is our 37th consecutive special section for Florists' Review, our magazine partner.
We love featuring the Slow Flowers message and our members' stories each month, with original, informative and visually compelling content to inspire you.
Showcasing the positive business models and strategies to promote local, seasonal and sustainable flowers is one beautiful way to support the community and our members. This month's stories feature two women whose floral businesses reflect their personalities, design style and interests: Olivia Rivas of Papillon in Santa Rosa, Calif., and Mary Schaefbauer of Sonnenblume Flowers in Brainerd, Minn. We're excited to share them with you — and you can read further by following the links or downloading a free PDF.
We're also thrilled to feature our Q&A with Seattle floral artist and international Netflix sensation, Kristen Griffith-VanderYacht, head judge on "The Big Flower Fight" and owner of Wild Bloom.
And just a note. It's our priority to feature Slow Flowers members in our articles, profiles, Q&As and interviews. You can find out more details on becoming a member here
Local Flowers for Wine Country
Olivia Rivas connects her sustainable values with an aesthetic that reflects the unique beauty of Northern California.
Who: Olivia Rivas, owner and lead designer
What: Papillon is committed to sustainable practices in floral design for our weddings and bouquet delivery business. Our promise is to refrain from using floral foam and disposable plastic in our containers, accessories or mechanics, and significantly reducing flowers and plants that cannot be composted because of harmful pesticides.
Where: Santa Rosa, California (Sonoma County)
Social Media: papillonsonoma.com, @papillonfloral
About: I started Papillon with no prior experience in flowers other than arranging them for friend's parties. In 2011, I embarked on my professional education, taking workshops with the designers I followed, including Ariella Chezar and Little Flower School of Brooklyn's Sarah Ryhanen and Nicolette Owen. After that, I sort of jumped right in, without working at a traditional florist, or really knowing how to conduct a floral business. In hindsight, at the beginning if I had worked a season at a more traditional florist, I would have found out more about time saving techniques and contracts.
I designed my first weddings in 2012, and decided that selling bouquets online would complement my wedding business. In November 2018, we opened our first retail pop-up and in June 2019, we opened our first full-time retail storefront in Santa Rosa. Now, I've been able to work on smaller, more intimate weddings and our main focus now is delivering fresh flowers and bouquets in our loose, romantic garden style while also providing our community with local, natural products and gifts.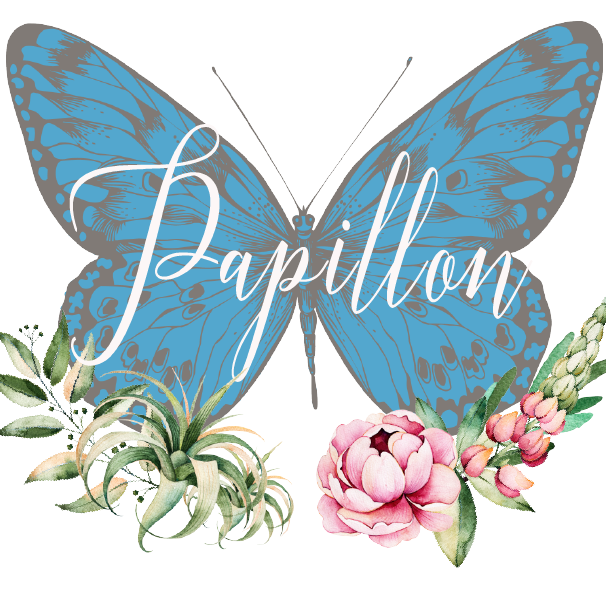 How have you adapted to stay-in-place orders?
This has been the most insane, extreme and confounding year I've ever encountered – in life and in business. The quarantine and shelter-in-place orders have been important and necessary, but it's also been heartbreaking. I've had to lay off all of my employees and we closed the store for half of March and all of April. We had a very strong Mother's Day and now I've started to come back to life, although with only one employee – me. With the new challenges of social distancing, wearing masks and trying to maintain no contact, I decided to move everything online. The process of getting everything I sell — soap, jewelry, plants, vases, stationary, and now masks — loaded onto my website has been time consuming and tedious, but I truly believe that this is the world now. A florist can still be unique, based on what you offer and how you present it, and I decided that if I'm going to survive this, I have to have a specific curated shopping experience ready.
Advice for others who want to adopt the Slow Flowers mission? I can't say enough about the importance of using local flowers in our shop. We live in a world where you can buy tulips anytime, but I believe using flowers out of season takes away that "specialness." I also encourage people to use less harmful materials when conducting their flower business. It may take a little more time at first, but the results will make you personally healthier and help you do a small part for our future. I urge people to visit the @nofloralfoam page on Instagram for more information and for how-to instruction on no foam mechanics.
Download and read the full article here:
---
What freelance floral designing has taught me about Flowers, People and Growing up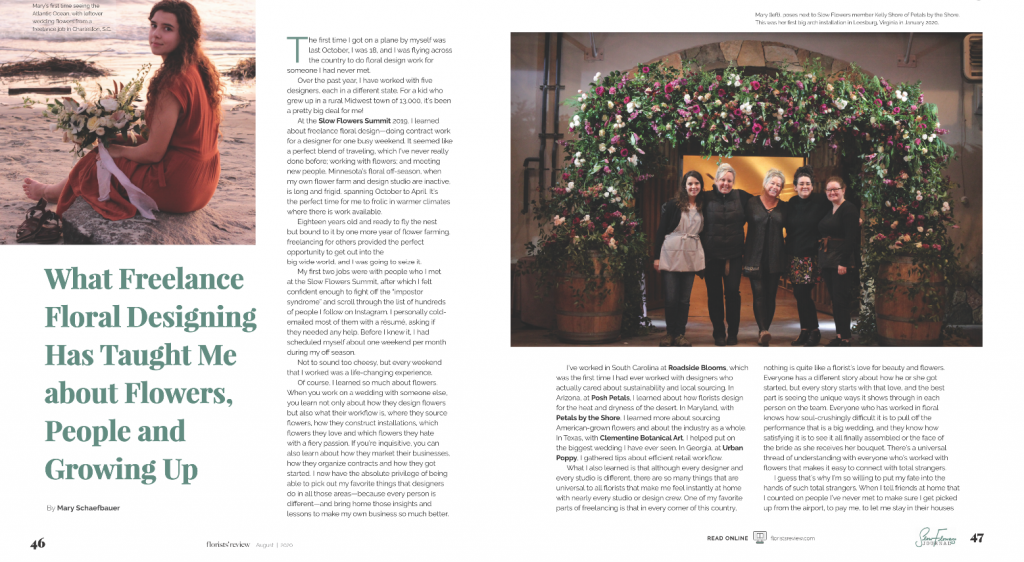 NOTE: We first met Mary Schaefbauer at a Slow Flowers gathering in St. Paul, Minnesota hosted by Twin Cities Flower Exchange in 2018. The following year, Mary and her business Sonnenblume Flowers joined Slow Flowers as a member and she volunteered to help at the Slow Flowers Summit. She still has the distinction of being our "youngest member." This essay first appeared in slowflowersjournal.com.
By Mary Schaefbauer
The first time I got on a plane by myself was last October, I was 18, and I was flying across the country to do floral design work for someone I had never met.
Over the past year I have worked with five different designers, each in a different state. For a kid who grew up in a rural Midwest town of 13,000, it's been a pretty big deal for me!
At the Slow Flowers Summit 2019, I learned about freelance floral design—doing contract work for a designer for one busy weekend. It seemed like a perfect blend of travelling, which I've never really done before, working with flowers, and meeting new people. Minnesota's floral off-season, when my own flower farm and design studio are inactive, is long and frigid, spanning between October and April,. It's the perfect time for me to frolic in warmer climates where there is work available.
Eighteen years old and ready to fly the nest, but bound to it by one more year of flower farming, it was the perfect opportunity to get out into the big, wide world, and I was going to seize it.
My first two jobs were with people that I had met at the Slow Flowers Summit, after which I felt confident enough to fight off the imposter syndrome and scroll through the list of hundreds of people I followed on Instagram. I personally cold-emailed most of them with a resume, asking if they needed any help. Before I knew it I had scheduled myself about one work-weekend per month during my off-season.
Not to sound too cheesy or anything, but every single weekend that I worked was a life-changing experience.
Download and read the full article here: