Slow Flowers Member Survey 2021, Part Four
Welcome to the fourth installment of insights from our recent survey of Slow Flowers members, with a focus on CAUSES, CLIMATE AND CHALLENGES.
The Slow Flowers community is comprised of people more deeply engaged with nature and plants. Clearly, we are observers of the environment around us. But if we learned anything from 2020, it's impossible to ignore what's happening beyond our own little imprint on this planet, or in own backyards and gardens.
We're witnessing an increased desire for social equity, racial inclusion and representation, everywhere, but especially in the Slow Flowers Community. So this year's member survey sought to learn more from you. On a parallel narrative, climate concerns are impossible to ignore, throwing extremes and challenges to growers and farmers far too often. It's a pandemic in another form.
As we consider the health of our floral enterprises, the health of our communities and that of our customers, we can't help but talk about the Covid-19 Pandemic's impact on you. It's so clear that Change with a "capital C" is the theme of 2020.
Thank you to our Slow Flowers members, including growers, designers, farmer-florists and others along the floral continuum, for investing time to share comments, ideas and responses.
Read on for more insights covering Causes, Climate and other Challenges [You can find earlier Survey recap posts at the bottom of this piece.]
---
61% of Members are taking steps to create
Inclusion, Representation and Equity policies
for their businesses
Sixty-one of you took the time to share more in our comment section — thank you! Here's a sampling of your views:
"We are very intentional about posting photos of the same-sex and bi-racial weddings we have done. We also do occasional fund-raisers to raise awareness about a variety of social issues."
"(I'm) actively considering the representation and policies for vendors I work with and more proactively searching for employees/freelancers/partners of diverse backgrounds."
"(I'm) being more mindful in my wording … including "two bridal bouquets, two boutonnières " in our wedding specials."
"First steps: Including images of people who are not white in wedding client photos on my website."
"This is top of mind for us, but we are not working on policies… we don't have many written policies for our work but probably should start working on that!"
"This is something I have always been focused on and I will continue to do so. Working with clients and vendors from all backgrounds and identities."
"We believe in an inclusive and equitable environment and refuse and fight against discrimination of any kind. We donate regularly to organizations that fight for and promote gender and racial equality and justice reform."
"I am a one woman operation with my family helping at times. When I look to hire someone to help me I would make sure to have these policies in place as I FIRMLY believe it is of utmost importance!!!"
"Thank you for the reminder. I need to add some language about that in my service agreement, and somewhere on my website."
---
53% of Members align their brands with human rights and social justice messaging/activities
46% of Members' businesses have participated in cause-related activities to support Black Lives Matter and antiracism campaigns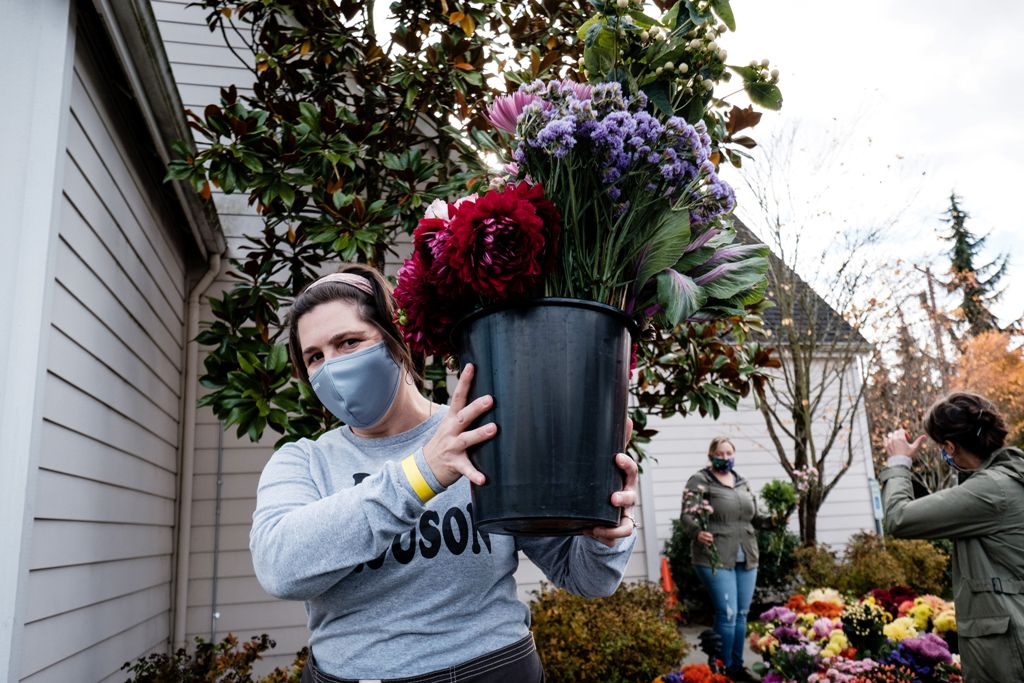 43 of you shared specific comments about your activities and actions. Thank you for your thoughtful responses! Here is a selection of comments:
"Giving a portion of our proceeds to various organizations…NAACP, Black Lives Matter and HBCUs."
"I have personally participated in gatherings in town to support but I wouldn't say initially under the umbrella of my business. I'm the face and then conversation leads to me, my business and our (support of) representation."
"I'm fundraising at market, and through the sales of some dahlia tubers online — proceeds benefitted a local anti-racism organization near me."
"We made donations of flowers, money and resources to Black-owned businesses and to floral street art installations raising money and awareness to support organizations that support BIPOC related causes."
"I have worked hard to post informative items for discussion on my social media. I am also donating a portion of my profits this Christmas to the Canadian Civil Liberties Association, which works to protect the freedoms, equity and a better future for all Canadians."
"This is just me personally, but I don't like mixing business with politics or social movements that are fraught with such division and if I'm being honest, confusion. As a creative it's important for me to keep my emotions tuned in to creating beauty, hope, love and inspiration. I focus on bringing those ideals into my daily interactions with life and people. I"m not hiding my head in the sand. I see the issues we are all facing. I feel I'm doing my part to help heal by using my gifts and the way I interact with those that I provide services for."
"I'm donating money, attending marches, (participating in) social media blackout and hiring Black-owned services."
"Yes, through our signage, social media postings, and includin more Black vendors in the shop."
"We provided floral decor for the stage/podium of a local BLM rally."
"I think I can do a better job in this part of my business, but not sure how to make it relevant; not just by joining the crowd, but making it genuine. I am not sure how to be supportive and still relevant."
"I did a pop up and a good percent of proceeds went directly to BLM."
---
54% of Members align their brands with climate change messaging/activities
41 members added personal comments about how they communicate with clients about climate change concerns. Here is a selection of comments:
"Climate change is an important part of our mission and we believe it is an essential part in achieving sustainability of our environment/planet."
"We are a no-till organic farm, and we make an effort to (share) that with our customers. When asked to speak to groups, I always talk about our growing methods and our choice to use sustainable design techniques."
"Not at this point, except to let our clients know that it is real and the fact that we are harvesting earlier each season due to warming winter temps."
"Choosing to grown our own flowers using sustainable practices for our designs allows us to minimize our carbon footprint."
"Farmers' market gives me the opportunity to talk about pesticide- and herbicide-free product, biodegradable foam or no foam, and not using plastics."
"Only indirectly by emphasizing care for the earth through emphasis on local flowers and lowering carbon footprint."
"I should though!!"
"I'm an outspoken advocate for sustainable floristry and sourcing domestic supplies/flowers. I make it a priority to post informative posts on social media and work hard to educate others."
"We do not use synthetic fertilizers or pesticides. We also encourage the enjoyment of flowers at the lowest cost to the environment, aka sourcing locally and domestically as much as possible and we are 100% foam free."
"This is why I farm."
"I farm organically. I use sheet mulching and no-till methods, so there is never bare soil. Moving forward , I have decided I will not sell to florists who are using floral foam."
"I stress that (my) roses are grown sustainably, and I mulch heavily to incorporate more permaculture practices into farming."
"I've tried to be pretty transparent about this on social media, during both flooding and wildfire events. Also try to educate clients on sustainable floristry, no floral foam, growing organically, etc."
"I have language on my website about sourcing locally and have done social media posts about climate change and how reliance on imported goods (i.e. flowers) contributes to increased carbon emissions."
"My tag line is "Saving the earth, one flower at a time."
---
How has the global Covid-19 Pandemic
impacted your business?
---
Have you changed your buying patterns
to adapt during the pandemic?
More than 40 of you took time to share details to illuminate your responses. Here is a sampling of those comments:
"I've changed due to wholesaler change; not a good thing."
"I've cut way back and only spent what demonstrated ROI."
"I am more conscious than ever in trying to buy from my fellow local small businesses."
"I'm using more local sources than ever."
"I'm a lot more likely to purchase several weeks in advance. I went almost exclusively local this year due to uncertainties in shipping. And I have found the quality of product to be superior and I don't think I'll be going back."
"I'm ordering as needed and closer to events instead of weeks in advance; smaller quantities."
"I've decided to ONLY source locally."
"I've gone to 100% self-grown flowers for my bouquet subscriptions . . . "
"I'm requiring payment 30 days out; I'm trying to order wholesale flowers 2+ weeks out."
"I tried to support local growers more than ever and requested as much local as possible at the wholesale market too."
"I'm buying less often. Only delivering Fridays right now."
"Farm-direct ordering."
"Demand for flowers was through the roof due to the emotional strain the pandemic has created on everyday persons. We had to increase our buying to keep up with demand."
---
How has climate change impacted your business? (check all that apply)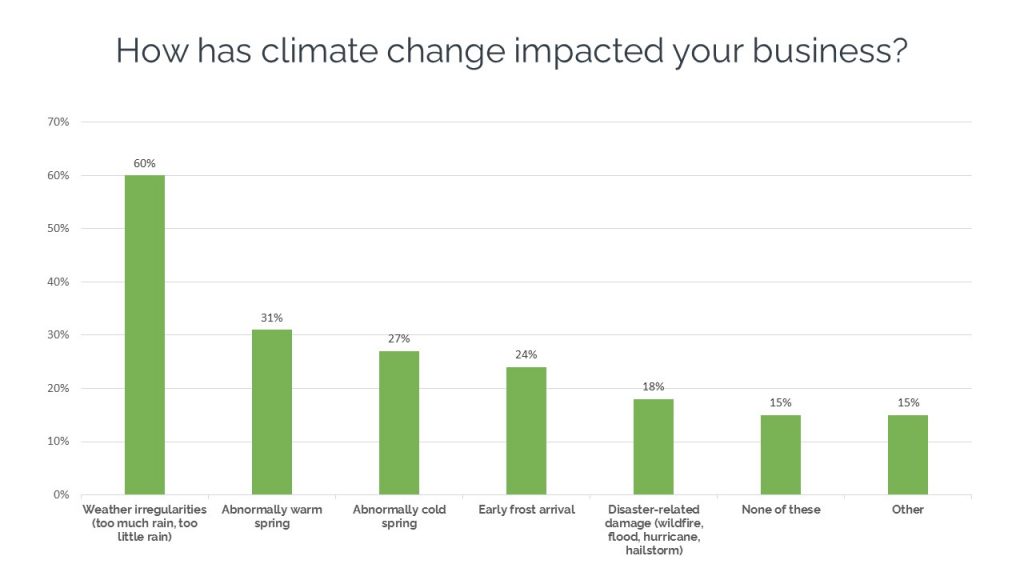 ---
Read past Slow Flowers Member Survey Recaps by Topic:
Week One: Slow Flowers Member Demographics
Week Two: Growing and Sourcing Flowers
Week Three: Hardgoods and Mechanics
---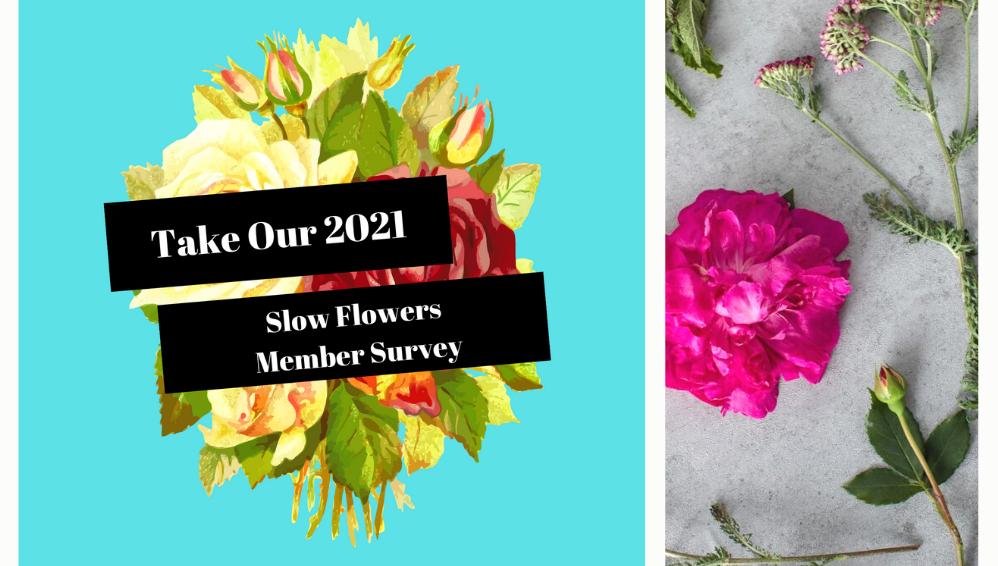 Upcoming Survey Reports
During December and January, we'll share more Survey Insights, digging deeper to share feedback from Slow Flowers Members and provide our analysis on the following topics:
December 25th: Color Palette Preferences & Aesthetics
January 1st: What emerging shifts or themes do you anticipate in your floral enterprise in 2021?
January 8th: Predictions about Customer Buying Patterns
January 15th: Q&A with Debra Prinzing addressing member questions and comments