Slow Flowers Member Survey 2021, Part Five
We are a creative and passionate community here at Slow Flowers Society. And most of us express those emotions through flowers. As we turn our focus to the future, what color preferences and floral crushes will influence your artistic expression?
In this post, we will highlight how you responded to six questions on the recent Slow Flowers Survey. For the 2021 survey, conducted during the month of October, your responses reflect the incredible variety, aesthetic and creativity in our community of Slow Flowers-minded florists, designers, growers and creatives.
Enjoy this recap and share your own thoughts in the comment section! These insights represent 216 completed surveys, triple last year's 69 responses! That's 26% of our membership, slightly higher than industry average for external surveys. THANK YOU all for your continued engagement!
What flowers did you "crush on" in 2020?
Your Top 12 Flower Crushes (we couldn't limit it to just five!)
Dahlia
Lisianthus
Ranunculus
Zinnia
Tulip
Garden Rose
Peony
Sunflower
Celosia
Cosmos
Snapdragon
Anemone
---
What cut flower varieties are most successful for your design work?
Oh, my gosh! So many creative opinions here — too many to mention. We uploaded the responses into a Word Cloud generator and the above graphic was the result of hundreds of flowers listed.
Top designers' choice elements include: Dahlias, Celosia, Cosmos, Eucalyptus, Peony, Ranunculus, Garden Rose, Snapdragon, Sunflower, Parrot Tulip and Zinnia.
But we loved some of the other contributions you shared in the comment section:
"Because we use what we grow, Zinnias are our most successful."
"The Southern 'staples,' since we're in a humid, hot area of the South."
"Textural and airy pieces to add funk and flair to a design."
"Seasonal flowers surprise me when they arrive! Grower's choice is my favorite!"
"I'll use just about anything – if the color is right."
"My farmer is amazing, so I haven't had anything that wasn't successful!"
---
Identify the floral design aesthetic you find influential and emerging in importance:
Slightly more than half of you cited "Loose, Soft and Fluid" as the floral design aesthetic of choice (51%)
"More Flowers, Less Foliage" (25%)
"Geometric & Asymmetrical" (13%)
"Geometric, Circular, Crescent" (3%)
"Geometric & Linear" (1%)
"Other" (7.8%)
---
Describe the floral design aesthetic you chose above in more detail:
"I believe we all are craving a closer connection with nature and movement and flow based on our surroundings will reflect this feeling."
"Organic, appreciate the beauty of stems, pods and foliage…not only flowers, often asymmetrical, focus on texture."
"An asymmetrical bouquet or centerpiece, that has a central point that everything is oriented towards, but is off balance, and involves layering and textures, has a feel that can be modern, vintage, or even whimsical."
"Inspired by nature – very garden looking design."
"I made consumer bouquets for local store this year. Loved watching folks walk away so happy with them. I used only flowers of all different textures."
"I tend to arrange bouquets that have an unusual element to them in term ms of my flower or foliage choices. Berries. Fruits. Artichokes. Etc."
"When designing with an asymmetrical method, it allows the flowers to position more freely and naturally in the arrangement and create organic elements. Especially in photographs! It's as if you can see the flowers dancing in the bouquet through many different angles!"
"I'm all about garden-style arrangements. I understand dried and geometric is probably the next big thing, I'm just not there yet."
"Flowy, breezy, airy, full but not crowded. Room to breathe."
"I like to shape my designs based on the natural movement of the elements I am using."
"Asymmetrical is my go-to design choice, incorporating Ikebana design standards, but I love the loose, floral design with more flowers as well."
"I forage a lot from my farm. I really like the look of natives mixed with cut grown flowers and I think some of our natural resources (yes, weeds in some cases) offer a real alternative to the standard fillers and greenery, i.e., Nandina is readily available for us year round and it grows like a weed. Golden rod, wild ageratum etc. work fine as cut materials."
"Art that mimics nature or put another way organized chaos."
"It is my belief that a loose asymmetrical aesthetic is here to stay for awhile, as young brides try to create some generational distance to the order, traditional blooms, and tightness characteristic of mainstream floristry throughout the early 2000s and before."
"I see a trend in designers using less greenery with a focus on flowers and movement. Still very organic in nature but more refined."
"I would say this look is most often asymmetrical in nature. It mimics the wild, natural world, and appreciates the natural bend of each stem vs. a contrived or forced shape."
"I love working with negative space and find that when focusing on space, I can create interesting lines that let blooms stand out in eye-pleasing ways."
"Abundant, vibrant, every arrangement should look like a skilled florist just took a walk through a cottage garden with sécateurs."
"Earthy and nature-driven. A wild beauty."
---
Identify your Floral Palette Prediction for 2021: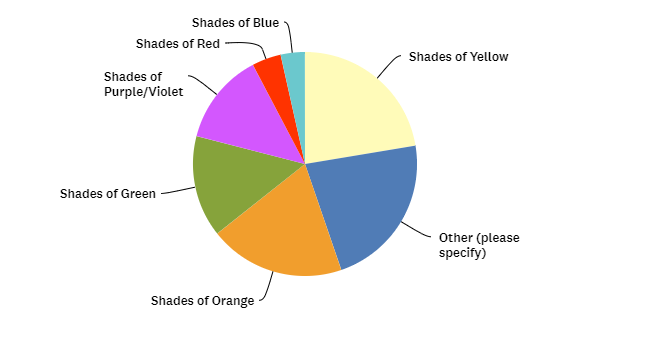 Last year, 24% of our Slow Flowers Survey respondents cited YELLOW as their top color prediction for 2020. Yellow edged out all other colors by single-digit percentages, which led us to forecast a Polychromatic Palette for 2020.
Pantone has already declared "Illuminating," a glowing shade of yellow, as one of two colors for 2021, something Slow Flowers insiders predicted last year.
For this survey, though, you'll note that Yellow and Orange topped the list. Specific percentages break out as follows:
Shades of Yellow (23%) "Yellow for optimism." Mustards and mauves." "From rich masala yellow in curries to lavish buttercream yellow on cupcakes, the comfort of food will translate to floral expressions."
Other (23% – see below)
Shades of Orange (19.5%) "I think we are seeing hints of orange, and yellow with pinks and blush." "Everything across the range of citrus tones to fruity apricot."
Shades of Green (14%) "The clean feeling of green, with foliage in an array of green tones and various shapes."
Shades of Purple & Violet (13%) "I think we will see a trend towards subdued jewel tones that play off of each other." "I find the possibilities with purple are both complimentary and contrasting and love finding those matches. People also seem to really gravitate to the purple tones, or at least, that's what I think, maybe because I like purple flowers so much!"
Shades of Red (4.5%) "Reds, burgundy, pinks monochromatic."
Shades of Blue (3%) "Mellow, soft blues — the world needs calming tones in these crazy times."
---
Describe your palette prediction in more detail:
"2020 has been a dark year and I think we could all use a little sunshine in our future."
"We will need a fresh start in 2021, healing, and new growth. Thus the green for healing and new growth, and blue for fresh air and a clean new start."
"Coral: I perceive this as a largely positive color. Warm, dynamic, and invigorating, it blends the femininity of pink with the optimism and energy of orange. Corals with more red tones are particularly strong and vibrant, and can be used successfully in masculine schemes."
"Monotone."
"I enjoy using oranges and reaching out in different directions — toward yellow, reds or complementary purple."
"Mix of terracotta, wood/ earth tones, desire for people to be in touch with nature/the earth after being stuck indoors and also for vibrancy."
"The middle of the spectrum is balanced and soothing. After the tumultuous year of 2020 the appreciation of nature and all things green is high."
"Blush and maroon was the dominant color combo request for a few years, but now more brides are requesting rusted orange and sage, or worried less about color all together and more about neutral textures and loose design."
"Well, I chose to predict the soothing peaceful cool colors because I want to balance out all the heat waves and wildfires!"
"Dark & moody x tropical & juicy."
---
Read past Slow Flowers Member Survey Recaps by Topic:
Week One: Slow Flowers Member Demographics
Week Two: Growing and Sourcing Flowers
Week Three: Hardgoods and Mechanics
Week Four: Causes Climate and Challenges
---
Coming Up . . .
As we approach January, we'll continue to share more Survey Insights, digging deeper to share feedback from Slow Flowers Members and provide our analysis on the following topics:
January 1st: What emerging shifts or themes do you anticipate in your floral enterprise in 2021?
January 8th: Predictions about Customer Buying Patterns
January 15th: Q&A with Debra Prinzing addressing member questions and comments