Slow Flowers Member Survey 2021, Part Two
Our eight-part series "All About Slow Flowers" continues today!
We want to share important insights and snapshots about GROWING AND SOURCING FLOWERS — and the ways our members engage in the commerce of flowers.
We asked several questions geared at the diverse cross-section of Slow Flowers members, including growers, designers, farmer-florists and others along the floral continuum (read last week's article to see more about our Slow Flowers member demographics). Here's a recap:
What is Your Preferred Method of Sourcing Flowers? We asked respondents to rank the way they procure flowers on a scale of 1 to 5 (5 being highest).
---
What Percentage of Flowers Used in Your Business Do You Grow Yourself?
It's notable that 60 percent of respondents say they grow 76%-100% of the flowers they use in their floral enterprise.
---
Floral Sourcing Habits. We asked respondents how their locally-grown floral buying habits have changed:
A sampling of your additional comments:
I've been able to provide everything from my own garden.
There are no other local flower farms near me, so I try to focus on American-grown product that can be shipped to me.
I don't purchase as I am selling only what I grow.
I'm very focused on purchasing for business or personal as local or American made as possible.
When I am short of product I continue to buy from other local flower farmers.
There are no local farms here near me; wholesalers closed and they charge shipping.
I have a commitment to support local flower farmers and do so whenever possible.
Because we are a farmer/florist we don't buy in a whole lot from other sources but we did buy a few things from another local farm.
Less product was available in 2020 due to COVID-19 affecting farm output and logistics.
We've had fewer weddings so have not had to purchase beyond what we can grow.
There are 4 flower farms within a 7 miles radius of my home and I use some of their products to supplement when my product was low and just needed more!
Many of the distribution routes affected, staff reduced, lower farm capacity
Buying more from farmers who ship and paying more due to shipping cost.
---
Have you had to find new or different flower sources than in past years?
---
What Cut Flower Varieties are Most Successful for Your Design Work?
Admittedly, this was an open-ended question asking for an entirely subjective response! Check out the most-cited flowers and don't overlook the lesser-mentioned beauties. Do you agree with this ranking? What's missing!? Share your thoughts in the comment section!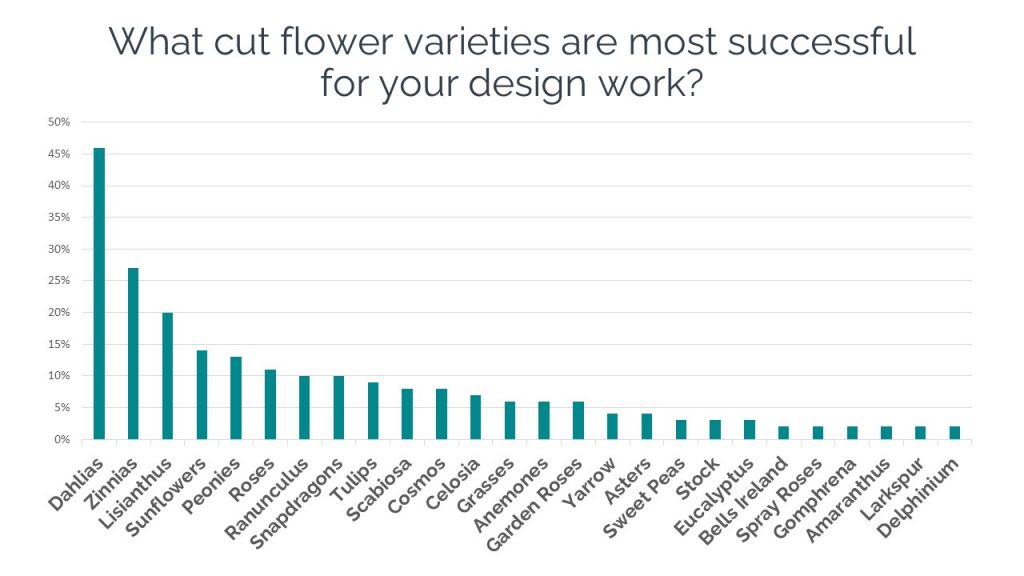 ---
Will your Crop Mix Change in 2021?
No surprise here! Most of you are planning on changing it up, a reflection of your insatiable curiosity and eagerness to find new botanicals for the floral marketplace!
A sampling of your additional comments:
I started small with zinnias, sunflowers, basil, etc. This year I've got cool flowers going ready for spring and more variety of all the other things.
I will grow dahlias that are smaller; better for centerpieces.
Less fragile flowers and more proven winners.
I'll be planting more quantities of fewer varieties (last season I tried too many different varieties).
I'm experimenting with what-works-where in my home garden and how to maximize growing space and succession planting. I've had great success with snapdragons, lisianthus, rosemary, lavender, peonies, yarrow, and others. Still working on ranunculus. Need more greens. Trying hellebores!
New hoop housesgives us new options!
I will diversify and do more succession planting next year!
I'm focusing more on Spring and Fall crops and season extension crops. Doing a BIG winter tulip production project – expecting to sell a lot more retail flowers since people will be inside a lot.
I'm focusing more on a few key crops while experimenting with smaller samples of unique, different crops.
I'm looking at more perennials and fewer tender/annuals susceptible to frost, low water and heat.
More herbs!
We have purchased new property so we are adding new items, including blackberries and blueberries.
I tailor my choices based on popularity and personal preferences along with special requests from brides and grooms
I'm growing more botanical dye source (plants) and adding more in general due to increase of space.
I moved to a new property and am investing heavily in perennials and shrubs where before I was only annuals.
I'm simplifying and streamlining many varieties. Adding more inventory to bulb flowers, bare roots and tubers. Will double our Gladiola, Lily, Peony and Dahlia inventory.
More lisianthus, more peonies, more dahlias; chaning out some perennials.
I will be eliminating some annuals that I didn't love. Increasing supply of items my wholesale customers like. Continuing to build up perennials and flowering branches. More ornamental grasses!
I'm expanding spring crops and focusing on increased volume of fewer varieties.
We change our crop mix of annuals every season, but this year we also added a lot of high-value, slow-growing perennials, some of which will be harvested next season.
More couture, hard to find varieties.
We've added more bulbs and omitted a few annual varieties that we don't feel we want to dedicate space to next year.
I had several things that I planted too much of, or that didn't perform well (like godetia, which was the deers' favorite snack all spring!). I also want to focus more on growing specific flowers for my clients, rather than having stuff just to have it.
I will try adding lisianthus and ranunculus; and grow fewer sunflowers.
I'm focusing on grower higher quantities of fewer varieties to streamline sales to florists and designers.
Things are always changing from one season to the next. I plan on planting crops for "everlasting" flowers to dry since they last me for a year or more. I'm converting two fields to wildflowers. My hope is to host a farm-to-table event next year.
Since we are selling more wholesale bouquets, we will add sunflowers and similar varieties back into our mix. We had eliminated sunflowers because our farmers market is flooded with them but feel they will be useful in our wholesale bouquets.
I will continue to shift toward perennial plants suitable for cut flowers.
We will maintain most of the same annuals, but will trial new varieties. Will also add bulbs and tubers and perennials.
I'll be growing more for grocery stores and also my DIY floral buckets were very popular.
With the pandemic of 2020 we are changing our crop plan to focus on more varities for retail sales, rather than fewer varities for wholesale sales. We will still have our large-scale wholesale crops (of the main varieties), but we are trying to switch to more retail- based, direct-to-consumer sales, including shipping retail bouquets in 2021.
I am planting more cool season flowers now to go along with spring bulbs.
More sunflowers; more ranunculus. Cutting out strawflowers and a few other crops that weren't very productive.
---
The series continues . . .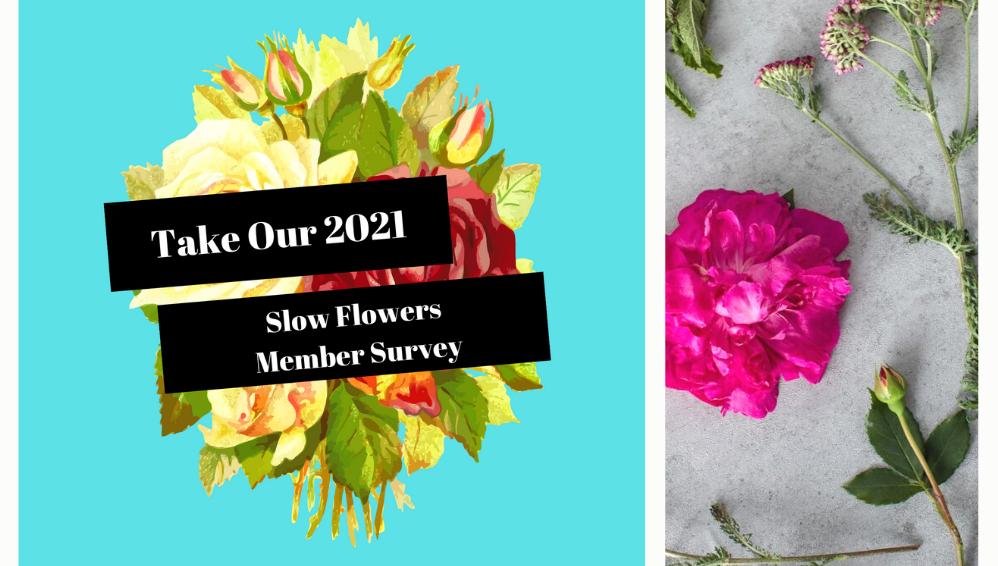 During December and January, we'll share more Survey Insights, digging deeper to share feedback from Slow Flowers Members and provide our analysis on the following topics:
December 11th: Hardgoods and Mechanics
December 18th: Causes, Climate and Challenges
December 25th: Color Palette Preferences & Aesthetics
January 1st: What emerging shifts or themes do you anticipate in your floral enterprise in 2021?
January 8th: Predictions about Customer Buying Patterns
January 15th: Q&A with Debra Prinzing addressing member questions and comments