Inspired writing from the students of the Slow Flowers Creative Workshop: Floral Storytelling
As part of the Slow Flowers Creative Workshop: Floral Storytelling, which took place during much of November, I often posted a photo as a "writing prompt" for students to use as inspiration. Their prose is quite beautiful, highly personal, and what I love the most is how one image such as the photograph that Missy Palacol took of my windowsill in May 2019 (water spots and all!) can evoke entirely different responses.
Please enjoy these entries from some of the 60 participants in the course:
"The rectangular rhythm of Auckland grey flows with a perfect layout of clean white window frames, surrounding us in our quiet secret show of leaves and sky. Indoors and out are in constant flux. The sill at the kitchen sink is a little story of years, months and days gone by. Mom's Steuben vase cradles persevering Orlaya, with its delicate flower heads like tiny assembled orchestras, each player in their summer white tails, dancing stems reaching and tangled. A greeting card with a candy bar stands by uneaten, symbolizing a love story about my daughter, taken in by someone new, who loves me more than chocolate. The empty champagne glass, out of reach from the Great Dane puppy whose fur is chocolaty soft, waiting to be washed after last night's celebration of the votes. The kitchen window sill is a fascinating, not-so-random story, of a little girl who has grown up loving flowers, who is passionate about her people and her causes." Kirsten Gordon, Bloom Magic Weddings
---
"On my windowsill are several empty glass vases – a signal that perhaps my business takes over more of my life than I am willing to admit. However, they are always ready for the next surprise that gets brought into this house. I yearn for a bit of their stoicism in the face of the unexpected! Right now, we only have fragility in common.
You can also see a primary-colored menagerie of East African wildlife on my kitchen windowsill: rhinos, elephants, ostriches, zebras, and antelopes. Their relentless cheerfulness is a mirror of my own brash optimism, sunshine versus logic. They are made of thin sponge, birthed from a dozen of those idiotic gelatin capsules that children place in hot water. "Watch them grow!" And we do! This simple act of absurdity is a salve when everything feels too serious, too hard. My husband and I laugh as our own little act of resistance. And we keep them to remind ourselves to find joy in any little magic trick we can summon." Carolyn Kulb, Folk Art Flowers
---
"Six houseplants are on the windowsill, a menagerie of tough survivors, lined up like a line of verdant soldiers holding back the beginning of our long winter. Each has a history, memories of sweet gifts, shared passions, anniversaries, sale racks. Some I have known before I was a wife and mother. They all remind me that nature's solace is my truest and most faithful friend. The more attention I give to that friendship, the greater my heart grows." Teresa Tibbetts, Dandelion Floral
---
"Windowsills are magic places, a buffer between domestic and feral. Shiny tropical leaves of a fiddle leaf fig peek around the sash to glimpse the maples shedding scarlet splendor drifts against the fence. Will I lose my leaves? Geraniums velvet to the touch delightful when the cat brushes by them: releasing herbal nutmeg, old rose and chocolate mint into the air. Does the ficus dream of running through the leaves?" Lisa Greene, AIFD, Beach Plum Flower Shop
---
"My window sill is much smaller after replacing the garden window that was there before. It is a reminder to keep things simple, clean and that I really don't need much. The burnt pumpkin-colored candle with its lid on . . . I always like a candle there, because of the smell of spice and cinnamon and the glow of the flame. Smell is a sense I pick up quickly wherever I go, and in turn, I would like those who enter my home to enjoy that as well. The flame is almost mesmerizing with its changing directions and likewise, to the year of 2020, and looking forward to that flame going out . . . or that I can control the flame with putting the lid on. I'd like to do that with all of the sadness and hurt that 2020 has brought to many. Like the flame, after it is put out we can choose to light it again and enjoy the new smell and experience . . . we can control how to move forward and enjoy the journey." Kris Bennett, KRISanthemums
---
"I have a collection of glass pumpkins lined up, small to large. They are in an array of colors starting with a deep and dense cobalt blue, ridges clearly extracted and white top giving it a formal appearance. A chartreuse green with a rich dark green top – brought to support the local football team – Seahawks. Then a deep purple where the artist made swirls in the body creating a very smooth appearance meeting an elongated, basic green top. Two cranberry pumpkins with touches of silver that can catch the light showing hint of ridges; they are the size of the small hand. Both tops shine with cherry green tops. And finished with an another deep and dark cobalt blue pumpkin with large and smooth ridges and a matching top. It is the one that catches the morning light. Through the pumpkins winds a strand of copper balls surrounding white lights on dark green wiring. I love the magical feeling they share with me." Darcy MacPherson, Silver Thread Gardens
---
"My window menagerie changes from week to week. There is always a bell I purchased in Paris, a small boll of cotton and a miniature vase. I have a collection of mini vases. Each week I choose a different vase. A cutting from my garden gives me guidance on which vase to choose. My window sill is my mental entryway to my garden at any time of the year. Like the garden, the vignette on my window sill is always changing." Teri Speight, Cottage in the Court
---
"A slender clear jar that once housed fancy olives sits hopefully empty. Affixed to its face is my humble farm logo with one modest yard of earth-toned alpaca yarn wrapped around its mouth, hanging in uneven loops like the long ears of a rabbit. They droop as if dismayed by always having to hover above a sink full of dirty dishes. Inside, the jar is stained from hard water, with plant debris cemented to the sides from the many bouquets gone by. It is artistic in its own right yet sits squarely next to everyday relics of farm life – the forgotten paper skins of a garlic clove, an old cork coaster and a decomposing fly. A sprayer bottle filled with a concentrated mixture of veterinarian-approved potions rests beside the jar, with its unapologetically loud chartreuse and emerald logos. It claims to freshen even the funkiest of dog breath. But the way its nozzle is positioned, I'm inclined to believe it killed the fly.
The empty jar is a metaphor for my current energy level – being adorned with my alpaca herd's yarn simultaneously with the flower farm logo shows how perfectly my two farm businesses are intertwined. Everything about the scene communicates practicality and approachability, even if its in need of a good cleaning. It has a make-do and get it done vibe, and involves my beloved pups in some way. It is basically me in a nutshell . . . or in this case . . . on a windowsill." Elaine Vandiver, Gholson Gardens
---
"My windowsills act as small altars of things precious and meaningful only to me so that the internal view is as calming and beautiful as the external view. I gave careful thought to my homescaping so that every window to the world has a garden view of some kind, some small, some grand. The metaphor that I think of this morning is that the internal altars rarely change; they are my constant. I know what is there and that brings me comfort. Just as I fully expect the external view to be ever-changing with the seasons, and opportunities for growth. Perhaps best summed up by the old adages that while some things never change, the only thing that is really constant is change itself." Pamela Burton, Firefly Gardens
---
"Right now, I have nothing on my windowsill. In fact, I don't really have a windowsill. What is left of it is a splintered piece of wood, ripped apart to measure for a new window. The replacement window sits collecting dust, a view to the wall it leans against. It is surrounded by more dust, doors off hinges, all lined up like soldiers to receive a fresh coat of white paint, ladders filled with remnants of previous projects, trip hazards everywhere. Metaphor for my life – too many projects, too little time. Organized chaos, emphasis on chaos." Jennifer Savzyan, The Flower Keep
---
"A miniature Buddha, a miniture figurine of a Hippie man/incense holder with a crystal ball, a tiny stained glass peace sign, and three small metal lizards. These things are metaphors for my life because I think reminder symbols of peace, balance and hope can be found even in tiny expressions." Katy Roach, Utah Flower & Foliage
---
"Beautiful calm colored vessels awaiting fresh first blooms of a new season." Dorie Knott, Dorie's Farm Fresh Flowers
---
"The window sits perpetually painted open on a slight angle just as the painter left it with plans to come back to finish the job soon. In sharp contrast, a slick, but wavy hand- blown glass vase sparkles blue and with a splotch of orange like a scuba diving vacation on a perfectly sunny day. It is exploding with energetic zinnias and cosmos at the end of their season, but stretching to share more love even in their last moments. Tropical fish in the sea, a delight to the eye and a reminder of life beyond human.
The little things don't stress me out or get me down; I prefer to focus on the positive and I find extreme satisfaction and joy in sharing my energies when it's for a greater good – even if it's small or there is too much to do. Aka: I like to squeeze the life out of myself, but with a smile. The vase was a surprise gift received today from my son's school and the flowers were leftover from the final harvest last night – they were just waiting for this home! The window is actually painted a tiny crack open (there is a storm that's closed) from a job that started pre-covid and we've hesitated to call them back until we can find a good place to hide out from the fumes. I have a razor to cut it free, but it's the last thing on the list always. Maybe tomorrow." Allison Lavigne, ONECommunity Museum
---
"The cuttings were tiny soldiers, planted all in a row, to wait out winter until a full-on assault of spring sunshine called them to action." Michele MacKinnon, Garden Advice
---
"Love grows here from the past till the now with a white-skinned pumpkin in a milk glass compote, an amber flute for that "perfect" single stem that you just can't throw away, many vessels waiting for their turn. A trinket dish full of untold treasure, a wishbone for later, a penny for your thought, a shoofly pod, readers, and a miniature waxy mouse crafted by silly fingers while we waited in an airport somewhere last year. Not sure how this is a metaphor for my life but I'll give it a shot.
"The many things on my window sill show I cherish the past and the present, that I'm full of positive hope, fun, love, and wistful dreams." Misty Vanderwheele, All Dahlia'd Up Flower Farm
---
COMING UP: A NEW SESSION OF SLOW FLOWERS CREATIVE WORKSHOP, FLORAL STORYTELLING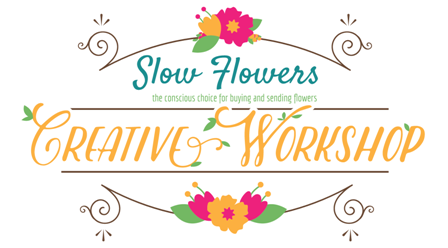 Taught by Debra Prinzing, our online course, Slow Flowers Creative Workshop: Floral Storytelling, returns on January 6, 2021.
As a Slow Flowers member you will receive $100 off the course ($297 value), paying only $197. The tuition rate for Non-Members is $50 off the course, and you'll pay $247 (so why not join Slow Flowers as a member?!)