More inspired writing from the students of the Slow Flowers Creative Workshop: Floral Storytelling
Here is another installation of student writing from the Slow Flowers Creative Workshop: Floral Storytelling, which took place during much of November.
I asked students to use the metaphor device, called "anthropomorphizing," and respond to the question: "If these trees were human, tell us about them."
"These are nuns, lined up outside a tall chapel, silently waiting to enter for evening vespers."
Katy Roach, Utah Flower & Foliage
---
"Runway models at a big fashion show in New York. What is it with these hats this year? I can't possibly wear heels and this sprawling feather job at the same time. Nobody will buy this look!"
Kirsten Gordon, Bloom Magic Weddings
---
"There is nothing more gregarious than the village elders shooting the shit at the end of the day. They may walk, hands folded behind their backs, graying and bent over, but don't let them fool you: they are more raucous, bawdy, and hilarious than anyone has a right to expect. They sit in a crooked circle, pausing their teasing long enough for you to greet them, or for a child to weave between legs, maybe perch on a lap. But given enough time, these men – a local institution – will turn the jokes on you, too. So much is fair game, from your name, to your dinner last night, to who you married. Suddenly you are a part of their vibrant conversations, their merciless but hysterical ribbing, their made-up songs and taunts. Walking by goes from a five minute detour to derailing your whole day. When it happens, you feel like you've made it. You've won the acceptance of the elders, and it's the best feeling in the world."
Carolyn Kulb, Folk Art Flowers
Inspired by her time living in Mali, where joking with strangers has been 100% mandatory since the 1200s. Carolyn says, "I miss those old bean-eaters. And yes, calling someone a bean-eater is a time-honored Malian fart joke, lol."
---
"Lined up, six feet apart, all armed with masks. He is grateful for the opportunity for the visible cover shading his near-consuming disbelief. How did he get here? Hunched over, she stands steadfast and patient, she has been here before. Mind racing with thoughts, he is contented to be surrounded by an army of stoics. He is not alone. Her heart fills with extreme gratitude for the gift of food from those on the other side of the tumultuous river, where the grass is green and the sun shines . . . today. The babe inside the last in line absorbs hope from her mother. We are one community."
Allison Lavigne, ONECommunity Museum
---
"This line of trees and their distinctive tops remind me of "there's a little peck" from the musical The Music Man. It is part of the story where the women get together a do a bit of gossiping. Here is a bit of the chorus and lyrics of which this grouping of trees reminded me of."
ALMA & ETHEL:
Pick a little, talk a little, pick a little, talk a little
Cheep cheep cheep, talk a lot, pick a little more
ALL THE LADIES:
Pick a little, talk a little, pick a little, talk a little
Cheep cheep cheep, talk a lot, pick a little more
MAUD:
Professor, her kind of woman doesn't belong on any committee
Of course I shouldn't tell you this but she advocates dirty books
HAROLD:
Dirty books?
ALMA:
Chaucer!
MAUD:
Rabelais!
EULALIE:
Balzac!
ALMA:
Chaucer!
MAUD:
Rabelais!
EULALIE:
Balzac!
LADIES:
Pick a little, talk a little, pick a little, talk a little
Cheep cheep cheep, talk a lot, pick a little more
Pick a little, talk a little, pick a little, talk a little
Cheep cheep cheep, talk a lot, pick a little more
Darcy MacPherson, Silver Thread Gardens
---
"Those at the back of the pack of the well-orchestrated string of altar boys strain and crane their necks to see what's ahead that is creating that odd smell, only to realize altar boy #2 set afire the hair of altar boy #1 and is furiously and futilely attempting to use his full lung capacity to dampen the smoldering embers of this current walk of shame."
Pamela Burton, Firefly Gardens
---
"They soar above all else, able to turn their necks to catch the slightest movement. The giraffe has a strong base, a slender neck and beautiful eyes. Movement is slow and gaited as if moving to push the wind. They gain our curiosity and awe at the same time. Their quiet presence is stately and the blink of their lashes catch us every time."
Kris Bennett, KRISanthemums
---
"These slender, towering giants have slight hunches in their backs from trying not to be too tall. They are gentle but somber; I feel sad every time I look at them. Rarely do they ever move with a sense of urgency, but for each one of their strides, I must take two. Their long faces are horse like, slightly stretched, but with good teeth, though they never really smile. I often wonder what they are thinking or where they are going as they always seem to be on the move, but never actually go anywhere."
Jennifer Savzyan, The Flower Keep
---
"When the Aunts come to visit.
It only happens once a year. The madness; making sure that everything is just so. We want them to be comfortable, you know. Clean, clean, and clean some more. I'm so over it! The door bursts open! Finally, they are here. Let's get this freak show on the road! There they are all high-and-mighty, dressed head to toe in Halloween black, full of self-importance as they look down their noses. Aunt Margarett with her overcoat swishing past trying to be stylish, but the burnt too orange lipstick sticking to her teeth is a bit too gruelish if you ask me. God, I hope she doesn't try to kiss me! Aunt Mildrid, the scary one with her arms crossed always has me under the microscope like I'm a bug to swash. Aunt Muffy the glum one is unsettling as she disapprovingly asks me questions like, 'Is that all you have to wear?' Has she looked in the mirror lately? That hat she's hiding under is atrocious! Then my most 'favorite' — Aunt Brigette with her hands behind her back and a fake smile on her face; at least she brings me sweet treats. Even if I have to swallow her condescending tone, 'Don't eat it all at once dear, we wouldn't want you to get fat.' Oh, I almost forgot to mention the twins (cousins of mine) — Thing one and Thing two. Always up to mischief, tapping me on the shoulder, stealing my snacks, and pulling my hair. I'm so over it!"
Misty Vanderwheele, All Dahlia'd Up Flower Farm
---
COMING UP: A NEW SESSION OF SLOW FLOWERS CREATIVE WORKSHOP, FLORAL STORYTELLING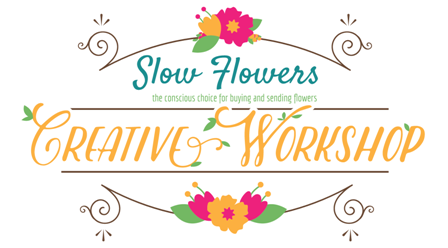 Taught by Debra Prinzing, our online course, Slow Flowers Creative Workshop: Floral Storytelling, returns on January 6, 2021.
As a Slow Flowers member you will receive $100 off the course ($297 value), paying only $197. The tuition rate for Non-Members is $50 off the course, and you'll pay $247 (so why not join Slow Flowers as a member?!)