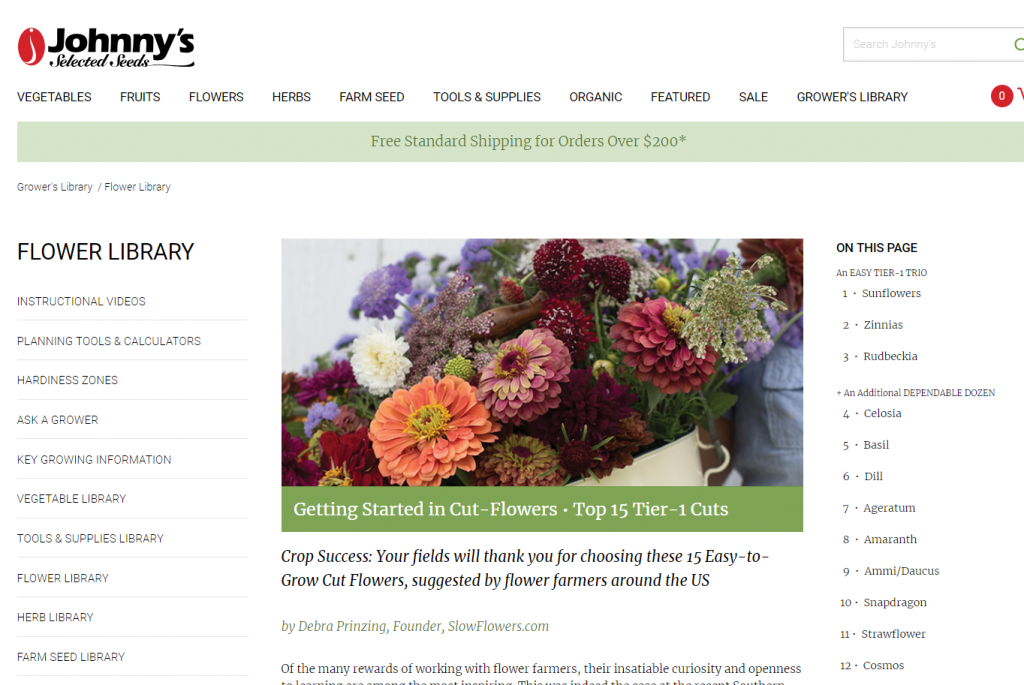 Crop Success: Your fields will thank you for choosing these 15 Easy-to-Grow Cut Flowers, suggested by flower farmers around the US
NOTE: Johnny's ADVANTAGE Newsletter for October features a Slow Flowers article about the TOP 15 TIER-One CUT FLOWERS to grow, with advice from several of our members, including: Rita Anders of Cuts of Color, Rita Williams of WilMor Farms, Carly Jenkins of Killing Frost Farm and Carly Cavalier of Cairn Farm. 
Of the many rewards of working with flower farmers, their insatiable curiosity and openness to learning are among the most inspiring. This was indeed the case at the recent Southern Flower Symposium in Charleston, South Carolina, hosted by an emerging force in the region, Lowcountry Flower Growers.
For anyone interested in starting a cut-flower business, attending a regional event such as this can be a valuable immersive learning experience. Presenters included veteran flower farmer Rita Anders of Cuts of Color, of Weimar, Texas, as well Nikki Seibert Kelley of Wit Meets Grit, who moderated a panel that invited growers at various levels to discuss flower farming practices and share their wisdom. In all, symposium attendees left with renewed confidence and useful flower-growing advice specific to the Southern tier.
While listening to the rants and raves of each attendee on the distinct floral cuts they grow, I was prompted to consider the best cut flowers to grow from seed for the less seasoned growers among us. I was able to take what I learned at the symposium and combine it with narrative I've gleaned from several other expert farmers. The result is a carefully vetted list of the Top 15 Cuts for Getting Started: An Easy, Tier-1 Trio + An Additional Dependable Dozen.
Click to read the full article — and remember take notes as you create your 2019 seed lists!