NEW YEAR. NEW DECADE. The January 2020 issue of Slow Flowers Journal – in the pages of Florists' Review – is our 30th consecutive special section for our print magazine partner. We kicked off the decade with our Slow Flowers Floral Insights and Industry Forecast, the sixth year that we've published ideas that are taking hold in the American floral world. You'll see that report and download a free PDF of it below.
The issue also features stories of two Slow Flowers members whose educational ventures welcome flower farmers, floral designers and farmer-florists into important topics for business success and entrepreneurial growth.
We love sharing these feature stories about our Slow Flowers community and other pioneers. Enjoy each article and be sure to click on the link for a Free PDF of each.
GREEN HORIZONS: 2020 Slow Flowers' Floral Insights and Industry Forecast
"Today's customers want their dollars to go to companies that will use their money to make the world a better place." That sentence jumped out to me in an October 7, 2019 TIME profile of Rose Marcario, CEO of Patagonia, which donates 1% of its sales to environmental groups (Patagonia's sales recently surpassed $1 billion annually). The story highlights a theme that resonates with that of our 2020 Slow Flowers' Floral Insights and Industry Forecast: "belief-driven buyers choose a brand on the basis of its position on social issues." If you think this is a fringe topic, according to market consultancy Edelman, nearly 2 in 3 consumers are belief-driven buyers.
We don't have to all be environmental activists to use our brands to "do good," but according to Slow Flowers' survey, most members and supporters view their company's values and mission as precious brand assets as well as marketing tools. This sentiment was well expressed by wedding and event florist Tobey Nelson of Tobey Nelson Weddings + Events in Langley, Wash., who spoke about sustainable floristry at last year's Slow Flowers Summit, defining it in part as "making 'better than' choices to improve our environmental and social impact."
For the sixth year I've presented this annual forecast to document and track shifts taking place in the floral marketplace. I recently surveyed Slow Flowers members and social media followers with nine questions about their floral businesses, including emerging themes and topics important to them. I drew further insights from my first-person interviews for print and digital stories, interviews with more than one-hundred Slow Flowers Podcast guests during 2019, and attitudes shared by thought-leaders in floral design, flower farming and related creative professions.
Read More: Click here to download a PDF of the Slow_Flowers_Forecast
MONTANA MENTOR
Julio Freitas' The Flower Hat workshops expose students to a balance of growing and designing knowledge, with added focus on branding and business
After teaching single-topic floral design courses for fans in Bozeman, Mont., where his floral studio and flower farm are based, Julio Freitas took the leap last summer to design a curriculum for three-day extensive workshops.
"We've had wreath and centerpiece classes, but this was the first time I opened up the doors to expose people to The Flower Hat business model," he says. "Over the last few years, I noticed that there was somewhat of a disconnect between flower farming and floral design. There were farmers who wanted to take on weddings as an additional revenue stream, but they had no idea where to start, how to attract clients, deal with communication aspects, how to price flowers they grew, and ultimately design and deliver. There was also this other group, who were florists who didn't have access to local flowers, and although they had space and were willing to start growing some of their own flowers, there wasn't a road map for them on what to grow, how much to grow, not to mention watering, fertilizing, harvesting and conditioning. And there was also a third group: industry folks just starting now who can't find the answers to their questions on where and how to start either farming or design."
Read more: Click here to download a PDF of TheFlowerHatWorkshop
BEAUTY IN EVERY SHADE OF GREEN
The "Sustainable Flowers Workshop" debuts in Calgary
Photography by Ian Gregory &Reverie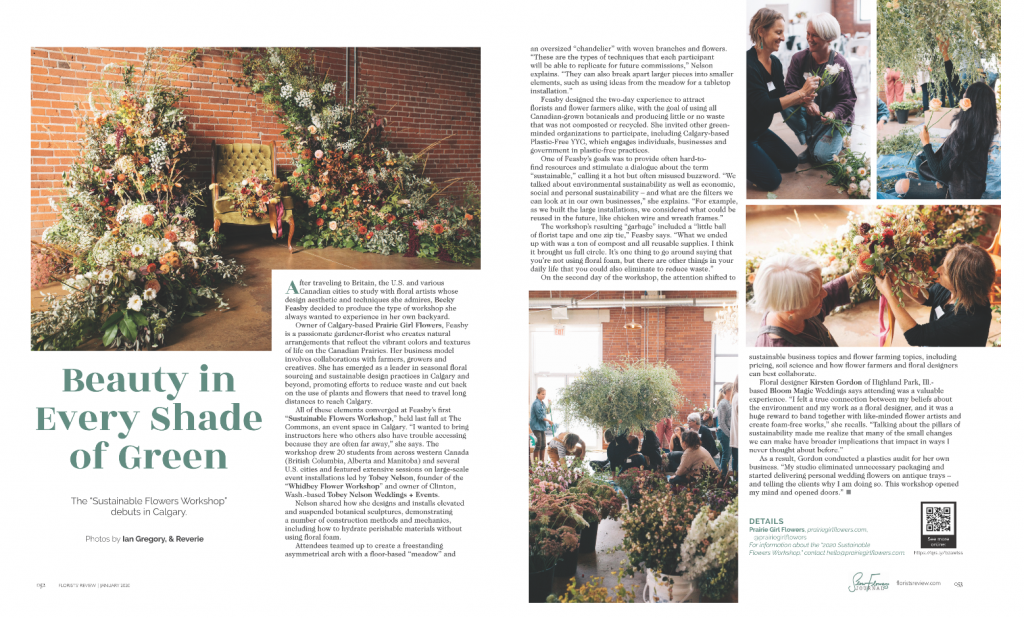 After traveling to Britain, the U.S. and other Canadian cities to study with floral artists whose design aesthetic and techniques she admired, Becky Feasby decided to produce the type of workshop she always wanted to experience in her own backyard.
Owner of Calgary-based Prairie Girl Flowers, Feasby is a passionate gardener-florist who creates natural arrangements that reflect the vibrant colors and textures of life on the Canadian Prairies. Her business model involves collaborations with farmers, growers and creatives. She has emerged as a leader in seasonal floral sourcing and sustainable design practices in Calgary and beyond, promoting efforts to reduce waste and cut back on the use of plants and flowers that need to travel long distances to reach Calgary. 
All of these elements converged at Feasby's first Sustainable Flower Workshop, held last fall at The Commons, an event space in Calgary. "I want to bring instructors here who others also have trouble accessing because they are often far away," she says. The workshop drew 20 students from across Canada (B.C., Alberta and Manitoba) and several U.S. cities and featured extensive sessions on large-scale event installations led by Tobey Nelson, founder of the Whidbey Flower Workshop and owner of Whidbey Island, Wash.-based Tobey Nelson Weddings + Events.
Nelson shared how she designs and installs elevated and suspended botanical sculptures, demonstrating a number of construction methods and mechanics, including how to hydrate perishable materials without using floral foam.
Read More: Click here to download a PDF of SustainableFlowersWorkshop
Like what you see here? I'm delighted to serve as Contributing Editor for Slow Flowers Journal, found in the pages of Florists' Review. It's the leading trade magazine in the floral industry and the only independent periodical for the retail, wholesale and supplier market. Take advantage of the special subscription offer for members of the Slow Flowers Community. Click here for details.