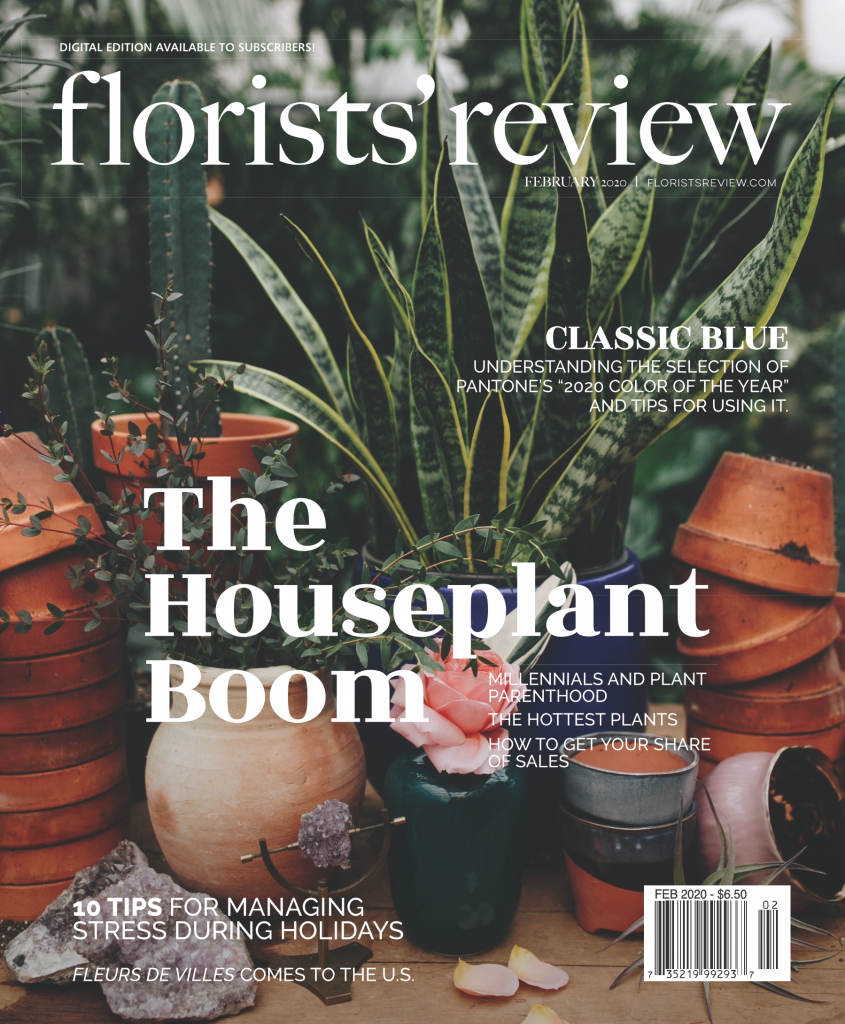 The February 2020 issue of Slow Flowers Journal is our 31st consecutive special section for Florists' Review, our print magazine partner.
We love featuring the Slow Flowers' message and our members' stories each month, with original, informative and visually compelling content to inspire you!
Inside the February pages, find three feature articles about our members. We love sharing these feature stories about our Slow Flowers community and other pioneers.
A MARRIAGE OF PLANTS AND FLOWERS
How a retail nursery turned its growing fields into a destination wedding venue and cut-flower farm
At Pine Creek Farms & Nursery in Monroe, Wash., located about 30 miles northeast of downtown Seattle, Paul and Gwen Sayers have redefined the traditional role of a retail specialty nursery by expanding their 20-acre property to accommodate weddings and events.
Paul, a landscape designer, and Gwen, a flower grower and florist, have worked together for nearly three decades, building their tree and shrub nursery to serve the outer suburbs of Seattle. During the past decade, as the landscape marketplace has contracted, the Sayers recognized an opportunity to convert some of their tree production area into a beautiful garden for ceremonies and parties. They also earmarked one acre for Scattered Seeds . . . a flower farm, Gwen's new cut flower farm. 
Paul explains that most nurseries have a narrow window from March to June to maximize sales. "Pine Creek Nursery has three criteria: to be creative, challenging and profitable," Paul Sayers says. "I've always loved growing, but this business has progressed into more and more growing and less landscaping. By July, we're not busy. We decided to do something different with this space — and we've made a garden area for weddings."
Read More: Click here to download a PDF of A Marriage of Plants and Flowers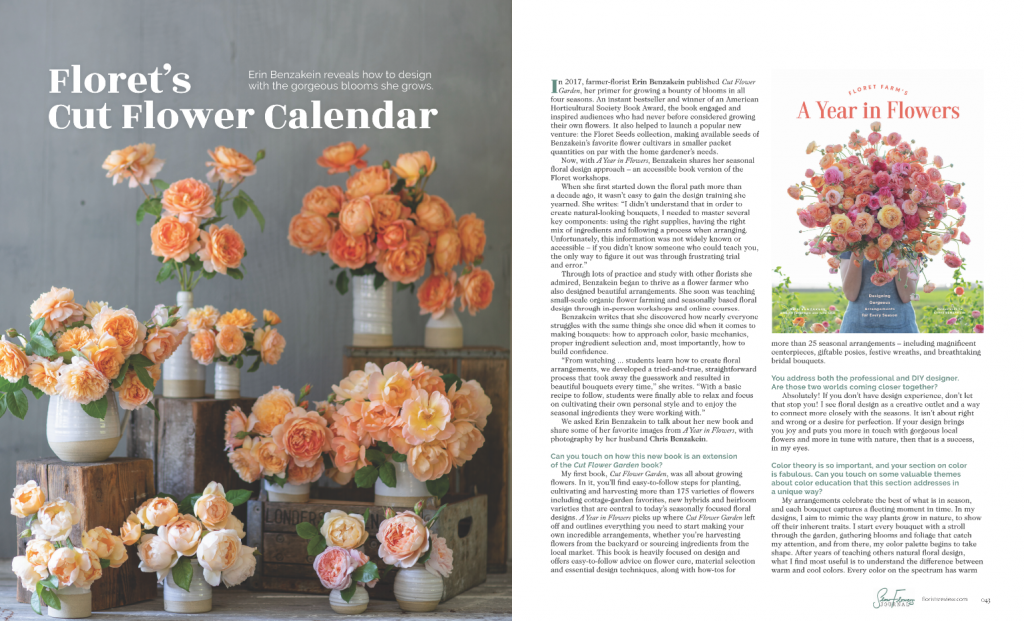 FLORET'S CUT FLOWER CALENDAR
Erin Benzakein reveals how to design with the gorgeous blooms she grows
In 2017, farmer-florist Erin Benzakein of floret flowers published Cut Flower Garden, her primer for growing a bounty of blooms in all four seasons. An instant bestseller and winner of an American Horticultural Society Book Award, the book engaged and inspired audiences who had never before considered growing their own flowers. It also helped to launch a popular new venture: the Floret Seeds collection, making available seeds of Benzakein's favorite flower cultivars in smaller packet quantities on par with the home gardener's needs.
Now, with A Year in Flowers, Benzakein shares her seasonal floral design approach — an accessible book version of the Floret workshops. We asked Benzakein to talk about her new book and share some of her favorite images from A Year in Flowers, with photography by her husband Chris Benzakein.
Read More: Click here to download a PDF of Floret's Cut Flower Calendar
KEEPING CLOSE TO HOME(TOWN)
Long Island natives launch a new type of mobile flower shop
The granddaughter and daughter of New York florists, Jaclyn Rutigliano has spent her career as a public relations, branding and media consultant for other people's businesses. But last year, she melded her two worlds — flowers and marketing — putting an entirely personal spin on things.
Along with husband Marc Iervolino, she launched Hometown Flower Co. in May 2019, Mother's Day weekend, in fact. Their "hometown" is Huntington, New York – on Long Island. The couple runs Hometown Flower Co. as a family operation with their two young daughters, August and Sage. Rutigliano oversees floral design, creative marketing and branding for the company. Iervolino oversees the day-to-day business operations and logistics. 
Hometown Flower Co. wants to connect customers with Long Island farmers who grow their flowers. Rather than a brick-and-mortar retail flower shop like her grandparents opened in Queens in 1948, or a special events and wedding florist like her parents later established (and still run) that serves Long Island and the tri-state market, Rutigliano and Iervolino envisioned the traditional neighborhood florist with a twist.
Read More: Click here to download a PDF of KEEPING CLOSE TO HOME(TOWN)
Like what you see here? Debra Prinzing, our creative directory serves as Contributing Editor for Slow Flowers Journal, found in the pages of Florists' Review. It's the leading trade magazine in the floral industry and the only independent periodical for the retail, wholesale and supplier market. Take advantage of the special subscription offer for members of the Slow Flowers Community. Click here for details.