David Coake of Florists' Review recently asked Debra Prinzing to discuss the creation of her new book, "Slow Flowers Journal – Volume One." The Q&A was edited for length and appears in the October 2020 issue.
Here is an expanded transcript of that interview:
DC: What was the inspiration/idea behind this book? Why did you create this book? What's its purpose?
DP: I'm a passionate storyteller and I learn what I know and believe through the medium of writing about others' personal narratives. Since 2017, when I first began contributing articles to Florists' Review, I have collected and written articles about people practicing the Slow Flowers' approach to their floral enterprises. Rather than preaching my beliefs about a "seasonal, local and sustainable" philosophy that might make some readers feel uncomfortable about their own practices, I believe the best way to effect change is by telling stories of florists and farmer-florists who attribute their success to greener and more sustainable approaches to business. Nothing more inspires a desire to change oneself than seeing another's success.
So the original inspiration for Slow Flowers Journal was to gather the "best of" content from the first two years of my Florists' Review articles (from 2017-2019) and compile them into what's essentially an illustrated handbook to guide readers seeking a better way of doing business. Travis Rigby, our publisher, gets credit for asking me to create this book in the first place. I'm so glad he did. I added about 20 percent fresh, new content that hasn't been published previously, as well as re-wrote all of the original text and updated our photo selection.
DC: How would you define/categorize this book?
DP: Slow Flowers Journal is a documentary-style project that features interviews and floral designs of more than 80 professionals in the Slow Flowers Movement. By including as many unique stories, voices and design aesthetics as possible, I show the vast range of options and opportunities to participate. This book is part inspiration, part information, as it chronicles the leaders and influencers in the Slow Flowers Movement.
DC: Who is this book intended for?

DP: The book is intended for all facets of the floral marketplace –from studio and retail florists to growers and farmer-florists to wedding and events professionals and wholesale suppliers. An equally important audience include enthusiastic cut flower gardeners and DIY floral designers.
DC: How does this book differ from other/similar books in the floral book marketplace? What makes it unique/distinctive?

DP: I believe this book picks up where my 2012 book The 50 Mile Bouquet leaves off. That project also uses documentary-style journalism to profile pioneers involved in America's domestic floral renaissance. But so much has taken place in the past eight years — as this category has grown rapidly to encompass so many people working in the floral marketplace — that the time was right to return to storytelling and gather more contemporary profiles.
DC: What do you hope readers will gain from this book? How do you hope readers will use this book?
DP: I hope floral entrepreneurs will gain useful business insights by reading about their peers — studios, workshops, retailers and floral artists — who embrace the belief that basing one's business on the Slow Flowers philosophy is a smart branding strategy. Beyond business and branding, with more than 150 photographs of sumptuous installations, tabletop arrays, bridal bouquets and arrangements, readers will experience a seasonal aesthetic that should spark their imagination and interest in trying new techniques, uncommon types of flowers and unexpected combinations in the vase.
DC: Why is this book a must-have for floral design professionals and/or floral enthusiasts/hobbyists? Why is this book a great addition to a floral library?
DP: Slow Flowers Journal reflects a wide range of approaches to building a flower-centric lifestyle, whether for a business or for one's personal life. I believe it's a great addition to a floral library because there is something here for everyone's interest — from botanical couture to retail floristry; from the florist-farmer approach to weddings and entertaining with flowers.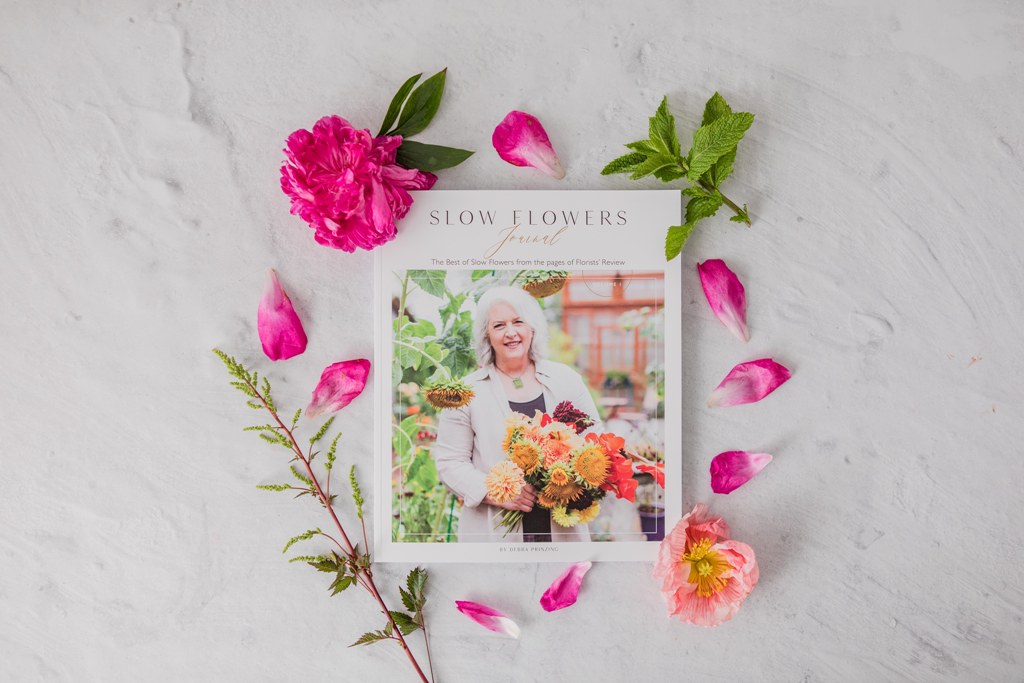 Order your signed copy of Slow Flowers Journal – Volume One here!