When she realized that 2020 was going to be a bust, Bay Area wedding designer Sally Sparks devised a collaborative styled shoot with multiple uses
Two years ago, Sally Sparks moved her floral business from a tiny retail shop in San Francisco to a spacious studio in an historic Oakland neighborhood. The relocation was not only financially wise, it also gave Sparks newfound artistic freedom as she stepped away from the saturated floral marketplace in San Francisco.
Another benefit: The move brought Sparks closer to flower farmers from whom she sources directly. Taking a pause from a lifelong relationship with retail (Sparks' mother owned a retail shop and the designer spent the early part of her career working for retail florists) allowed her to focus Sally Sparks Flowers & Design entirely on wedding and event clientele. The designer attracts couples whom she describes as "a little bit nerdy, interested in science and nature, with an appreciation for the natural world." Like Sparks, her couples "are people who don't want to necessarily have something they've seen before."
The Sally Sparks' brand encompasses sustainable, foam-free mechanics and local farm sourcing, resonating with clients who "want something that is true to them as individuals rather than something straight from Pinterest," she says. "I also love using non-floral elements — fruits, vegetables, feathers, plants. And I want to use materials intentionally and meaningfully, both for my clients and myself."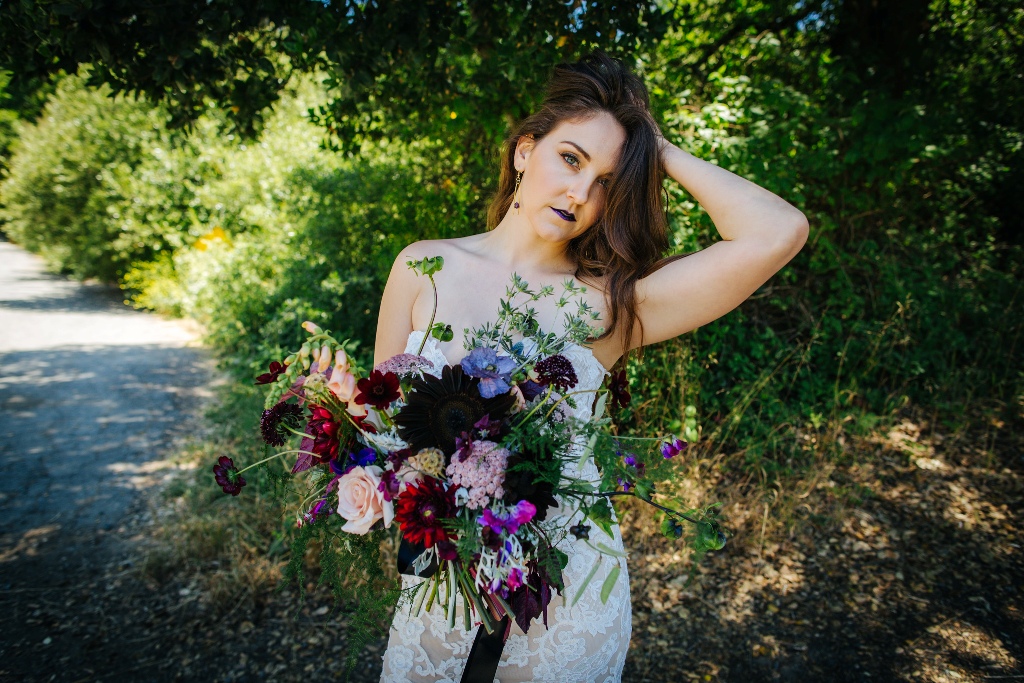 Embracing Change
The COVID pandemic and its theme of survival and resilience clearly altered the 2020 wedding landscape. Like many professional florists, Sparks has been juggling refunds, redesigns, rescheduled dates and more.
"I was heartbroken for all of my wedding clients who I wasn't going to be able to design for," she says. "Without events, I didn't know what I was going to do, and, to be honest, I needed a way to stimulate business. I thought: 'I don't know what the future holds and I might not be a wedding florist forever, but I want to express my own style in a way that wasn't seen elsewhere. And be proud of it.'"
Sparks realized that a styled shoot was one cost-effective way to obtain new branding imagery and communicate her aesthetic. She originally envisioned a woodland scene at California's Redwood Forest, but due to national and state park closures, the plan shifted to a regional park with a forested areas, located just outside Berkeley. Sparks partnered with Katherine Cooper, an adventure photographer known for hiking to mountaintops and cliffs with her clients, creating a mood board and reaching out to dress shops, models and other vendors. The wooded setting melded nicely with Sparks' fictional storyline for the photography. "I was interested in the idea of a sorceress enchanting her love," she explains. "I was thinking mystical, moody, romantic, with an autumn or winter vibe. Definitely not anything bright or summery because that's not the mood I'm in right now."
She shared the dramatic palette with flower farms that supply her studio, including Boxcar Flower Farm in Oakland and Bluma Farm in Berkeley. "Having a relationship with the individual farmer who raises each flower from seed to stem is important – and special," Sparks says. "My palette and materials are carefully designed, but the structure of my pieces are dictated by the materials themselves."
Sparks tapped two female models and one male model for the session, allowing her to rotate the bouquets, accessories and wearable flowers for multiple vignettes. She borrowed four different dresses and varied the looks with two selections of personal flowers.
"One of the reasons I chose to use multiple floral pieces and models in one shoot was to have a variety of styles to choose from so that we can send different photos to specific blogs and magazines," Sparks says. "For instance, I knew that I wanted to feature dried botanicals for one package and local flowers for another. Some publications ask for exclusive access to the images. So by having multiple sets of images, I can guarantee that happens while still offering my work to many different outlets at the same time."
READ MORE:
DETAILS
Sally Sparks Flowers & Design, @sallysparks