A Slow Flowers Florist Promotes her Ideals by Seeing Patterns and Collecting Seasonal Design Ingredients from the Cutting Garden
As I enter my fifth year as a wedding floral designer, I am fortunate to be blessed with clients who appreciate my garden inspired aesthetic, and who are willing to let me "do my thing" in building flower collections for their weddings. 
The only rule is that I will not change the color scheme.  As my designs are built on what is in season, emphasizing locally grown blooms, I decided this year to make a chart of my wedding color schemes in chronological order. So, after about an hour of playing with .jpegs and Adobe Spark, I came up with this reference tool that tells a lot not just to me, but to my team members, to the flower farms and companies I source flowers from, and to the wedding clients we serve and the vendors we collaborate with in making sustainability focused weddings. 
Here are some ways I will use the color scheme chart this year.
As color schemes are born in early talks with clients, this presents so many chances for me to position my company as a team of Slowflowers-committed floral artists.  Clients immediately realize that Bloom Magic Weddings is different than our competition.  We find ourselves in meaningful conversations about where flowers come from, repurposing florals from ceremony to reception to donation, and curious questions about lesser known botanicals that can lead to unique, memorable arrangements.
Because our little flower studio is different, and we have strong beliefs about sourcing and sustainability, we are not for everyone.  The color chart and the why and how ideas behind it, help me get to know a potential client.  If there is no resonance, I might not be talking to an ideal client.
This chart helps me see what I DON'T need this year.  No yellow flowers.
I know what I should plant in the cutting garden, where I have very little space. I also know what I can grow in the shoulder seasons of early spring and later fall, and what is needed at high summer.  I can also hone in on flowers that can be planted in succession and optimize my crops.
As I look at a wedding, I can think about focal flowers and supporting flowers and get a jump on planning flower collections when things are quiet.  I can also observe colors that flowers and foliages will not fill, like a Tiffany blue-grey that I want to highlight for the bridesmaids dresses on June 25.
I keep this color chart in my phone, and refer to it in my travels as I source hard goods. Since most of our centerpieces are gifted or donated after the wedding (we believe in getting the full beautiful life of each arrangement, not just one day) I am always on the hunt for unique, affordable vessels. From compotes online to thrift store finds to ribbons, I can check how a new item fits into the plans by glancing at the colors and recalling the style or concept for each date.
I can share this chart with farms I work with, to demonstrate my needs and learn more about what they grow.  A new focal flower might be introduced to me, or one that I know well might be available at a different time than last year.  Growers are happy to look at the schemes and work with me to honor the look of the wedding.  They are interested in what couples want, and it helps them decide what to grow in the future.
As my business is a boutique studio based operation, I often have freelance people helping.  The color chart is the starting point of every conversation when a helping designer joins the party.
The color scheme chart is posted on the cooler door and or the project wall.  This helps anyone in the studio starting up a wedding bouquet or centerpiece to select the right materials from the cooler or buckets on the work table.  Our monthly subscription clients often receive other blooms (and I expect I will want to do some yellow and blue this year!)
As I meet with potential 2023 clients, this color scheme chart is a great way of introducing our style, aesthetic, and sustainability philosophy, and getting creative juices flowing. 
I can also use this chart with other wedding pros.  When a site visit is made, adding a copy of the color chart with a business card to give a venue coordinator or wedding planner can instantly get attention and encourage pros to find out more about my business.  Recently, one country club coordinator even asked, "What color schemes do you think work best in our space?"  This resulted in a conversation and later referrals to BMW, and a booking.
---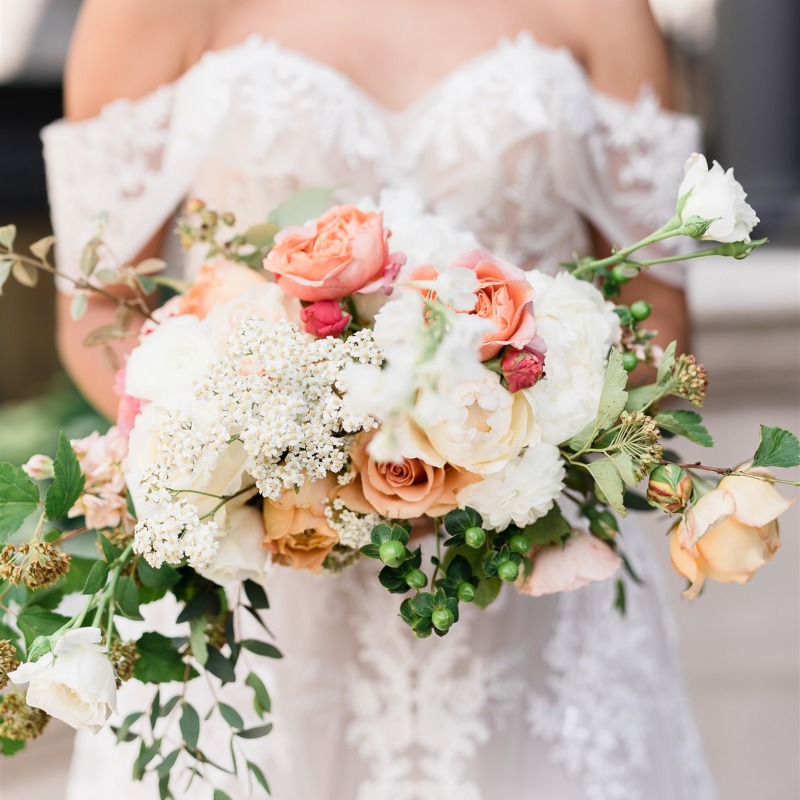 So the hour I spent making this chart is saving me a lot of time.  I've whizzed through the seed catalogs, and there is more time to save on building flower collections and staying on the same page with the team.  Try it, I'd love to see what your wedding colors look like!
Read more about the wedding featured here in Trends Magazine