Gather Flora plans an expansion into Los Angeles
Gather Floral is an online marketplace that connects florists with farmers by region in order to deliver the same volume, selection, and convenience of local flowers that the floral trade expects from global imports.
After our success in the San Francisco Bay Area, we're planning to replicate the model by opening a new regional hub in the Los Angeles Flower District this spring. Driving our decision is an enthusiastic group of flower farmers and floral designers in Southern California who have observed what we have accomplished at the San Francisco Flower Mart and yearn for a similarly vibrant, connected community and streamlined way to source local flowers in their region.
Florists' desire for more local, seasonal flowers is clear. Since Gather Flora's opening in April 2021 at the San Francisco Flower Mart alongside more than 50 other vendors, we have generated hundreds of thousands of dollars in local flower sales for our community. Florists have been immediately drawn to Gather's unusual specialty blooms that aren't typically found at other wholesalers and that have the added benefit of lasting longer than imports. There's just something about these field grown flowers that have character and a liveliness that you can't replicate in a mass import system and it's so beautiful to see people connect with that.
Calling on the Slow Flowers Community
Like all grassroots initiatives, Gather Flora can't launch Los Angeles alone. To help finance the expansion, we are running a crowdfunding campaign this month, with the purpose of helping to offset significant startup costs of our new market stall at the Southern California Flower Market in the LA Flower District. You can read about our story of starting and scaling at the San Francisco Flower Mart as well as our plans for extending our network in the Los Angeles area here.
The Slow Flowers community can show its support by helping fund Gather Flora's LA Crowdfunding Project; or, if you're not able to pledge at this time, please consider sharing this link with your network to help spread the word about it.
Supporting Gather Flora's LA crowdfunding project will give the Los Angeles floral community easy access to unique local, seasonal flowers and small farms an outlet for selling their specialty blooms. As this Slow Flowers community knows so well, the floral creations and the planet will be better for it.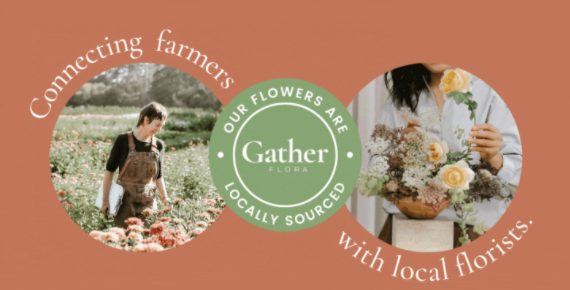 Gather Flora Past, Present and Future
Inspired by many conversations with Northern California flower growers and florists, the idea for Gather Flora was formed as I observed a recurring problem of farmers and florists being overstretched in a fragmented local flower community that software could solve in a thoughtful way. Since 2018, Gather Flora has driven innovation in the floral industry by leveraging our strengths in building systems and technologies to enable local, seasonal flower sourcing at scale. Ultimately, we believe we can best serve the community by merging flowers and software — and the result is Gather Flora.
Gather Flora's model:
Corrects sourcing inefficiencies
Provides product traceability
Reduces the industry's carbon footprint and
Champions local, seasonal flowers
Small farms don't have the resources to consistently sell and market themselves. Likewise, locally-minded florists don't have the bandwidth to research farms, manage multiple different ordering processes, and travel to multiple locations on a weekly basis to meet their ordering needs. Gather Flora's platform allows farms to streamline their order management systems while enjoying the benefit of easily increasing their customer base. Florists can source from many local farms on our website, easily manage their orders, and pick them up from pre-designated locations like the soon-to-be open Gather Flora stall at the Southern California Flower Market.
In the big picture, Gather Flora is joining the communities and busineess of the Slow Flowers Movement to push forward these goals:
Increasing the percentage of the global market that local and sustainable floral sales command
Improving traceability of flower sourcing
Elevating consumer awareness of the impact of their floral purchase
Providing superior offerings to farms in terms of features, services, and pricing
Learn More:
Follow Gather Flora on Instagram