NOVEMBER Issue No. 28 of the Slow Flowers Journal brings you inside the pages of Florists' Review!
The theme of this issue is San Francisco Style — an exclusive look at the people and businesses that make the flower culture in the City by the Bay unique.
Thanks to the Slow Flowers creative community, we carried the issue, beginning with the cover art featuring a delivery bicycle with a bucket of locally-grown floral bouquets designed by Gorgeous & Green.
Included in the SFJ pages are profiles of three members. Contributing writer Jane DeMarco also wrote an update about our great friend and supporter Christina Stembel of Farmgirl Flowers, a follow-up to our extended magazine interview with her in 2017.
I'm delighted to share these features with you, as I believe each one will inspire and enlight you along a personal journey to engage with local, seasonal and sustainable flowers.
Here's a sneak peek of our feature articles: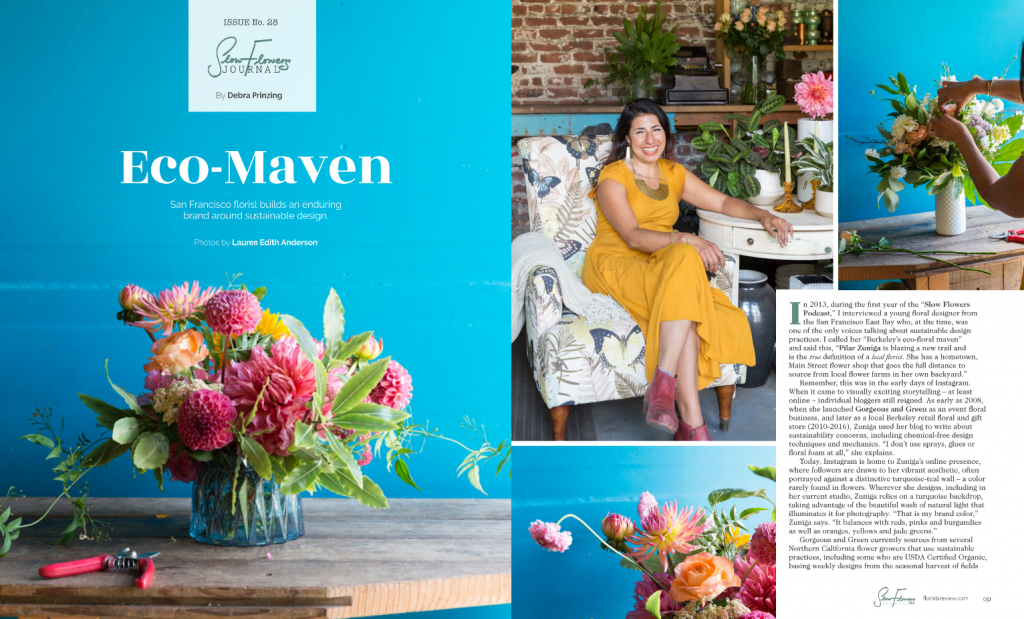 Eco-Maven
Pilar Zuniga on building an enduring brand around sustainable design
Photography by Lauren Edith Anderson
In 2013, during the first year of the Slow Flowers Podcast, I interviewed a young floral designer from the San Francisco East Bay who at the time was one of the only voices talking about sustainable design practices. I called her "Berkeley's Eco-Floral Maven" and said this: "Pilar Zuniga is blazing a new trail and is the TRUE definition of a LOCAL FLORIST. She has a hometown, Main Street flower shop that goes the full distance to source from local flower farms in her own backyard."
Remember, this was in the early days of Instagram. When it came to visually exciting storytelling, at least online, individual bloggers still reigned. As early as 2008 when she launched Gorgeous and Green as an event floral business, and later as a local Berkeley retail floral and gift store (2010-2016), Zuniga used her blog to write about sustainability concerns, including chemical-free design techniques and mechanics. "I don't use sprays, glues or floral foam at all," she explains.
Today, Instagram is home to Zuniga's online presence, where followers are drawn to her vibrant aesthetic, often portrayed against a distinctive turquoise-teal wall, a color rarely found in flowers. Wherever she designs, including in her current studio, Zuniga relies on a turquoise backdrop, taking advantage of the beautiful wash of natural light that illuminates it for photography. "That is my brand color," Zuniga says. "It balances out so well with reds and pinks and burgundies, and the oranges, yellows and jade greens."

Click here to download a PDF of the full story: Eco-Maven
Botanical Liaison
Sarah Reyes' passion for local flowers inspires dual business ventures that serve both retail and wholesale channels
When floral designer Sarah Reyes first shared her dream of bringing unique, local and seasonal flowers from farms and fields outside of San Francisco to the Bay Area marketplace, I called her a "floral concierge." She corrected me. "I am a botanical liaison," she said.
Reyes now has two floral enterprise sharing the "botanical liaison" tagline.
Wildflower & Fern is a new 240-square-foot retail flower shop, which opened in early September at Oakland's Rockridge Market Hall, a European-style food and wine market.
Unfurled, the wholesale buying business, now shares cooler and storage space with Wildflower & Fern. This arrangement allows Reyes to serve wholesale customers who pick up from the back-of-the-house while also supplying her retail customers with local, California-grown botanicals.
Click here to download a PDF of the full story: Botanical Liaison
Luxury Goods
Susan Chambers is a former fashionista who moved from couture to bespoke floral design
Her fashion career began at high-end department stores like Saks Fifth Avenue and I. Magnin & Co. and later led to top sales and marketing roles for cashmere and couture designers. Her creative influences range from a 1970s suburban childhood in Santa Clara, Calif., once home to thousands of acres of cherry and plum orchards (now the heart of Silicon Valley), to studying art and filmmaking, to fashion runways around the globe.
In 2013, after sending her youngest child off to school, Susan Chambers was drawn to floral design. She had read an article about the Russian River Flower School in Sonoma County's Healdsburg. "I needed something creative. I was missing that breath of life through creating," she recalls.
The pivot from fashion to floral design became Chambers' self-described "master's program." After a year of private courses, the designer traveled to London to take a workshop at the famed McQueens Flower School.
Click here to download a PDF of the full story: Luxury Goods