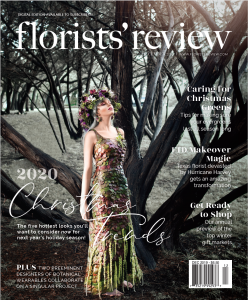 The December 2019 issue of Slow Flowers Journal – in the pages of Florists' Review – is our 29th consecutive special section for our print magazine partner. What an achievement to produce original, informative and visually compelling content each month of the year!
As 2019 and this decade come to a close, we are more grateful than ever to you, our readers and followers. We hope you find at least one (or more!) inspiring ideas in this special year-end section, Issue No. 29. It's devoted to domestic flower sourcing, collaboration and creative expression.
We love sharing these feature stories about our Slow Flowers members and other pioneers. Enjoy each story and be sure to click on the link for a Free PDF of each story.
Botanical Sourcing
Designers are drawn to Vermont's beauty and R&R with an education about domestic flowers
As more florists choose flowers and greenery from local and domestic farms, the shift in sourcing practices has stimulated countless conversations that begin with "where can I find?", "who is growing?" and "what's in bloom now?"
Those questions inform two wedding and event florists who've built their individual brands on local and seasonal sourcing. Mary Kate Kinnane of The Local Bouquet (Little Compton, R.I.) and Kelly Shore of Petals by the Shore (Damascus, Md.) are part of the Slow Flowers' shift toward intentionally supporting domestic flower farms. The two frequently field questions from peers, and they willingly share insights, contacts and advice.
So it made sense to invite other designers to join their two-day visit to a favorite flower farm. Their September workshop took place at Mountain Flower Farm in Warren, Vt., whose owner Walt Krukowski has supplied floral designers nationwide for more than two decades.
Click here to download Botanical Sourcing (PDF)
Keeping Design Inspiration Close to Home
Two AIFD florists bring local and domestic blooms to their South Dakota workshop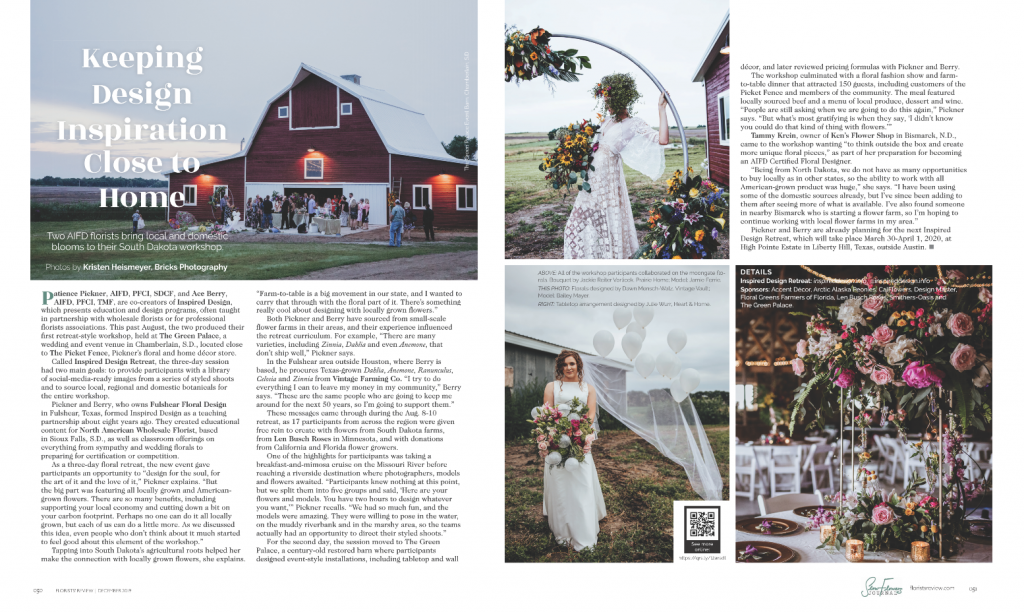 Patience Pickner, AIFD, PFCI and SDCF, and Ace Berry, AIFD, PFCI and TMF, are co-creators of Inspired Design, which presents educational and design programs, often taught in partnership with wholesale florists or for professional florists' associations.
This past August, the two produced their first retreat-style workshop, held at The Green Palace, a wedding and event venue in Chamberlain, S.D., located close to The Picket Fence, Pickner's floral and home decor store.
Called Inspired Design Retreat, the three-day session had two main goals: to provide participants withe with a library of social-media-ready images from a series of styled shoots and to source local, regional and domestic botanicals for the entire workshop.
Pickner and Berry, who owns Fulshear Floral Design in Fulshear, Texas, formed Inspired Design as a teaching partnership about eight years ago. They created educational content for North American Wholesale, based in Sioux Falls, S.D., as well as classroom offerings on everything from sympathy and wedding florals to preparing for certification or competition.
As a three-day floral retreat, the new event gave participants an opportunity to "design for the soul, for the art of it and the love of it," Pickner explains. "But the big part for us also was featuring all locally-grown and American-grown flowers. There are so many benefits, including supporting your local economy and cutting down a little bit on your carbon footprint. Perhaps no one can do it all locally-grown, but you each of us can do a little more. As we discussed this idea, even people who don't think about it much started feeling good about this element of the workshop."
Click here to download Close to Home (PDF)
The Desert as Floral Canvas
Arizona blooms when two farmer-florists collaborate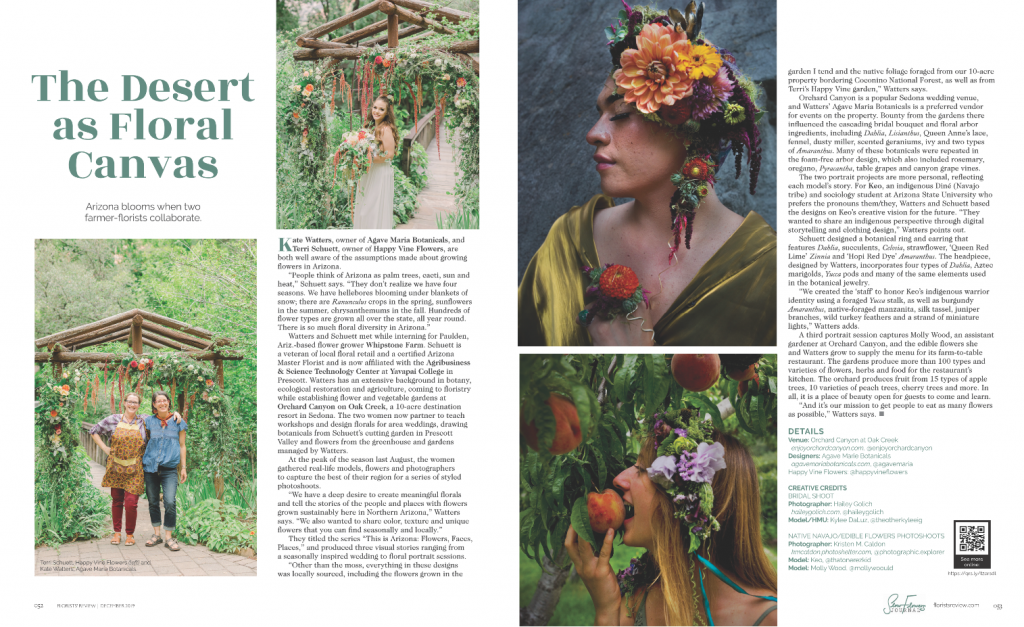 Kate Watters, owner of Agave Maria Botanicals, and Terri Schuett, owner of Happy Vine Flowers, are both well aware of the assumptions made about growing flowers in Arizona. "People think of Arizona as palm trees, cactus, sun and heat," Schuett says. "They don't realize we have four seasons. We have hellebores blooming under blankets of snow; there are ranunculus crops in the spring, sunflowers in the summer, chrysanthemums in the fall. Hundreds of cultivars are grown all over the state, all year round. There is so much floral diversity here in Arizona."
Watters and Schuett first met while interning for Prescott, Ariz.-based flower grower Whipstone Farm. Schuett is a veteran of local floral retail and a certified Arizona Master Florist who is now affiliated with the Agribusiness Center at Yavapai College in Prescott. Watters has extensive background in botany, ecological restoration and agriculture, coming to floristry while establishing flower and vegetable gardens at Orchard Canyon on Oak Creek, a 10-acre destination resort in Sedona, Ariz. The two women now partner to teach workshops and design florals for area weddings, drawing botanicals from Schuett's cutting garden in Prescott Valley and flowers from the greenhouse and gardens managed by Watters.
At the peak of the season last August, the women gathered real-life models, flowers and photographers to capture the best of their region for a series of styled photo shoots. "We have a deep desire to create meaningful florals and tell the stories of the people and places with flowers grown sustainably here in Northern Arizona," Watters says. "We also wanted to share color, texture and unique flowers that you can find seasonally and locally."
They titled the series "This is Arizona: Flowers, Faces, Places," and produced three visual stories, ranging from a seasonally-inspired wedding to floral portrait sessions.
Click here to download The Desert as Floral Canvas (PDF)