Text and Photos by Debra Prinzing
This story originally appeared on Longfield Gardens' blog
Gardeners have re-imagined agricultural troughs (also called a stock tanks) as raised planting beds for the veggie patch and the cutting garden, thanks to the variety of sizes and shapes, as well as the modern-looking finish of corrugated steel.
In small gardens, these troughs are spacious enough to contain dwarf fruit trees. In places where you want to elevate crops above ground and protect them from squirrels and other critters, the trough makes for a durable and affordable raised bed.
I was inspired to furnish my Seattle garden with a few troughs after noticing how great they looked on local garden tours. I thought a long oval trough would fit perfectly in the narrow space between my 4-by-8-foot raised beds and the house. The foundation soil against our home is too compacted from recent construction for anything to grow there, so the troughs offered a nice solution.
Before adding soil, fill the bottom of the trough with a layer of gravel topped with landscape cloth to improve drainage. Since it was May when I purchased my troughs, I planted three tomatoes in one and a huge crop of amaranth in the other. Luckily, those annual crops succumbed to the first frost just about the same time I was ready to plant spring-flowering bulbs. You can see how easy it is to layer a mix of tulip bulbs in the trough, tucking them in for the winter months with a cover of six inches of potting soil.
I call this method the "tomato-tulip rotation." In most parts of the country, the timing for alternating these crops is ideal.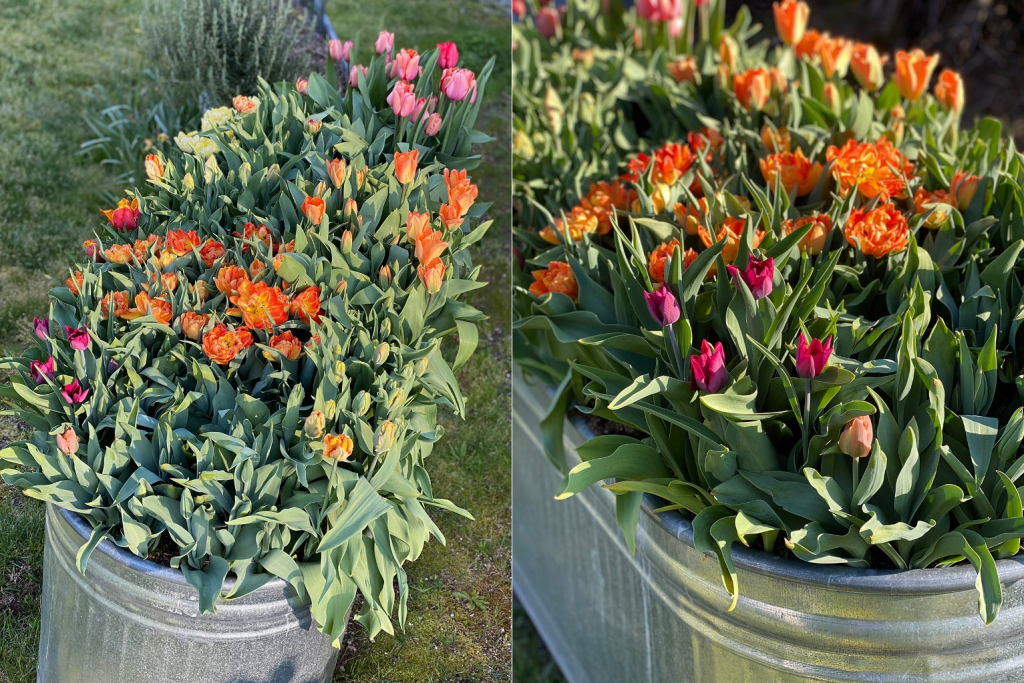 Alicia Schwede, creator of the Flirty Fleurs Collections for Longfield Gardens, did something similar in her Arlington, Wash., garden north of Seattle. You can see her photos above.
Alicia grows spring-flowering bulbs primarily for floral design videos, photography and workshops. She realized that the stems and foliage would be tidier and free from pests and critters if she moved the bulbs away from her entry garden bed and into the troughs that her husband Chad used for his tomatoes. "I kept looking at Chad's tomatoes and realized they come out in October — when I want to plant bulbs," she says. "I really packed them in and they looked great in the spring. When the bulbs are done blooming in April or May, it's just about the right time to pull them out and get our tomatoes in."
Alicia and Chad change out the planting soil in their rotations. I haven't done that, but it's an idea I plan to try this year.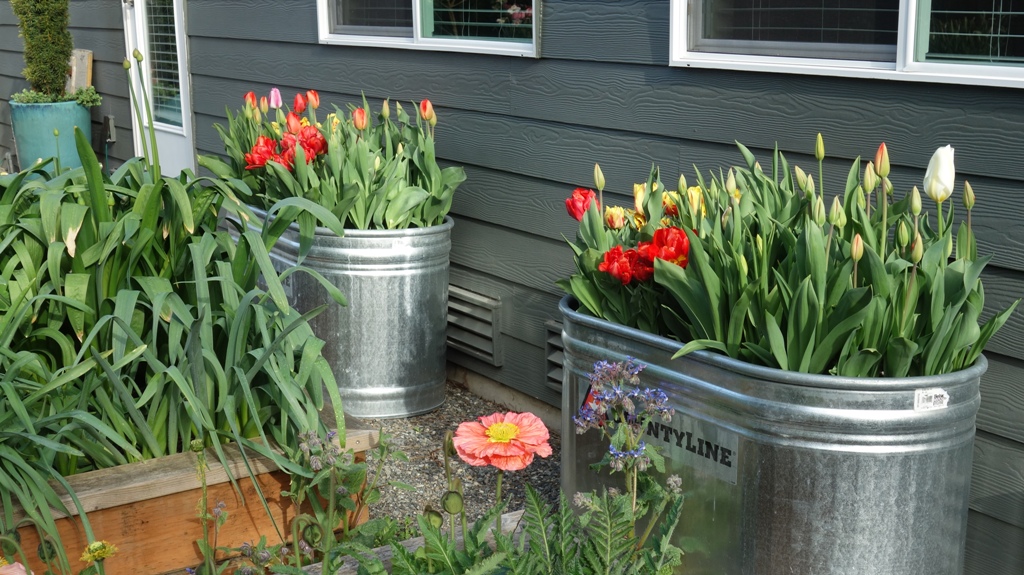 Last fall, I planted my troughs with what I would call an "eclectic mix of leftover red and yellow tulip bulbs." Based on the quantities I had on hand, I placed about 50 bulbs in each container, spacing them about 2-inches apart.
In contrast, Alicia really packed in her bulbs so they were touching one another. When the bulbs bloomed, her troughs definitely look fuller than mine. She also brought her designer's eye to her planting scheme. "I chose tulip varieties in the same tone when I ordered," she explains. "As I was planting, I used graph paper to keep track of where everything was placed, including by color and height. My mom helped me and we laid out the bags of bulbs first, starting at the back of the trough and working toward the front. I wanted to keep the taller tulips in the back so they wouldn't block the shorter ones. Plus, the troughs are visible from my kitchen so I wanted to see the flowers when I looked outdoors when they bloomed."
Immediately after planting the bulbs and covering them with soil, Alicia and I both added a length of chicken wire across the top — insurance from squirrels and chipmunks who might hop up to the 2-foot-tall container (you can anchor the piece of chicken wire with a landscape "staple" or make a few out of recycled dry cleaner hangers).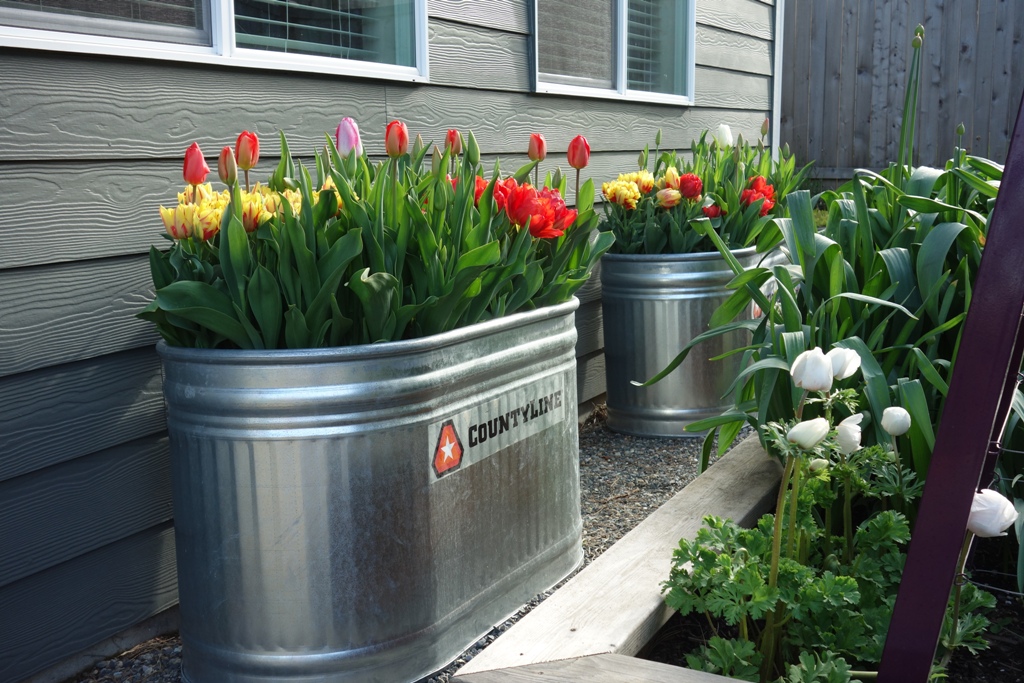 "Once the bulbs start popping in the spring, I remove the chicken wire so they can really grow," Alicia points out. We both noticed that the critters seem to lose interest in digging once the tulip bulbs are rooted into the soil and pushing out foliage.
Since October is here again, I'm enjoying the last tomatoes in one of these troughs (they are finally ripening and ready to pick!) and I'm cutting a few late dahlias, zinnias and celosia stems that I planted in the second trough. Within just a few weeks, I will refresh the soil, clean out old roots, and plant a new tulip display to enjoy next spring!