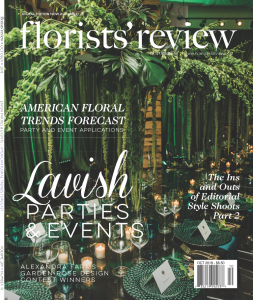 PLANT KINGDOM
A few months ago, The Wall St. Journal published a Page One story titled "Forget the Cat Ladies, Meet the Plant Parents," followed quickly by a Los Angeles Times' piece headlined "They Don't Own Homes. They Don't Have Kids. Why Millennials are Plant Addicts."
More than a year earlier, in June 2017, Florists' Review devoted an entire issue to "Designing with Living Plants," so we're not too surprised to see major media outlets discovering houseplants: tropicals, succulents, epiphytes, ferns and more.
The living plant renaissance is a topic worthy of more than occasional coverage in these pages. And that's because planting design's role in floristry is not a short-term trend. Like the cultural shift taking place around local cut flower sourcing, consumers' embrace of living plants is a change that's here to stay.
This is especially important for retail florists dedicated to designing with local and seasonal cut flowers. Why? For one reason, when October rolls around in many parts of North America, temperatures cool and the farms that have supplied flower shops begin to wind down for the dormant season, which makes indoor plants more important than ever.
The article features three Q&As with retail florists who reveal their personal plant obsessions, including Solabee Flowers & Botanicals (Portland, OR), Pot and Box (Detroit, MI) and Urban Poppy Botanical Boutique (Savannah, GA)
Download Plant Kingdom_Florists Review (PDF) here.
MADE IN THE U.S.A.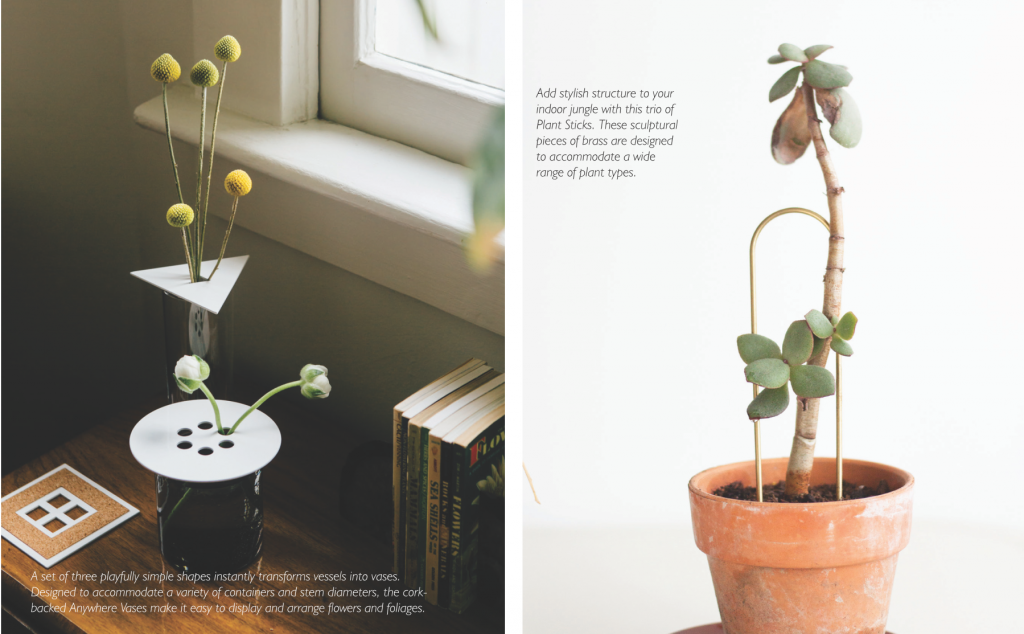 fruitsuper is a Seattle-based design studio founded in 2008 by Sallyann Corn
and Joe Kent. The brand came to my attention when a friend gifted me a trio of powder-coated metal shapes — a circle, a square and a triangle — each one about 5 inches in diameter, perforated with openings to accommodate flower stems and large enough to balance on the rim of an ordinary tumbler or glass vase.
Aptly named "Anywhere Vases," the set of versatile and graphic vase-toppers turns any vessel into a pretty bud vase. Cork backing ensures that the metal shapes won't slip off.
Download FruitSuper_Florists Review (PDF) here.
HOW WE DO IT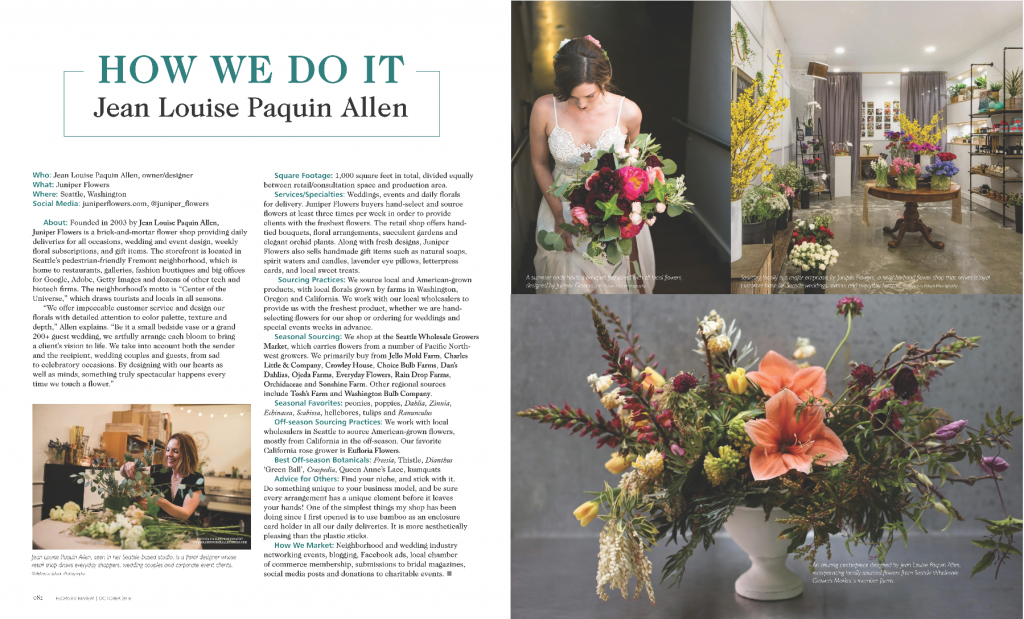 Founded in 2003 by Jean Louise Paquin Allen, Juniper Flowers is a brick and mortar flower shop providing daily deliveries for all occasions, wedding and event design, weekly floral subscriptions and gift items. The storefront is located in Seattle's pedestrian-friendly Fremont neighborhood, home to restaurants, galleries, fashion boutiques and big offices for Google, Adobe, Getty Images and dozens of other tech and biotech firms. The neighborhood's motto is "Center of the Universe," which draws tourists and locals in all seasons.
"We offer impeccable customer service and design our florals with detailed attention to color palette, texture and depth," Jean Louise explains. "Be it a small bedside vase or a grand, 200+ guest wedding, we artfully arrange each bloom to bring a client's vision to life. We take into account both the sender and the recipient, wedding couples and guests, from sad to celebratory occasions. By designing with our hearts as well as minds, something truly spectacular happens every time we touch a flower."
Download Juniper Flowers_Florists Review (PDF) here.