Part Two of our Six-Part Series on New Floral Marketing Models and Platforms
There are monthly subscriptions for kids' activities, beauty products and fashion. Seattle-based Flora Fun Box entered the subscription marketplace in Spring 2020 with a quarterly offering that includes a designer vase, plus all the accessories for floral arranging at home.
The added selling point is an online tutorial hosted by Flora Fun Box creator Rachel Heath of Trill Flora, a wedding and event studio. Rachel cooked up the concept of combining online floral education with design kit while spending most of 2019 on maternity leave, after the birth of twins. One impetus was living far from family members who never get to experience her floral designs. "I couldn't send my arrangements to my mom, my grandma, and the people I love," she explains. "Of course, I can order for them, but it's not me or my flowers."
Shipping arrangements halfway across the country didn't seem realistic, so Rachel thought, "why not teach my family and friends how to design for themselves?" Flora Fun Box emerged from this idea.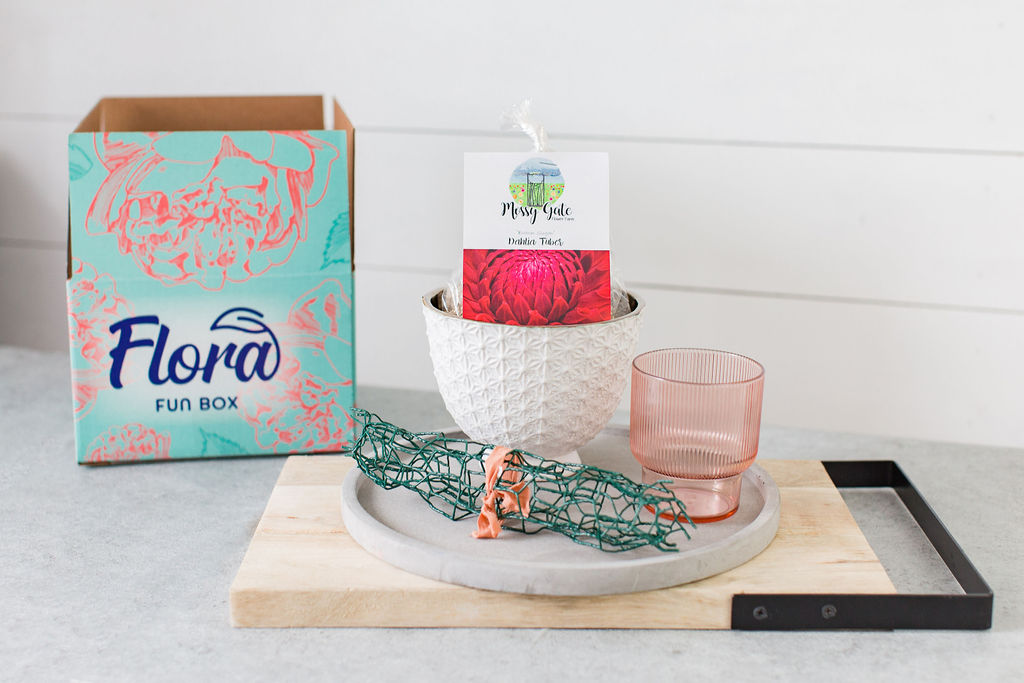 One part floristry supplies, one part online education, Flora Fun Box is based on seasonal themes, including bonus content from guest vendors. In the spring, she featured dahlia tubers from a local grower; in summer, Rachel invited a mixologist to share cocktail recipes for garden shrubs and syrups, and included a cocktail tumbler in the box. The bonus content in Rachel's fall Floral Fun Box, which debuted in early September, included a pastry cutter and recipe, while the video instruction introduces a local pastry chef teaching apple tart making.
"We cater to the idea of creative living," Rachel says. "Everything's centered around one big focal floral piece that I teach each time, but we add elements for the home, such as decor, entertaining or gardening."
Subscribers receive access to the Flora Fun Box online platform, where Rachel's tutorials are hosted. The one thing that Flora Fun Box doesn't supply are the flowers. Rachel devotes time in her tutorials to "teach how to identify quality in local flowers and how to cut flowers from your garden to use," she explains.
Each quarterly collection arrives in a branded box. Rachel negotiates volume discounts on the hard goods she offers and sells favorite accessories, basic floristry tools and other supplies in her online shop. "We're becoming a floral marketplace for hard goods and the tools I recommend. That includes all the items I have used in past workshops."
Boxes are priced at $59 quarterly (including unlimited access to the online video library), with a discount for those who pre-pay for a full year's subscription. A starter collection of tools and supplies is $89 and subscriptions to just the video library cost $29 annually. "For each box we launch, there are add-on options," Rachel says. "People ordered extra tart shells this fall; in the summer, we had a lot of people wanting sets of four or six cocktail tumblers or wanting to plant extra dahlias in their garden."
The rollout of Flora Fun Box coincided with the arrival of the COVID-19 pandemic, something Rachel couldn't have predicted while spending most of last year building her new venture. Ironically, it was a positive that most of her 2020 wedding clients postponed to 2021. She used the extra time to develop each seasonal theme, record and edit videos, and market Flora Fun Box.
As a long-time wedding and event florist, Rachel's new venture has also allowed her to attract and grow an entirely new customer base. "Those of us working in weddings and events basically have one-time customers," she observes. "And we constantly and continually have to work hard to attract new customers, over and over again. Other business models find success because they have repeat customers and work to maintain customer loyalty more than only finding new customers, right? When thinking about how I wanted to evolve, I wanted to find a broader audience. And sharing the floral experience is something I was really passionate about."
Flora Fun Box is building subscribers and repeat customers, achieving a second income stream for Rachel, even when her weddings return in 2021. It meets pent-up demand for creativity as many people are cooped up and have taken up gardening, she adds. "It's worked out well for me to encourage subscribers to bring their garden flowers inside and let me teach them something new. I also believe in creative fulfillment for one's mental health, especially during a year like this one."
Customer profiles
Rachel draws from a background in children's book marketing, which includes identifying customer demographics. For Flora Fun Box, she serves four customer personas:
Crafter: Women 40-65 who like to try something new and are seeking creative fulfillment.
Lifestyler: Millennials who are interested in home decor and appreciate Flora Fun Box's designer vases and accessories.
Hostess: Women 26-45 who want to learn how to bake better, mix cocktails, decorate their home and host a party with their friends.
Flower Lover: Women 30-70 who love to garden, arrange, and appreciation opportunities for more floral living in their lives.
Rachel's pricing for the Flora Fun Box is affordable, which encourages new subscribers to take a chance on the idea. "I'm really happy to see how quickly people are getting into it, and there's positive feedback about the seasonal aspect. It's not overwhelming and customers don't have products piling up each month that they never get to use. The online education is thorough but not too long or hard to watch and with the reviews I'm hearing so far, I'm encouraged. COVID has kind of put group activities on hold for now, but I hope we get to the point where we can encourage people to get together in groups with friends and everyone brings their box for a big flower night."
Details:
Flora Fun Box: florafunbox.com, @florafunbox