Part One of our Six-Part Series on New Floral Marketing Models and Platforms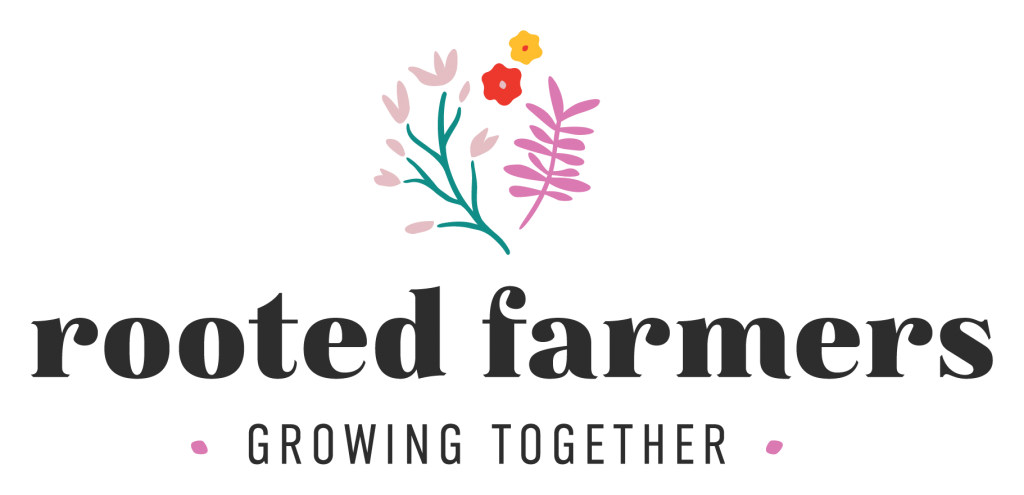 About: Rooted Farmers, an online sales platform exclusively for flower farmers, designed by flower farmers, is now entering its third year of development. Rooted was founded and is run by Slow Flowers member Amelia Ihlo, a flower farmer based in Etna, New Hampshire, who runs Reverie Flowers. We include more on how Rooted began to take shape and the end of this article, but focus here on what Rooted looks like today.
Rooted works exclusively with local growers to put the highest-quality specialty cut flowers in floral customers' hands. The platform is a B2B online marketplace that allows flower growers to list crop inventory, maintain a farm profile page and reach wholesale flower buyers, including studio florists and retail flower shops. Just as farms' and designers' businesses evolved this year due to COVID, Rooted Farmers also grew its platform, developing applications for floral cooperatives, and piloting a direct-to-consumer retail sales option, and a point-of-sale solution for impulse purchases, both of which will be available to all users next year.
Rooted Farmers 2.0: Originally developed to help New England flower farmers collectively sell and deliver crops to florists in large markets like Boston, Rooted Farmers has expanded to support growers and collectives across the U.S. who are using the platform to sell and communicate with buyers, while handling delivery logistics themselves.
How it works:
Flower farmers apply to join Rooted Farmers for an annual $250 membership fee (Note: this fee is waived for all Slow Flowers members!). Farmers pay a 8% transaction fee on all sales through the platform, with 3% going to the processor, Stripe, and 5% going to Rooted Farmers. Rooted Farmers works exclusively with small farm suppliers. There are no wholesalers who are bring imported products, for example. There is no fee for qualified florists with a resale license to shop on the site. Flower farmers and florists make their own delivery or pickup arrangements.
Farm Tools: Unlike other online sales platforms designed to sell anything from t-shirts to vintage license plates, Rooted is designed specifically around the needs of flower farms. The site offers various tools for farms to assess their own sales, and granular control of customer relationships, mimicking the way that growers actually manage their sales channels.
Growers and collectives are able to work with customers on an individual basis, and offer pick-up or delivery options, with fees set on a per-customer basis. They can allow all customers to shop if that is their preference, or if there are certain customers to whom they prefer not to offer product in a given week, that is also possible with the simple use of an on-off toggle.
Growers can notify their customers of available product, or generate harvest lists across multiple orders and multiple buyers in seconds with the click of a button.
Once a farm learns how to upload inventory and corresponding product photography, much of the time-consuming work is over for the season. Flower farmers have the option of turning seasonal inventory on or off so the buyer only sees what is currently being harvested and sold. "Farmers can update the quantities available at any time," Amelia says. "We sell everything in bunches, so you can update how many bunches of 5 or 10 stems you have available. And you can change your price at any time. You can decide that you only want to work with a couple buyers in a given week or none at all. For example, in a week when I wasn't able to send any product to Boston, I could turn off all my Boston customers and only deliver to my local ones."
Floral Co-ops: Almost from the beginning, flower farmer collectives and cooperatives inquired about selling through Rooted Farmers, opening up another member category.
Flower collectives and co-ops are particularly attracted to the aggregation tools that Rooted provides, allowing all participating collective farms to independently upload and maintain their own inventory, with pricing edit controls for the co-op administrator. Co-ops are able to easily view all product available from farms, or group products by item (e.g. if five different farms all have red zinnias, these can be expanded or collapsed for ease of shopping by the viewer or editing by the co-op admin).
In addition, they are able to view their orders by buyer or by grower, process payments flexibly with each of their customers, and easily grow their network of buyers even further. "In addition to the standard search and filter functionality for buyers, customers of the co-op are then able to shop from all member farms of the collective simultaneously, with an aggregated view of all product available, or have the flexibility to filter by farm if that is their preference," Amelia explains.
Florists: Florists, who have very different shopping habits, also enjoy the shopping experience on Rooted. In addition to being able to browse all available product, designers are able to search for specific flowers, search for flowers by color, or filter product by specific design element (e.g. focal flowers, filler flowers, foliage, etc.)
Amelia suspects that one of main reasons farms experience larger orders from florists on the platform is the functionality of Rooted Farmers. "Florists are on the front lines with the end consumer, so there's pressure on them to make the right buying choices. We would like to make it as easy as possible for florists to reach us, communicate with us, and try new flowers they haven't seen before," Amelia says. "There are florists we've started working with through Rooted Famers who have struggled in the past to buy from small farms, but who now have resounding praise for local flowers, and the ease of purchasing from them."
A growing sense of community is emerging from this new venture. "I think there can be an undercurrent of competition among farmers – that's natural," Amelia says. "But the pressure valve of being able to move so much more product has allowed for us to develop deeper friendships with one another. We want to focus on building something that lifts up this group."
Next Steps: Rooted has a number of new features in store for next year, so stay tuned to hear more about those. For more information, you can follow Rooted on Instagram, or subscribe to their mailing list via their home page.
Background: Amelia Ihlo is a flower farmer and owner of Reverie Flowers, based in Etna, New Hampshire. She has been growing for five years and until this past January, she also worked off the farm full-time.
The "roots" of Rooted Farmers began when Amelia realized other rural flower farmers in Northern New England were experiencing a similar problem to hers. "We all have the capacity to grow a lot more than we are able to sell to the handful of florists and designers around us," she explains. "That question kept tugging at me — how do we make farming our careers when there is an upper limit to how much we can sell locally to our wholesale customers?"
Amelia purchased an old U.S. Postal Service distribution truck in spring 2018, thinking she could use it for pop-ups or events, as well as deliveries, perhaps with a mobile cooler in it. "That was my genius idea. To replicate a food truck, but to vend flowers out of it," she laughs.
Later, on a trip to Boston with her four-year-old, the lightning bolt of inspiration hit. "My son was looking around at city traffic and he said, 'There are a lot of your trucks down here. You should bring your truck to Boston.'"
Advice from a four-year-old inspired Amelia's first expansion strategy: To use the postal truck for deliveries. "A universal conversation with most every grower goes like this: 'I could grow so much more if I just had a place to move it.' That was the foundation of this idea," she says.
Rooted Farmers 1.0 Takes Shape: Amelia imagined that the postal truck — filled with flowers from multiple New Hampshire flower farms — could supply wholesale floral customers located 2-1/2 hours away in Boston. "Of course, on some weeks, I had enough volume from my own farm to justify the trip, but it wasn't consistent every week," she says. "I knew that in order to maintain a relationship with florists, I had to be consistent or I would fall off their radar. The solution I came up with was talking with other growers to see if we could move our product to Boston together."
Inventory + Availability: Bundling floral orders and sharing in delivery costs appealed to both Reverie Flowers and others. But communicating inventory and availability to floral buyers was a challenge for everyone in the group. The availability list is a typical way for farmers to communicate with their buyers. But together, the group of eight farms had availability lists adding up to 200 different flowers.
"We realized that most florists didn't have time to sift through that list or they would give up in frustration," she says. "The idea I kept having was to create a website that works a lot like Etsy does, so each farmer has their own profile page and uploads their own inventory. All of the collective inventory would aggregate on the buyer's end. So, the buyer can shop from one inventory list but access product from all of these different farms."
Amelia began working with a developer to bring this idea to life. The goal was to build a platform that is intuitive to growers and speaks their language when they upload inventory (i.e., using botanical Latin nomenclature to specify varieties of flowers), while also being perfectly understandable for a buyer who just knows they want pink flowers.
When I first met with Amelia and later spent time navigating my way through the Rooted Farmers platform, I appreciated how refreshing it is to experience an online product designed by women. The Rooted Farmers female development team thinks about different buying preferences and habits. Intuitive, user-friendly and flexible are the operative words.
Beta Test: Rooted Farmers used the first half of 2019 to test how Boston floral buyers responded to the idea of local and seasonal floral product. "We tested the model to see if people wanted what we could bring them," Amelia explains. "And we were selling out. Peonies are a great example. We could have sold five times what we actually grew."
Amelia believes the positive response was related to the types of flowers grown by boutique farms. "What small flower farmers are growing is not typically available through traditional wholesalers," she points out. "Florists wanted what we were growing; they wanted to experiment with it, test it and play with it."
Encouraged, she introduced a "super bare-bones online platform," based on the original idea of aggregating flowers from multiple growers. "Purchases doubled when we launched the platform, so we asked for feedback and florists told us they were buying more product because it was so easy."
The system also made things easier for the flower farmers, because it eliminated time-consuming back-and-forth email correspondence with florists, Amelia explains. In addition to enabling larger farms to scale their businesses, Rooted Farmers works well for growers like Amelia, who she describes as "a one-woman- or one-man-show." "We don't have a lot of people helping us update inventory or track orders. And that means it's hard to scale a small farm when you have very limited time. On our platform, everything updates in real time. So, if a florist buys all of a certain variety of flowers, there's no confusion to the next buyer, because they won't see the already-sold product on the screen. If a florist is looking for a specific number of bunches, they can see that in real time and not have to wonder or wait for responses from all the growers they once had to call or email."
Rooted Farmers
Website: https://www.rootedfarmers.com/
Instagram: Rooted_ Farmers