June 2018's Slow Flowers Journal is a celebration of the five floral couture looks created by Slow Flowers Members for American Flowers Week
FIELD TO FASHION
Produced and written by Debra Prinzing, Slow Flowers
Photos by: Alex Brooks, Becca Henry, Megan Spelman, Joshua Veldstra and Leon Villagomez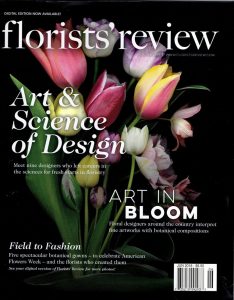 American Flowers Week burst onto the floral scene in 2015 and its significance and influence has grown ever since, attracting participation across all channels of domestic flowers — from seeds to bouquets to beautiful floral fashions.
Social media engagement from florists, designers, retailers, wholesalers and flower farms who posted on Instagram and Twitter generated more than 5 million impressions during the 2017 campaign, giving the hashtag #americanflowersweek top-of-mind presence, up from 1.2 million impressions the prior year.
Planning for the 2018 American Flowers Week floral fashion collection began almost immediately after the 2017 campaign ended. I was lucky to be on location in Homer, Alaska, last July, when floral designer Kelly Shore of Petals by the Shore teamed up with peony farmer Beth Van Sandt, co-owner of Scenic Place Peonies. Together, these creative women envisioned a styled shoot that reflected in-season, just-picked peonies and a storyline to mirror the character and geography of Homer.
Producing this amazing collection of American-grown floral fashions continued through the subsequent months, including an October photo shoot celebrating dahlias in Sonoma County, a January woodland narrative reliant upon one designer's penchant for foraging from the forests of the Pacific Northwest, a March session on the Big Island paying homage to tropical flowers and foliages of Hawaii, and later that month, a tribute to the iconic iris, straight from the greenhouses of Arcata, California.
It is a privilege and honor to present five compelling looks and the behind-the-scenes stories about the people and floral passions that fill these pages. The inventiveness and creativity expressed by the Slow Flowers community — flower farmers and floral designers alike — elevates American-grown botanicals to new levels. To learn more about these designs, the floral artists, the farms and their flowers, you can find bonus content at americanflowersweek.com.
A Celebration of American Flowers: June 28-July 4, 2018
Launched in 2015, American Flowers Week is the advocacy, education and outreach campaign produced by Slow Flowers to promote and commemorate domestic flowers, flower farming and floral design.
PEONY LOOK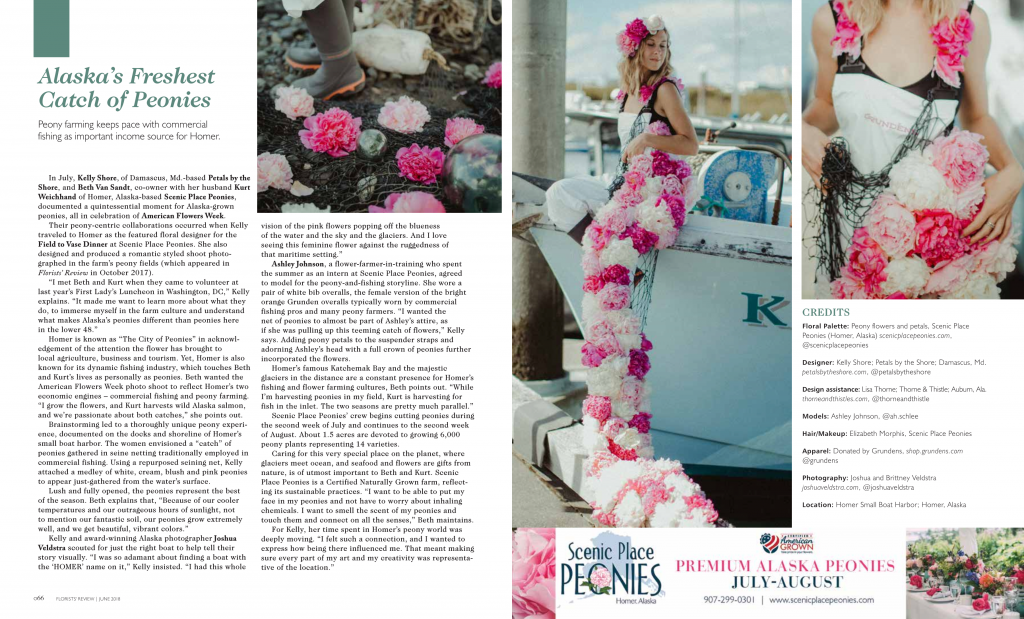 Download PDF of Peony Story here
TROPICAL LOOK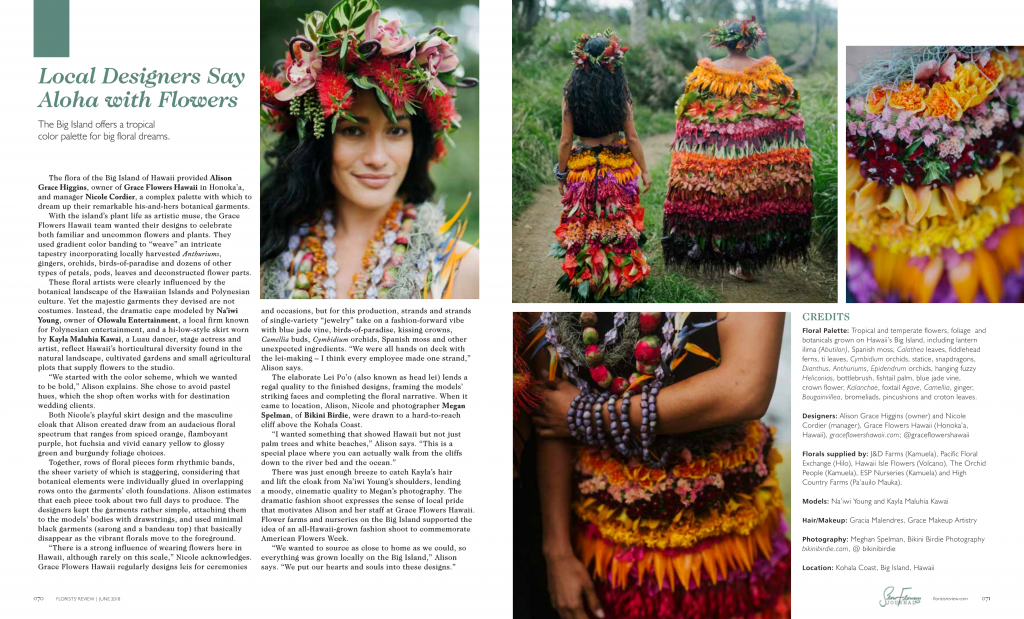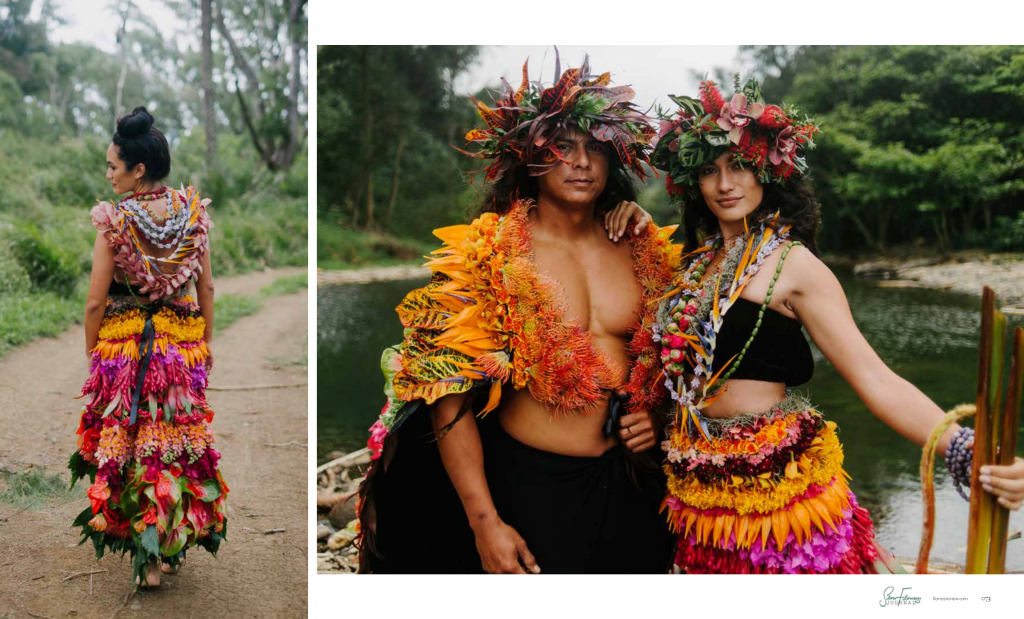 Download PDF of Tropical Story here
WOODLAND LOOK
Download PDF of Woodland Story here
DAHLIA LOOK
Download PDF of Dahlia Story here
IRIS LOOK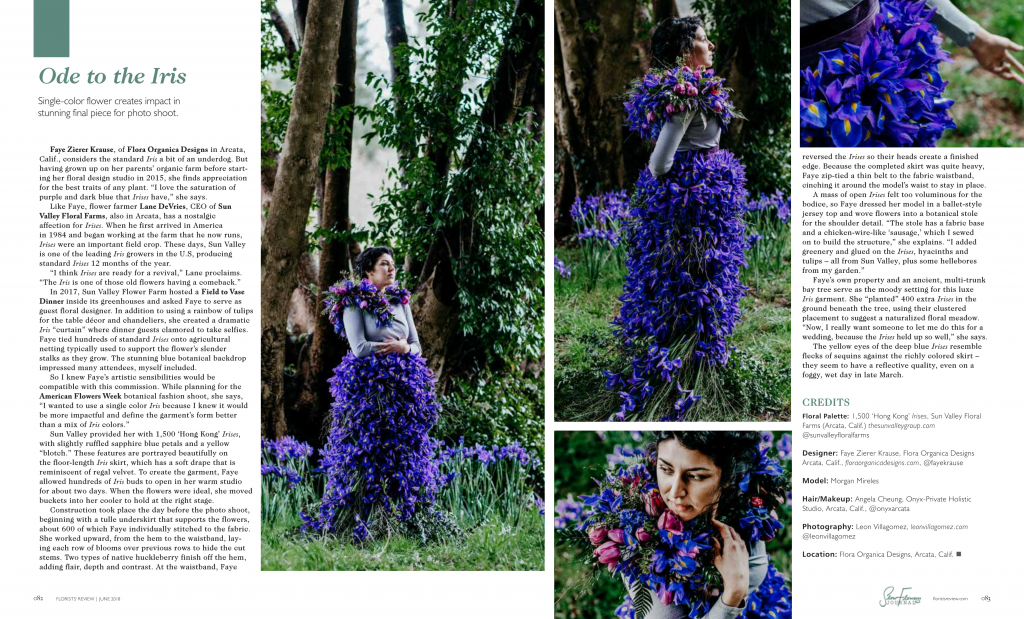 Download PDF of Iris Story here
AMERICAN-GROWN HERO: ELLEN HOVERKAMP
Download PDF of Botanical_Still_Life here.
Click here to read more about Ellen Hoverkamp and her beautiful floral art.
LOVE THIS?! Want to see more?
Subscribe to Florists' Review and read our bonus Slow Flowers Journal content. Click here to request a free sample issue.