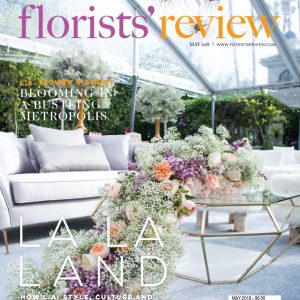 The May issue of Florists' Review explores the magnetic vibe of LA LA LAND, so I wanted to showcase several talented Los Angeles area creatives for our Slow Flowers Journal section, including Slow Flowers members and a small retail business there that I love.
Having lived and worked in Southern California for four years (2006-2010) I feel an affinity for the landscape, the flora, the climate and the spirit Los Angeles. It was a wonderful chapter of my life, professionally and personally. I return as often as possible and I'm so pleased to share a few stories about my favorite subjects in this section.
Please I'm excited to share theMay 2018 articles, people, voices and flowers featured in the print edition of Slow Flowers Journal — enjoy this snapshot of Los Angeles's floral world via the Slow Flowers lens: artisanal, locally-grown and locally-made.
The Slow Flowers Community and our stories include people like you — innovative floral designers, farmer-florists and other leading voices in progressive floristry.
I've excerpted the issue's articles for you here, including downloadable PDFs of each, so you can read them on your computer, tablet or smart phone. We can't post live links to digital stories, so if you want your own edition, now's the perfect time to SUBSCRIBE!
This editorial project resides in the pages of Florists' Review — please enjoy Issue No. 10. Here's a peek at the features and columns from the May Issue. Enjoy!
Sister Act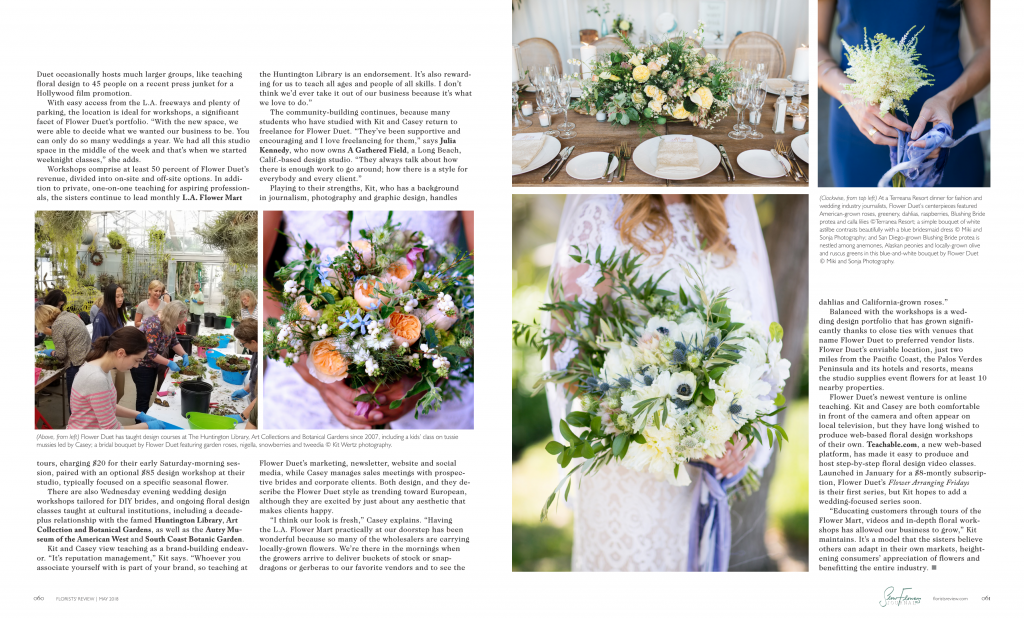 Casey Coleman Schwartz and Kit Coleman Wertz, partners in the aptly-named design studio Flower Duet, manage a harmonious mix of floral offerings. They make a conscious effort to source their flowers and foliage from local farms in Southern California, and credit their longstanding relationship with wholesalers and flower farmers at the Los Angeles Flower District, as well as familiarity with seasonal product sourcing, for successful niches in both wedding and events and floral design workshops.
Download the full article here: 05_Slow Flowers Journal_FlowerDuet
American-Grown Hero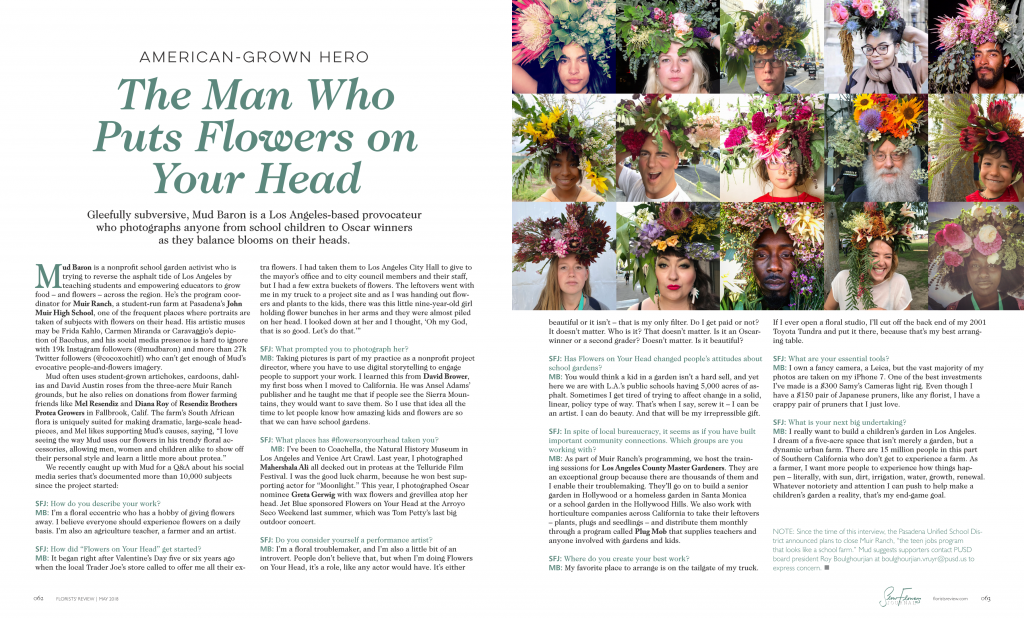 Gleefully subversive, Mud Baron is a Los Angeles-based provocateur who photographs anyone from school children to Oscar winners as they balance blooms on their heads
Mud Baron is a nonprofit school garden activist who is trying to reverse the asphalt tide of Los Angeles by teaching students and empowering educators to grow food — and flowers — across the region. He is the program coordinator for Muir Ranch, a student-run farm at Pasadena's John Muir High School, one of the frequent places where portraits are taken of subjects with flowers on their head. His artistic muses may be Frida Kahlo, Carmen Miranda or Caravaggio's depiction of Bacchus and his social media presence is hard to ignore, with 19k Instagram followers (@mudbaron) and more than 27k Twitter followers (@cocoxochitl) who can't get enough of Mud's evocative people-and-flowers imagery.
Download the full article here: 05_Slow Flowers Journal_MudBaron
Made in the U.S.A.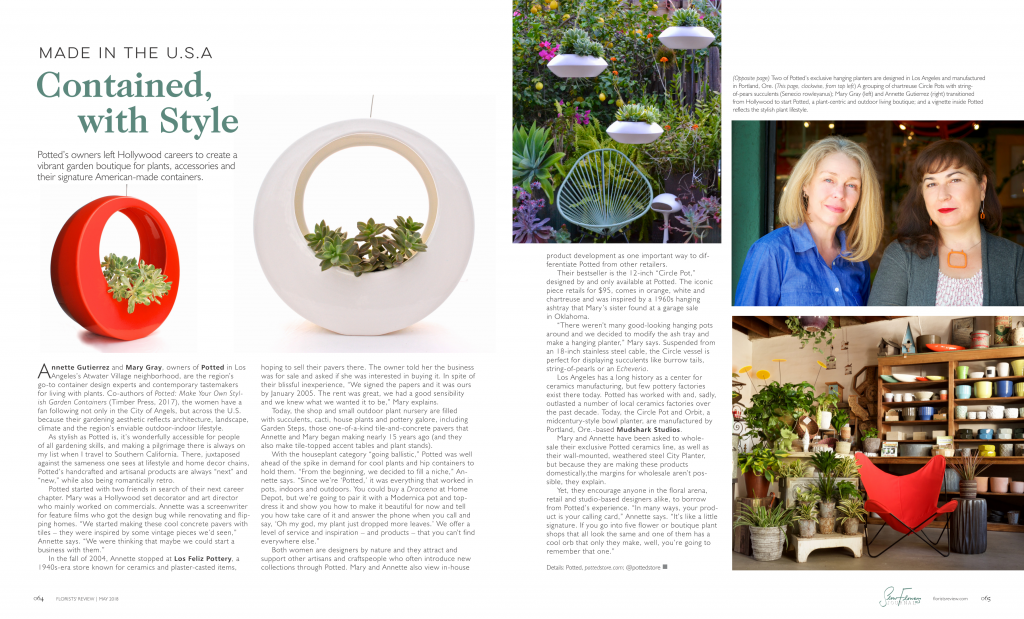 Annette Gutierrez and Mary Gray, owners of Potted in Los Angeles's Atwater Village neighborhood, are the region's go-to container design experts and contemporary tastemakers for living with plants. Co-authors of Potted: Make Your Own Stylish Garden Containers (Timber Press, 2017), the women have a fan following not only in the City of Angels, but across the U.S., because their gardening aesthetic reflects architecture, landscape, climate and the region's enviable outdoor-indoor lifestyle.
As stylish as Potted is, it's wonderfully accessible for people of all gardening skills, and making a pilgrimage there is always on my list when I travel to Southern California. There, juxtaposed against the sameness one sees at lifestyle and home decor chains, Potted's hand-crafted and artisanal products are always "next" and "new," while also being romantically retro.
Download the full article here: 05_Slow Flowers Journal_Potted.4
LOVE THIS?! Want to see more?
Subscribe to Florists' Review and read our bonus Slow Flowers Journal content. Click here to request a free sample issue.