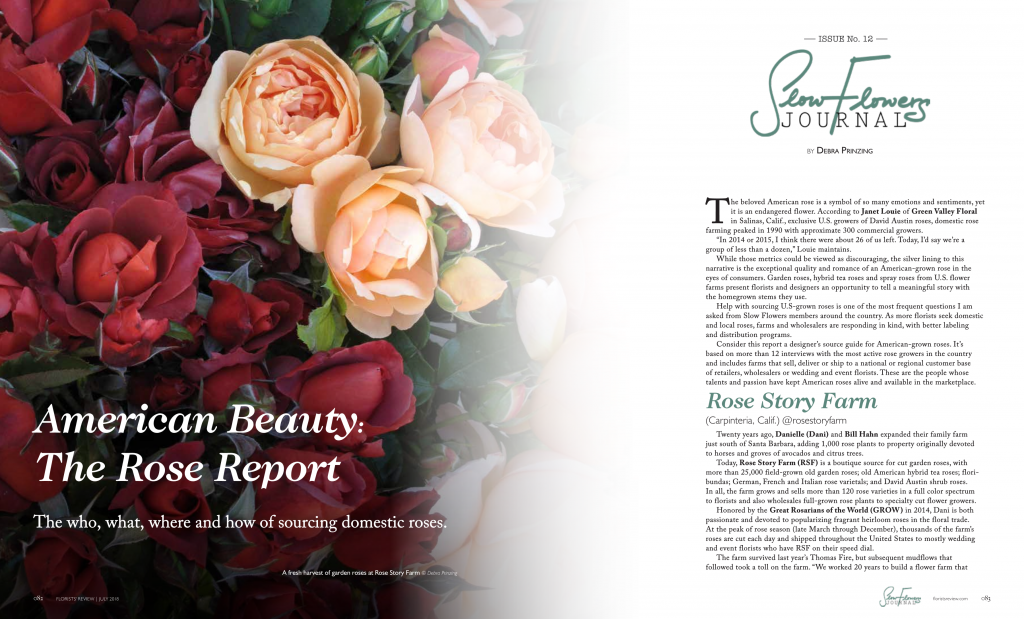 In Issue No. 12 of the Slow Flowers Journal for the July 2018 issue of Florists' Review, we featured the leading domestic rose sources
The beloved American rose is a symbol of so many emotions and sentiments, yet it is an endangered flower. According to Janet Louie of Green Valley Floral in Salinas, Calif., exclusive U.S. growers of David Austin florist roses, domestic rose farming peaked in 1990 with approximate 300 commercial growers.
"In 2014 or 2015, I think there were about 26 of us left. Today, I'd say we're a group of less than a dozen," she maintains.
While those metrics could be viewed as discouraging, the silver lining to this narrative is the exceptional quality and romance of an American-grown rose in the eyes of consumers. Garden roses, hybrid tea roses and spray roses from  U.S. flower farms present florists and designers an opportunity to tell a meaningful story with the homegrown stems they use.
Sourcing U.S.-grown roses is one of the most frequent questions I am asked from Slow Flowers members around the country. As more florists seek domestic and local roses, farms and wholesalers are responding in kind, with better labeling and distribution programs.
Consider this report a designers' source guide for American-grown roses. It is based on more than 12 interviews with the most active rose growers in the country and includes farms that sell, deliver or ship to a national or regional customer base of retailers, wholesalers or wedding and event florists. These are the people whose talents and passion have kept American roses alive and available in the marketplace.
ROSE STORY FARM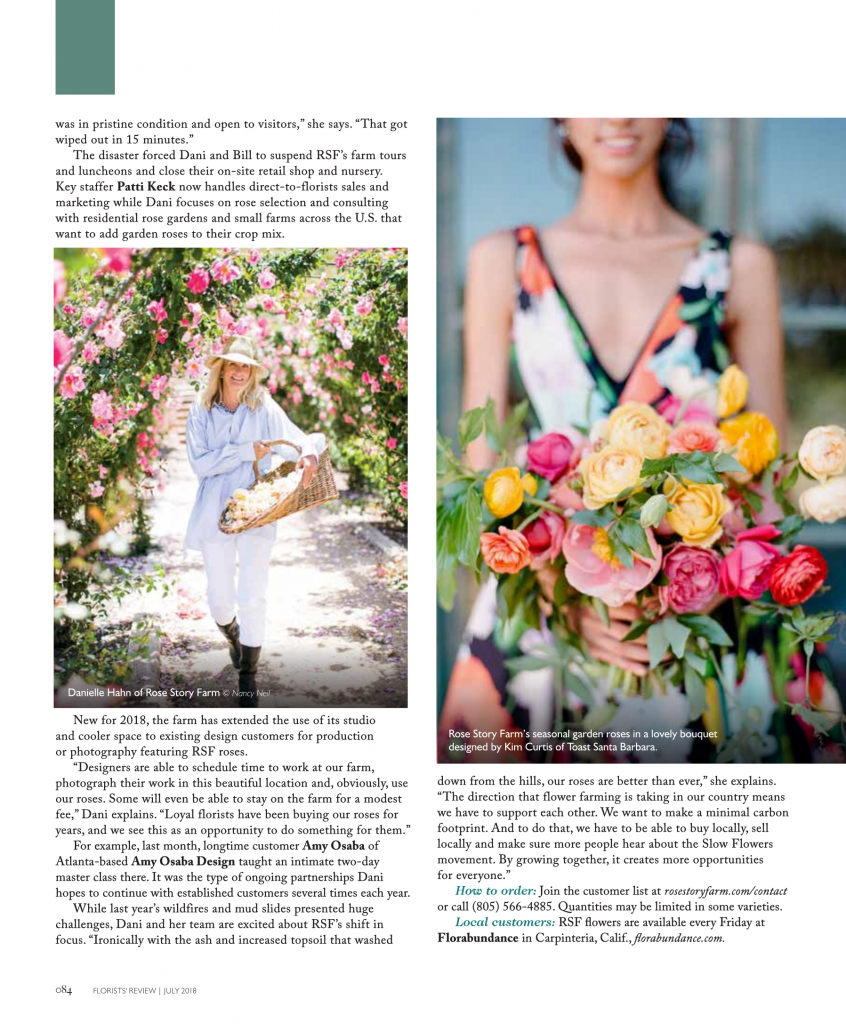 Rose Story Farm (Carpinteria, Calif.) @rosestoryfarm
Twenty years ago, Danielle (Dani) Hahn and Bill Hahn expanded their family farm just south of Santa Barbara, adding 1,000 rose plants to property originally devoted to horses and groves of avocados and citrus trees.
Today, Rose Story Farm (RSF) is a boutique source for cut garden roses, with more than 25,000 field-grown old garden roses, old American hybrid tea roses, floribundas, German, French and Italian rose varietals and David Austin shrub roses. In all, the farm grows and sells more than 120 rose varieties in a full color spectrum to florists and also wholesales full-grown rose plants to specialty cut flower growers.
GREEN VALLEY FLORAL
Green Valley Floral (Salinas, Calif.) @greenvalleyfloralco.1973
Founded as a carnation farm by Michael and Tomi Matsuno, Green Valley Floral produces more than 80 varieties of roses and holds the exclusive North America license to grow and sell the couture line of florist-grade roses bred by U.K.-based David Austin Roses. The company maintains 16 acres of environmental greenhouses on two locations in California's Salinas Valley, with nine acres devoted to growing garden roses, spray roses and garden sprays.
PETERKORT ROSES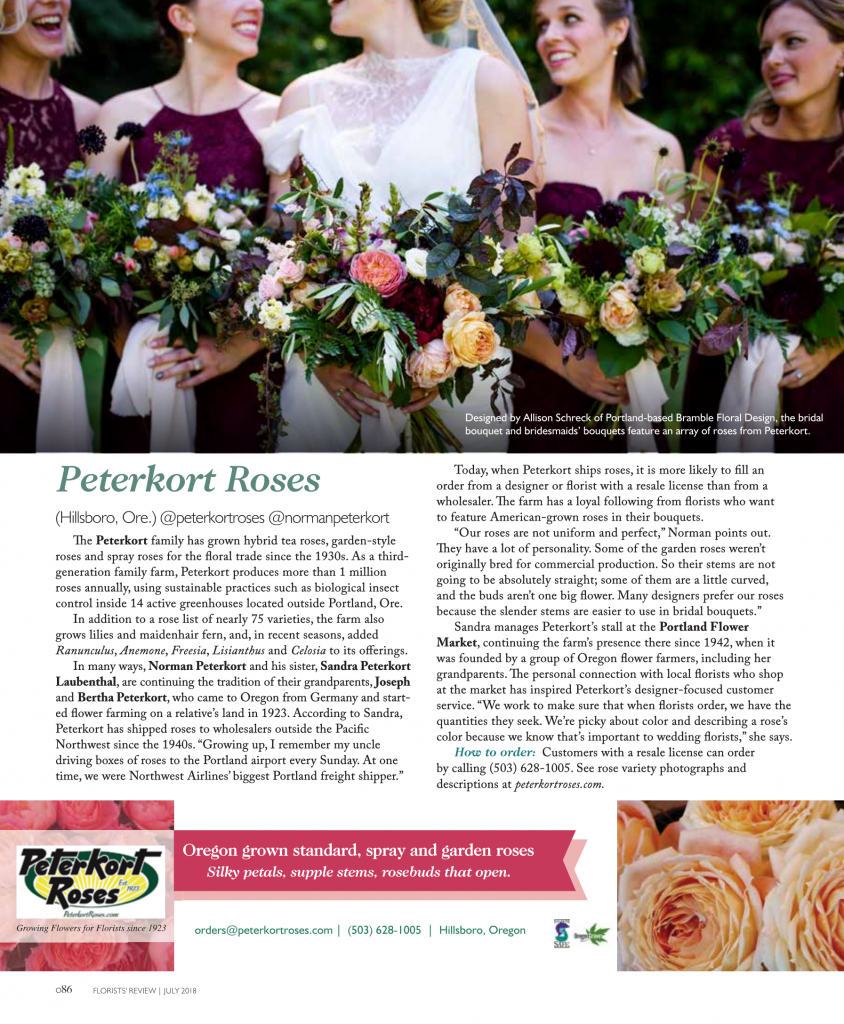 Peterkort Roses (Hillsboro, Ore.) @peterkortroses @normanpeterkort
The Peterkort family has grown standard tea roses, garden-style roses and spray roses for the floral trade since the 1930s. As a third-generation family farm, Peterkort produces million rose stems annually, using many sustainable practices such as biological insect control inside 14 active greenhouses located outside Portland.
In addition to a rose list of nearly 75 varieties, the farm also grows lilies and maidenhair fern and in recent seasons added ranunculus, anemones, freesias, lisianthus and celosia to its offerings. Photo above: Design by Allison Schreck of Bramble Floral Design.
GRACE ROSE FARM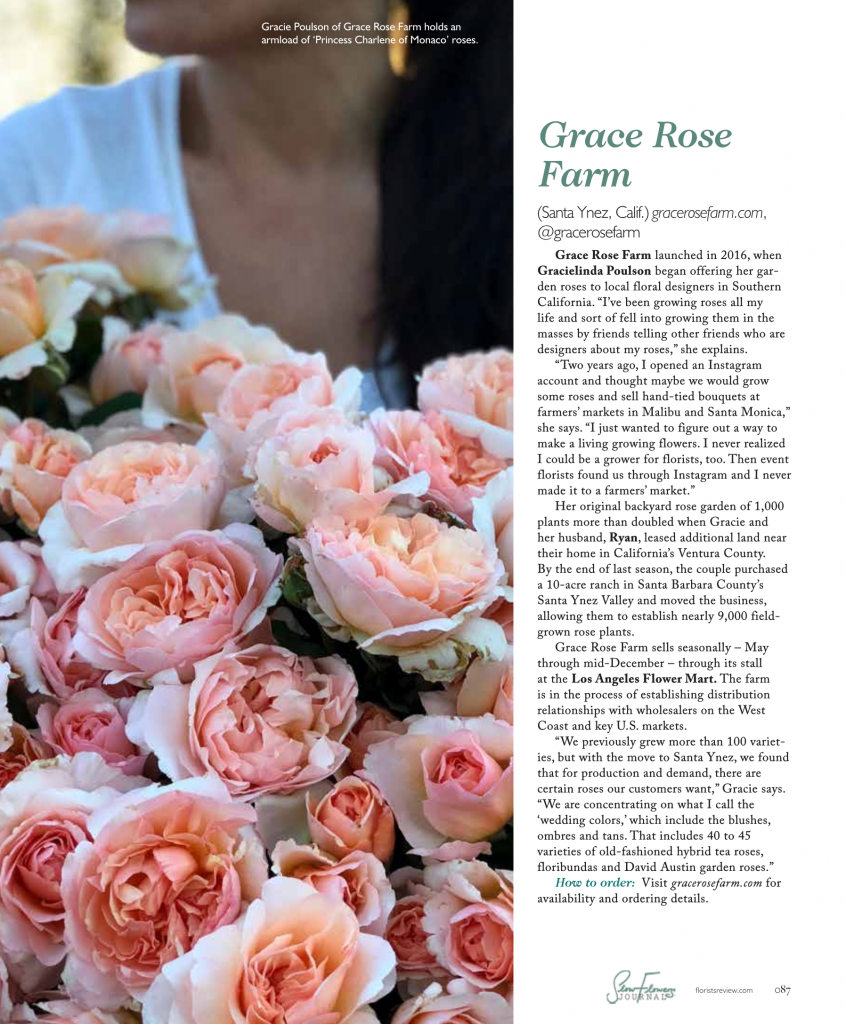 Grace Rose Farm (Santa Ynez, Calif.) gracerosefarm.com, @gracerosefarm
Grace Rose Farm launched in 2016 when Gracielinda Poulson began offering her garden roses to local floral designers in Southern California. "I've been growing roses all my life and sort of fell into growing them in the masses by friends telling other friends who are designers about my roses," she explains.
"Two years ago, I opened an Instagram account and thought maybe we would grow some roses and sell hand-tied bouquets at farmers' markets in Malibu and Santa Monica," she says. "I just wanted to figure out a way to make a living growing flowers. I never realized I could be a grower for florists, too. Then event florists found us through Instagram and I never made it to a farmers' market."
Her original backyard rose garden of 1,000 plants more than doubled when Gracie and her husband Ryan Poulson leased additional land near their home in  California's Ventura County. By the end of last season, the couple purchased and moved the business a 10-acre ranch in Santa Barbara County's Santa Ynez Valley, allowing them to establish nearly 9,000 field-grown rose plants.
ALL MY THYME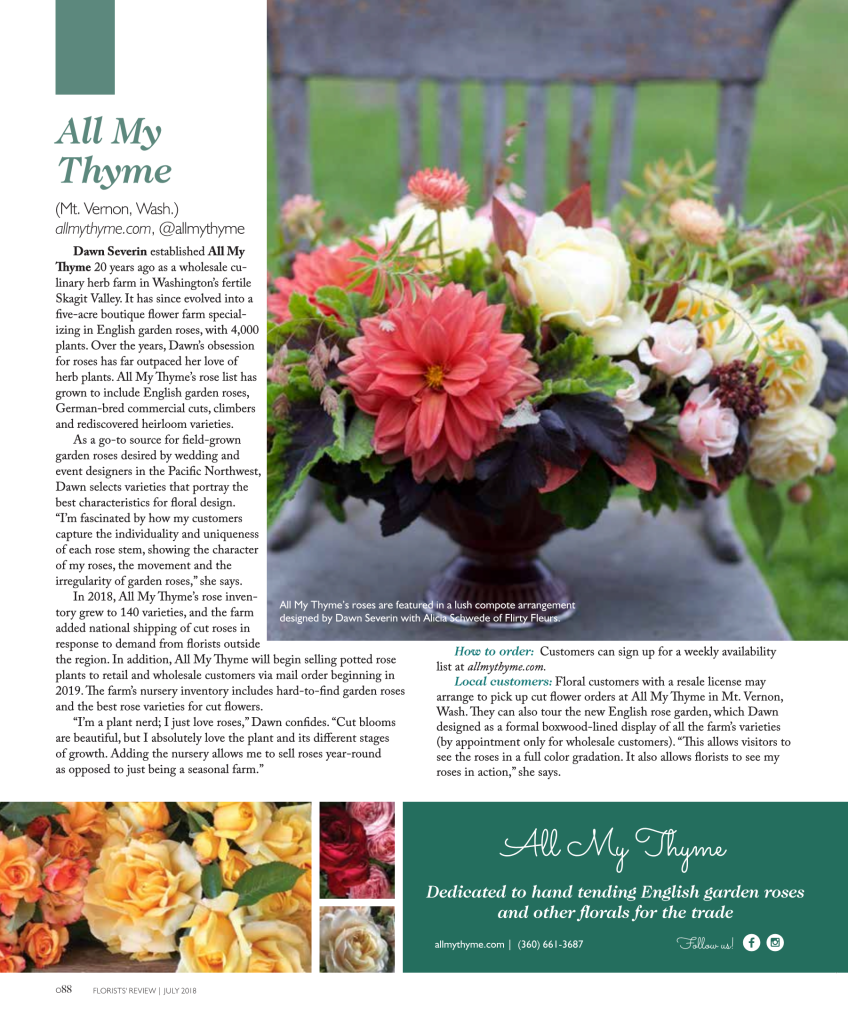 All My Thyme (Mt. Vernon, Wash.) allmythyme.com, @allmythyme
Dawn Severin established All My Thyme twenty years ago as a wholesale culinary herb farm in Washington's fertile Skagit Valley. It has since evolved into a five-acre boutique flower farm specializing in English garden roses with 4,000 plants. Over the years, Dawn's obsession for roses has far outpaced her love of herb plants. All My Thyme's rose list has grown to include English garden roses, German-bred commercial cuts, climbers and rediscovered heirloom varieties.
As a go-to source for field-grown garden roses desired by wedding and event designers in the Pacific Northwest, Dawn selects varieties that portray the best characteristics for floral design. "I'm fascinated by how my design customers capture the individuality and uniqueness of each rose stem, showing the character of my roses, the movement and the irregularity of garden roses," she says.
MORE U.S. ROSE SOURCES