Week 28, as we revisit the 10-year anniversary of the book Slow Flowers
This arrangement doesn't veer too far from the one I created in 2013: The vintage 1940s era McCoy jardiniere in robins egg blue, with a pretty raised design of vertical bands and flowers, has its return appearance.
From the Slow Flowers Cutting Garden: Plum-purple smoke tree foliage (Cotinus coggygria) lends beautiful tonal contrast.
From Wildrye Farm (Seattle Wholesale Growers Market): Delicate and whimsical texture contributed by the chocolate Queen Anne's lace (Daucus carota var. sativus 'Black Knight').
ROSES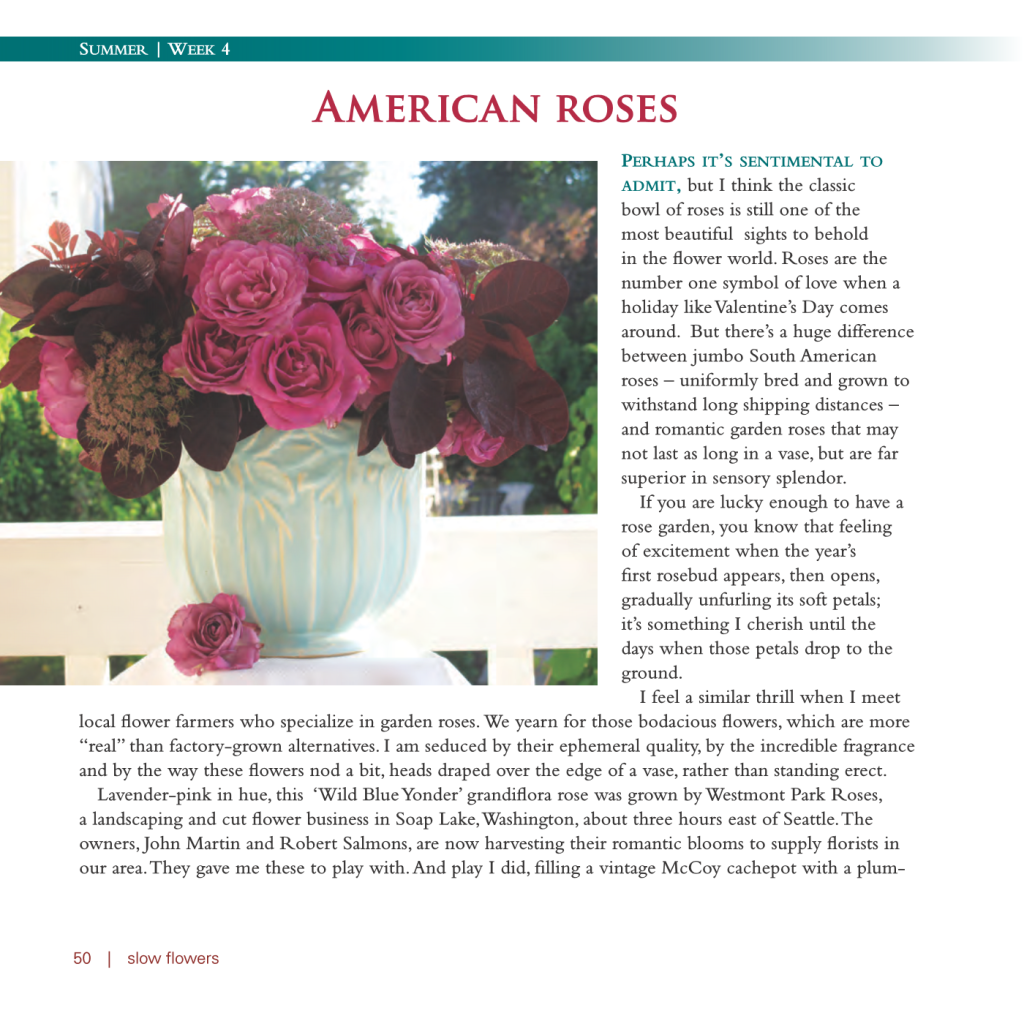 I departed from the original design when it came to roses. The 2013 piece featured some lovely garden roses gifted to me by rosarians John Martin and Robert Salmons of Westmont Park Roses in Soap Lake, Washington. I believe the lavender-pink variety was called 'Wild Blue Yonder', a grandiflora rose.
I've lost touch with Westmont Park Roses and my internet research leads me to believe it is now a private garden, not open to the public. So what to do? I combined a few stems of a cherished David Austin garden rose, 'Princess Alexandra of Kent', two of which grows in the Slow Flowers Cutting Garden, with Peterkort Roses' 'Night Star', a really pretty merlot-colored spray rose with ruffled petals.
---
The two different roses — different in size and form — add even more interest to the arrangement's plum-maroon-dark pink palette and play off of the texture and hue of the chocolate Queen Anne's lace.
In my 2013 essay, I wrote about the emotional connection rose gardeners feel about their collections: