All photographs (c) Missy Palacol Photography
Last spring, my friends at David Austin Roses gifted me a baker's dozen of bare root and potted rose plants for the Slow Flowers Cutting Garden.
I had to pinch myself when Sally Ferguson of Ferguson Caras told me that Michael Marriott, David Austin's technical manager and senior rosarian (and is one of the world's most respected rose experts), selected the roses for me to grow, enjoy and cut! There are seven of his favorite rose choices for cut flowers and floral design.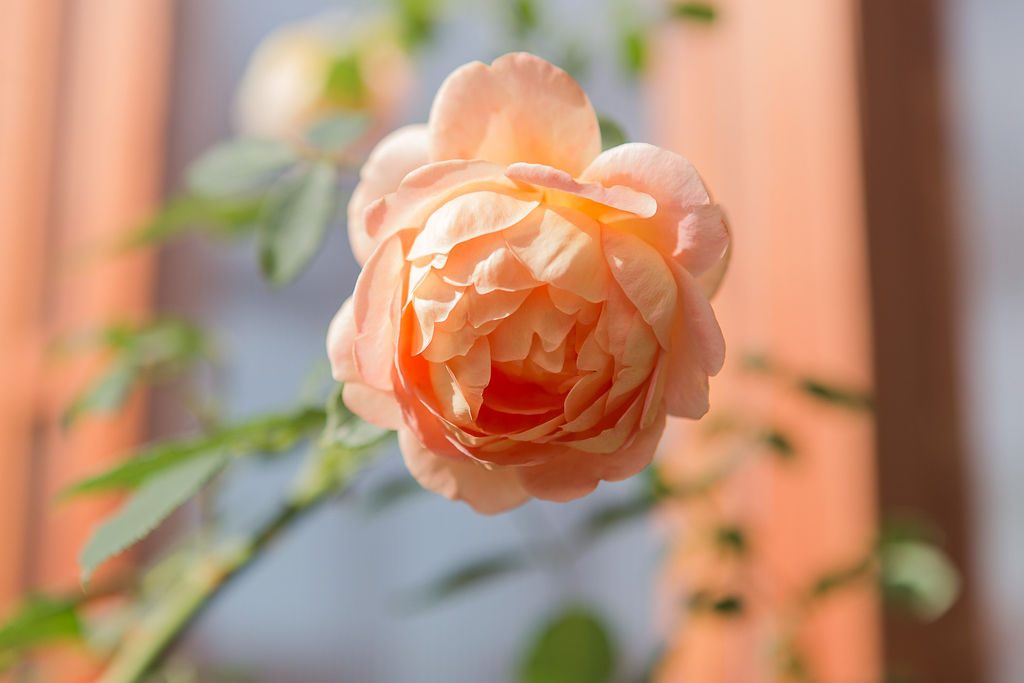 I've worked with Sally, who is the U.S. publicist for David Austin Roses, for many years, including on newspaper and magazine articles about rose growing and design. I've known Sally and Michael through many annual in-person connections at the GardenComm (formerly Garden Writers Association) conferences.
So, about these roses. Moving into a new home (and vacant lot) in January 2017 meant I finally had a blank slate where I could take up my David Austin Roses friends on their generous offer to trial their roses in a cutting garden.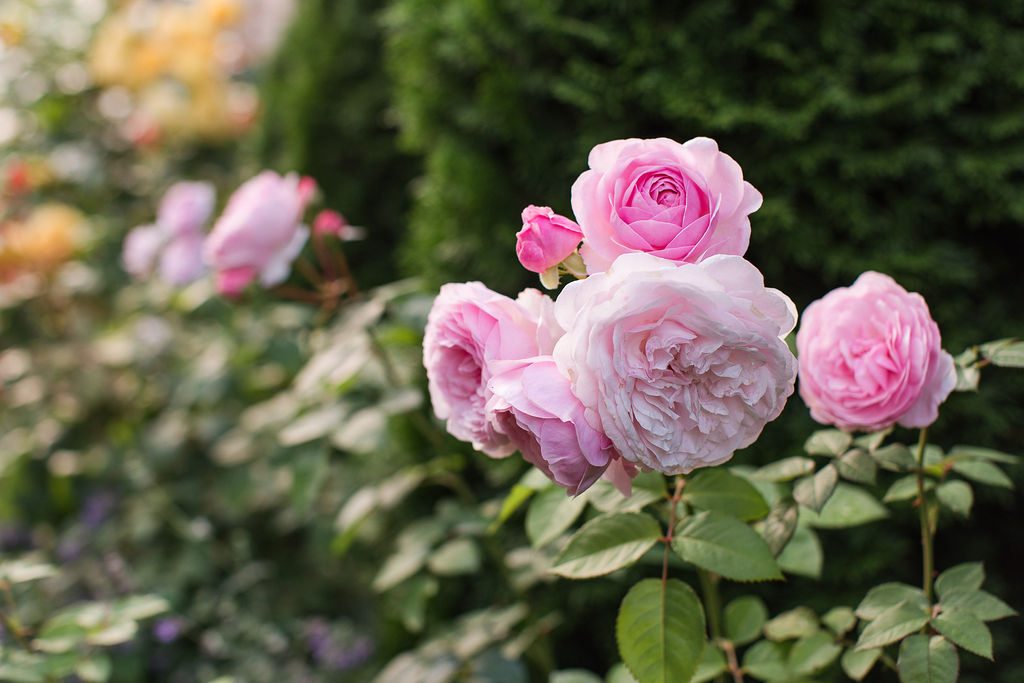 The roses arrived last April and we held them in my cool, dry garage for about one month . . . while waiting and waiting for the completion of "Phase One." By "Phase One," I am referring to the installation of our new greenhouse.
The crew from Northwest Green Panels of Oregon arrived at the end of April to build the 8-by-8 foot "Modern Slant" greenhouse (see more about that project, including a time-lapse video, here). I wanted to have the beautiful garden structure in place so I could landscape the exterior beds and borders with the new roses. It all worked seamlessly! By May 1st, those roses were planted!
The collection includes two each of six elegant rose varieties and one bonus rose, aptly named 'The Lady Gardener', which I planted in a patio container.
Here are the six varieties, planted in pairs: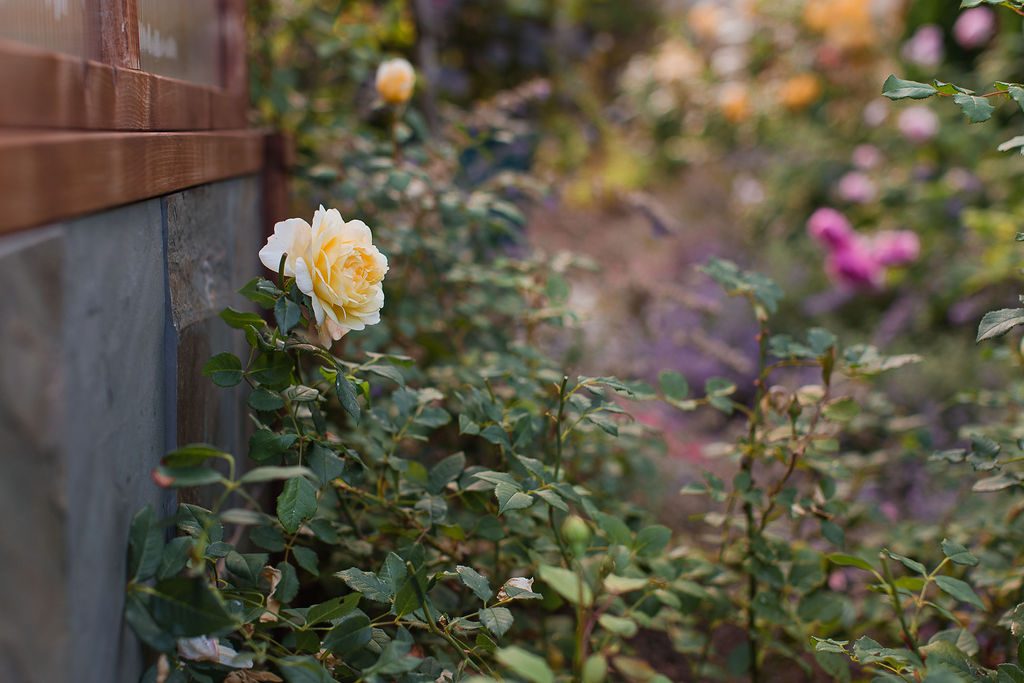 In front of the greenhouse:
Lady of Shallot, a striking apricot-yellow rose with a warm tea scent
Darcey Bussel, which has beautiful, crimson rosettes and a fruity fragrance
Along the south side of the greenhouse:
The Poet's Wife, with cupped flowers of strong, unfading yellow blooms and a fruity fragrance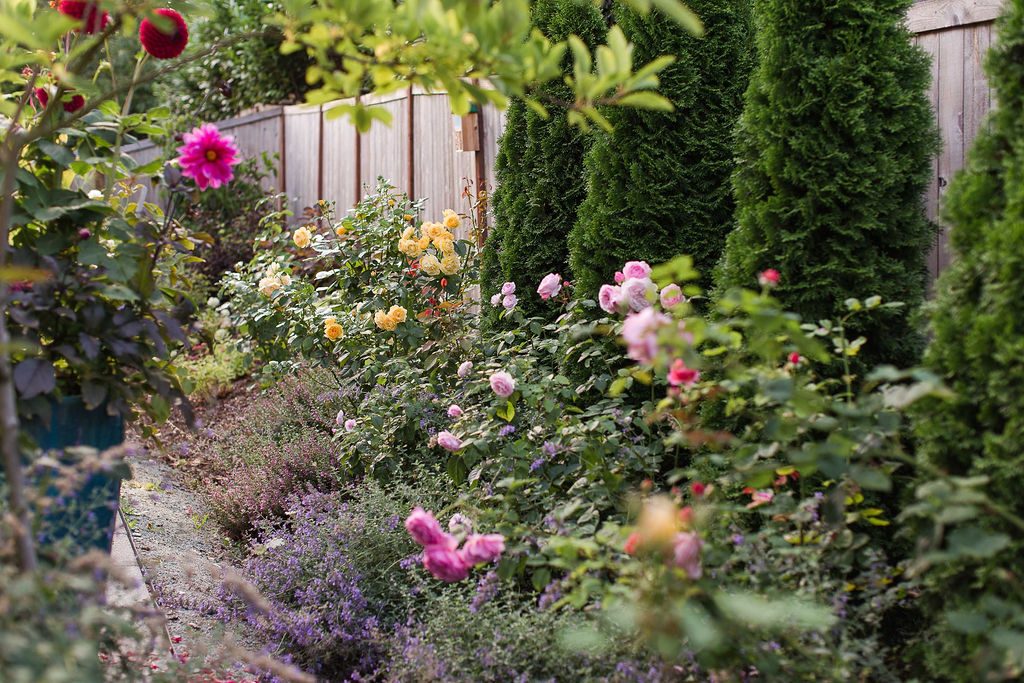 Along the arborvitae hedge that runs the length of our south fence:
Olivia Rose Austin, soft pink, cupped rosetts with a mild fragrance
Princess Alexandra of Kent, with large, deeply cupped blooms of a warm, glowing pink
Queen of Sweden, a soft pink, cup-shaped flowers with a light myrhh fragrance
After two seasons (and really only 16 months), here's how the roses have performed, captured by photographer Missy Palacol at the end of August. How do you think it all turned out?
To me, the roses are romantic, a little wild and unruly, and deliciously fragrant, not to mention super healthy and vigorous. With very little blackspot until late in the season and constant reblooming, these are winning choices!