Week 32, as we revisit the 10-year anniversary of the book Slow Flowers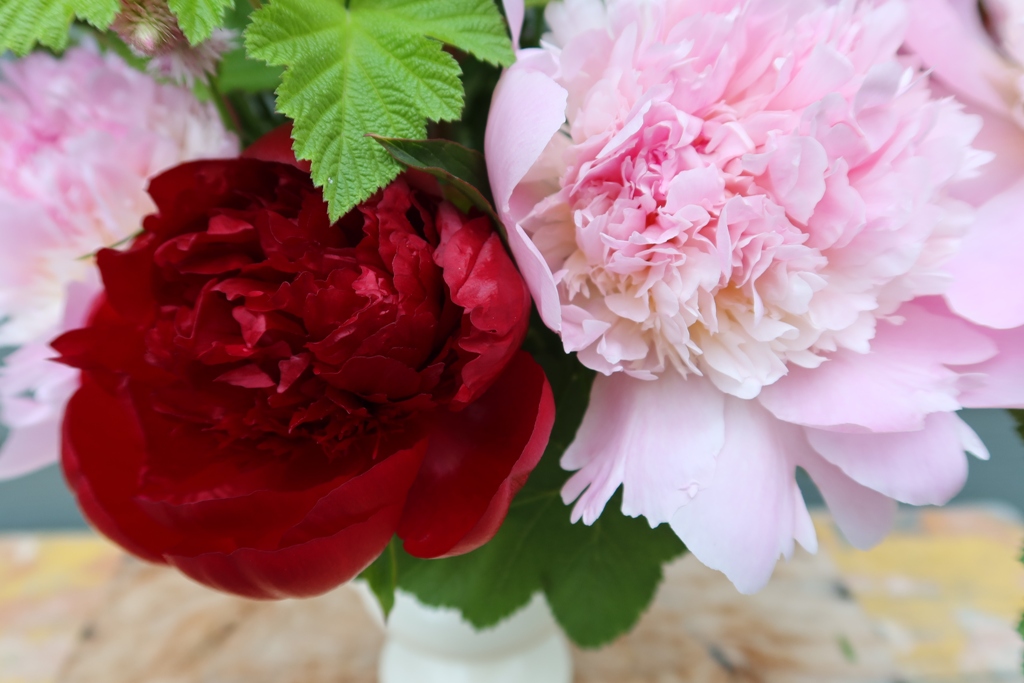 My love affair with Alaska's peony growers began in 2011 when I first met a few of the state's emerging farmers during the opening days of Seattle Wholesale Growers Market. The Alaska growers had traveled to Seattle to volunteer with other farmers in preparing raw warehouse space for the April 2011 opening of this now-legendary, farmer-owned, wholesale floral hub.
I was fascinated by their stories and eagerly accepted the invitation to visit them and learn more about this "new" agricultural crop for the 49th state. The following summer, in 2012, I spent one week visiting peony farms from Fairbanks and North Pole to Homer – and many spots between. I authored many stories about this exciting new peony region, including an award-winning story for Alaska Airlines magazine.
After that trip in 2012, I returned two more times to speak and teach, and to learn more. (As I write this, I'm getting ready to return to Alaska next weekend for another flower farming adventure, but more on that later).
Listen: Slow Flowers Podcast Episode 102 (August 7, 2013)
Read: Peonies from America's Last Frontier in Alaska Airlines (August 2013)
I came home with a big box of beautiful Alaska peonies and created the simple arrangement you see here. The story is equally beautiful and you can find the full PDF here:
---
This time around, I called my friend Beth VanSandt of Scenic Place Peonies in Homer, Alaska, one of the peony growers I met back in 2011, and checked on the harvest schedule. Most of her peonies are harvested in July and August, long after this perennial blooms in gardens and fields across the lower 48 states. I ordered a mixed collection of one-dozen pink and ruby-colored peonies, which Beth shipped via overnight, arriving a few days ago. The stems, foliage, and buds were super fresh and healthy-looking, having been shipped with an ice pack and cushioned inside paper wraps. I made sure I was home when the UPS delivery arrived, so within minutes, the stems were re-cut and placed in clean water. My experience with peonies is that once the flowers acclimate to the relative warmth of a home's interior, the blooms open, usually within 24 hours.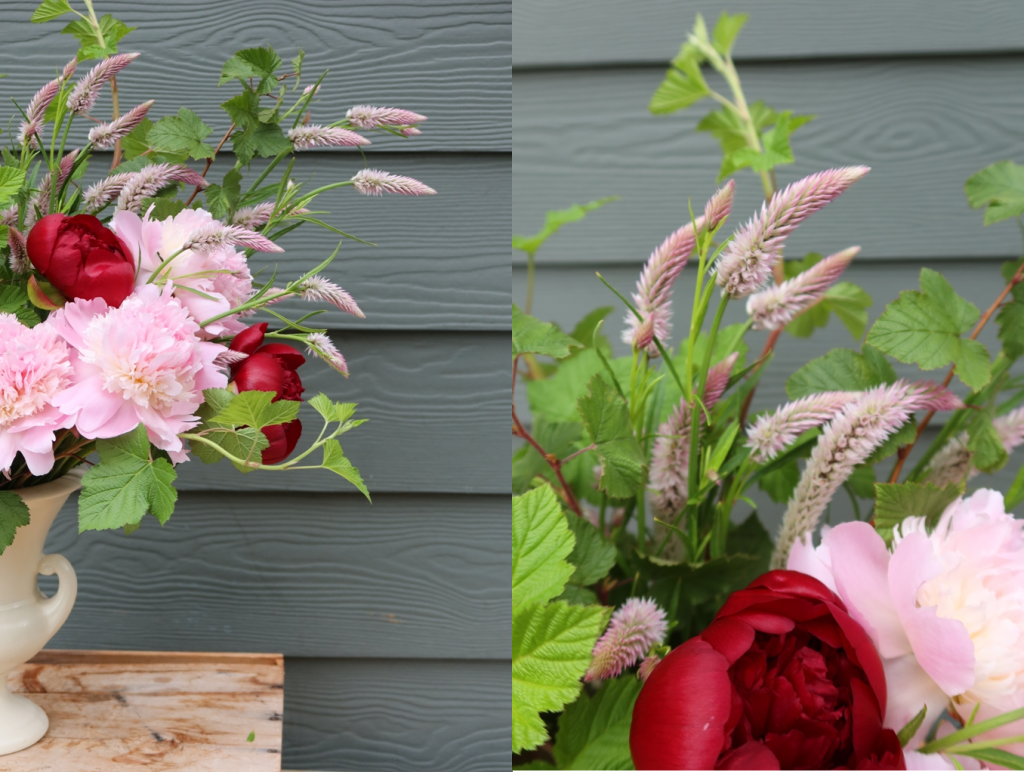 I wanted to mix it up a bit this time around, and used rubus foliage, from Jello Mold Farm, and soft, pink plume celosia ('Flamingo Feather'), from Rain Drop Farms, both Seattle Wholesale Growers Market member farms. I used the same 9-inch x 7-inch vintage Haegar urn with a cream glaze that I used for the 2013 image.
I grow many of my own peonies in the Slow Flowers Cutting Garden; I currently have 10 peony plants in cultivation and they give me so much joy in springtime and early summer. But as the season progresses, the luxury of Alaska peonies is at our fingertips and for that, I'm so grateful that Alaska's flower growers can provide these bountiful blooms to the rest of us.