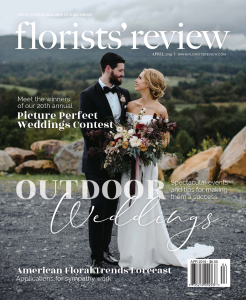 The Slow Flowers Community is beautifully represented in the April issue of Florists' Review.
Our April 2019 (Issue No. 21) highlights a theme of Outdoor Weddings, and we have two great features to share with readers on this topic: the first is "A Flower Farm for Brides," featuring farmer-florist Kelly Hill of Blossom Thyme Hill Flower Farm in Nixa, Missouri, and her photographer-daugher Shelby Lung.
Continuing the outdoor wedding them is a beautiful, five-page spread, "Big Island, Intimate Nuptials," featuring the tropical ceremony of Grace Flowers Hawaii's Alison Grace Higgins to architect Nick Civitano.
There is also a bonus essay, guest-authored by Bethany Karn of ButterKup Flowers in Maryland, entitled "My Flower Farm Adventure."
I hope you enjoy this package as much as I we do. We so value the relationship between Slow Flowers and Florists' Review. The opportunity to showcase progressive floral designers and artists, farmer-florists, growers, and others in the marketplace helps elevate the understanding of sustainability, seasonalilty and creative excellence.
BIG ISLAND, INTIMATE NUPTIALS
A floral designer conjures up her ceremony to include two families' deep ties to Hawai'i
Photography by Sarah Anderson and Anna Pacheco
'Haina Kai' is the family estate of architect Nick Civitano, and when he and his fiancée Alison Grace Higgins, owner of Grace Flowers Hawaii, began to plan their wedding, the beautiful Big Island property and its sweeping ocean views was their first choice for a ceremony location.
The residential scale and tricky access to the secluded bluff where Nick's parents established a family compound in early 2000s dictated that the couple's vows and a celebratory dinner to follow would be both intimate and set outdoors. And since she is one of the busiest wedding and event designers on the Big Island, the bride wanted to create all the florals herself, a smallish wedding seemed doable. "While the venue is just 15 minutes from my shop in Honokaa, it's in a very remote part of the Hamakua Coast," Higgins says. "So we only had our immediate family for the wedding ceremony."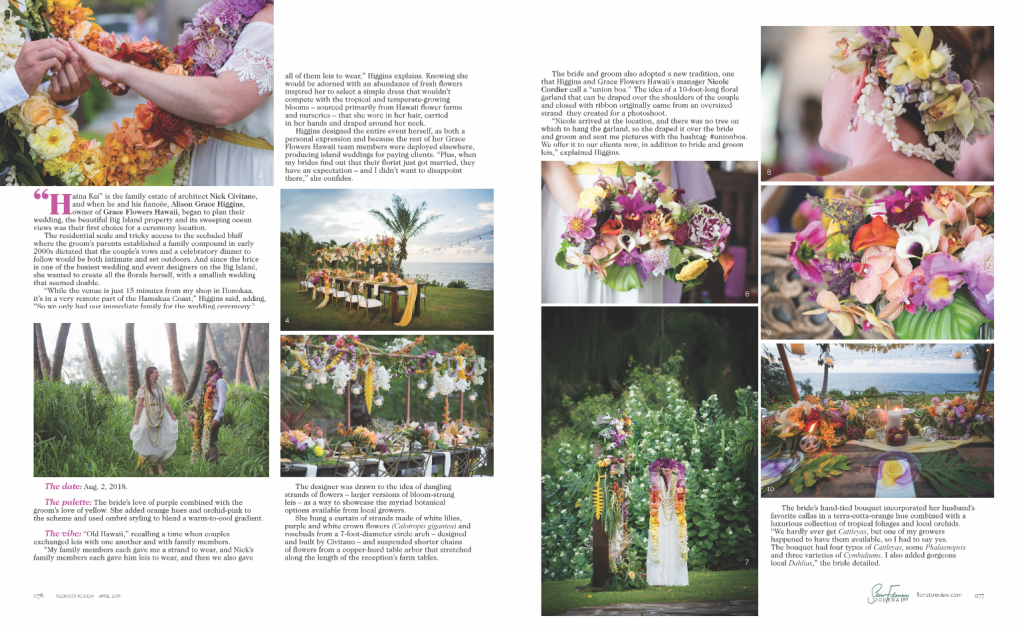 The date: August 2, 2018.
The palette: Alison's love of purple combined with Nick's love of yellow. She added orange hues and orchid-pink to the scheme and used ombré-styling to blend a warm to cool gradient.
The vibe: "Old Hawaii," recalling a time when couples exchanged leis with one another and with family members.
"My family members each gave me a strand to wear and Nick's family members each gave him leis to wear, and then we also gave them leis to wear," she explains. Knowing she would be adorned with an abundance of fresh flowers inspired Higgins to select a simple dress that wouldn't compete with the abundance of tropical and temperate-growing blooms, sourced primarily from Hawaii flower farms and nurseries, that she wore in her hair, carried in her hands and draped around her neck.
Download the full PDF here: Big Island, Intimate Nuptials
A FLOWER FARM FOR BRIDES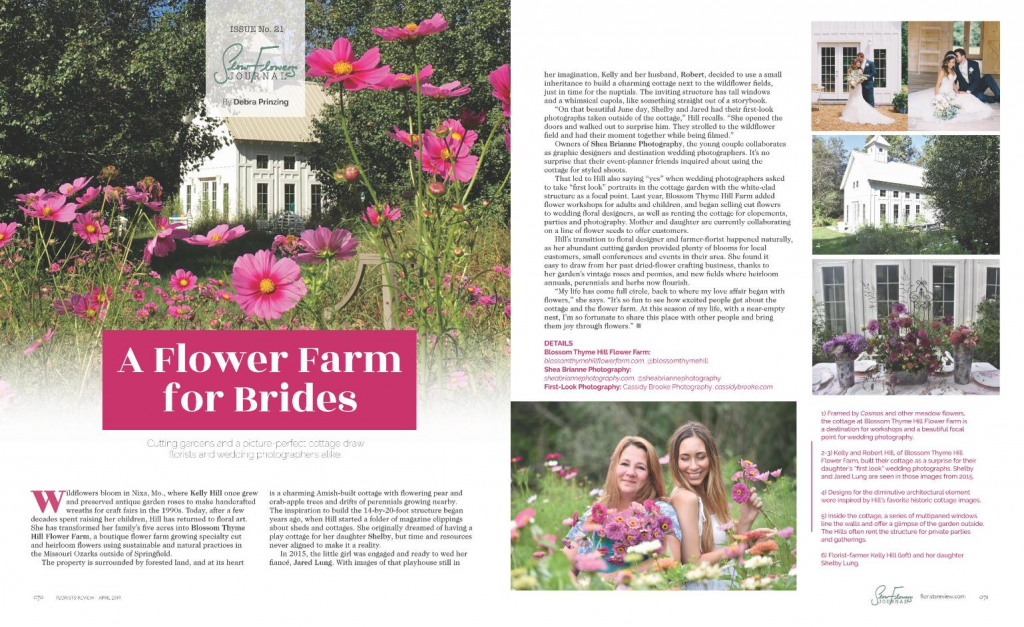 Cutting gardens and a picture-perfect cottage draw florists and wedding photographers alike 
Wildflowers bloom in Nixa, Missouri, where Kelly Hill once grew and preserved antique garden roses to make handcrafted wreaths for craft fairs in the 1990s.
Today, after a few decades raising her children, Kelly has returned to floral art. She has transformed her family's five acres into Blossom Thyme Hill Flower Farm, a boutique flower farm growing specialty cut and heirloom flowers using sustainable and natural practices in the Missouri Ozarks outside Springfield.
The property is surrounded by forested land, and at its heart is a charming Amish-built cottage with flowering pear and crabapple trees and drifts of perennials growing nearby. The inspiration to build the 14-by-20-foot structure began years ago, when Kelly started a folder of magazine clippings about sheds and cottages. She originally dreamed of having a play cottage for her daughter Shelby, but time and resources never aligned to make it a reality.
Download the full PDF here: A Flower Farm for Brides
MY FLOWER FARM ADVENTURE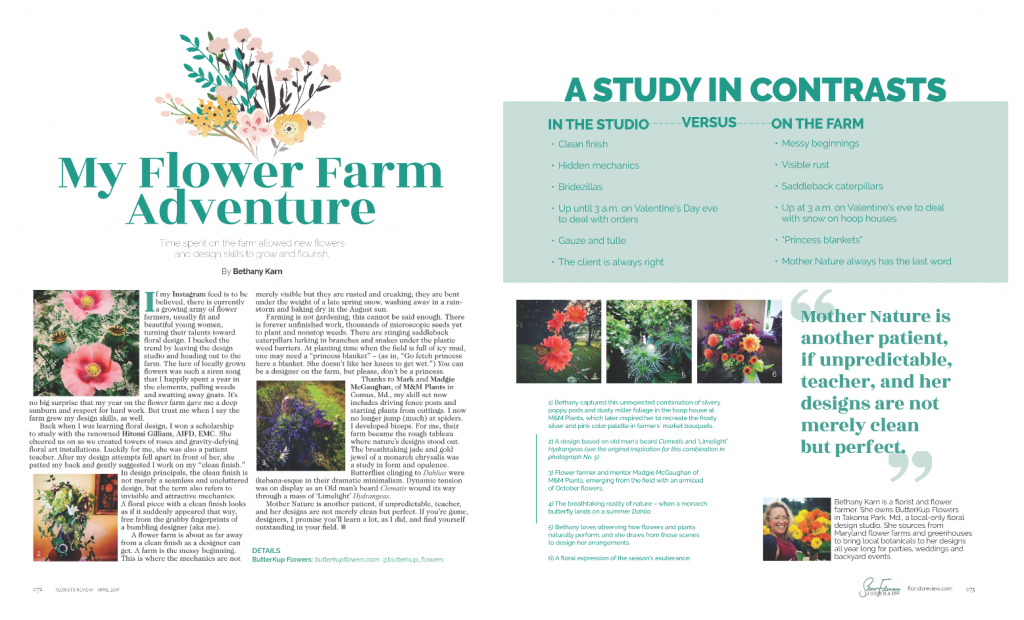 by Bethany Karn
If my Instagram feed is to be believed, there is currently a growing army of flower farmers, usually fit and beautiful young women, turning their talents towards floral design. I bucked the trend by leaving the design studio and heading out to the farm. The lure of locally-grown flowers was such a siren song that I happily spent a year in the elements, pulling weeds and swatting away gnats. It's no big surprise that my year on the flower farm gave me a deep sunburn and respect for hard work. But trust me when I say the farm grew my design skills, as well.
Download the full PDF here: My Flower Farm Adventure
I'm delighted to serve as Contributing Editor for Slow Flowers Journal, found in the pages of Florists' Review. It's the leading trade magazine in the floral industry and the only independent periodical for the retail, wholesale and supplier market. Take advantage of the special subscription offer for members of the Slow Flowers Community. Click here for details.