A bonus study in color and form
---
These stunning and moody Spuria iris came as a gift from Diane Szukovathy and Dennis Westphall of Jello Mold Farm, but I first heard about the evocative petal palette of this iris form from Slow Flowers member Hannah Morgan of Fortunate Orchard a few weeks ago. She said the irises and their mocha-raisin-mustard tones were a surprise hit at a recent floral design workshop — and that many of her students bypassed peonies and roses to select these dark uncommon gems.
I split the bucket of six bunches from Jello Mold Farm with Lorene Edwards Forkner of @gardenercook. See how she extracted the alluring range of this flower's pigments in her color study this week. Lorene grows Spuria irises; she describes the iris variety as a 'total workhorse' that is drought-tolerant and a prolific bloomer (and lucky for me, in need of occasional dividing!) Lorene promised me some divisions this fall!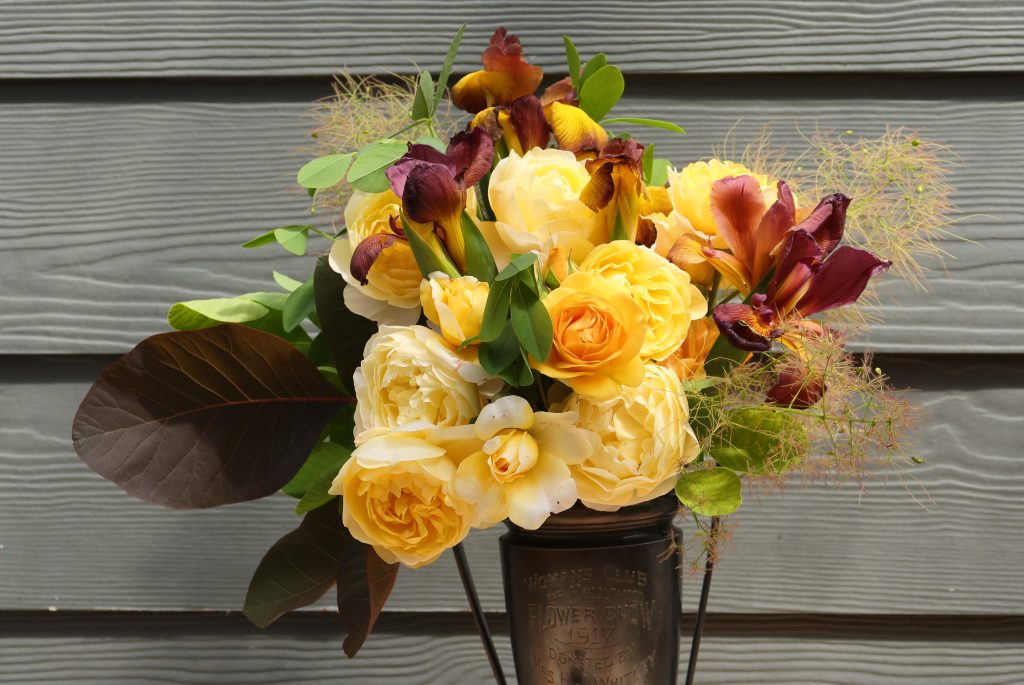 I stared at the colors yesterday morning, still recovering from the exhilarating but exhausting Slow Flowers Summit. I had a free hour to arrange flowers and I tried to lose myself in the experience. I chose two tall, vertical vessels — one shiny; one tarnished and trophy-shaped. One is literally a trophy! Read the story of its past here.
What to pair with the irises? Yellow seemed to be ideal and I have three very healthy and productive yellow-blooming roses ('Julia Child' from Weeks Roses and 'The Poet's Wife' from David Austin). They echo the irises' golden streaks quite nicely. The fluffy blooms of my cotinus (purple smoke bush) lent their texture and harmonized with the eggplant-grape hues of the irises.
The smaller trophy actually has blooms from my golden cotinus (I removed most of the foliage to keep things uncluttered in the vase).
Both arrangements feature baptisia — maybe it was unnecessary but the leaf shape and stem length works well with these designs.