Week 25, as we revisit the 10-year anniversary of the book Slow Flowers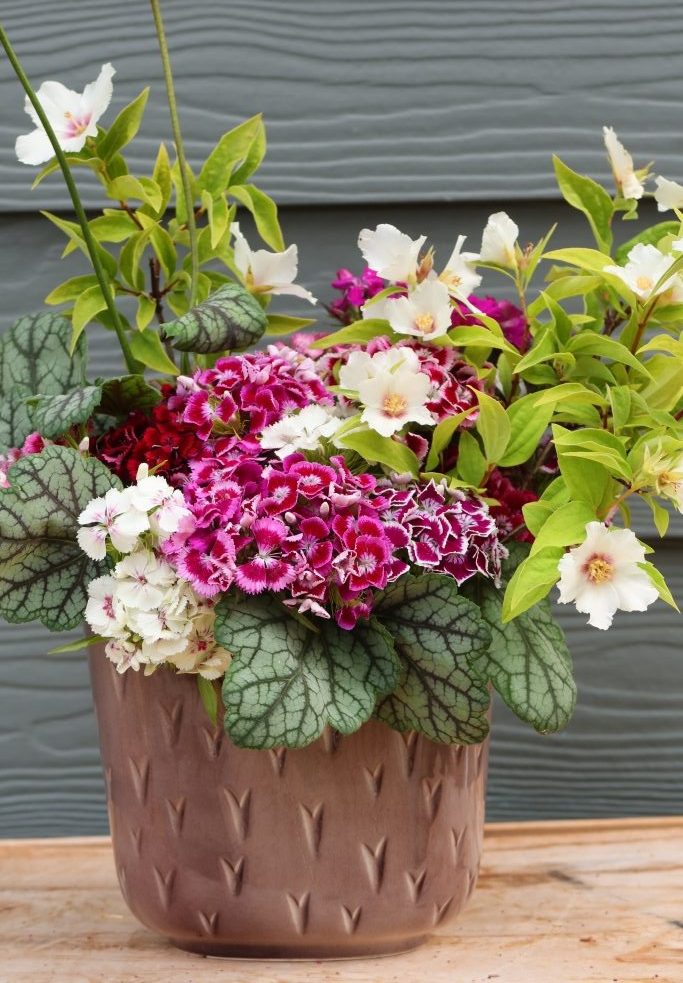 A 6-inch tall 1940s Royal Copley vase is a favorite of mine. The mocha glaze and chevron pattern is one thing; the secret inside glaze — citron yellow — is a bonus!
When I created a Slow Flowers centerpiece for the 2013 book, it was the first week of summer (as it is now). I used reddish-maroon sweet William flowers to pick up the rosy undertones of the glaze, and I was able to repeat the botanical selection, although this time, I purchased a few mixed bunches from the Seattle Wholesale Growers Market to play with more of a color range.
Whereas last time I used the 'Green Spice' heuchera foliage from my former garden as the first layer, this time around, the dianthus became my first layer; the heuchera is more of an accent because I had to purchase a new plant at a local nursery and cut as many longer foliage stems as I could. I now can plant the perennial in my garden for future enjoyment!
I still have mock orange (Philadelphus coronarius), adding a few branches here and there. I felt the new arrangement needed some height, though, and fortunately, the heuchera had two flower spikes, which now do the job.