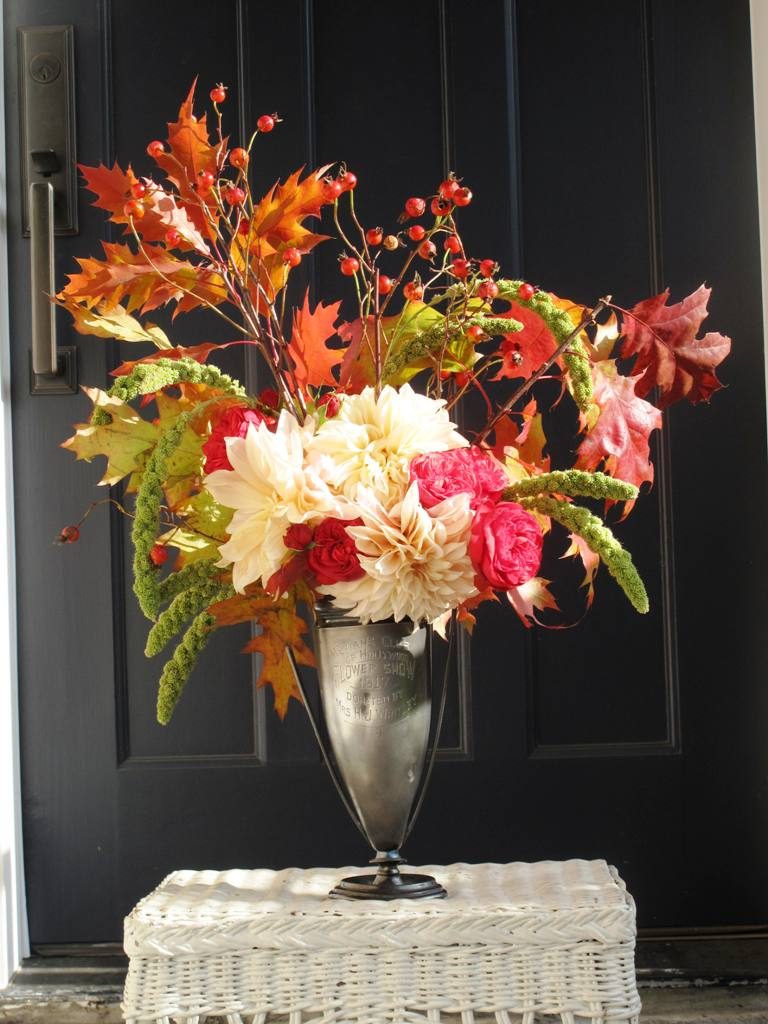 This tarnished silver loving cup is no ordinary tennis or swim meet trophy. Look close and read its inscription: "Woman's Club of Hollywood Flower Show 1917." My writer-friend Kathryn Renner spotted this piece in an online auction. She sent me a note saying: "If you don't bid on this, I will." So I did!
Measuring 10-1/2 inches tall by 4-inches in diameter, the vintage silver loving cup is a perfect floral vase. Perhaps you can find something similar at thrift stores or online; or perhaps there's one in your family that has personal meaning!
My dear friend Paula Panich, a writing mentor whose workshops I've taken and who has influenced and nurtured my journey as a professional writer, has a particular interest in Southern California's flora, native plants and places, and history. Read more of her writing at The Literary Gardener.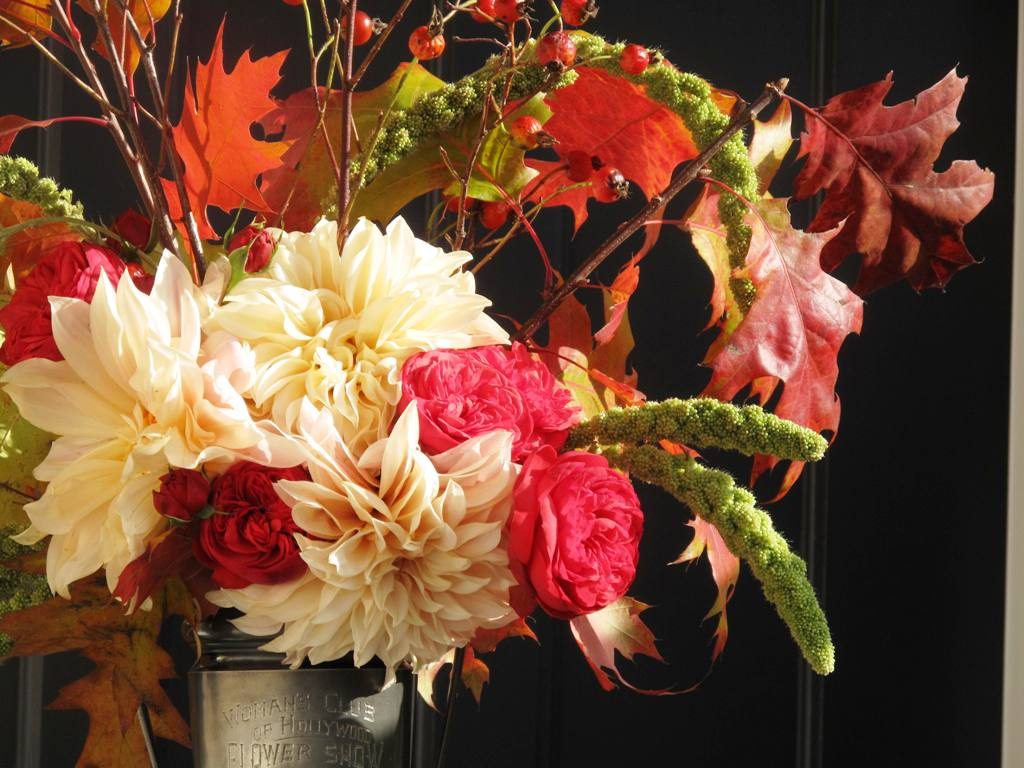 While I was working on the Slow Flowers book, I selected the trophy for one of my first projects to photograph and filled it with an autumn arrangement of late-season Cafe au Lait dahlias, local roses, fall foliage, hip and millet. You can read more about that bouquet here.
Somehow Paula and I got to talking about this old-new trophy I acquired.
At the time, Paula and her late husband Bill Linsman were living in Los Angeles, just blocks away from one of the original Paramount Studios, in a 1921 bungalow probably once occupied by someone who worked at that Studio.
Old Hollywood factored in the narrative of a novel Paula was writing, and with Bill working in the industry as director of Boston University's Los Angeles Internship Program, there was no shortage of his wonderful stories about movies, directors and studios that shaped Hollywood.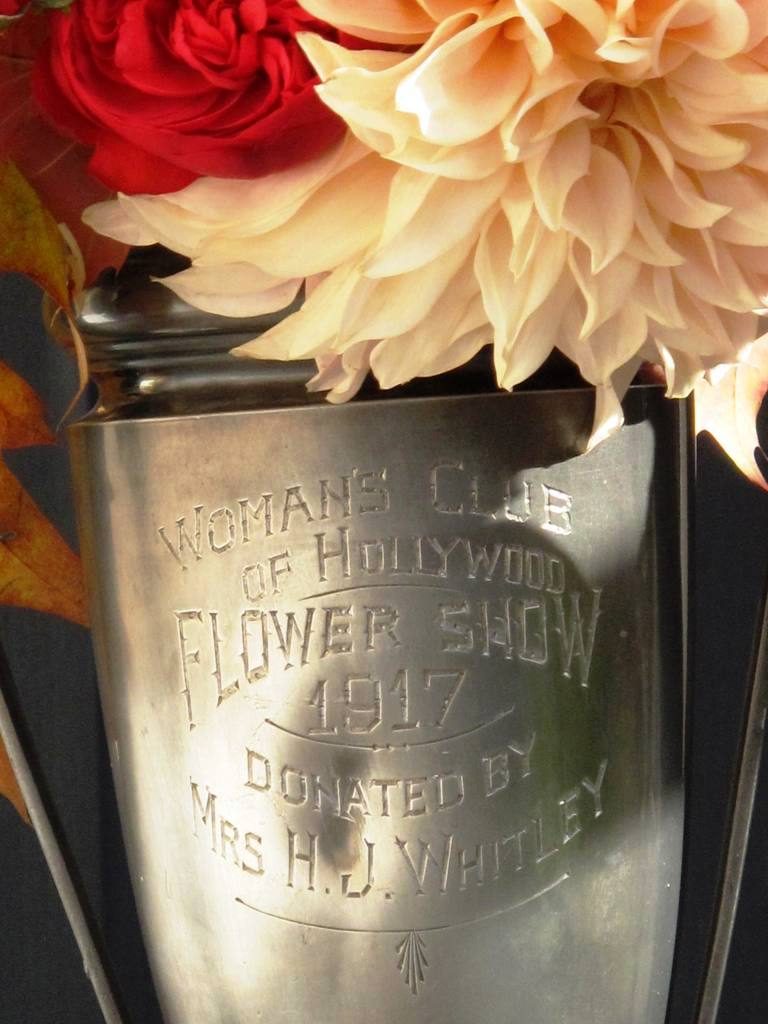 Ever the researcher, Paula started digging up background on the woman whose name is engraved on my trophy: "Donated by Mrs. H.J. Whitley." I remember she shared a few of the details with me, including the fact that Mrs. Whitley and her husband thought that the film industry and those immoral actors were ruining the neighborhood (Mr. Whitley was a real estate developer, after all). We chuckled to think about what a Woman's Club of Hollywood Flower Show member would think of the neighborhood today!
That was years ago – before I returned to Seattle from a four-year episode living in Southern California. I still use the trophy for my favorite flowers and Paula still writes about regional history, among other topics.
She recently devoted "Home Ground," her regular column in Larchmont Chronicle, the local newspaper, to 1917 Hollywood and that Woman's Club of Hollywood Flower Show. Our mutual friend Susan Eubank, librarian at the Los Angeles County Arboretum and Botanic Garden, lent research assistance.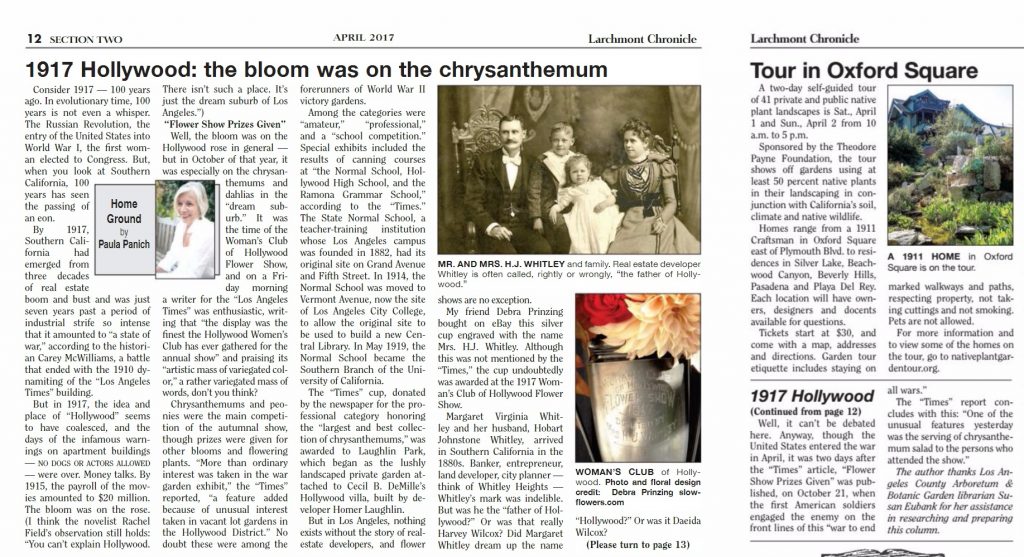 Here are the opening lines of Paula's piece. You can click this link to read the entire (wonderful and fascinating) column online:
April 2017 Larchmont Chronicle
HOME GROUND column by Paula Panich
1917 Hollywood: the bloom was on the chrysanthemum
Consider 1917 – 100 years ago. In evolutionary time, 100 years is not even a whisper. The Russian Revolution, the entry of the United States into World War I, the first woman elected to Congress. But when you look at Southern California, 100 years has seen the passing of an eon.
By 1917, Southern California had emerged from three decades of real estate boom and bust and was just seven years past a period of industrial strife so intense that it amounted to "a state of war," according to the historian Carey McWilliams, a battle that ended with the 1910 dynamiting of the "Los Angeles Times" building.
But in 1917, the idea and place of "Hollywood" seems to have coalesced, and the days of the infamous warnings on apartment buildings – NO DOGS OR ACTORS ALLOWED – were over. Money talks. by 1915, the payroll of the movies amounted to $20 million. The bloom was on the rose. (I think the novelist Rachel Field's observation still holds: "You can't explain Hollywood. There isn't such a place. It's just the dream suburb of Los Angeles.")
"Flower Show Prizes Given"
Well, the bloom was on the Hollywood rose in general – but in October of that year, it was especially on the chrysanthemums and the dahlias in the "dream suburb." It was the time of the Woman's Club of Hollywood Flower Show, and on a Friday morning a writer for the "Los Angeles Times" was enthusiastic, writing that "the display was the finest the Hollywood Woman's Club has ever gathered for the annual show" and praising its "artistic mass of variegated color," a rather variegated mass of words, don't you think?
I love the stories that timeworn objects can tell. Lucky for me, I have a friend whose curiosity and interest in the history of Hollywood led to a richer, more fascinating story about a dented, tarnished loving cup.