Portland-based floral designer Susanna Luck grew up in a tiny medieval town in the English countryside, surrounded by her parents' organic garden, lots of books and the rolling green countryside and woods of Sussex, where her lifelong love of drawing, painting, photography, dreaming and playing began.
She studied illustration at the Academy of Art in San Francisco, followed by a nearly twenty year career in hand-drawn special effects animation in Los Angeles . . . and eventually she landed in Portland.
"From my earliest memory, I loved movies and storytelling and so I deeply loved the collaboration of developing stories through image, movement and colour for film and television," she writes on her web site.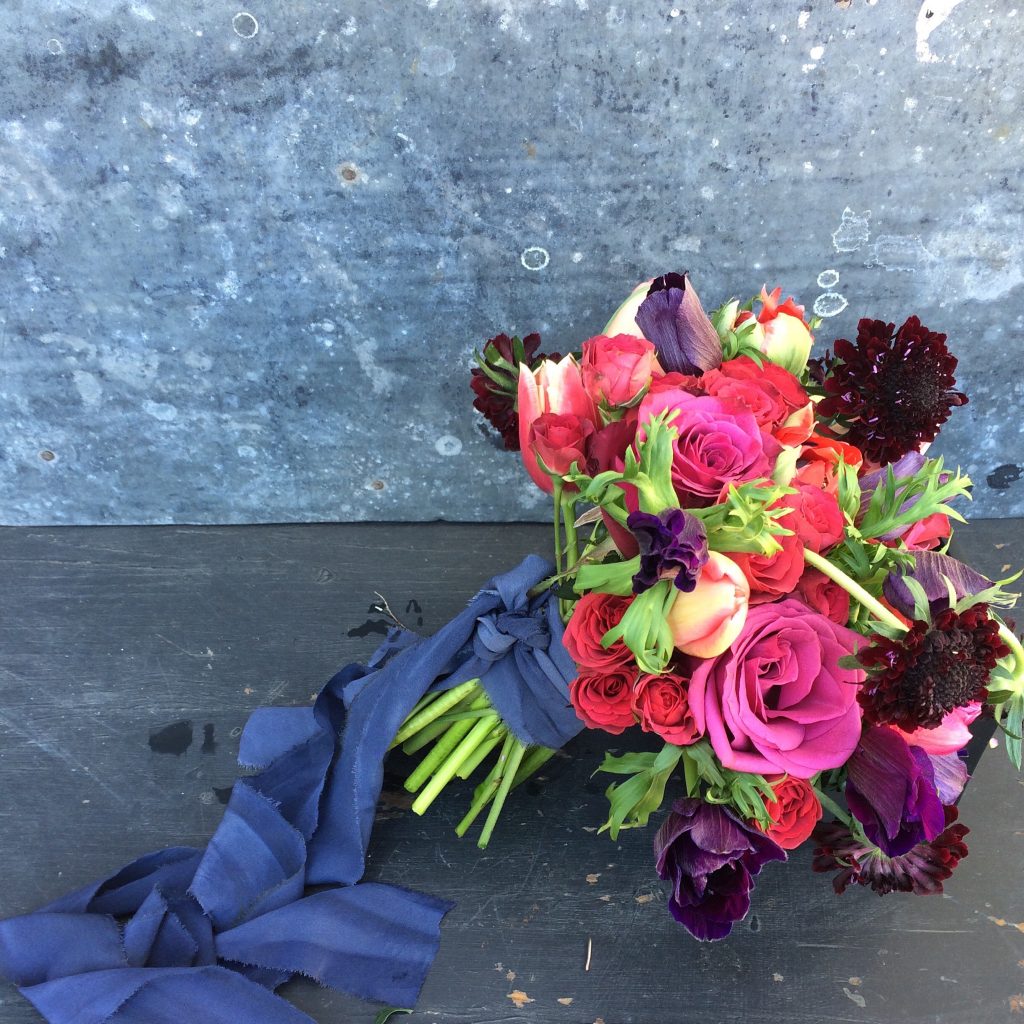 To Susanna, floral design is an extension of all of those skills. Her love and practice of painting inspires her palettes; her animator's eye informs the movement of the lines, shapes and volumes of her floral designs; and her love of storytelling extends to her wedding, event and editorial work. "Rather than force the materials into artificial shapes I prefer to let the natural forms of the flowers and botanicals speak most clearly; they already know how to be beautiful," she says.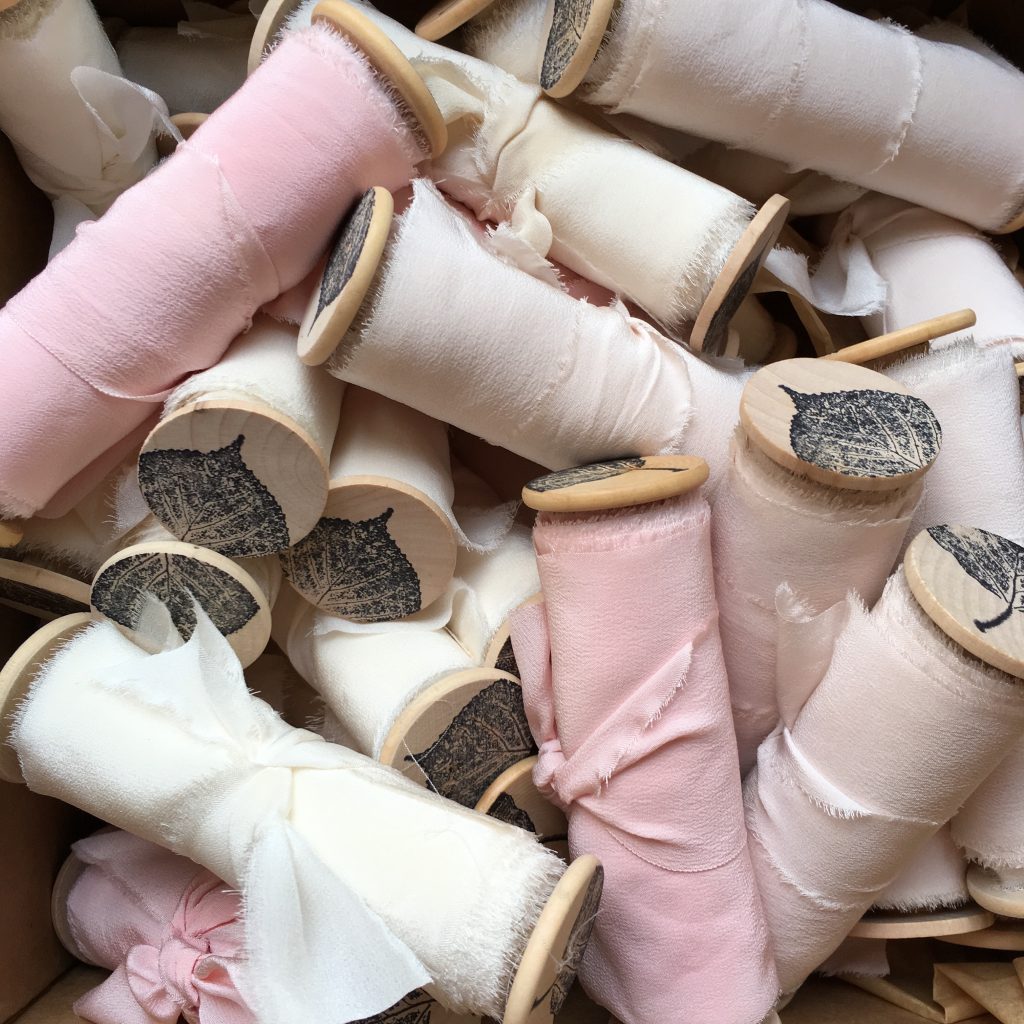 I met Susanna last fall in Portland and was delighted that she gifted me a box of naturally-dyed silk ribbons. The mesmerizing colors — plum, saffron, violet, sky blue and pewter — shimmered beautifully as each length wound around a wood spool. What a treasure!
Since then, I have followed Susanna on Instagram, watching as she has rebranded from a prior business name to Nettle Textiles and Susanna Luck Flowers. I've been wanting to share her story and showcase her ribbons and other textiles here on the SFJ.
Find Susanna Luck on Instagram
Like Nettle Textiles on Facebook
Shop for Nettle Textiles on Etsy. The ribbons are made by hand in small batches in Susanna's Portland, Oregon-based studio. 
Recently, Susanna agreed to answer some of my questions here. Please enjoy this Q&A.
SFJ: Explain how you can juggle both a textile business and a floral design business?
SL: My first year in the business, under its original name (pistils & stamen), I just threw everything at it – deliveries, weddings, Valentine's Day, weekly corporate accounts, I was the florist for The Bouqs in Portland, I had a tiny flower shop 'cart' in a vintage travel trailer… It was exciting and fun and also completely exhausting and draining in every way. I met some people at the end of that year, through a couple of life-changing workshops I attended, who led me to question why I was doing all of that and to what end? I started this business at least in part so that I could spend my working life and energy doing things that make me happy! Running myself ragged in the pursuit of 'moremoremore' for its own sake wasn't working for me.
So the timing  of the textiles taking off has been very fortuitous. I've scaled way back on the floral design, I'm taking on only a few elopements, photoshoots and the weddings of two sets of friends this year, which allows me to still do what I love and not let the work drain me of my passion for it. This is also a year of big transitions for me, with plans in the works to sell my home in Portland and all my belongings (I've already sold the vintage trailer that was my tiny shop and studio) so that I can move back to England in the Fall and start a flower farm, so scaling things to work around that was important.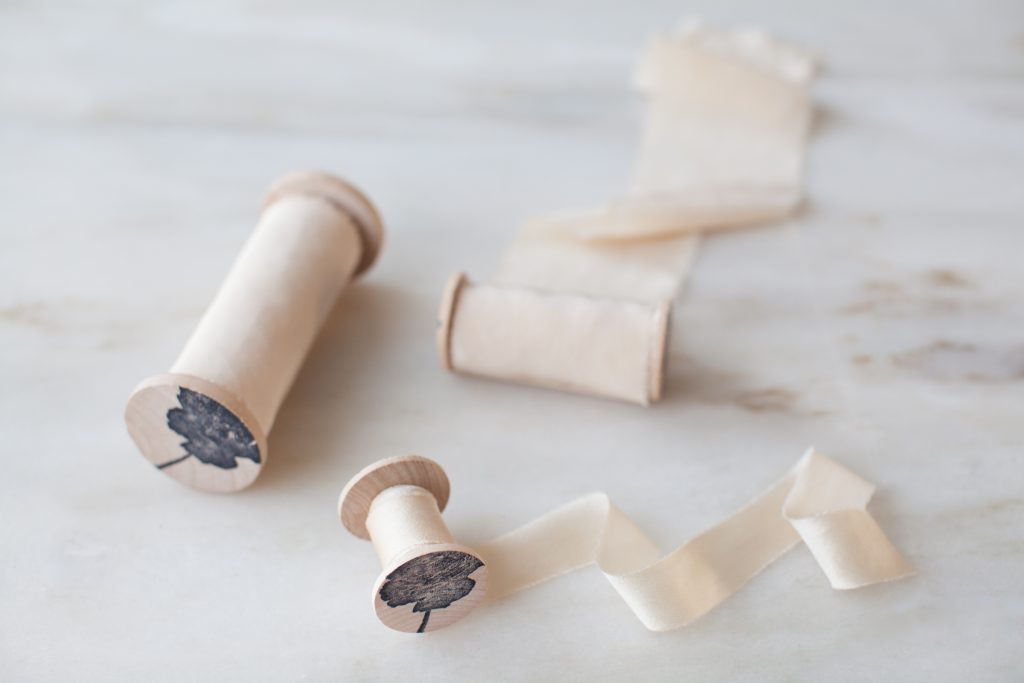 SFJ: How and when did you first start dyeing textiles and ribbons?
SL: About a year and a half ago, I had a wedding that needed a particular shade of blue ribbon and I couldn't find anything that worked – all I was finding were really artificial-looking satins that clashed horribly with the flowers and greens. I think I was searching online and I came across a blog in which the author was experimenting with making a pretty blue dye from black beans (believe it or not!). She had step by step directions, so I thought I'd give it a try.. and I was immediately hooked. The process was so satisfying – it reminded me somewhat of developing a photograph, in that the colour changed as it dried, or of painting (my first love). Then I just couldn't stop playing with colours and trying to figure out what else I could use. I made LOTS of mistakes, of course – lots of horrid browns – but every time I happened across something new and lovely it felt like a personal discovery and I still can't get enough of it. I love how some of colours marble and seem to capture that moment in time, rather like a watercolour painting, and working with silk is just very deeply satisfying to me. I love making something beautiful by hand, wrapping it up like a gift and sending it off around the world.
SFJ: You recently rebranded. Can you discuss that decision?
SL: I started the business with a close friend who chose the original business name. Sadly, we didn't make a good business team at all and when she left the company, very early on, it felt like a breakup. I didn't realize until much later that the name had a lot of pain around it for me – it's also an '&' name, which has become so common in Portland there are jokes about it – so I decided to rename the company and split it into two new entities, one for floral work and one for textiles.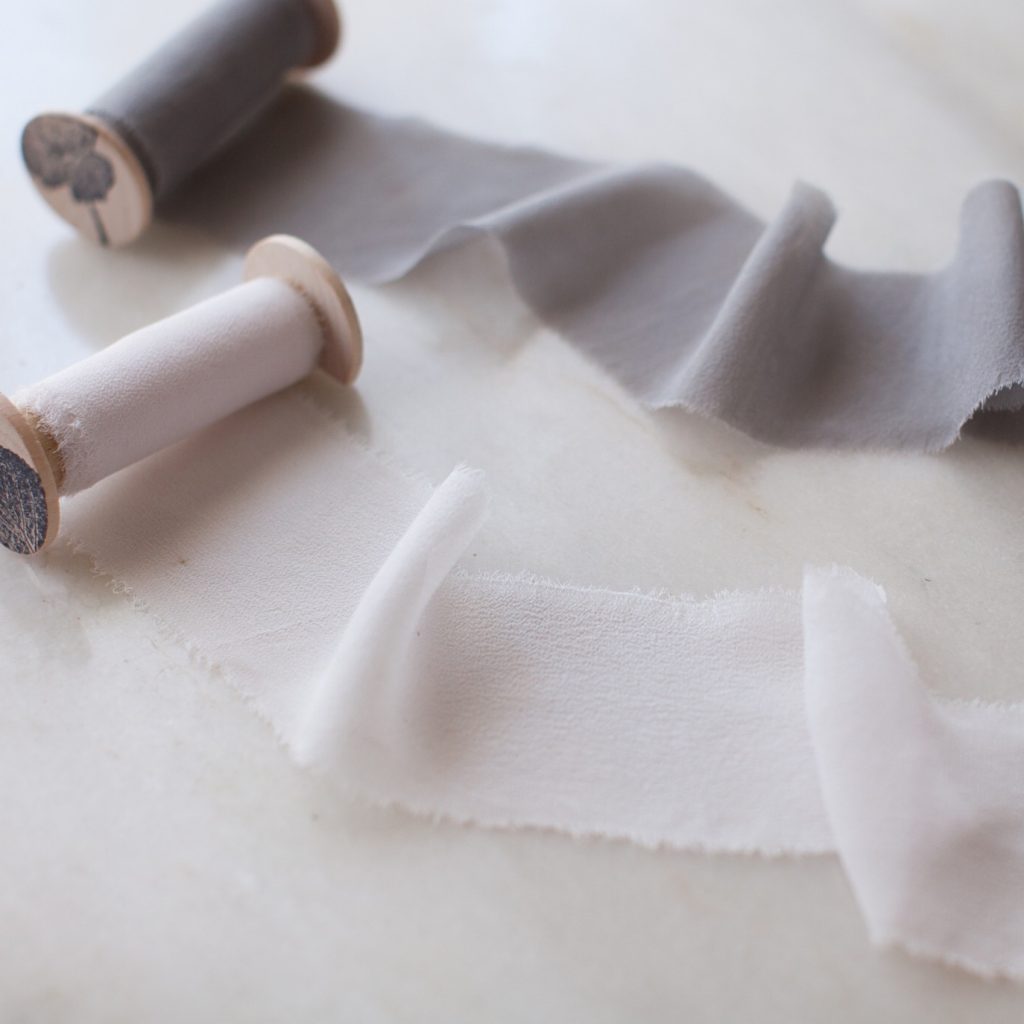 SFJ: What is your process of finding the textiles? Do you recycle or make your ribbons?
SL: I buy bias cut white silk ribbon and silk yardage from a company in Northern California that has a great ethos about fair trade and I make the wider width ribbons by tearing them length ways and very carefully fraying the edges and pressing them. I would love to use recycled silk, but I haven't been able to find any that's white – most recycled silk is from saris sourced from India and it's been explained to me that women there would only wear white in mourning, so it's harder to come by. I don't want to have to bleach fabric (I use no harmful chemicals in my work) to make it useful to me, so I'm still looking. Everything I do with this business, from using recycled paper and shipping boxes, to my indigo fermentation, which uses no toxic chemicals and produces none (unlike many mainstream processes which can produce some awful gasses and heavy metals that get into the water table) to sourcing my dye supplies from companies that really care about the environment, is so important to me. I very much want Nettle to do no harm – or as little as we can manage – as we grow.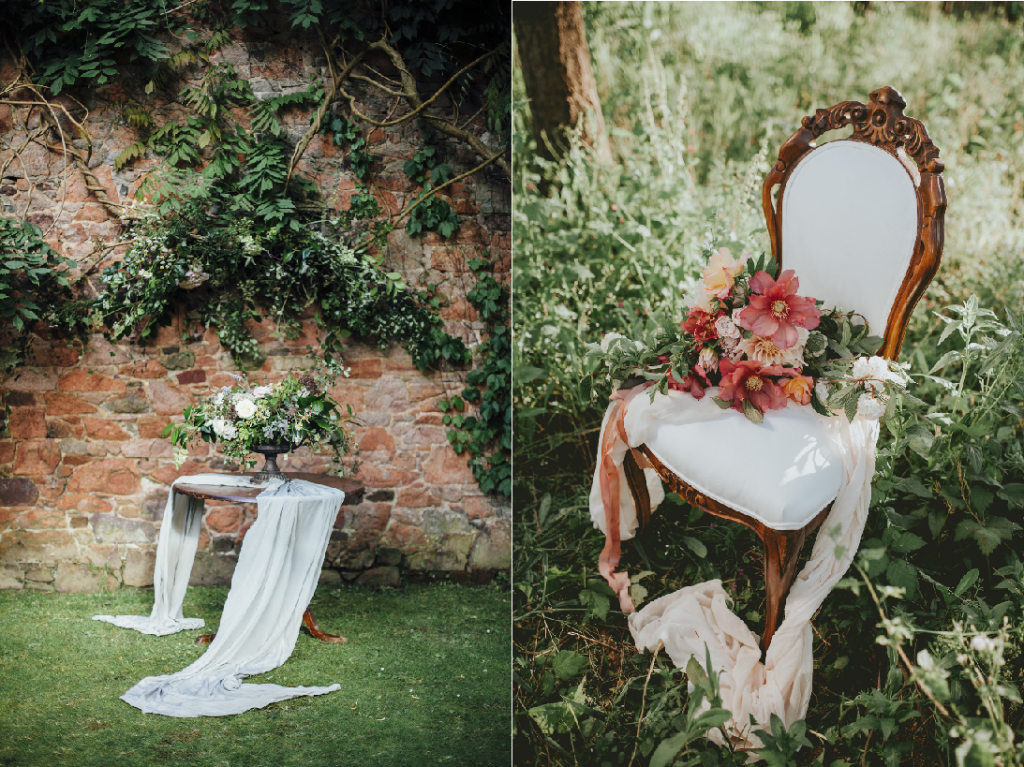 SFJ: What about the dyes? How did you come up with your palette?
SL: The palette has just sort of evolved over time as I add a couple more colours here and there. I think I have about 20 colours at this point and four more about to be released. I'll come across someone online using some combination of natural dyes I haven't thought of before or read about it somewhere and give it a try and when they work out and are beautiful, I'll add them to the line. Sometimes I add a new colour because a customer requests it and if it turns out beautifully, I'll make more.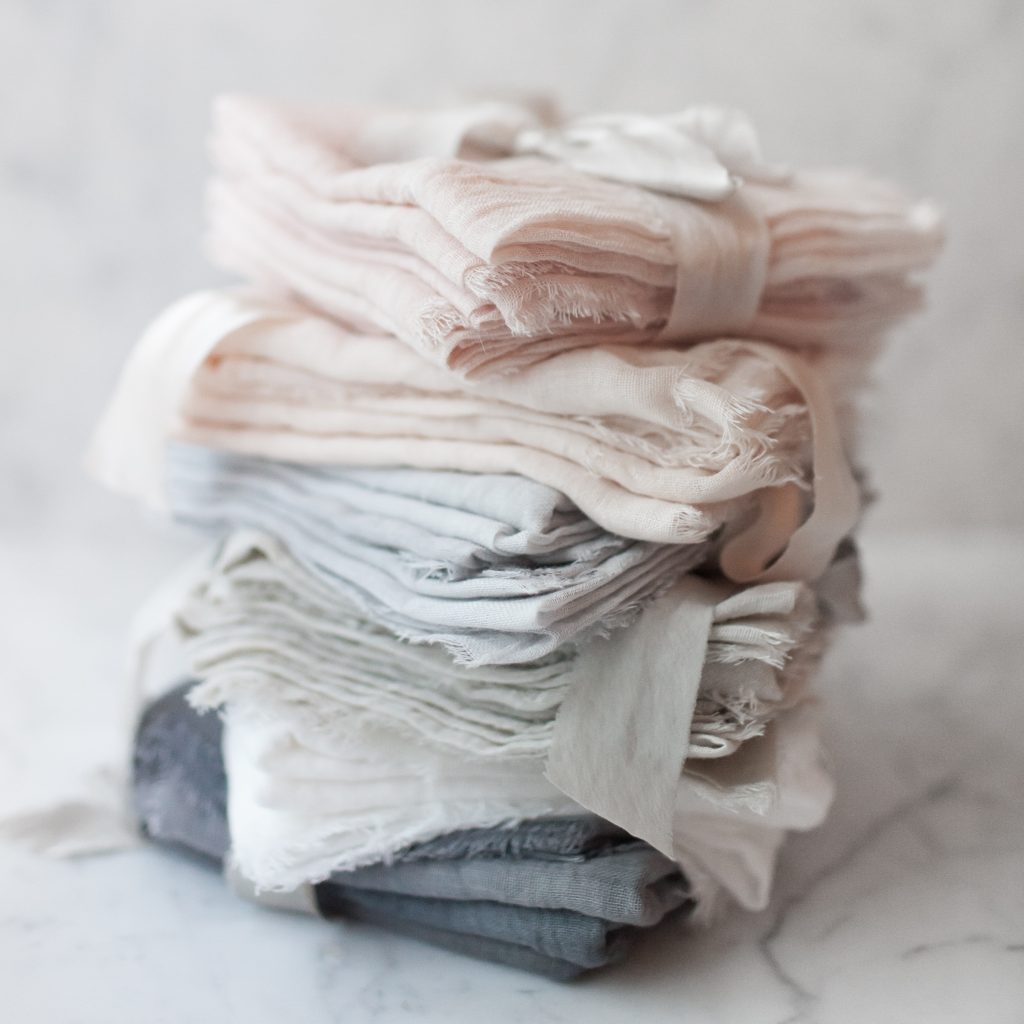 SFJ: Is that palette inspired by your preferred floral palettes?
SL: Yes, absolutely. I love delicate and muted colours and my floral design work has always started with colour and gone from there – I think it's the painting training I had in college. In the past it's been hard for me to find ribbons that work well with that palette, since I don't love a lot of the artificially dyed stuff that's commonly available at floral supply houses and many of my textiles colours are definitely inspired by flowers or foliage I love, and intended to work well with them.
SFJ: How and why are you making your own reels? That's impressive!
SL: Early on I looked but couldn't find anyone who sells wooden spools in the sizes that I needed, or even anyone willing to take on custom work, but I figured: how hard could it be? Turns out, it's not very hard, so I start out every week making several hundred of them for the week's orders. Sooner or later I am going to have find someone else to do it for me!
SFJ: What role do you think custom, hand-crafted and dyed ribbons play in floral design?
SL: Besides the colours of natural dyes being a great compliment to flowers and foliage, the delicacy of silk ribbon just adds a beautiful extra, luxurious touch to any bouquet and adds drama when the wind catches it. They take the designer's work to just that extra level and it's a lovely thing to be able to offer your brides and couples. If the ribbons are handled well they can also be a sweet keepsake from the day.
SFJ: What has been the response and who are your customers?
SL: The response has been kind of a shock to me, especially in the last year or so as it's taken off. I didn't expect to be doing this for a living. My Etsy shop, which is where I started, just passed its 3000th sale in April! I am very, very busy but also contented in a way I don't think I've ever been before. My customers are brides, (buying for their own bouquets and also narrower widths to wrap invitation suites), floral designers, planners, calligraphers and photographers, who use them for shoots or for presenting their work to their own clients.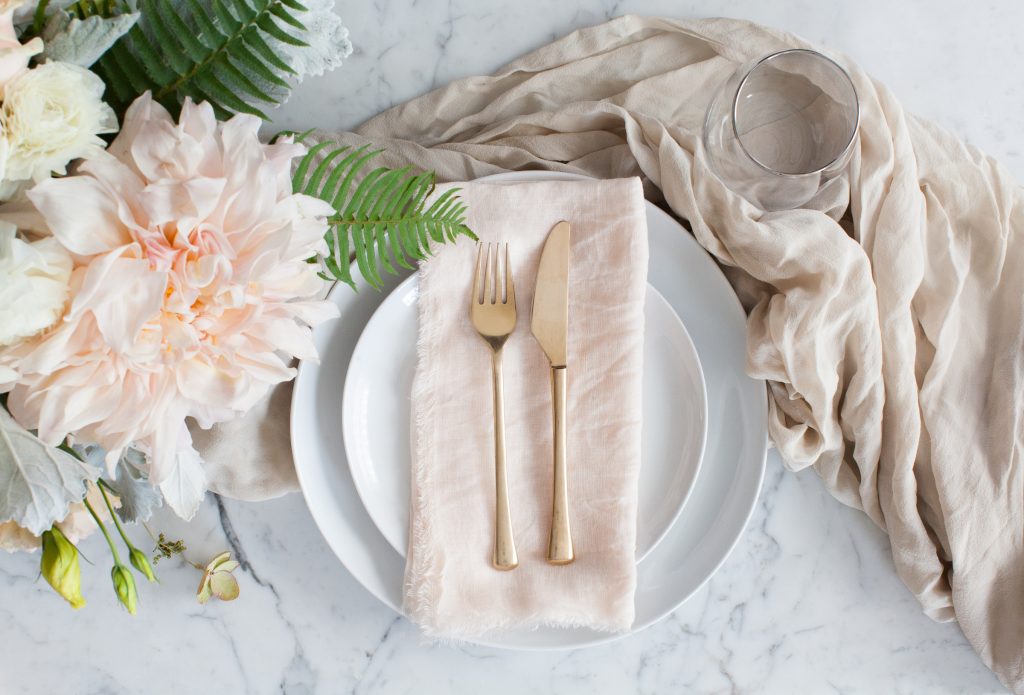 SFJ: What's next for Nettle Textiles?
SL: In the short term, I'll be adding a few new colours this Spring. In the longterm I'd like to add naturally-dyed home goods (beyond the dinner napkins and table runners I already offer). I'll be starting a small flower farm after I move back to England and it'll have space for workshops as well as a wedding event space that I think will be unique and (hopefully), ridiculously romantic. I'd also like to grow some of my own dye plants. Indigo grows here in Oregon, so it should also do well in England, which has a similar climate. I'm interested in their medicinal qualities as well – most natural dyes can also be consumed as tisanes. I'd also like to keep alpacas and add their gorgeous wool to Nettle's products. I'm super-excited for the next stages!
SFJ: Thank you so much, Susanna! I adore your motto: "Infused with Love." By reading all the raves posted by your Etsy Shop's satisfied customers, I suspect the love comes from your act of making the textiles and the joy experienced by brides and other clients who receive your ribbons and table linens. What a thing to witness!