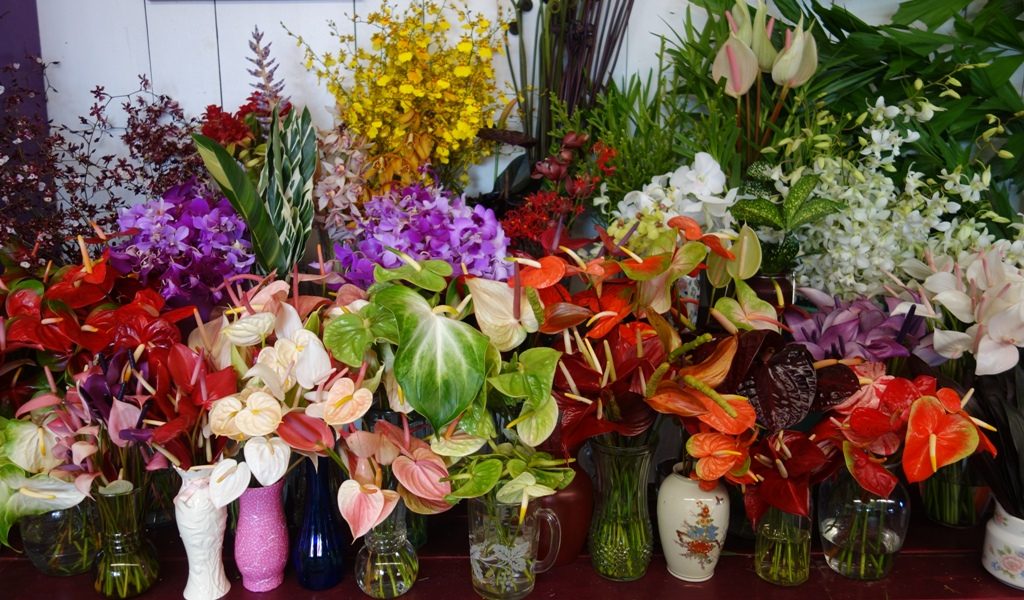 Our Grown-in-the-USA floral palette is greatly enriched by the flora of Hawaii and I continue to be awed by the flowers, foliages, nuts and grasses from the flower farms across the state. Tropicals are trending. Take a look at the images here, from my recent visit to Grace Flowers Hawaii on the Big Island.
A day trip during a short vacation allowed me to spend time with Alison Grace Higgins and her team at Grace Flowers Hawaii, including my dear friend and floral artist Nicole Cordier.
Talk about an Aloha Welcome! When my husband Bruce and I arrived at our destination, a hotel on the Kona Coast, we were greeted with intricate, customized, his-and-her leis, which we later learned were a gift from Alison and Grace Flowers Hawaii.
We also discovered a beautiful arrangement featuring Big Island-grown tropical flowers and foliages, as well as orchids, foraged blooms, and annuals like dianthus and stock — and of course, it was also a gift from Grace Flowers Hawaii.
Grace Flowers Hawaii is a full-service florist based in Honoka'a on Hawaii's Big Island. Alison and her team of designers have more than 25 years of experience in floristry combined, working extensively with their clients to materialize visions into tangible reality.​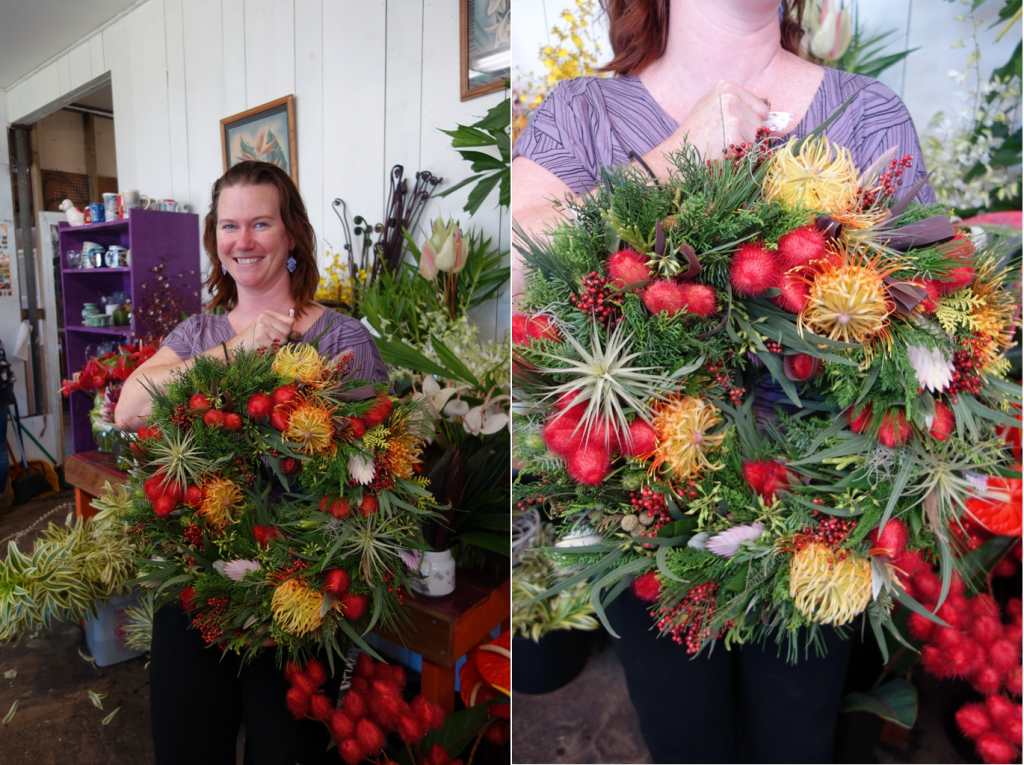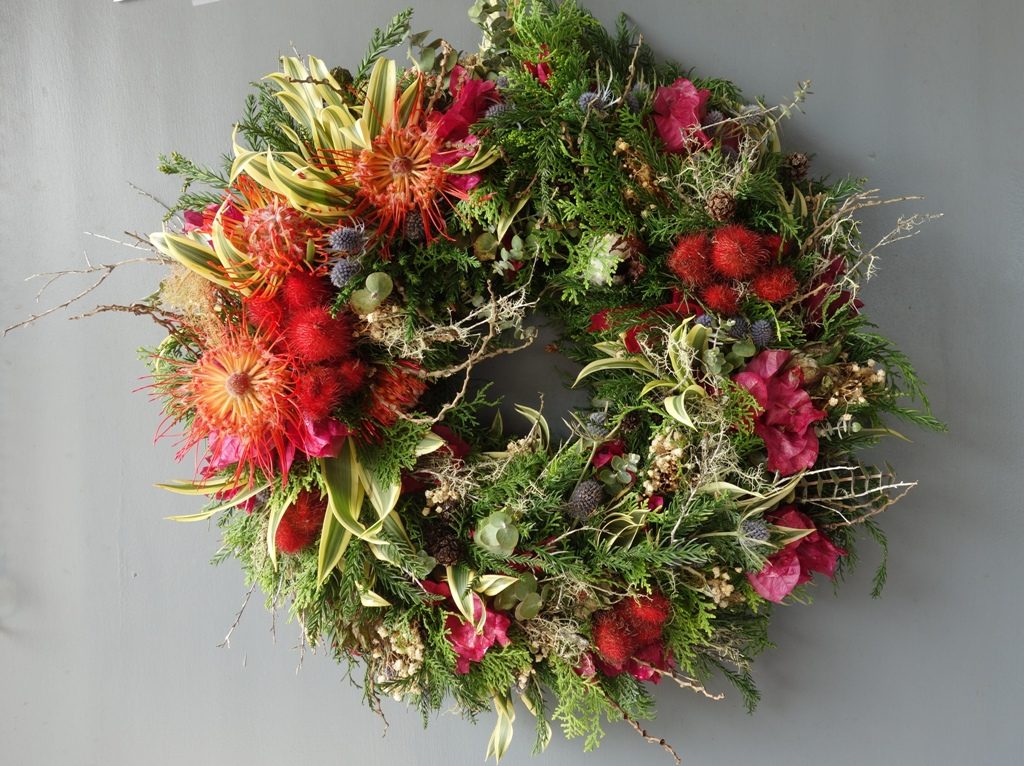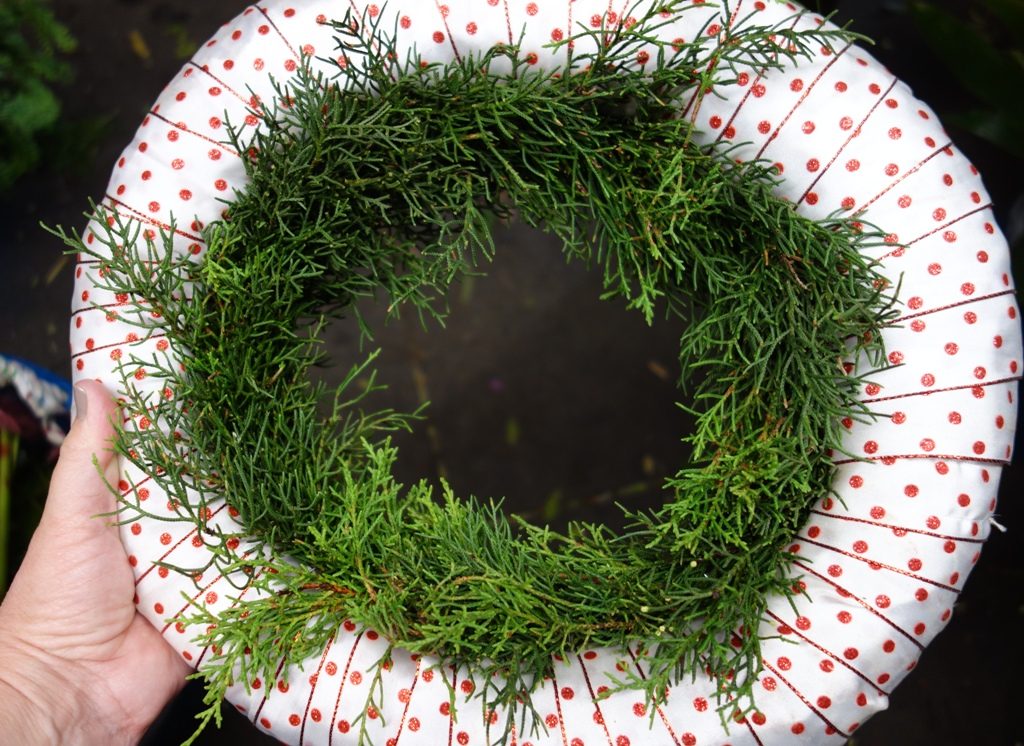 As a member of Slow Flowers, Grace Flowers Hawaii strives to source as many local Hawaiian-grown flowers and foliages possible.  One of the studio's main beliefs is to leave the planet better, so staff members take recycling and composting seriously.  One member of Alison's team even has a small herd of pigs that love to roll around in the shop's island-grown green waste.​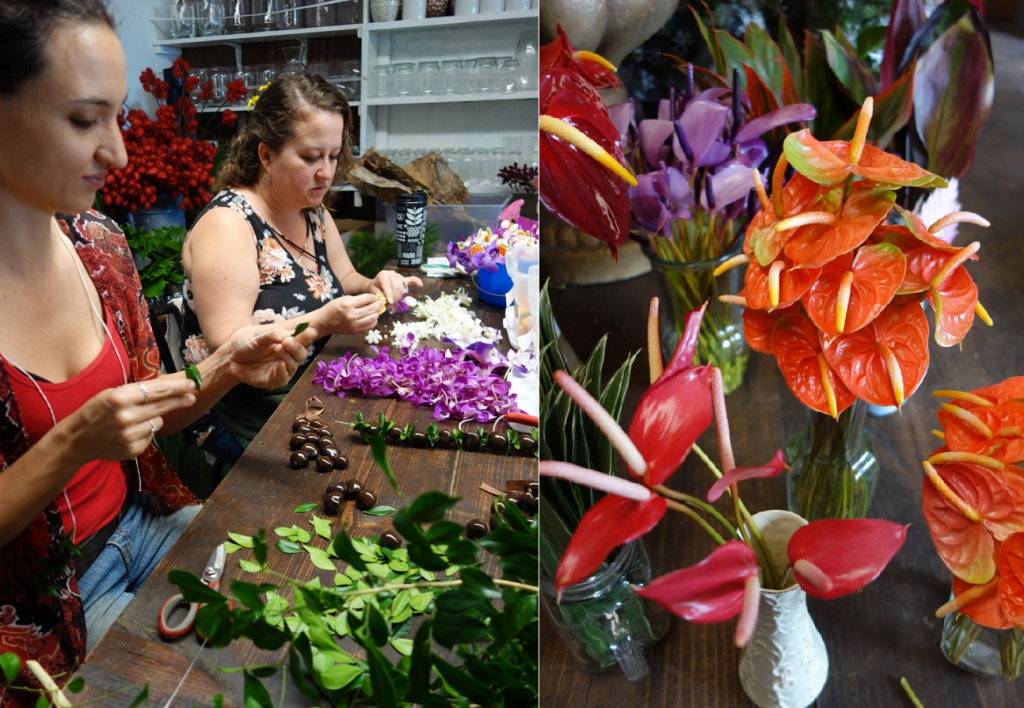 Having recently moved into a much bigger space that accommodates its increased business, Grace Flowers Hawaii has a retail space, a design studio, storage for an ever-growing prop inventory, two shop cats and room to host community events. It was so wonderful to spend a day with Alison and Nicole, and to experience a day-in-the-life of a bustling flower shop. Grace Flowers Hawaii is busy year-round. There doesn't seem to be any down time!
I arrived on a Thursday morning to find production of multiple floral leis for a resident client who wanted a special welcome for out-of-state visitors; Nicole was designing a huge lobby centerpiece for the island's Hilton Resort; another designer was weaving a lei po'o, the name for a floral headpiece, to adorn a baby shower guest of honor; there was a funeral wreath order, two sprays for an arbor to decorate a baby's first birthday party; a last-minute congratulatory arrangement for a local chef who just earned a few Michelin stars, a sweet sixteen birthday arrangement and Alison herself making a few of Grace Flowers Hawaii's famous tropical holiday wreaths. Creative insanity! And that was just before lunch!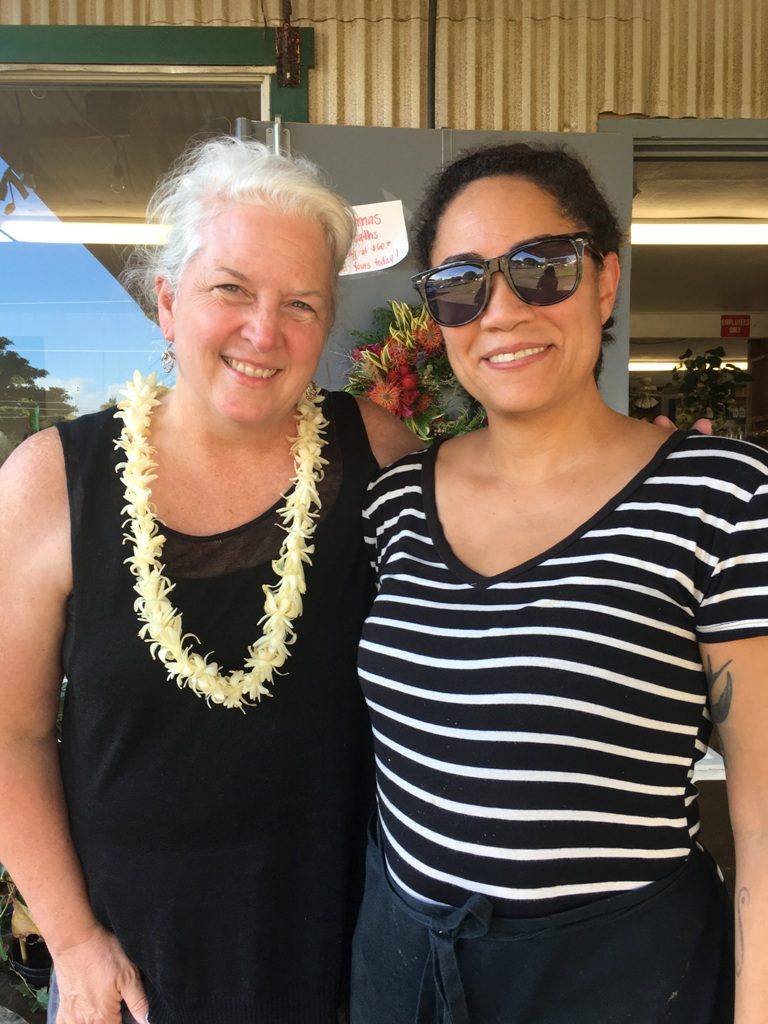 I met Alison through her shop manager, Nicole Cordier. I have known Nicole since 2011 when we met in Seattle. She was one of the original front desk managers at the Seattle Wholesale Growers Market, working closely with the flower farmers who launched the cooperative seven years ago. Nicole is also a super-talented floral artist who you can follow at Cordier Botanical Art.
She relocated to the Big Island and joined Grace Flowers Hawaii several years ago and she continues her love affair with locally-grown, seasonal flowers, connecting with farmers and growers across the Big Island to incorporate their tropical and temperate floral crops into Grace Flowers Hawaii's design work.
If you're a follower of Slow Flowers and our annual American Flowers Week campaign, you will recall seeing the majestic men's cape and stunning woman's hi-low skirt, as well as the lei and headpieces that accessorized the floral fashions created by Alison, Nicole and their colleagues at Grace Flowers Hawaii. I'm so happy we could shine a light on the flower farmers and floral designers of the 50th State. See more about that project here.