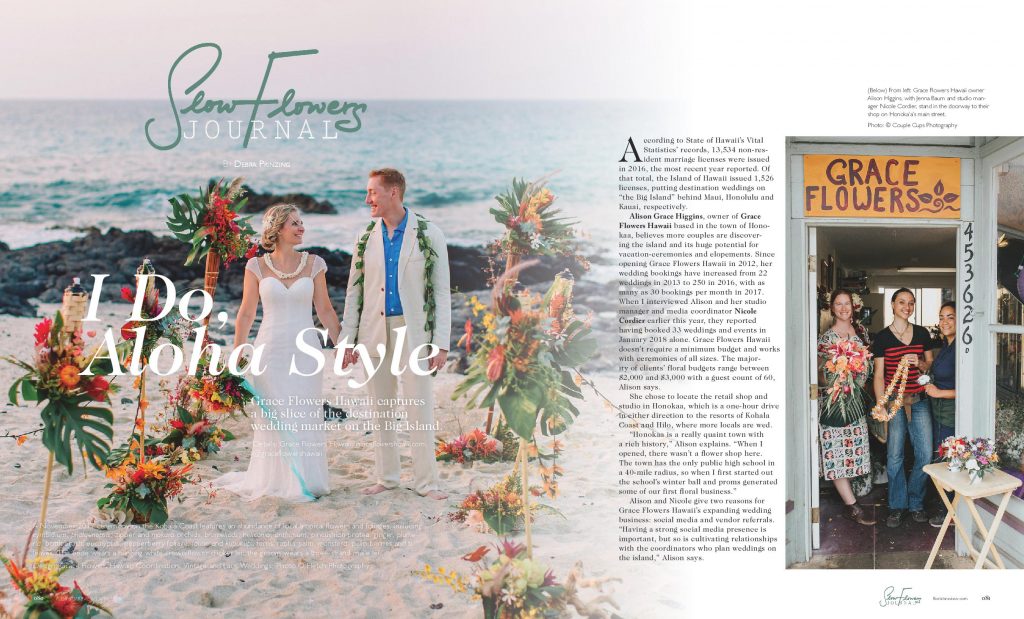 The April issue of Florists' Review is all about DESTINATION WEDDINGS. In the Slow Flowers Journal section, I profile a number of uber-talented Slow Flowers members — flower farmers, florists and farmer-florists who serve couples inspired by place, season and local flowers. Each has an unique approach and commitment to ensuring that a ceremony is adorned with craftsman-grown flowers designed with artistry and reflective of their values and a couple's vision.
With gratitude for this amazing editorial platform, I'm excited to share the April 2018 content from the print edition of Slow Flowers Journal — bringing readers inspiration and ideas for their designs, businesses, flower sourcing practics and branding.
The Slow Flowers Community and our stories include people like you — innovative floral designers, farmer-florists and other leading voices in progressive floristry.
I've excerpted the issue's articles for you here, including downloadable PDFs of each, so you can read them on your computer, tablet or smart phone. We can't post live links to digital stories, so if you want your own edition, now's the perfect time to SUBSCRIBE!
This editorial project resides in the pages of Florists' Review — please enjoy Issue No. 9. Here's a peek at the features and columns from the April Issue. Enjoy!
I Do, Aloha Style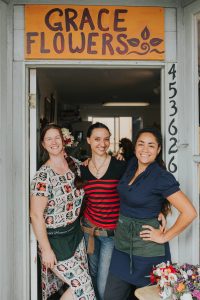 According to State of Hawaii's Vital Statistics' records, 13,534 non-resident marriage licenses were issued in 2016, the most recent year reported. Of that total, the Island of Hawaii issued 1,526 licenses, putting destination weddings on "the Big Island" behind Maui, Honolulu and Kauai, respectively.
Alison Grace Higgins, owner of Grace Flowers Hawaii, based in the town of Honoka'a, believes more couples are discovering the island and its huge potential for vacation-ceremonies and elopements.
Since opening Grace Flowers Hawaii in 2012, her wedding bookings have increased from 22 weddings in 2013 to 250 in 2016, with as many as 30 bookings per month in 2017. When I interviewed Alison and her studio manager and media coordinator Nicole Cordier earlier this year, they reported having booked 33 weddings and events in January 2018 alone. Grace Flowers Hawaii doesn't require a minimum budget and works with ceremonies of all sizes. The majority of clients' floral budgets range between $2,000 and $3,000 with a guest count of 60, Alison says.
She chose to locate the retail shop and studio in Honoka'a, which is a one hour drive north to the resorts of Kohala Coast and about the same distance south to Hilo, where more locals are wed.
Download the full article here: 04_Slow Flowers Journal_GraceFlowersHawaii
Oregon's Organic Wedding Flowers
Destination weddings in the Rogue Valley have been made popular by the proliferation of wineries, ranches, barns and other romantic venues, not to mention the region's natural beauty and Ashland's famous theatrical scene. It's not uncommon for couples who attended Southern Oregon University to return here to wed.
Many embrace the region's unique character by choosing locally-grown flowers for their ceremony. They often find Le Mera Gardens, located outside Ashland, and schedule an appointment to "shop" for blooms from flower farmer Joan Thorndike's well-stocked refrigerator truck. Her shop-on-wheels overflows with hundreds of stems, organized by variety and color, allowing DIY wedding parties, as well as florists, to hand-select exactly what they want to carry down the aisle or festoon their ceremony later that week.  Flowers are freshly harvested on Wednesdays and available for bridal parties to pick up on Thursdays.
Isabella Thorndike Church, Joan's daughter and owner of Jacklily Seasonal Floral Design, grew up helping her mother grow flowers and now specializes in local-only, full-service wedding design. "There are different levels of bridal customers," she observes. "And some are going to want to work with a florist, while others want to go the DIY route."
Knowing this, Isabella is flexible with prospective brides who ask her to design their ceremony's personal flowers but wish to use Le Mera Gardens' flower truck option for bulk blooms to decorate the venue.
Download the full article here: 04_Slow Flowers Journal_LeMera_JackLily
Flowers in NY's Hudson Valley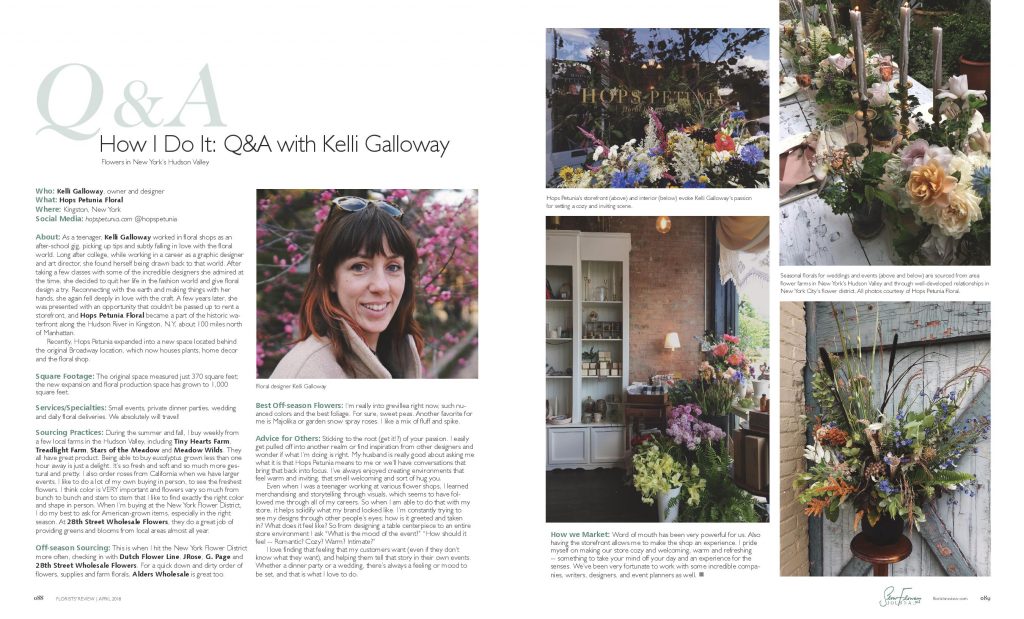 Who: Kelli Galloway, owner and designer
What: Hops Petunia Floral hopspetunia.com @hopspetunia
Where: Kingston, New York
About: As a teenager, Kelli worked in floral shops as an after-school gig, picking up tricks and subtly falling in love with the floral world. Long after college, a career as a graphic designer and art director, she found herself being drawn back to that world. After taking a few classes with some of the incredible designers she admired at the time she decided to quit her life in the fashion world and give floral design a try. Reconnecting with the earth and making things with her hands she again fell deeply in love with the craft. A few years later, she was presented with an opportunity that couldn't be passed up to rent a storefront, and Hops Petunia Floral became a part of the historic waterfront along the Hudson River in Kingston, New York, located about 100 miles north of Manhattan.
Recently Hops Petunia expanded into a new space located behind the original Broadway location, which now houses plants, home decor and the floral shop.
Download the full article here: 04_Slow Flowers Journal_HopsPetunia
Made in The U.S.A.
Download the full article here: Cobrahead
LOVE THIS?! Want to see more?
Subscribe to Florists' Review and read our bonus Slow Flowers Journal content at the special rate of $21 for 12 issues — 62 percent off the cover price! Click here to subscribe online or call 1-800-367-4708.