Regular readers will recall my "Spring in the Cutting Garden" post written in late March. That's when everyone here in Seattle was staring anxiously at tiny green sprigs emerging from the tulip beds, willing the weather to warm up and jump-start bloom time.
Well, here we are at the first week of May and I can safely say that spring has finally moved in. Our temperatures are definitely in the high 50s or low 60s during the day and yesterday actually hit 69 degrees F!
Last weekend, Jeff Sagner, owner of NW Green Panels, arrived with one of his crew members named Micah. I watched in awe as these two installed the fantastic new piece of garden architecture. I have to "name" it, of course, but for now, we're referring to the stunning 8-by-8 foot structure as the Modern Slant Greenhouse. Enjoy the time-lapse video I shot (above).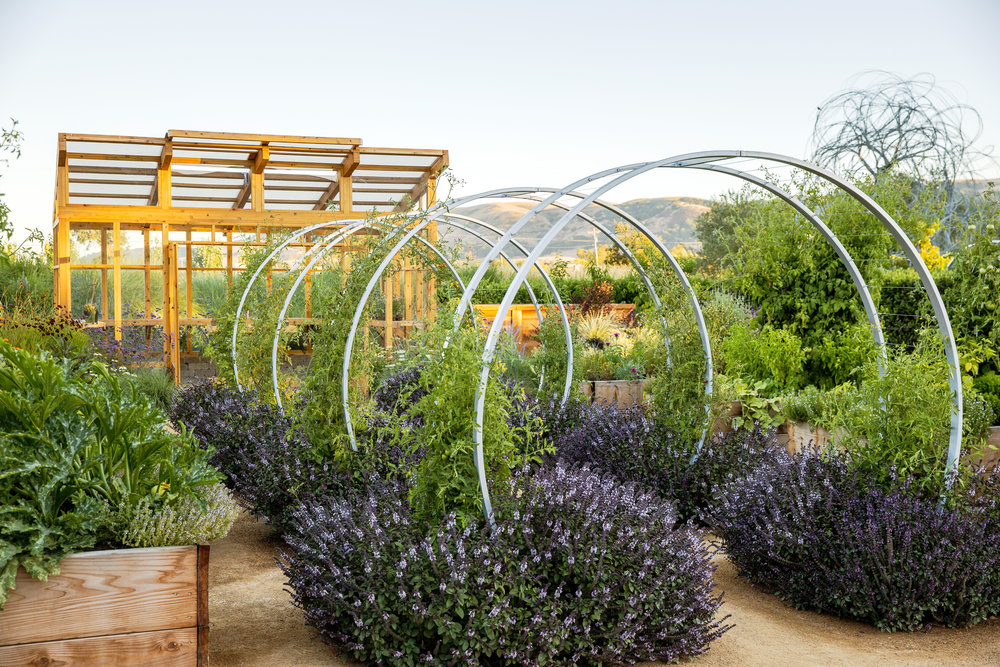 If you've ever visited the Sunset Test Gardens at Cornerstone in Sonoma, California, you've seen the beautiful shelter designed and built by NW Green Panels. It is paired with an allee of magnicent "Gracie" arches designed by my friend Jennifer Asher of TerraTrellis/TerraSculpture. Together, these elements create a destination and focal point of the entire garden. Talk about a statement piece! This garden was designed by Stefani Bittner and Alethea Harampolis of Homestead Design Collective, friends and past guests of the Slow Flowers Podcast.
Sunset later named NW Green Panels the "Best in the West" for greenhouses. And to make things even more cozy, two of TerraTrellis' gorgeous aubergine-colored Akoris Tuteurs now accent the Slow Flowers Cutting Garden.
NW Green Panels structures are 100% Oregon-made and the twin-wall polycarbonate is 100% US-manufactured in Wisconsin. Based in Madras, Oregon, NW Green Panels designs and constructs attractive wood-framed greenhouses using sturdy, pre-assembled modular components that can be quickly installed or disassembled for easy move or expansion. Standard components include an 8-ft. Wall Height, 2×4 Incense Cedar Frame, 8mm Twin-Wall Polycarbonate, and a gorgeous modern design — offering versatility, style and durabilty that make the greenhouse a great value.
Jeff explains the origins of NW Green Panels on his web site:
When my wife and I learned that we were to be blessed with our first child we began discussing the type of foods we wanted our kids to eat. 

We liked the idea of growing as much food as possible without chemical additives to provide our family with nutrient rich foods. It quickly became obvious that to grow food year round I would need a greenhouse.​

I found many options: Some were poorly made and looked as though they might blow away with the first gust of wind.  Some were nice but extremely expensive permanent structures. 

Almost all the 'kits' I came across were complicated to install with inadequate instructions and cheap materials.​

We decided that building our own greenhouse was the only option!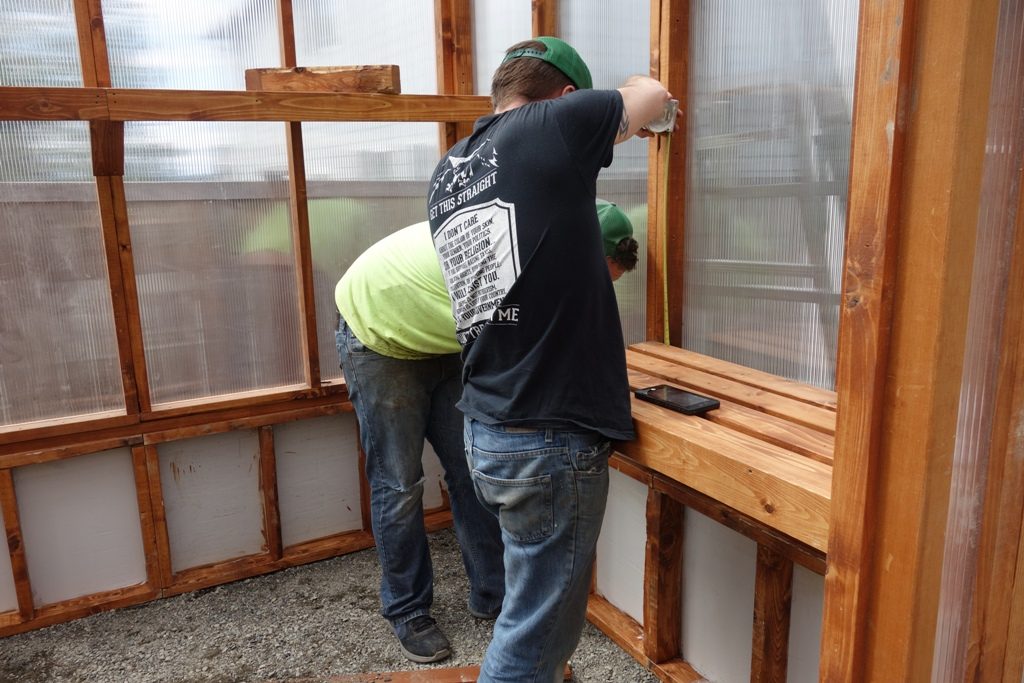 What impresses me above all is the design. We've seen a lot of mid-century-style sheds around during the past decade, including some that Seattle photographer Bill Wright and I documented in our award-winning book Stylish Sheds & Elegant Hideaways, but we haven't seen that modern design migrate over to the greenhouse universe.
Now, NW Green Panel's Modern Slant Greenhouse is worthy of its name. The roof construction catches up to 40% more of the sun's light and heat and provides addtional vertical growing space when compared to traditional gable-roof construction. NW Green Panels continues to expand on its line of highly-functional and versatile greenhouse and modular out-buildings. Many options are available including design upgrades, choice of stain, finish and frame material, along with several glaze options like glass, Solexx or colored polycarbonate. ​
Available accessories include modular benches and shelves, an access panel for H2O/electricity, French windows and doors, Dutch doors, supplemental lighting, base installation, and automatic solar powered ventilation including the unique auto-rise ridge line vent.
See all of the styles here, ranging from the DIY Kit/Chalet Greenhouse (starting at $1,995) to the Rustic Midnight Greenhouse (starting at $4,995). Of course, all of the styles can be expanded and customized. Jeff's focus on modular construction means that all of the standard designs can be shipped to you anywhere in the U.S. All of the assembly directions are shared with you on video, making construction super easy (well, not for ME, but for someone who knows his or her way around a toolbox!).
In the coming months, you'll be seeing a lot of this new addition to my garden, as it is the defining focal point — not as large as Sunset's, but equally important in the role it plays.
I'm amazed that the structure came together so quickly. I can't neglect to credit my landscape contractor friend Jim Boekhoff of Brick & Blade for all his talents, including building the wood-framed gravel "floor" for the new greenhouse, the raised beds and our expanded patio. I have already begin landscaping around the base — so I'll share ongoing updates as the garden evolves around the Modern Greenhouse.