Floral designer Kelly Shore challenged herself to use only local, seasonal and domestic blooms for a 12-month series of bridal looks.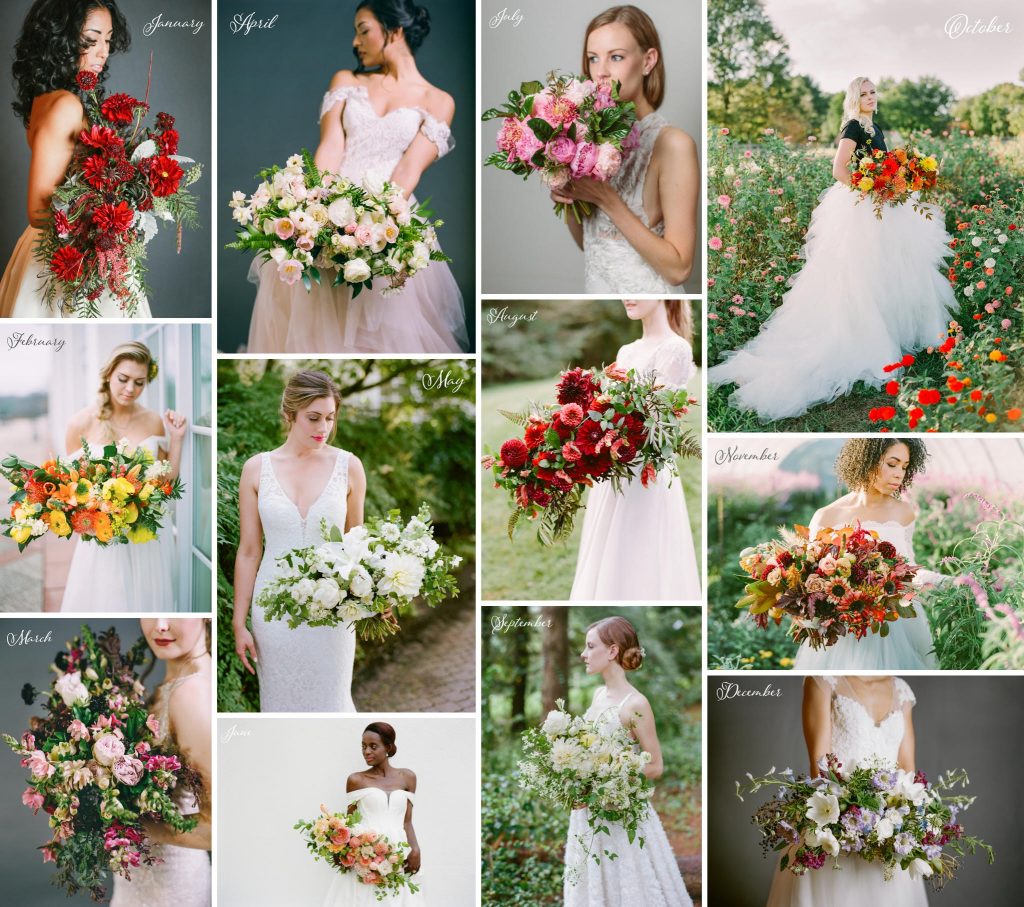 By Debra Prinzing
Photography by Sarah Collier, Taken by Sarah
Kelly Shore, of Petals by the Shore, based in Damascus, Md., has set big goals to stretch herself creatively before. In fact, two years ago, her collaboration with Plant Masters, a Maryland flower farm, led to our editorial feature called "Four Seasons of Floral Design."
That idea of producing four styled photo shoots during winter, spring, summer and fall — each specific to one farm's seasonal harvest — was artistically inspiring. The gorgeous results demonstrated to Kelly, and to her bridal clients, that it's possible to find local beauty if you look for it, regardless of the time of year.
Since then, supporting and sourcing from America's flower farmers has become an ever-expanding part of Kelly's brand and mission. She has served as one of the lead designers for two First Lady's Luncheons, the guest designer at a Field to Vase Dinner held at Scenic Place Peonies in Homer, Alaska, and co-presented at the Slow Flowers Summit with Mary Kate Kinnane of The Local Bouquet.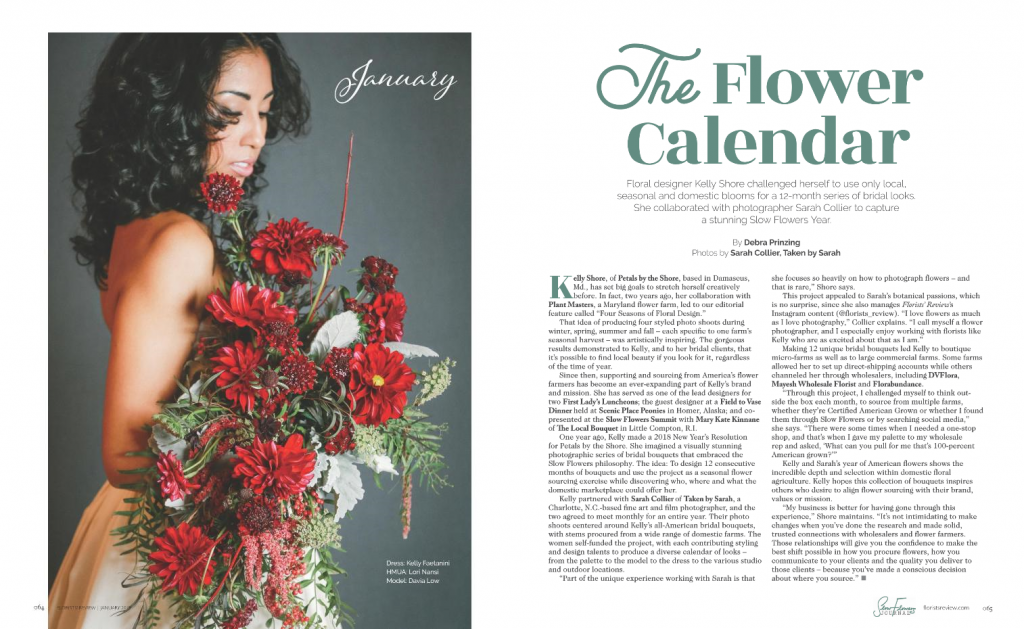 One year ago, Kelly made a 2018 New Year's Resolution for Petals by the Shore. She imagined a visually stunning photographic series of bridal bouquets that embraced the Slow Flowers philosophy. The idea: To design twelve consecutive months of bouquets and use the project as a seasonal flower sourcing exercise, while discovering the who, where and what the domestic marketplace could offer her.
Kelly partnered with Sarah Collier of Taken by Sarah, a Charlotte, N.C.-based fine art and film photographer, and the two agreed to meet monthly for an entire year. Their photo shoots centered around Kelly's all-American bridal bouquets, with stems procured from a wide range of domestic farms. The women self-funded the project with each contributing styling and design talents to produce a diverse calendar of looks, from the palette to the model to the dress to the various studio and outdoor locations.
"Part of the unique experience working with Sarah is that she focuses so heavily on how to photograph flowers — and that is rare," Kelly says.
This project appealed to Sarah's botanical passions, which is no surprise, since she also manages Florists' Review's Instagram content (@florists_review).  "I love flowers as much as I love photography," Sarah explains. "I call myself a flower photographer and I especially enjoy working with florists like Kelly who are as excited about that as I am."
Making twelve unique bridal bouquets led Kelly to boutique micro-farms, as well as to large commercial farms. Some farms allowed her to set up direct-shipping accounts, while others channeled her through wholesalers, including DVFlora, Mayesh Wholesale Florist Inc., and Florabundance.
"Through this project, I challenged myself to think outside the box each month, to source from multiple farms, whether they're Certified American Grown or whether I found them through Slow Flowers or by searching social media," she says. "There were some times when I needed a one-stop shop, and that's when I gave my palette to my wholesale rep and asked, 'What can you pull for me that's 100-percent American-grown?'"
Kelly and Sarah's year of American flowers shows the incredible depth and selection within domestic floral agriculture. Kelly hopes this collection of bouquets inspires others who desire to align flower sourcing with their brand, values or mission.
"I feel like my business is better for having gone through this experience," Kelly maintains. "It's not intimidating to make changes when you've done the research and made solid, trusted connections with wholesalers and flower farmers. Those relationships will give you the confidence to make the best shift possible in how you procure flowers, how you communicate to your clients and the quality you deliver to those clients — because you've made a conscious decision about where you source."