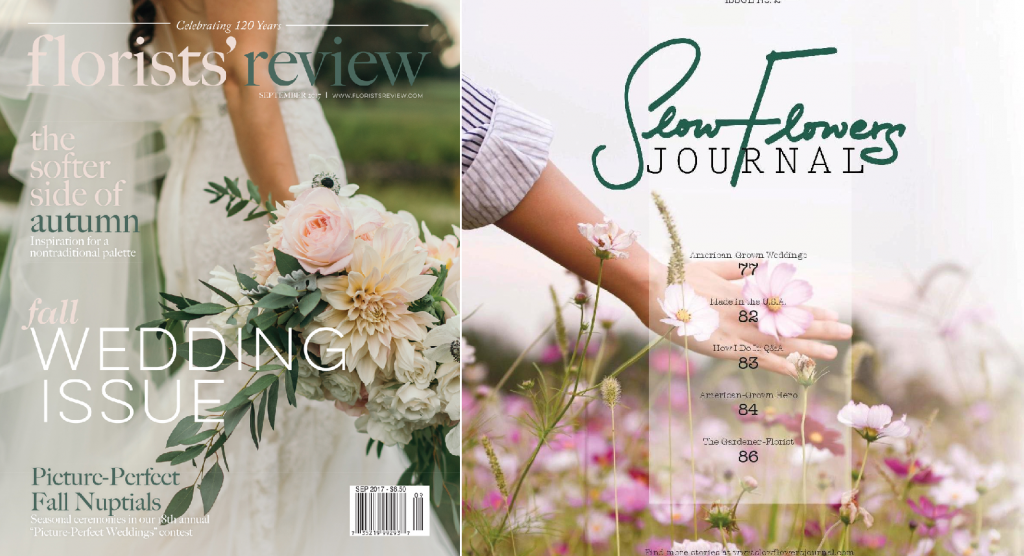 September has come to a close and now that our publishing partner Florists' Review has released the October print edition, we want to post the "Slow Flowers Journal" articles from last month to share with you here.
For the second month running, we've provided beautiful, informative and inspiring editorial content for the readers of Florists' Review magazine.
I'm excited to share the lineup of stories and articles that you can download as PDFs to read on your computer, tablet or smart phone. For obvious reasons (i.e., to encourage more readers to subscribe to the magazine), we can't post live links to digital stories.
The September issue's theme centered around Weddings and we have a few specific articles that tie in.
Our FEATURE STORY: American Grown Weddings, tells the story of Mary Kate Kinnane of The Local Bouquet in Little Compton, Rhode Island. A Slowflowers.com member, Mary Kate's all-American brand is good for business, good for the planet and good for the couples who hire her. Download the article here: 09_Slow Flowers Journal_spreads (3).2 and here: 09_Slow Flowers Journal_spreads (3).3.
This month, our MADE in the U.S.A. recurring section highlights a Seattle-area couple, T.J. Montague, a floral designer, and her industrial-designer spouse Gavin Groves, who created a lightweight Rose Stem Cleaner. The innovative tool saves florists' hands from scratches and worse when designing with roses. T.J. owns Garden Party Flowers and says the product was a game-changer for her and her florist friends. Download article here: 09_Slow_Flowers_Journal_MadeinUSA
Readers are gaining solid and practical advice from retail florists we feature in the Q&A series, "How I Do It." The goal is to introduce florists whose shops are in areas of the country where local and seasonal flowers are NOT available all year long, like Heather Grit who owns Glamour & Grit Floral in Grand Rapids, Michigan. If Heather can supply American-grown flowers and foliages to her customers in the dead of winter, then there's simply no excuse for anyone not to try her approach. Download article here: 09_Slow_Flowers_Journal_how I do it
September's American Grown Hero feature is all about the emerging Slow Weddings Network, an organization founded and spearheaded by Aimée Newlander of Weddings by Aimée. This is such an inspiring approach to mindful nuptials and I'm so happy we were able to share this progressive resource with our readers. 09_Slow Flowers Journal_spreads (3).5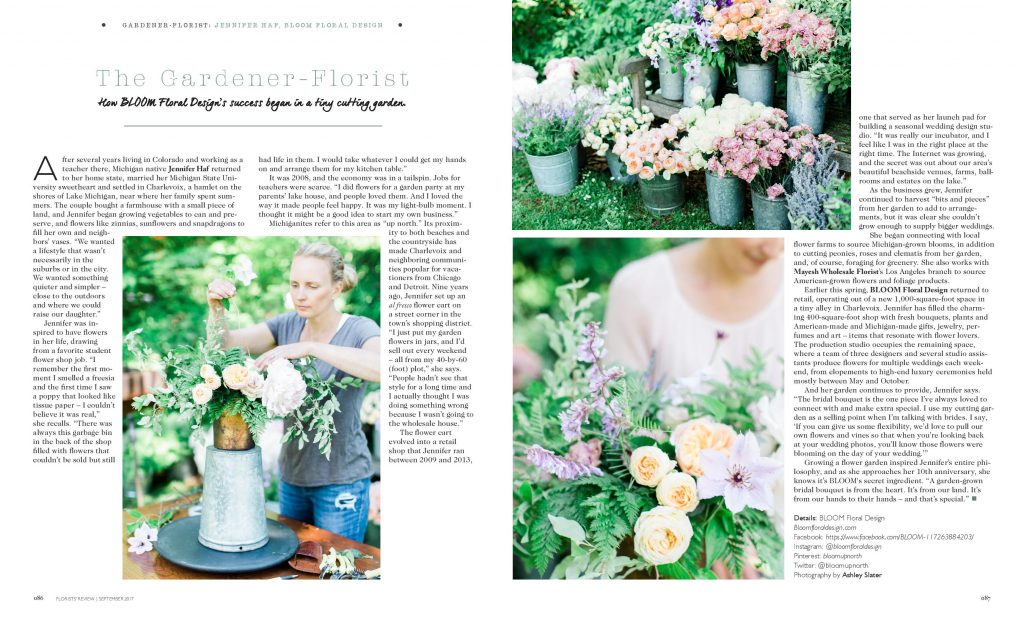 And we wrap up the section with a conversation with Jennifer Haf of BLOOM Floral Design in Charlevoix, Michigan. Jennifer's successful design business began with her cutting garden and has flourished into something entirely garden-inspired. She has parlayed her love of growing cut flowers into a design business serving destination weddings, as well as a new retail lifestyle store. 09_Slow Flowers Journal_spreads (3).6
Want to see what it's all about?
Subscribe to Florists' Review and read our bonus Slow Flowers Journal content at the special rate of $21 for 12 issues — 62 percent off the cover price! Click here to subscribe online or call 1-800-367-4708.